The global industrial IoT market was valued at USD 313.95 billion in 2022 and is expected to grow at a CAGR of 23.5% during the forecast period.
The industrial Internet of Things (IIoT) market is poised for substantial growth due to several key factors. The availability of affordable processors and sensors that provide real-time access to information, coupled with technological advancements, is driving market expansion. This enables industries to improve operational efficiency and foster collaboration among key players, further fueling growth.
The convergence of digital and human workforces is an emerging trend that presents significant growth opportunities. Techniques are being developed to create a unified digital-human force, leveraging both strengths to enhance productivity and innovation. This integration is projected to drive market growth in the coming years.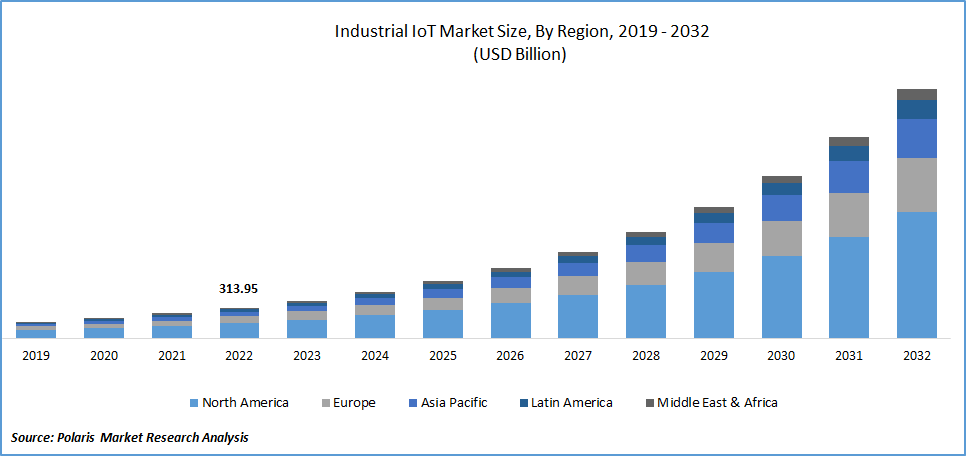 To Understand More About this Research : Request a Free Sample Report
The industrial Internet of Things offers numerous advantages, such as automated quality assurance monitoring, improved power efficiency, increased productivity, and enhanced operational efficiency in the manufacturing industry. These benefits attract industries to adopt IIoT solutions, leading to market expansion. Companies also leverage IIoT to reduce operating costs, ensure worker safety, and increase throughput, contributing to further market growth.
The increasing adoption of IoT in various sectors is another driver for the IIoT market. Technological advancements in wireless network technologies and the penetration of Wi-Fi connectivity in factories enable the widespread deployment of IoT devices and sensors. Additionally, the development of smart cities and smart transportation systems drives the adoption of IoT, bolstering the growth of the industrial Internet of Things industry.
Furthermore, integrating sophisticated analytics and technologies like Machine Learning (ML) and Artificial Intelligence (AI) empowers organizations to deliver prescriptive and predictive analytical solutions. ML and AI enable continuous learning processes without interruptions, making them valuable tools in the Industrial IoT (IIoT) Market and driving the market growth.
The adoption of edge computing in the industrial IoT landscape is another significant trend. Edge computing offers next-generation capabilities by enabling independent analysis and data management for IoT devices. Its architecture ensures low latency and quick response times, facilitating immediate decision-making and enhancing overall operational efficiency. This aspect of edge computing is projected to drive substantial demand and contribute to further market growth in the forecast period.
Industry Dynamics
Growth Drivers
The industrial sector is experiencing a rising adoption of cloud computing due to several key factors. Cloud computing offers numerous benefits that are highly advantageous for industrial operations. It provides scalability and flexibility, allowing industries to easily expand their computing resources and adapt to changing business requirements.
cloud computing offers cost-effectiveness by reducing the need for extensive on-premises infrastructure and hardware investments. Instead, companies can leverage cloud service providers' resources, paying for what they use on a subscription or consumption basis. It also enables enhanced collaboration and data sharing among geographically dispersed teams and facilities. It provides a centralized data storage, analysis, and access platform, facilitating real-time insights and decision-making.
Moreover, cloud computing enhances data security and disaster recovery capabilities. Cloud service providers employ robust security measures, encryption, and regular backups, ensuring the protection and availability of industrial data.
Furthermore, cloud computing enables seamless integration with emerging technologies such as the Internet of Things (IoT) and artificial intelligence (AI). Industries can leverage cloud platforms to collect, analyze, and process vast amounts of IoT-generated data, enabling predictive maintenance, optimizing operations, and unlocking new business opportunities.
Report Segmentation
The market is primarily segmented based on deployment, component, end-use, and region.
By Deployment

By Component

By End-use

By Region

Services

Solution

Data Management

Security Solutions

Remote Monitoring

Analytics

Others

Platform

Application management

Device Management

Connectivity Management

Chemical

Metal & Mining

Oil & Gas

Energy & Power

Manufacturing

Healthcare

Agriculture

Logistics & Transport

Others

North America (U.S., Canada)

Europe (France, Germany, UK, Italy, Netherlands, Spain, Russia)

Asia Pacific (Japan, China, India, Malaysia, Indonesia, South Korea)

Latin America (Brazil, Mexico, Argentina)

Middle East & Africa (Saudi Arabia, UAE, Israel, South Africa)
To Understand the Scope of this Report : Speak to Analyst
The solution segment held the largest market share in 2022
The solution segment held the largest market share in 2022 and is expected to continue dominating the market throughout the forecast period. Market players are focusing on launching innovative information systems tailored for various sectors and industries to expand their market presence.
An example is Ericsson AB, a multinational networking and telecommunications company that introduced IoT Accelerator Connect in February 2022. This solution provides easy connectivity in IoT by offering plug-and-play access to cellular IoT connectivity. It simplifies the onboarding process and device connectivity, successfully facilitating the implementation of enterprise IoT projects and contributing to the growth of the solution segment.
On the other hand, the service segment is projected to exhibit the highest compound annual growth rate from 2023 to 2032. This growth can be attributed to the significant increase in connected devices, resulting in a massive volume of data generated. Furthermore, Industrial Internet of Things (IIoT) applications heavily rely on centralized cloud services to manage data flow and overall industry processes. The emergence of edge computing is also expected to transform the industry by providing real-time analytics solutions and decentralized storage and transaction mechanisms across the network.
North America dominated the global market in 2022
North America held the largest market share, and it is projected to maintain its dominance throughout the forecast period. This can be attributed to the region's early adoption and implementation of industrial IoT technology. Additionally, the strong support from governments to promote digitalization in the industrial sector, the increased usage of industrial IoT devices, and the growing adoption of cutting-edge technologies like cloud computing and AI are anticipated to drive market growth in the coming years.
The Asia Pacific region is expected to experience the fastest compound annual growth rate during the forecast period. The popularity of advanced factory automation systems is on the rise in countries like China and Japan. Manufacturing industries in the region are increasingly recognizing the benefits of employing robot arm technology. Moreover, prominent countries in the region are making significant investments in industry 4.0 with the aim of achieving production and manufacturing independence. These factors are expected to drive the growth of the Industrial Internet of Things Market in the Asia Pacific region.
Competitive Insight
Some of the major players operating in the global market include ABB, Atmel Corporation, ARM Holding Plc, Cisco Systems, Inc., International Business Machines Corporation (IBM), General Electric Company (GE), Intel Corporation, Siemens AG, Microsoft Corporation, Rockwell Automation, Inc.
Recent Developments
In February 2021, Cisco Systems, Inc., partnered with Newark, an Avnet Company, to utilize their network solutions for the industrial internet of things (IIoT) across various infrastructures, encompassing industrial assets and devices.
Industrial IoT Market Report Scope
| | |
| --- | --- |
| Report Attributes | Details |
| Market size value in 2023 | USD 386.45 billion |
| Revenue forecast in 2032 | USD 2,580.89 billion |
| CAGR | 23.5% from 2023 – 2032 |
| Base year | 2022 |
| Historical data | 2019 – 2021 |
| Forecast period | 2023 – 2032 |
| Quantitative units | Revenue in USD billion and CAGR from 2023 to 2032 |
| Segments Covered | By Deployment, By Component, By End-use, By Region |
| Regional scope | North America, Europe, Asia Pacific, Latin America; Middle East & Africa |
| Key Companies | ABB, Atmel Corporation, ARM Holding Plc, Cisco Systems, Inc., International Business Machines Corporation (IBM), General Electric Company (GE), Intel Corporation, Siemens AG, Microsoft Corporation, Rockwell Automation, Inc. |