The global insect protein market was valued at USD 271.3 million in 2020 and is expected to grow at a CAGR of 24.9% during the forecast period. Consumer preferences for insect protein rather than animal and dairy protein have shifted as a result of growing concerns about sustainability, as well as strong private and public opportunities for various sources of protein in both emerging and developed countries.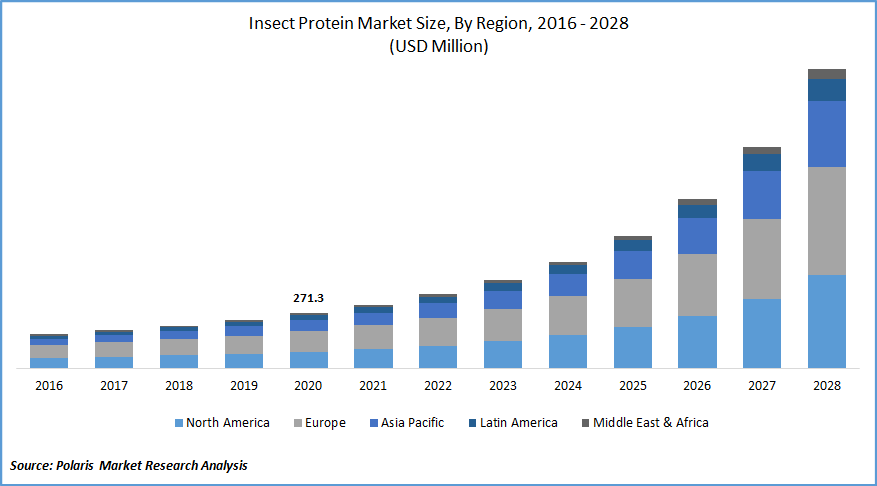 Know more about this report: request for sample pages
Insect protein can be obtained either directly from the insect or by manufactured materials. Insects including crickets, black soldier flies, mealworms, grasshoppers, and ants have a high protein content and can be easily raised in areas with minimal resources. In more than 110 countries, mostly in Southeast Asia, these insects have long been an important part of traditional cuisine.
Industry Dynamics
Growth Drivers
In general, edible insects are high in protein, fat, and energy, and they can also be a good source of minerals and vitamins. In food and feed, they are an environmentally sustainable source of protein. Food and feed security can be improved by eating edible insects. They have a lot of promise as an environmentally sustainable food system in the future. Such benefits are expected to boost market growth over the coming years.
Insects are used in the manufacturing process because of their high feed conversion quality. For example, crickets need approximately 2 kg of food to gain 1 kg of body weight. Other omnivorous insects, but on the other hand, are commonly raised on organic waste. As a result, insects outperform pigs and cattle in terms of feeding conversion effectiveness. As a result of these factors, prospective protein product manufacturers have been encouraged to enter the insect protein market.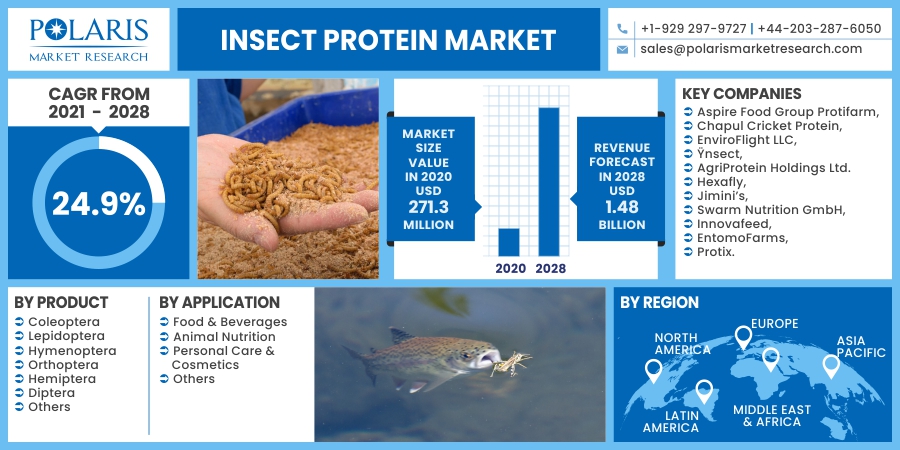 Know more about this report: request for sample pages
Insect Protein Market Report Scope
The market is primarily segmented based on product, application, and region.
By Product

By Application

By Region

Coleoptera
Lepidoptera
Hymenoptera
Orthoptera
Hemiptera
Diptera
Others

Food & Beverages
Animal Nutrition
Personal Care & Cosmetics
Others

North America (U.S., Canada)
Europe (France, Germany, UK, Italy, Spain, Netherlands, Austria)
Asia Pacific (Japan, China, India, Malaysia, Indonesia, South Korea)
Latin America (Brazil, Mexico, Argentina)
Middle East & Africa (Saudi Arabia, UAE, Israel, South Africa)
Know more about this report: request for sample pages
Insight by Product
Coleoptera is an insect order that includes beetles and weevils. It is the predominant insect order, accounting for roughly 40% of all species. Due to their high protein content, edible beetles have long been eaten in a variety of cultures.
In China, for example, an edible beetle species called Holotrichia parallela Motschulsky (Coleoptera: Scarabaeoidea) has long been eaten due to its high nutritional value. Although it is common to consume live insects of these species, extracting proteins from them is a relatively new phenomenon.
Insight by Application
Since food & beverage producers are increasingly looking for protein substitutes to meet rising consumer demand, insect-based protein is being used in a variety of foods and beverages applications, including bakery, nutritional supplements, and snacks.
Over the forecast timeframe, the market is expected to benefit from the rising market demand for insect-based additives in the animal nutrition sector. Insect-based additives are increasingly have been used in dog and cat food across the world as a result of increased knowledge of several research activities indicating that these ingredients can help to maintain overall pet health.
Animal feeding is a big business for insect protein producers in Europe. Because of its high palatability and digestibility, the commodity is well-suited to the specific needs of pets such as cats, dogs, and fish in the pet food category.
Insects are being incorporated into the feed formulas of several European pet food companies, mostly as a way to diversify their product range, such as in hypoallergenic products. This pattern is anticipated to grow over the coming years, boosting the overall market's progress.
Geographic Overview
During the forecast period, Europe is anticipated to witness significant market growth. The area is regarded as a leading market for insect protein, which is one of the most commonly used ingredients in food by middle-aged and elderly Europeans. In the field, insect protein is primarily used in nutritional supplements. However, the European market for drinks has yet to reach its full potential.
The market demand for insect protein in major markets such as Germany and the United Kingdom due to the growing value of fiber-fortified products is expected to have a positive effect on market growth, but at a slower pace due to industry maturity.
The food industry in North America has increased new food R&D programs as a result of products that target health and mental well-being. Given the complexities of current legislation, a rapidly growing market in significant markets such as the U.S. and Mexico are outlined.
On account of the changes in food legislation, the growing self-care trend, and compelling scientific evidence demonstrating the vital connection between nutrition and lifestyle, the market demand for insect protein is projected to increase in the given timeframe.
Competitive Insight
Key players in the insect protein market are concentrating their energies on strategic acquisitions to boost their research & development capabilities, which will help them provide creative solutions to users and gain a competitive edge.
Some of the major players operating in the global market for insect protein include Aspire Food Group Protifarm, Chapul Cricket Protein, EnviroFlight LLC, Ÿnsect, AgriProtein Holdings Ltd. Hexafly, Jimini's, and Swarm Nutrition GmbH, Innovafeed, EntomoFarms, and Protix.