The global insights engine market was valued at USD 1.55 billion in 2022 and is expected to grow at a CAGR of 25.3% during the forecast period. Insight engines play a crucial role in driving business growth by delivering exceptional value through personalized customer experiences. Leveraging big data, artificial intelligence, and machine learning, these advanced platforms serve as strategic resources for organizations to offer unique digital experiences to their customers. Compared to traditional digital asset management systems, insight engines provide customized experiences that outperform their counterparts. By integrating these technologies, insight engines enable businesses to build intelligent relationships with their customers. They utilize high-quality technologies such as Natural Language Processing (NLP) and Natural Language Question Answering (NLQA) to create a seamless and human-like connection, resulting in highly satisfying outcomes for clients. This personalized approach enhances customer engagement and helps foster stronger customer relationships.

To Understand More About this Research: Request a Free Sample Report
Moreover, insight engines harness the power of machine learning and deep learning to generate business predictions and scenario developments. This capability allows organizations to address various business challenges by leveraging predictive analytics and gaining insights into future trends. By utilizing these advanced technologies, insight engines enable businesses to make informed decisions and take proactive actions.
The adoption of insight engines has been particularly significant in industries such as consumer goods and retail. These sectors often deal with vast amounts of data, including customer behavior, market trends, product information, and supply chain data. Insight engines help organizations in these industries to effectively search, analyze, and derive valuable insights from their data, leading to improved decision-making, enhanced customer experiences, and increased operational efficiency.
Furthermore, the growing adoption of digital technologies across various industries has also contributed to the growth of the insight engines market. As organizations increasingly digitize their operations and generate massive amounts of data, the need for advanced tools to search, analyze, and uncover insights from this data becomes crucial. Insight engines provide a powerful solution by enabling users to efficiently explore and discover relevant information within their vast data repositories.
For instance, in August 2022, Renewable Energy Systems, implemented Aiimi's AI-powered platform called "Aiimi insight engines." By leveraging this platform, Renewable Energy Systems Ltd. successfully processed and organized a significant amount of historical data, amounting to 5.7 terabytes. The platform's capabilities allowed for efficient discovery of the data, which was subsequently migrated to an archive hosted on the Azure cloud platform. The adoption of Aiimi's insight engines platform enabled company to embark on a digital transformation journey and execute a large-scale migration of their operations to the Azure cloud.
The technology employed by insight engines continuously analyzes different work methods to understand the relevance of individual pieces of data. Factors such as the frequency and context in which certain information is accessed are considered to determine its importance. This analysis helps prepare the data specifically for the intended application case, department, and user, allowing for personalized and proactive information delivery. An example of the capabilities of insight engines is providing users with a comprehensive 360-degree view of all business-relevant data across the organization in response to a query. This panoramic view includes information about suppliers, customers, expertise, and responsibilities, which is essential for achieving success in today's competitive landscape.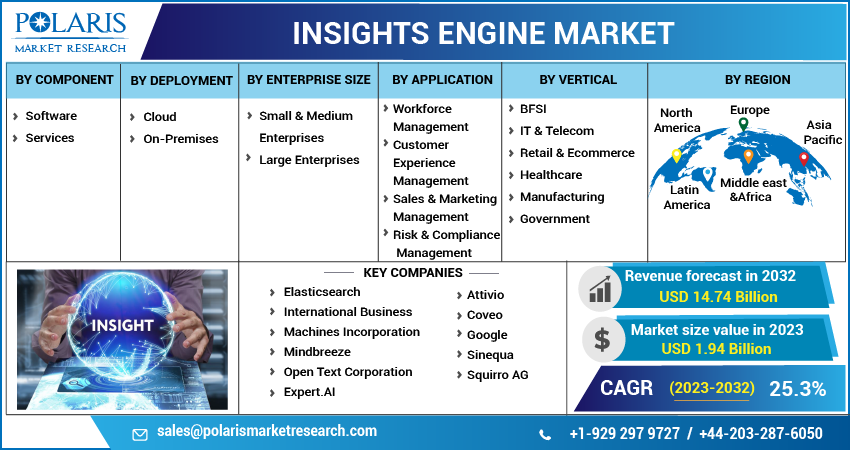 For Specific Research Requirements, Speak With a Resaerch Analyst
Industry Dynamics
Growth Drivers
Insight engines play a vital role in helping organizations unlock the value of their data by delivering actionable insights. Their integration of search and machine learning capabilities makes them valuable tools for businesses across different sectors, and the rapid adoption of digital technologies further fuels the growth of the insights engine market. The main goal of an insight engine is to deliver timely and relevant data that can be transformed into actionable insights. By leveraging advanced search algorithms and machine learning techniques, these platforms can analyze and understand large volumes of data from various sources such as documents, databases, websites, and even unstructured data like images and videos. They can then extract meaningful patterns, relationships, and trends from the data, enabling users to make informed decisions and take appropriate actions.
Insight engines can extract meaningful patterns, relationships, and trends from the available data. These insights can then be delivered to users, whether they are customers, digital workers, or constituents, in an interactive or proactive manner. The information is presented in context and at the appropriate business moments, ensuring that it is relevant and timely. By automatically generating insights and delivering them to the right stakeholders at the right time, insight engines enhance the overall decision-making capabilities of organizations. They provide a way to synthesize and deliver information in a manner that is easily understandable and actionable, enabling users to leverage the power of data to drive their business forward
Report Segmentation
The market is primarily segmented based on component, deployment, enterprise size, application, vertical, and region.
By Component

By Deployment

By Enterprise Size

By Application

By Vertical

By Region

Small & Medium Enterprises

Large Enterprises

Workforce Management

Customer Experience Management

Sales & Marketing Management

Risk & Compliance Management

Others

BFSI

IT & Telecom

Retail & Ecommerce

Healthcare

Manufacturing

Government

Others

North America (U.S., Canada)

Europe (France, Germany, UK, Italy, Netherlands, Spain, Russia)

Asia Pacific (Japan, China, India, Malaysia, Indonesia. South Korea)

Latin America (Brazil, Mexico, Argentina)

Middle East & Africa (Saudi Arabia, UAE, Israel, South Africa)
To Understand the Scope of this Report: Speak to Analyst
Software segment accounted for the largest market share in 2022
Segment dominates the market, driven by increasing investments, the need for faster and more accurate insights, and advancements in artificial intelligence and machine learning technologies. As organizations continue to recognize the value of insight engines in harnessing the power of data, the software segment is expected to maintain its growth trajectory in the coming years.
Services segment expected to record steady growth rate over the study period. It encompasses a range of offerings such as training, support, deployment, and integration of the insight engines. These services are provided by vendors either as standalone offerings or as add-ons to their products. Typically, vendors charge a separate fee for these services in addition to the software subscription. To meet the demand for these services, insight engine suppliers often collaborate with specialized service providers who deliver these services on their behalf. This collaboration allows vendors to offer comprehensive support and expertise to their customers.
Customer experience segment expected to hold significant market share
Customer experience management segment is projected to hold significant market share in terms of revenue over the study period. This is primarily due to its significant impact on improving the customer experience. Insight engines leverage artificial intelligence techniques to uncover valuable insights from both structured and unstructured data, allowing organizations to understand customer needs, identify trends, and be more proactive in addressing customer concerns. Real-time insights further enable businesses to be agile and responsive, ultimately enhancing the overall customer experience.
Risk & compliance segment will witness steady growth. Segment is poised for significant growth due to the escalating complexity of regulatory requirements and cybersecurity threats. Insight engines offer organizations the ability to proactively identify and manage risks, while also facilitating efficient compliance management. By leveraging advanced analytics and processing large volumes of data, these platforms enable businesses to stay ahead of risks and ensure adherence to regulatory frameworks.
North America region dominated the global market in 2022
The North America region dominated the global market with considerable market share in 2022, and is projected to maintain its dominance throughout the anticipated period. Region's growth is due to its extensive adoption of cutting-edge technologies, the development of IoT, the cost advantages of cloud-based platforms, and the widespread utilization of these platforms across various sectors. The region's position is fueled by its ability to leverage insight engines' capabilities to analyze data, gain actionable insights, and enhance customer experiences across multiple industries.
The Asia Pacific region is anticipated to be the fastest growing region with a healthy throughout the projected period. Leading players in the region are actively investing in expanding their offerings and forming partnerships. China's technological prowess and regulatory landscape shape the dominance of domestic players, while emerging markets like India offer potential opportunities for growth. The region's market trajectory is driven by both domestic opportunities and the expansion of local companies in emerging markets.
Competitive Insight
Some of the major players operating in the global market include, Elasticsearch, International Business Machines Incorporation, Mindbreeze, Open Text Corporation, Expert.AI, Attivio, Coveo, Google, Sinequa, and Squirro AG
Recent Developments
In May 2023, SAP and IBM Watson AI insight engines collaborated to partner with each other. This partnership involves integrating Watson AI with SAP's software and platforms. The objective of this collaboration is to leverage the capabilities of Watson AI, such as natural language processing (NLP) and predictive insights, to enhance business efficiency and drive innovation, with a particular focus on the manufacturing, retail, and utility sectors.
Insight Engines Market Report Scope
| | |
| --- | --- |
| Report Attributes | Details |
| Market size value in 2023 | USD 1.94 billion |
| Revenue forecast in 2032 | USD 14.74 billion |
| CAGR | 25.3% from 2023 – 2032 |
| Base year | 2022 |
| Historical data | 2019 – 2021 |
| Forecast period | 2023 – 2032 |
| Quantitative units | Revenue in USD billion and CAGR from 2023 to 2032 |
| Segments covered | By Component, By Deployment, By Enterprise Size, By Application, By Vertical, By Region |
| Regional scope | North America, Europe, Asia Pacific, Latin America; Middle East & Africa |
| Key companies | Elasticsearch, International Business Machines Incorporation, Mindbreeze, Open Text Corporation, Expert.AI, Attivio, Coveo, Google, Sinequa, and Squirro AG |