The global LTE and 5G broadcast market was valued at USD 466.65 million in 2019 and is expected to grow at a CAGR of 10.97% during the forecast period. The growth of this market is attributed towards the growing requirement for minimizing the congestion in network capacity and increasing demand for uninterrupted video and mobile data services. Additionally, the increasing smartphone penetration and growing LTE mobile subscriber database also contributes to global market growth.
LTE and 5G broadcast creates substantial opportunity for content providers and television broadcasters to widen their overall customer reach since it enables them to access the mobile devices via free to air and directly while not requiring a SIM (Subscriber Identity Module) card for mobile devices. There's notable business growth opportunity for network operators as they would be providing their telecommunication services to the content providers for delivering ultra-high-speed internet connectivity for their customers in tandem with several other networks.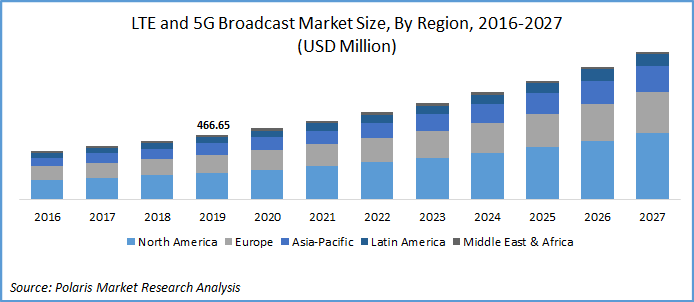 Know more about this report: request for sample pages
Industry Dynamics
Growth Drivers
The increasing demand for high-definition video calling in form of video conference calls among the office going individuals that are forced to work from home due to the ongoing COVID-19 pandemic globally drives the global market growth. Further, due to the rising data streaming pressure on the network due to the COVID-19 pandemic, the online video service providers such as Netflix and Hotstar are asked to stop advertisements and other high-definition content.
For instance, the Department of Telecommunication (DoT) has been asked by the Cellular Operators Association of India (COAI) to optimize the utilization of data. Moreover, 11 major content delivering platforms have also been asked to utilize the data as efficiently and minimally as possible owing to the additional growth in broadband services demand. Thus, there's substantial increase in demand for high-speed internet services during the ongoing pandemic situation worldwide that has subsequently boost the demand for global market.
Furthermore, there's substantial requirement for the minimization of network capacity congestion across the globe owing to notable increase in the incidents of call drop and interrupted data supply. As per CNET March 2020 publication, a large number of people across the globe are working from home through their handheld devices such as laptop, smartphones, Kindle, etc. with internet connection.
Moreover, children are also attending their classes online via a variety of video devices such as television, smartphone, laptops, etc. Also, the California state has mandated "shelter in place" rule throughout the state and the New York City is also on the complete lockdown that has put huge pressure on the home broadband internet connections. Such a situation has increased the demand for ultra-high-speed LTE and 5G broadcast services in the country. However, unwillingness to change from the traditional infrastructure is expected to restrain the LTE and 5G broadcast market growth over the forecast period.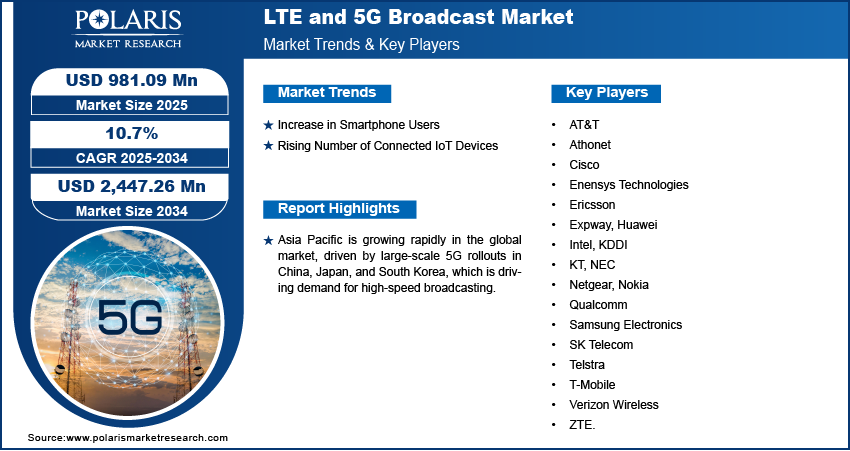 Know more about this report: request for sample pages
LTE and 5G Broadcast Market Report Scope
The market is primarily segmented on the basis of Technology, By End-Use, and geographic region.
By Technology

By End-Use

By Region

LTE Broadcast
5G Broadcast

Video on demand (VOD)
Mobile TV
Connected Cars
Emergency Alerts
Stadiums
E-Newspapers And E- Magazines
Radio
Data Feed & Notifications

North America (U.S., Canada)
Europe (France, Germany, UK, Italy, Spain, Netherlands, Austria)
Asia Pacific (Japan, China, India, Malaysia, Indonesia. South Korea)
Latin America (Brazil, Mexico, Argentina)
MEA (Saudi Arabia, UAE, Israel, South Africa)
Know more about this report: request for sample pages
Insight by Technology
Based upon technology, the global market is categorized into LTE broadcast and 5G broadcast. Out of the two, 5G broadcast is expected to grow the fastest at highest CAGR in the global market in 2019, owing to the increasing demand for 5G broadcast from the home consumers driven by their rising preference to watch live broadcast of any sports event such as football tournament, chess competition, cricket world cup or any other sporting event.
The exploding number of medical devices with seamless network connectivity results in intense pressure on the traditional 3G network while creating substantial growth opportunity for the latest LTE and 5G broadcast network. The 5G network offers boost in the bandwidth to enable several more device connectivity with no lag in the connection.
Insight by End Use
On the basis of end-use, the LTE and 5G broadcast market is categorized into Video on demand (VOD), Mobile TV, Connected Cars, Emergency Alerts, Stadiums, E-Newspapers and E- Magazines, radio, Data Feed & Notifications. The connected cars segment is expected to witness highest CAGR during the forecast period mainly due to the substantial technological advancements being introduced in connected cars by automobile manufacturers worldwide.
Moreover, Video on demand (VOD) segment is expected to contribute largest revenue by 2024 as there's rising number of mobile subscribers that are increasingly demanding for video on demand to view the most viewed for and popular television content such as sports championship and news headlines. Moreover, rising content delivery across a number of automobile screens, high-definition displays at the stadiums, emergency alerts, and digital signage are some other extremely popular use cases of LTE and 5G broadcast.
Geographic Overview
Geographically, North America is the largest revenue contributor in global market and it is also the first to introduce commercial 5G data services. The rising demand for extremely low latency data connectivity coupled with the rising development of advanced hardware-driven connected Internet-of-Things (IoT) devices boost the North America market growth. The key network service providers in the U.S. such as Comcast, Verizon, and AT&T are proactively testing the seamless deployment of 5G data services across the United States. This is mainly due to the substantial increase in demand for ultra-high speed data connectivity owing to the ongoing pandemic throughout the globe.
People are ordering food items, grocery items online through their mobile devices. Children have shifted from the usual school-going and studying pattern to online classes conducted through high-definition video calling. The office goers have been asked to work-from-home for several months to come owing to the risk of Coronavirus infection. All these activities has put tremendous pressure on broadband internet connectivity leading to the problems such as connection drop, intermittent data supply, and interruption in video calling.
The European continent comprising of the United Kingdom, France, Sweden, Poland, Germany, Netherlands, etc. is on the verge of proactively implementing ultra-high speed data services. The substantial increase in demand for seamless internet connectivity has encouraged the internet service providers in the region to invest excessively in order to boost their 5G network infrastructure.
Moreover, the 5G momentum is further driven by a range of strategic deals declared by Ericsson with the continent's leading telecommunication service providers. For instance, in April 2020, British Telecommunication PLC (BT) and Ericsson have partnered to implement a dual-mode driven 5G core and advanced solution over the network cloud of BT.
In addition, in April 2020, VodafoneZiggo launched 5G data services throughout Netherlands by sharing the spectrum with Ericsson and through the help of 5G core solutions. Furthermore, in April 2020, COSMOTE which is the largest mobile communications service provider from Greece has selected Ericsson to become its only vendor for 5G Radio Access Network (RAN).
Moreover, Asia-Pacific is expected to witness a substantial growth in the global market mainly due to huge demand for high-speed data services across the countries such as China, India and Japan amid the ongoing COVID-19 pandemic. According to the RCR Wireless News August 2020 news publication, China Telecom and China Unicom have together implemented nearly 150,000 5G base stations throughout China during the first half of fiscal year 2020.
Earlier, in September 2019, China Unicom and China Telecom have partnered to cooperatively develop 5G mobile network and implement it with the lowest cost possible across China. These key initiatives contribute to the market growth in Asia-Pacific region.
Competitive Insight
The major players operational in the global market have pressed upon strategic acquisitions to solidify their product-based research & development capabilities which would enable them to develop and offer highly advanced solutions to the users while gaining substantial competitive advantage.
Key players operational in the LTE and 5G broadcast market comprise of AT&T, Athonet, Cisco, Enensys Technologies, Ericsson, Expway, Huawei, Intel, KDDI, KT, NEC, Netgear, Nokia, Qualcomm, Samsung Electronics, SK Telecom, Telstra, T-Mobile, Verizon Wireless, and ZTE.