The global 5G Infrastructure market was valued at USD 753.2 million in 2019 and is expected to grow at a CAGR of 68.1% during the forecast period. The growing adoption of virtual network architecture among the vendors, its internal attributes such as higher speed, less latency, better efficiency, and ability to connect larger number of devices, and the increase in the mobile data traffic are the prominent factors boosting the market growth. Moreover, the increase in the machine to machine communication applied to varied industries is also augmenting the usage of 5G infrastructure.
The market is projected to change the fate of several broadband services and will empower connectivity across different industry verticals. According to the industry tracking firm, GSMA, more than 45 per cent of city level coverage is already being achieved for the 5G enabled networks. Countries, like India and China have planned to implement this network by late 2020.
The deployment of 5G networks require huge amount of capital investment and long-term vision. This technology is projected to unleash massive Internet of Things ecosystem, which will allow these networks to serve several connected mobile devices across the globe. For instance, as per estimates published by Ericsson's Mobility, approximately 10 million 5G mobile connections are expected to be realized, by June, 2019. The majority of these networks are composed of small cells, it also helps in reducing costs by eliminating expensive roof based systems and the installation costs, which thereby improves the performance and battery life of mobile handsets.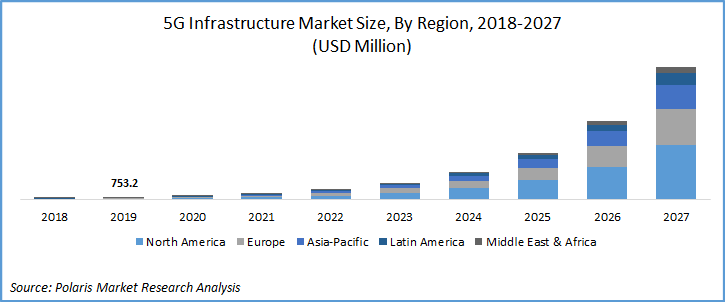 Know more about this report: request for sample pages
Industry Dynamics
Growth Drivers
The deployment of 5G infrastructure is continuously on rise and the major economies such as the U.S., Japan, South Korea, Taiwan, and Singapore driving the 5G infrastructure market. For instance, the mobile network operators such as Verizon, Sprint, T-Mobile, and AT&T have tested the this technology and concerned infrastructure components and have rolling such products.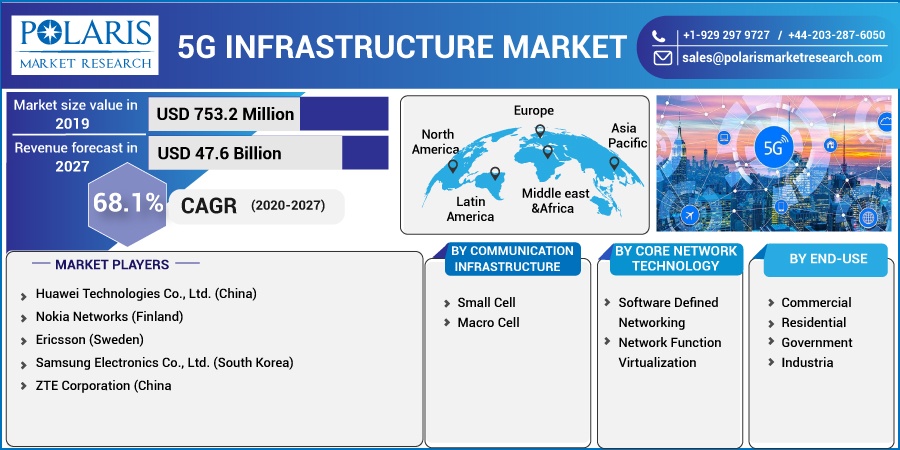 Know more about this report: request for sample pages
Moreover, more than 16 states in the U.S. have enacted legislation to enable small cells to be deployed with ease. Moreover, China has invested more in 5G research and development and the deployment efforts through government support. Its investments are being organized since 2015, both at the national level through state owned enterprises, including China Unicom, China Telecom, and China Mobile.
The surge in mobile data traffic also played crucial role in the adoption of 5G networks. Mobile data is the digital content transmitted over the internet from smartphones and tablets. It is being predicted that, 5G networks are expected to carry one third of mobile data load across the world. The rise in need of enhancement in the network infrastructure owing to increase in mobile handset generated traffic expected to fuel the growth of the market.
Challenges
However, the supply chain disruptions, delay in the release of 5G specifications, and the China-US trade war will result in lower market projection compared to pre-COVID-19 estimation.
5G Infrastructure Market Report Scope
The market is primarily segmented on the basis of Communication Infrastructure, By Core Network Technology, By End Use, and by geographic region.
By Communication Infrastructure

By Core Network Technology

By End Use

By Region

Software Defined Networking
Network Function Virtualization

Commercial
Residential
Government
Industrial

North America (U.S., Canada)
Europe (France, Germany, UK, Italy, Spain, Netherlands, Austria)
Asia Pacific (Japan, China, India, South Korea, Taiwan. Singapore)
Latin America (Brazil, Mexico, Argentina)
MEA (Saudi Arabia, UAE, Israel, South Africa)
Know more about this report: request for sample pages
Insight by Communication Infrastructure
Based upon communication infrastructure, the global market is categorized into small and macro cell. In 2019, small cell segment accounted for the large share, owing to increasing usage of small cell communication infrastructure in all types of 5G deployments. Small cells in comparison to large cell deliver high speed mobile broadband. It offers all basis functions, as offered by tradition communication infrastructures, and are installed within a small geographical area. Small cells typically comprise of Microcells, Picocells, and Femtocells.
Small cell is playing a big role in 5G networks due to rising interest in 4K recordings, virtual reality, Volte has resulted in surge in information. Moreover, rise in smart and wearable gadgets also has led to immense information flow, contributing to segment growth.
Insight by Core Network Technology
Based on the core network technology, the global market is categorized into software defined networking and network function virtualization. In 2019, the network function virtualization segment accounted for the largest share in the overall market. This technology is designed in such a way that network operator would easily implement different network settings on go through dedicated software and standard server hardware, which could be shifted or installed in different remote locations as per the concerned requirements. The network provider doesn't require application specific hardware systems to add or offer new services on go.
Insight by End Use
On the basis of end use, the global market is categorized into commercial, residential, government, and industrial. In 2019, industrial segment accounted for large share and same scenario is expected to continue over the study timeframe. This segment growth is attributed to growing opportunities in both internet of things (IoT) and machine to machine (M2M) communication technologies in the industrial sector.
The concept of smart factories is also playing a crucial role in the of 5G infrastructure in industrial segment. Smart factories aka industry 4.0 refers to shift of traditional industry settings to connected technologies through the IoT devices, edge computing, sensors, automation, and self- healing networks. Industry 4.0 concept relies on stable connectivity, fast connection, robust industrial networks, IoT sensors, and fast processing, with which industrial supply chain problems could be solved in real time.
Geographic Overview
Geographically, the global market is bifurcated into North America, Europe, Asia Pacific, Latin America, and Middle East & Africa (MEA). North America region is the largest revenue contributor followed by Europe and the Asia Pacific.
In 2019, the North America region accounted for more than % of the global market. Owing to the benefits of the 5G technology, the Federal Communications Commission (FCC) started framing rules for the use of 5G service in the U.S. 5G technology provides higher bandwidth for the wireless communication, smaller wire-less cells, and efficient modules. It offers 1 giga bit/second of speed, and millimeter wave band to support its deployment in different capacities across varied application. The U.S. is the major revenue generating country in the region.
The U.S. based vendors such as Sprint Corporation, T-Mobile, Verizon Communications, and AT&T Inc. are actively involved in the development and deployment of 5G components. Till January 2020, the 5G is already deployed in 50 cities across the country. The frontrunner is the Sprint, which deployed 5G network in the New York, Kansas, Chicago, Atlanta, Houston, Los Angeles, Dallas, and Phoenix. AT&T has also made its mobile 5G network live to consumers in 35 cities and 190 markets in the U.S. itself. The above mentioned strong interest of the government and robust industry activities by the players are the factors boosted the 5G infrastructure activity in the region.
Competitive Insight
Some major players operating in the 5G infrastructure market include Huawei Technologies Co., Ltd. (China), Nokia Networks (Finland), Ericsson (Sweden), Samsung Electronics Co., Ltd. (South Korea), and ZTE Corporation (China). In the coming future, the market is expected to be mostly dominated by Chinese players, with long term strategic agreement and partnerships with local players.
In February 2020, the Texas based telecommunication service provider, Mavenir, announced strategic partnership with Turkey based Turkcell, for the deployment of OpenRAN vRAN within latter company, in the Turkish land. The concerned architecture will support NSA and SA implementation of the 5G. This solution would be deployed in Turkcell Telco Cloud.