The global medical holography market was valued at USD 589.4 million in 2019 and is expected to grow at a CAGR of 28.6% during 2020 - 2027. The growth of this market is attributed towards the substantial funding raised by the key market players for development and deployment of holography technique in healthcare sector and advancements in medical holography. Some other key market drivers comprise of increasing adoption of advanced holography products throughout the healthcare education and biomedical research, extensive applications of holography in clinical research, and proactive deployment of holography to represent complex three-dimensional structures such as organs in the body.
Some of the primary applications of medical holography comprises of holography-based endoscopy, X-ray holography, and multiplexed holography technique for tomography. In addition, the technique is also used for recording the images with ultra-high resolution, information storage, holograms used as optical elements, and to perform accurate interferometric measurement of any three-dimensional item of varying shapes and different surface finish.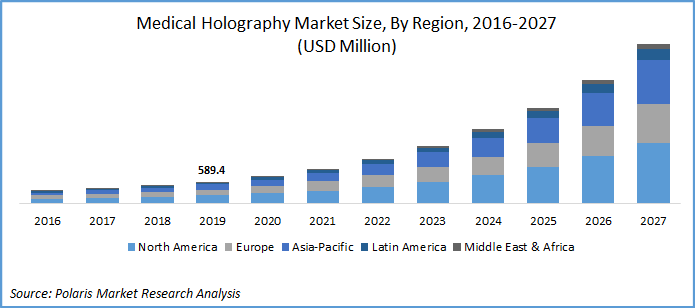 Know more about this report: request for sample pages
Industry Dynamics
Growth Drivers
Substantial funding raised by the companies coupled with novel product introductions by key market players drives the medical holography market growth. For instance, in May 2019, Aestheia Imaging has launched XTHEIA, which is an interactive and advanced hologram display that is also equipped with a virtual consult assistant primarily meant for the waiting rooms at healthcare centers.
Aestheia Imaging has also offered an application for iPad that enables healthcare providers to remotely control the operations of the device while also offering photo of patients through in-app camera. Additionally, in June 2016, Meta Co. raised nearly $50 million for the development of augmented reality (AR) glasses that can also be used as holographic device in the healthcare sector. The healthcare providers such as doctors and surgeons can wear this AR driven glasses to clearly examine the organs of affected area of the body. This would assist the surgeons in their operating procedures while enabling them to advise the best possible treatment or medication to the patients.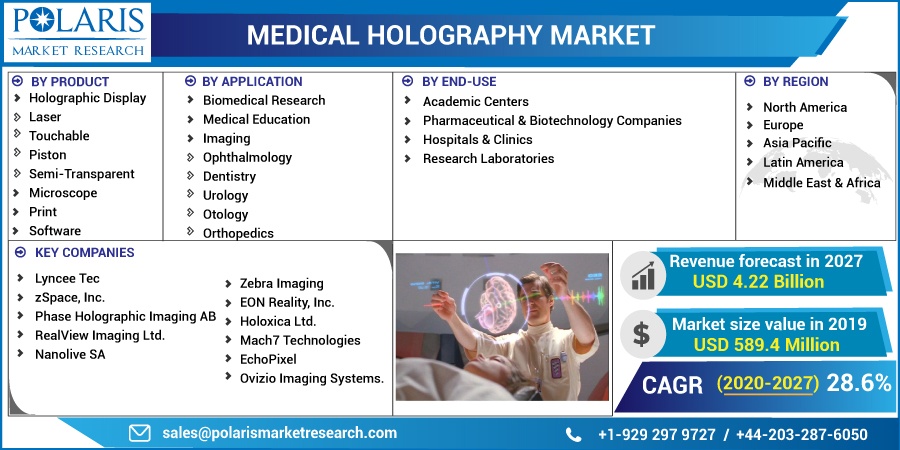 Know more about this report: request for sample pages
Other major medical holography market drivers comprise of notable advancements such as machine learning, augmented reality, and artificial intelligence achieved in development of holographic devices. Technology behemoths such as Google Inc., Mach7 Technologies Pte, RealView Imaging Ltd. and EchoPixel, Inc. are actively involved in innovating medical holography with the introduction of advanced real-time 3D interaction tools used for medical holography applications.
Medical Holography Market Report Scope
The market is primarily segmented on the basis of product, by application, by end-use, and geographic region.
By Product

By Application

By End-Use

By Region

Holographic Display

Laser
Touchable
Piston
Semi-Transparent

Microscope
Print
Software
Others

Biomedical Research
Medical Education
Imaging

Ophthalmology
Dentistry
Urology
Otology
Orthopedics
Others

Academic Centers
Pharmaceutical & Biotechnology Companies
Hospitals & Clinics
Research Laboratories

North America (U.S., Canada)
Europe (France, Germany, UK, Italy, Spain, Netherlands, Austria)
Asia Pacific (Japan, China, India, Singapore, Indonesia, South Korea)
Latin America (Brazil, Mexico, Argentina)
MEA (Saudi Arabia, UAE, Israel, South Africa)
Know more about this report: request for sample pages
Insight by Product
Based upon product, the global market is categorized into Holographic Display, Microscope, Print and Software. Of all, holographic display segment held the largest share in the global market in 2019, owing to the rising demand for technologically advanced devices.
The introduction of artificial intelligence (AI) and machine learning (ML) in medical holography is expected to be a key advancement that drives the product segment market growth. For instance, according to the Mobius Trend August 2020 release, WiMi Hologram Cloud Inc., Google Inc. and Facebook are focusing on developing AI, deep learning (DL) and augmented reality (AR) technologies to facilitate advanced and simpler medical holography applications. These key technologies would enable the development of interactive displays through which healthcare providers can have better understanding of the affected organ in the body while allowing them to administer better treatment to patients.
Insight by Application
On the basis of application, the global market is categorized into imaging, biomedical research, and medical education. Medical education segment is expected to witness highest CAGR during the forecast period as the healthcare institutions worldwide are proactively using holographic technique across their operating procedures in the operating rooms or hybrid operating rooms. Moreover, as the governments worldwide focus on strengthening their country's healthcare infrastructure by boosting investments and fund allocation to enhance healthcare services amid exploding cases of COVID-19 pandemic globally is also expected to drive the deployment of holography technique across the segments, driving segment growth.
Insight by End-use
Based upon end-use, the global market is bifurcated into academic centers, pharmaceutical & biotechnology companies, hospitals & clinics and research laboratories. As compared to other sub-segments, research laboratories segment is expected to dominate in terms of revenue contribution owing to extensive adoption of advanced medical holographic techniques across the research laboratories worldwide.
COVID-19 pandemic has encouraged the research laboratories to propel their research on determining effective medication for patients affected with coronavirus. Some of the key symptoms of COVID-19 include shortness of breath or difficulty breathing, chest pain, and loss of movement or speech among several others. The research laboratories are employing holographic techniques to view and study the lungs of COVID-19 patients in order to clearly understand the spreading of the Coronavirus that is expected to help them in making novel and effective medicine for COVID-19.
Geographic Overview
Geographically, North America is anticipated to dominate the global market in terms of revenue share. The contribution is primarily driven by substantial ongoing research by the key market players that are based in the region. Moreover, growing interest of healthcare institutions and increasing funding for advancement and deployment of holography techniques across the healthcare institutions in the region also contribute to the region's medical holography market growth.
Additionally, the rising burden of chronic diseases such as diabetes, asthma, cancer, apart from others coupled with clinical requirements for effective screening technology such as AI, ML, and AR driven holography technique also catalyzes the market growth in the region. Furthermore, growing acceptance of medical holographic teaching techniques across North America also positively influence the regional market growth.
Asia-Pacific region is expected to witness fastest growth in the global market mainly driven by increasing healthcare expenditure, rising disposable income, and elevated level of awareness among the healthcare providers about the key benefits of using advanced medical holography technique in medical interventional and diagnostic procedures are further contributing to the region's growth.
In April 2020, WiMi which is an augmented reality holographic technology firm from China has illustrated successful use of holographic technology in healthcare education sector using three-dimensional glasses. The 3D glasses would be worn by the surgeon while learning any novel surgical procedure. This key development also contributes to the Asia-Pacific growth.
Competitive Insight
Key players operating in the global market are focusing on product innovation and launch in order to strengthen their product portfolio. While, several other market players are also focusing on getting the U.S. Food and Drug Administration (FDA) approval and implementing acquisition strategy to grow inorganically and expand their geographical presence across various countries and regions.
Some of the major players operating the global market include Lyncee Tec, zSpace, Inc., Phase Holographic Imaging AB, RealView Imaging Ltd., Nanolive SA, and Zebra Imaging, EON Reality, Inc., Holoxica Ltd., Mach7 Technologies, EchoPixel, and Ovizio Imaging Systems.