The global microinsurance market was valued at USD 74.40 billion in 2022 and is expected to grow at a CAGR of 6.5% during the forecast period. Emergence of new and innovative channels for marketing and selling microinsurance is a positive development for the insurance industry, as it can help increase the availability and affordability of insurance products for low-income households and underserved markets. Insurers can collaborate with insurtech companies to leverage their technological expertise and develop new microinsurance products that meet the evolving needs of customers. These partnerships can also help insurers reach underserved markets and expand their customer base. One advantage of these new channels is the convenience and accessibility they offer to customers. Microinsurance products can now be easily purchased and managed through digital channels, which can help increase uptake and adoption of these products.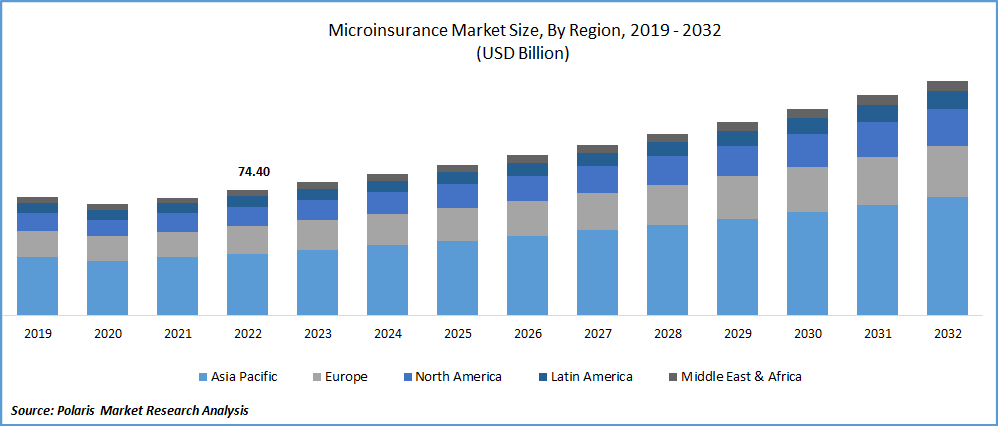 To Understand More About this Research: Request a Free Sample Report
Growth of digital platforms and microinsurance start-ups is expected to drive market growth in the microinsurance sector, by expanding access to affordable and relevant insurance products for low-income populations. Digital platforms that employ gig workers or remittance platforms for migrant workers have significant potential to distribute microinsurance products to low-income populations. These platforms already have a large user base of low-income customers, which provides insurers with an opportunity to offer affordable and accessible microinsurance products that meet their specific needs.
In addition, microinsurance start-ups are leveraging technology to develop innovative microinsurance plans that cater to the unique needs of low-income populations. These start-ups are often nimble and able to adapt quickly to changes in the market, which makes them well-suited to developing microinsurance products that are affordable, accessible, and easy to use. Regulatory compliance is critical in the microinsurance industry to protect consumers and providers, promote fair competition, and build trust and confidence in the market. Regulatory compliance is important because it helps to ensure that microinsurance products are designed to protect the interests of consumers.
In addition, regulatory compliance helps to build trust and confidence in the microinsurance market. Consumers are more likely to purchase microinsurance products if they feel confident that these products are regulated and that they are protected from fraud and other malpractices. Furthermore, regulatory compliance helps to level the playing field for microinsurance providers, ensuring that they are all subject to the same standards and requirements. This helps to promote fair competition in the microinsurance market and prevents providers from engaging in unethical practices to gain an unfair advantage.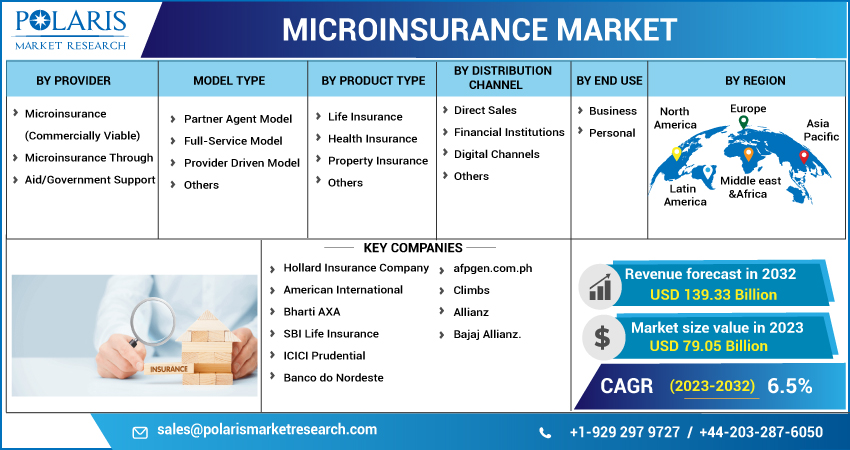 For Specific Research Requirements, Request for a Customized Report
Industry Dynamics
Growth Drivers
Use of artificial intelligence (AI) and machine learning (ML) is an important trend in the microinsurance industry that can help providers improve their operations and better serve customers. One area where AI and ML can be particularly useful is in claims processing. By using algorithms to analyse and classify incoming claims based on various factors, AI and ML can automate the claims processing process, which can significantly reduce the time and cost involved in manual claims processing. This can also improve accuracy and reduce the likelihood of fraudulent claims.
In addition, AI and ML can be used to improve underwriting by analyzing large volumes of data to identify risk factors and develop more accurate risk models. This can help microinsurance providers better understand the risks associated with different types of policies and price them more accurately. AI and ML can be useful is in providing real time customer claims service. Chatbots empowered with the AI can also provide 24/7 customer support and enable to file claims or questions regarding policies. This can improve the overall customer experience and reduce the workload for customer service agents.
Overall, the use of AI and ML in the microinsurance industry has the potential to improve operations, reduce costs, and provide better service to customers. However, it is important for microinsurance providers to ensure that the use of these technologies is transparent and ethical, and that customer data is protected and used responsibly.
Report Segmentation
The market is primarily segmented based provider, model type, product type, distribution channel, end use, and region.
By Provider

Model Type

By Product Type

By Distribution Channel

By End-Use

By Region

Microinsurance (Commercially Viable)

Microinsurance Through Aid/Government Support

Partner Agent Model

Full-Service Model

Provider Driven Model

Others

Life Insurance

Health Insurance

Property Insurance

Others

Direct Sales

Financial Institutions

Digital Channels

Others

North America (U.S., Canada)

Europe (France, Germany, UK, Italy, Netherlands, Spain, Russia)

Asia Pacific (Japan, China, India, Malaysia, Indonesia, South Korea)

Latin America (Brazil, Mexico, Argentina)

Middle East & Africa (Saudi Arabia, UAE, Israel, South Africa)
To Understand the Scope of this Report: Speak to Analyst
Commercially viable segment held largest revenue share in 2022
Commercially Viable accounted for the largest revenue share in 2022. Microinsurance providers are focusing on developing new products that are tailored to the specific needs of low-income individuals and communities. Microinsurance providers are using various strategies to develop these products. For example, they are working closely with communities to understand their unique needs and risks, and to co-create products that are relevant and affordable. They are also leveraging technology to develop innovative products that are easier to access and use, such as mobile-based insurance solutions.
Government aided microinsurance segment anticipated to register the highest growth over the study period. Government support can help microinsurance providers is by providing funding for technology infrastructure and digital platforms. Digital platforms such as mobile banking and digital wallets can help to reduce the cost of distributing and administering microinsurance products. By integrating their products with these platforms, microinsurance providers can improve the accessibility and affordability of their products. Finally, aid and government support can help microinsurance providers to build partnerships with other organizations and stakeholders in the microinsurance ecosystem. By working together, microinsurance providers can leverage their respective strengths and expertise to better serve the needs of low-income populations.
Partner agent model segment held largest share in the global market
The partner agent segment dominated the market with largest shares. Partner agents are typically embedded within local communities and have a deep understanding of the needs, preferences, and cultural norms of the populations they serve. By collaborating with partner agents, microinsurance providers can gain valuable insights into the local market and tailor their products and services to meet the specific demands of the community. Partner agents can play a critical role in marketing and distributing microinsurance products. They can help to build trust and credibility with potential clients, and to overcome the barriers to access that often prevent low-income populations from obtaining insurance. Partner agents can also provide valuable feedback to microinsurance providers on the effectiveness of their products and services, and on ways to improve them.
Full-service model registered steady growth rate over the study period. It provides a range of financial services, including insurance, savings, credit, and other products, to low-income populations. One of the key advantages of the full-service model is that it can help to address the financial exclusion faced by many low-income households. Many low-income individuals and families do not have access to traditional banking services, making it difficult to save money or access credit. By providing a range of financial services through a single platform, the full-service model can help to increase access to financial services for low-income populations.
APAC accounted for the largest share of the market 2022
APAC garnered the largest revenue share. Region's growth is primarily due to presence of un-deserved population, low penetration rate, low-income groups, and the positive regulatory environment. Region is home to a significant number of low-income individuals and families who are vulnerable to financial shocks and emergencies. Microinsurance can help to protect these populations against unexpected risks and provide them with a safety net to help them recover from financial setbacks. Many low-income individuals and families in the region do not have access to insurance products or are not aware of their benefits. Microinsurance can help to bridge this gap by providing affordable and accessible insurance products that meet the specific needs of low-income populations.
Many governments in the region support microinsurance initiatives. Regulatory bodies frame standards for designing, pricing, & delivering microinsurance products to ensure that they are transparent, trustworthy, and protect the interests of consumers, especially those with limited resources. Moreover, mobile technology can be used to deliver insurance products and services directly to customers, reducing the cost and complexity of distribution and making insurance more accessible to low-income populations.
North America anticipated to register steady growth over the forecast period. Digital platforms & mobile technology have significantly impacted the microinsurance industry. With the increasing penetration of smart-phones & internet connectivity, more people in low-income communities can access digital platforms, which presents new opportunities for microinsurance providers to reach underserved populations.
Competitive Insight
The global players include Hollard Insurance Company, American International, Bharti AXA, SBI Life Insurance, ICICI Prudential, Banco do Nordeste, afpgen.com.ph, Climbs, Allianz, & Bajaj Allianz.
Recent Developments
In October 2021, MicroEnsure signed strategic partnership with the Chamasure, an insurance platform in Kenya, which aims to serve mico-insurance services to the un-deserved communities.
Microinsurance Market Report Scope
| | |
| --- | --- |
| Report Attributes | Details |
| Market size value in 2023 | USD 79.05 billion |
| Revenue forecast in 2032 | USD 139.33 billion |
| CAGR | 6.5% from 2023 – 2032 |
| Base year | 2022 |
| Historical data | 2019– 2021 |
| Forecast period | 2023– 2032 |
| Quantitative units | Revenue in USD billion and CAGR from 2023 to 2032 |
| Segments covered | By Provider, By Model Type, By Product Type, By Distribution Channel, By End-Use, By Region |
| Regional scope | North America, Europe, Asia Pacific, Latin America; Middle East & Africa |
| Key companies | Hollard Insurance Company, American International, Bharti AXA, SBI Life Insurance, ICICI Prudential, Banco do Nordeste, afpgen.com.ph, Climbs, Allianz, & Bajaj Allianz. |