The global modified starch market was valued at USD 12.95 billion in 2022 and is expected to grow at a CAGR of 4.4% during the forecast period.
The fast-paced growth of the food sector is being aided by the demand for modified starches. The functional advantages that modified starches offer can considerably enhance the nutritional value of many meals, including baked food, snacks, beverages, and nutritious foods.

Know more about this report: Request for sample pages
The modified starch market is anticipated to grow as a result of increased investment in the production of modified starch to meet the soaring demand. As an illustration, according to a study by Yun Wang et al. released in 2020, Nano-starch (NS) is a novel type of starch material with special physiochemical properties because of its small size. As a result, modified NS is becoming a new area of research because of its improved hydrophobicity, stability, and dispersion property. However, information on modified NS is infrequent in the literature, thus a systematic evaluation of its preparation, application, problem, and challenge, as well as associated health concerns, is conducted to increase understanding of modified NS.
Convenience meals need to be processed and prepared thoroughly, which has been possible because of technological advancements in packaging, freezing, preserving artificial flavorings, and other areas. For instance, Phosphated Distarch Phosphate (E1413), when frozen and thawed, serves to stabilize a product's consistency. An E1413 modified starch called PRECISA 680 was produced to either conserve raw resources or boost yield in the manufacture of cheese with whey separation processes. Without affecting the texture of the cheese, it greatly improves yield while maintaining the high quality of the whey stream.
COVID-19 significantly strained the food supply chain, resulting in bottlenecks in farm labor, processing, shipping, and transportation as well as considerable variations in demand. The durability of the food supply chains in the face of these stresses was unexpected. The impact on agricultural sectors including corn, potatoes, tapioca, and wheat as well as intermediate items like starches is modest because of government aid that made sure the supply chain operated effectively in the face of the crisis by stabilizing food systems, so boosting both food security and nutrition.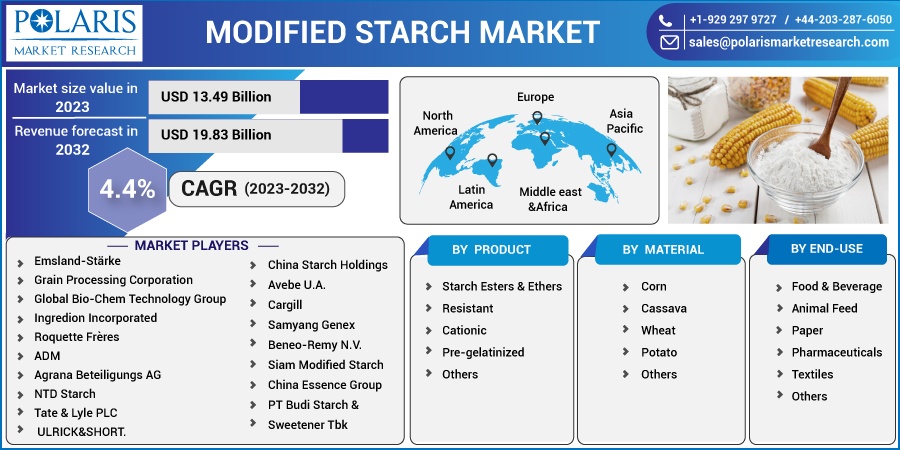 Know more about this report: Request for sample pages
Industry Dynamics
Growth Drivers
The market is growing as a consequence of an increase in the demand for modified starch in cosmetic, pharmaceutical product and personal care products to meet varying consumer preferences. Modified starches are powerful raw material substitutes for silicones and other substances, and they also lessen greasiness. Along with cosmetics for tanning, they are wonderful additions to baby and children's products. Starches also provide the emulsion an opportunity to become more stable. It is anticipated that these factors will increase product demand in the upcoming years.
According to the study report by Ornanong S. Kittipongpatana et al., published in 2022, modified KJ CMU-107 rice starches have physicochemical and functional characteristics that make them ideal for application in pharmaceutical formulations.
One of the main food crops that produce starch is rice. Due to rising demand for applications in food, pharmaceutical, cosmetics, and other industries, the global market for rice starch is expected to grow significantly during the forecast period. As a result, the market under study is anticipated to increase due to the rising investment in the manufacturing of modified starch to meet the soaring demand.
Report Segmentation
The market is primarily segmented based on product, material, end-use, and region.
By Product

By Material

By End-Use

By Region

Starch Esters & Ethers
Resistant
Cationic
Pre-gelatinized
Others

Corn
Cassava
Wheat
Potato
Others

Food & Beverage
Animal Feed
Paper
Pharmaceuticals
Textiles
Others

North America (U.S., Canada)
Europe (France, Germany, UK, Italy, Netherlands, Spain, Russia)
Asia Pacific (Japan, China, India, Malaysia, Indonesia. South Korea)
Latin America (Brazil, Mexico, Argentina)
Middle East & Africa (Saudi Arabia, UAE, Israel, South Africa)
Know more about this report: Request for sample pages
Starch esters and ethers is expected to dominate the industry's market sector.
In 2022, starch esters and ethers will lead the market, accounting for significant sales. The rising demand for convenient foods is expected to fuel the expansion of the starch esters and ethers market. Due to their superior functional qualities when compared to esterified starches, etherified starch adds a new level of textural stability. Higher viscosity, better clarity, less syneresis, and improved freeze-thaw stability are all characteristics of starch ether pastes.
During the projected period, these developing regions are likely to see significant growth in the pharmaceutical business as consumer demand for cutting-edge pharmaceuticals increases and drive up product demand.
The cassava segment has the highest share of the market.
Cassava will dominate the market in 2022, accounting for considerable sales. The market is expanding because a variety of products that heavily rely on starch include confectionery, adhesives, food and drink, pharmaceuticals, building materials, and textiles. The expansion of the product is primarily fueled by attributes like stability and excellent paste clarity.
Food and beverage segment will account for a higher share of the market.
Food and beverage sales accounted for the greatest revenue share in 2022 and are expected that this sector will continue to dominate the market for the duration of the forecast. Modified starches can be used in ready-to-drink mixtures because they are excellent flavor carriers. Suppliers of ingredients have been diversifying their sources of starch, and starch developments increasingly concentrate on components of baked foods such as fruit filling in sweets and sauces in frozen food meals. It improves the quality of baked items like mayonnaise, soup, and pasta.
According to Starch Europe, the European Starch Industry currently produces over 11 million tons of starch and starch derivatives, as well as more than 5 million tons of proteins and fibers annually, from 70 starch production facilities located in 19 EU Member States. Approximately 25 million tons of crops grown in the EU, including potatoes, barley, rice, and peas, are used to extract this.
The demand in North America is expected to witness significant growth
In 2022, North America is expected to dominate the market during the forecast period. The key driver of market expansion is expected to be increased consumer awareness of the benefits of eating low-fat foods, notably in the United States, which is one of the world's leading producers of maize and corn starch. The use of modified starch in a variety of food products has a significant impact on the growth of the USA region. It assists in stabilizing or thickening culinary items, particularly sauces. Since the market for sauces and condiments is expanding, the industrial starches industry is also expanding more quickly, which motivates producers to provide new items to the market. For instance, in March 2021, Ingredion added a new portfolio of potato-based solutions, both in the U.S. & Canada, named "ULTRA-TEX 1311" modified potato starch.
Competitive Insight
Some of the major players operating in the global market include Emsland-Starke, Grain Processing Corporation, Global Bio-Chem Technology, Ingredion Incorporated, Roquette Freres, ADM, Agrana Beteiligungs, NTD Starch, China Starch Holdings, Avebe U.A., Cargill, Samyang Genex, Beneo-Remy, Siam Modified Starch, China Essence, PT Budi Starch, Tate & Lyle, and ULRICK & SHORT.
Recent Developments
In September 2022, Cargill opened a new maize mill in Pandaan, Indonesia, to cater to the demand for starch, sweeteners, & feed in Asia countries.
Modified Starch Market Report Scope
| | |
| --- | --- |
| Report Attributes | Details |
| Market size value in 2023 | USD 13.49 billion |
| Revenue forecast in 2032 | USD 19.83 billion |
| CAGR | 4.4% from 2023 - 2032 |
| Base year | 2022 |
| Historical data | 2019 - 2021 |
| Forecast period | 2023 - 2032 |
| Quantitative units | Revenue in USD billion and CAGR from 2023 to 2032 |
| Segments covered | By Product, By Material, By End-Use, By Region |
| Regional scope | North America, Europe, Asia Pacific, Latin America; Middle East & Africa |
| Key companies | Emsland-Stärke, Grain Processing Corporation, Global Bio-Chem Technology Group, Ingredion Incorporated, Roquette Frères, ADM, Agrana Beteiligungs AG, NTD Starch, China Starch Holdings, Avebe U.A., Cargill, Samyang Genex, Beneo-Remy N.V., Siam Modified Starch, China Essence Group, PT Budi Starch & Sweetener Tbk, Tate & Lyle PLC, and ULRICK&SHORT. |