The global mud pumps market was valued at USD 842.01 million in 2022 and is expected to grow at a CAGR of 3.94% during the forecast period.
Growing demand for energy resources, particularly oil and gas, is driving increased exploration and production activities worldwide. As a result, the need for drilling equipment, including mud pumps, is rising to facilitate the extraction of hydrocarbons from the earth's subsurface. During the period from 2005 to 2030, there is a projected 55 percent expansion in energy needs, leading to an increase in demand from 11.4 billion tons of oil equivalent to 17.7 billion. This substantial growth in energy requirements serves as a driving factor for the escalation in demand for various energy-related industries, including the mud pumps market.

To Understand More About this Research: Request a Free Sample Report
The exploration and production of unconventional resources, such as shale gas and tight oil, have gained significant momentum. Extracting these resources often involves complex drilling operations that rely on mud pumps to handle the challenging drilling conditions, contributing to the growth of the mud pumps market. With the depletion of easily accessible onshore oil and gas reserves, there is increasing exploration and production in deepwater and offshore fields. Deepwater drilling requires advanced equipment, including high-performance mud pumps capable of operating under extreme conditions. The expansion of deepwater and offshore drilling activities contributes to the growth of the mud pumps market.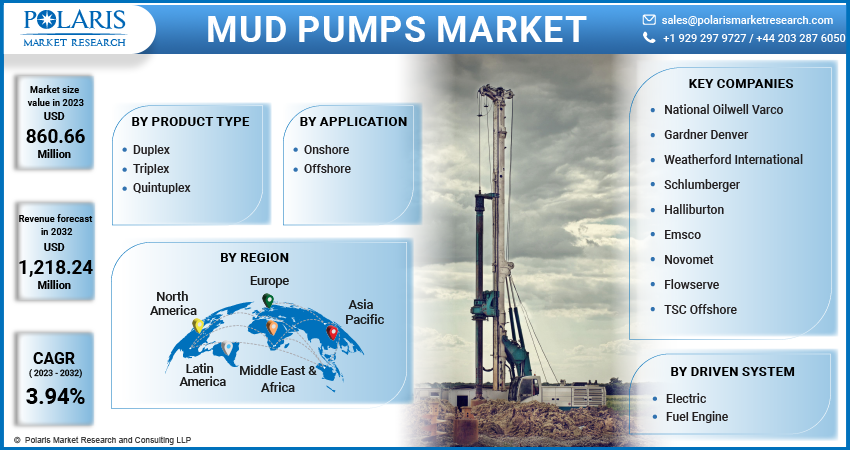 For Specific Research Requirements, Request for a Customized Report
Industry Dynamics
Growth Drivers
Technological Advancements & Novel Launches are propelling the market growth
The introduction of a new and advanced drilling rig often leads to the retirement or replacement of older rigs. As outdated rigs are phased out, industries invest in newer rigs equipped with modern technologies. This replacement and upgrade process generates demand for compatible mud pumps that can effectively support the upgraded rigs, driving the growth of the mud pumps market. MEIL has accelerated the delivery of the rigs and recently handed over a 2,000 HP land based drilling rig to the ONGC Rajahmundry.
This rig caters to oil and gas prospects in the east and west Godavari Districts and represents the pinnacle of technological excellence. This development directly fuels the demand for high-quality mud pumps, as the rig's enhanced capabilities and expanded drilling operations necessitate reliable pumping equipment for efficient and effective drilling processes. As a result, the delivery of such advanced rigs acts as a driving force for the growth and advancement of the market.
Report Segmentation
The market is primarily segmented based on product type, driven system, application, and region.
By Product Type

By Driven System

By Application

By Region

Duplex

Triplex

Quintuplex

North America (U.S., Canada)

Europe (France, Germany, UK, Italy, Netherlands, Spain, Russia)

Asia Pacific (Japan, China, India, Malaysia, Indonesia. South Korea)

Latin America (Brazil, Mexico, Argentina)

Middle East & Africa (Saudi Arabia, UAE, Israel, South Africa)
To Understand the Scope of this Report: Speak to Analyst
By Product Type Analysis
Triplex segment is expected to witness fastest growth during forecast period
Triplex segment is expected to have faster growth for the market. These pumps are known for their ability to deliver high-pressure pumping, which is crucial for various drilling applications. They can handle demanding drilling conditions, such as deepwater drilling, high-pressure formations, and complex wellbore geometries. The increasing demand for such challenging drilling projects contributes to the growth of the triplex segment. These mud pumps are designed to provide efficient and reliable performance in drilling operations. Their balanced and smooth flow ensures effective circulation of drilling fluids, facilitating the removal of cuttings from the wellbore. The reliability and consistent performance of triplex mud pumps make them a preferred choice among drilling contractors and operators, driving the market growth.
By Driven System Analysis
Electric segment accounted for the largest market share in 2022
Electric segment holds the largest market share for the market in the study period. Electric-driven mud pumps are considered more environmentally friendly compared to their fuel engine counterparts. They produce fewer emissions and contribute to lower carbon footprints, aligning with the increasing emphasis on sustainability and environmental regulations. The demand for electric-driven mud pumps is driven by the industry's desire to reduce environmental impact and promote cleaner energy solutions. These mud pumps are known for their energy efficiency, resulting in reduced energy consumption and operating costs. They can operate at higher efficiency levels compared to fuel engine-driven pumps. This energy efficiency translates into cost savings for operators, making electric-driven pumps an attractive choice. The potential for long-term cost savings and improved operational efficiency drives the growth of the electric segment.
By Application Analysis
Onshore segment is expected to hold the larger revenue share during forecast period
Onshore segment is projected to witness a larger revenue share in the coming years. Onshore drilling activities continue to be a significant source of oil and gas production globally. The exploration and development of onshore reserves, including conventional and unconventional resources, drive the demand for mud pumps. As new onshore fields are discovered or existing fields require further development, the need for efficient and high-performing mud pumps increases, thereby contributing to the growth of the market.
The exploration and production of unconventional resources, such as shale gas and tight oil, have gained prominence in recent years. These resources often require specialized drilling techniques, including the use of mud pumps to effectively fracture and extract hydrocarbons from low-permeability formations. The growth of unconventional resource exploration, particularly in regions like North America, contributes significantly to the demand for mud pumps in the onshore segment.
Regional Insights
Asia Pacific registered with the highest growth rate in the study period
APAC is projected to witness a higher growth rate for the market. The significant factor driving the growth of the market is the expansion of the oil and gas industry, particularly in emerging economies. The increasing global energy demand, coupled with the exploration and production of unconventional oil and gas resources, has led to a surge in drilling activities. Emerging economies in Asia, such as India, China are experiencing rapid industrialization and urbanization, which has fueled the demand for energy. As a result, there is a growing need for drilling operations to access and extract oil and gas reserves.
This expansion of the oil and gas industry, driven by the rising energy requirements of developing economies, creates a substantial market for mud pumps. Furthermore, the discovery of new oil and gas reserves in previously untapped regions further contributes to the growth of the mud pumps market. For instance, Oil and Natural Gas Corporation (ONGC), a state-run organization discovered the oil and gas reserves in the Mumbai offshore fields situated in the Arabian Sea in 2023. These discoveries require drilling activities to assess and exploit the newly found resources, necessitating the use of mud pumps for efficient and successful drilling operations.
East Africa is expected to witness a larger revenue share for the market. In this region particularly countries like Uganda, Kenya, and Tanzania, has significant potential for oil and gas exploration. The discovery and ongoing development of oil reserves in the region have spurred drilling activities, increasing the demand for mud pumps. Mud pumps play a crucial role in the drilling process, circulating drilling fluid (mud) to maintain pressure, remove cuttings, and lubricate the drilling equipment.
For instance, in 2023, Ugandan President Yoweri Museveni started drilling at the Kingfisher Oil Field, which is operated by the China National Offshore Oil Corporation (CNOOC). The drilling process signifies the beginning of commercial oil production in Uganda. As oil production expands, there will be a higher demand for mud pumps, which are essential equipment used in the drilling and extraction processes. This increased demand can drive the growth of the mud pumps market in the region.
Key Market Players & Competitive Insights
The mud pumps market is fragmented and is anticipated to witness competition due to various players operating worldwide. The players are constantly upgrading their product line to stay ahead of the competition. These players focus on partnership, product upgrades, and collaboration to gain a competitive edge over their peers and capture a significant market share.
Some of the major players operating in the global market include
Emsco

Flowserve

Gardner Denver

Halliburton

National Oilwell Varco

Novomet

Schlumberger

TSC Offshore

Weatherford International
Recent Developments
In April 2023, Halliburton Company has recently unveiled its new product, the SpyGlass cloud-based web application. This innovative application is designed to support the performance analysis of electric submersible pumps.

In January 2023, Flowserve Corporation has announced its commitment to assist in the development of Aramco's Jafurah project, a significant unconventional gas field in Saudi Arabia. Flowserve will provide support by supplying more than 400 pumps for the project.
Mud Pumps Market Report Scope
| | |
| --- | --- |
| Report Attributes | Details |
| Market size value in 2023 | USD 860.66 million |
| Revenue forecast in 2032 | USD 1,218.24 million |
| CAGR | 3.94% from 2023 - 2032 |
| Base year | 2022 |
| Historical data | 2019 - 2021 |
| Forecast period | 2023 - 2032 |
| Quantitative units | Revenue in USD million and CAGR from 2023 to 2032 |
| Segments covered | By Product Type, By Driven System, By Application, By Region |
| Regional scope | North America, Europe, Asia Pacific, Latin America, Middle East & Africa |
| Key companies | National Oilwell Varco, Gardner Denver, Weatherford International, Schlumberger, Halliburton, Emsco, Novomet, Flowserve & TSC Offshore. |