The global multiphoton microscopy market was valued at USD 155.5 million in 2021 and is expected to grow at a CAGR of 4.2% during the forecast period. Increasing the need for early cancer detection and treatment due to the growing incidence of different types of cancer is driving the growth of the multiphoton microscopy market.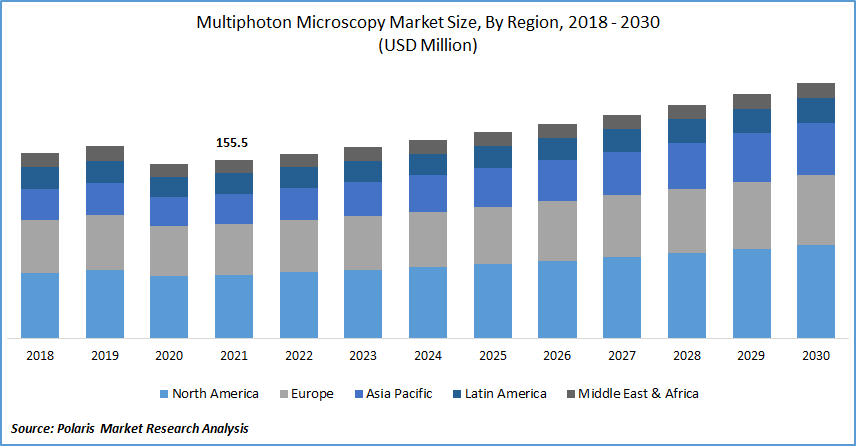 Know more about this report: Request for sample pages
Due to characteristics like deep tissue penetration, less light damage that is helpful in live cell imaging, and decreased out-of-focus bleaching, multiphoton microscopy is becoming more and more popular across the globe. The Multiphoton Microscopy Market (MPM) is useful in identifying the evaluation of bladder cancer, spermatogenesis, and identification of tissue in prostate cancer surgery.
With the aid of the MPM technique, materials with quantifiable nonlinear optical responses, such as Second Harmonic Generation (SHG), Third Harmonic Generation (THG), or fluorescence induced by multiphoton absorption, can be mapped in three dimensions. MPM is a useful method of viewing the nonlinear microscopic world with high resolution in 3-D.
The biological development of MPM is now in progress, mainly a focus on deep tissue imaging, neurosciences, cancer detection, structural characterizations, protein quantification and localization, and application in other areas.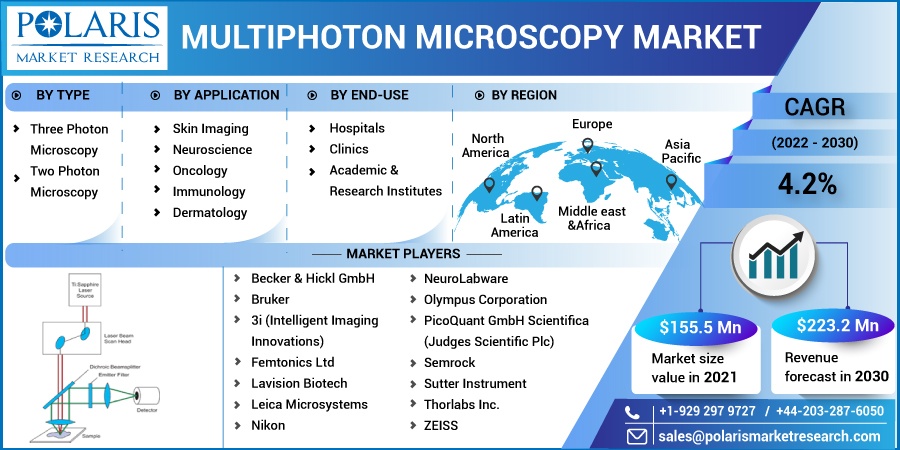 Know more about this report: Request for sample pages
Industry Dynamics
Growth Drivers
The rise in cancer incidence rates is expected to dramatically increase the need for multiphoton microscopy on a global scale. Non-invasive in vivo multiphoton microscopy imaging can be used to identify lesions of basal cell cancer. Along with advancements in patient care, multiphoton microscopy and other medical tools are being employed more frequently in cancer research centres. These broad concerns are expected to increase the demand for multiphoton microscopy.
The various advantage of imaging technology, such as staging, monitoring, early diagnosis, and monitoring of therapy response, will enhance the market demand due to the number of applications in cancer screening programs responsible for increasing this market.
Due to the rising healthcare spending, the multiphoton microscopy industry in the U.S. is expected to witness growth over the next few years. Due to the increased incidence of cancer, the multiphoton microscopy market in the UK is anticipated to expand steadily. In order to increase patient safety, continuously innovative techniques and products are developed for diagnosis is another factor driving the market growth.
Report Segmentation
The market is primarily segmented based on type, application, end-use, and region.
By Type

By Application

By End-Use

By Region

Three Photon Microscopy
Two Photon Microscopy

Skin Imaging
Neuroscience
Oncology
Immunology
Dermatology
Others

Hospitals
Clinics
Academic & Research Institutes

North America (U.S., Canada)
Europe (France, Germany, UK, Italy, Netherlands, Spain, Russia)
Asia Pacific (Japan, China, India, Malaysia, Indonesia, South Korea)
Latin America (Brazil, Mexico, Argentina)
Middle East & Africa (Saudi Arabia, UAE, Israel, South Africa)
Know more about this report: Request for sample pages
The two photon microscopy segment dominated the largest share in the market
Two photon microscopy is estimated to be in high demand as compared to its counterpart. The advantages of using this method include the capacity to do photochemistry, high degree of depth imaging, and the lowered level of photo toxicity. This technique is also used in the biology of lymphocytes and immune cell architecture. It also includes imaging of embryonic development.
The rising emphasis on nanotechnology and favorable government policies are factors driving the market. Technical advancements such as super-resolution microscopy have increased the demand for two-photon microscopy. Furthermore, increasing funding and the number of R&D activities for two-photon microscopy are expected to complement market growth.
The hospitals and clinics segments dominated the market and is expected to spearhead growth
Hospital budgets are increasing, new clinics are opening up across the globe as a result of increased awareness for better healthcare infrastructure post outbreak of COVID-19 pandemic, and hospitals and medical companies are working together to deliver the up-to-date imaging technology, all of which is likely to aid the segment in maintaining its dominant position in the market.
Universities are engaging in developing laser technology to better examine skin cancer cells. The study and development of such technologies eases the use of dermal therapy. Universities collaborate with the industry players to create advanced microscopy techniques that will benefit in med-tech development.
To improve skin and cell imaging results, academic & research institutes are developing sophisticated microscopy techniques, which is expected to drive market growth. Professors of neuroscience are examining the brain cells of small animals using this technique, which is likely to aid in advancing in neuroscience sector.
Based on application, skin imaging is becoming increasingly important in the market
In this sector, skin imaging is becoming a growing area of application. The introduction of pharmacological therapy for skin conditions and their successful distribution to the targeted skin area is expected to have an impact on the microscopy method.
Another field increasing the effectiveness of multiphoton microscopy is oncology as the method can be applied to accurately diagnose prostate cancer. Several market players are utilizing new income opportunities in oncology research, such as the examination of tumor growth and metastasis in animals.
North America is dominating region in the Multiphoton Microscopy market globally.
Due to the high level of involvement of institutions in the region in development of novel microscopy technologies, North America is expected to account for the highest portion of the market since the U.S. clinics utilize the multiphoton tomograph. The demand for multiphoton microscopy is projected to increase as cancer incidences are rising in the U.S. it is the second most common cause of death.
The increasing risk of skin cancer in growing geriatric population of Asia and Europe is expected to drive the demand for MPM. As a result, these regional markets could soon be profitable for manufacturers of lab equipment. China, Japan, India, Australia, and South Korea are a few of the major nations that are registering higher revenues in the Asia Pacific multiphoton microscopy market.
The Asia Pacific is expected to have a strong market because of the region's majorly investments in oncology, neuroscience, and other sectors, which will boost consumer demand. India is promoting investments to support the market for startups in the neuroscience sector, which would also help to drive the market.
Competitive Insight
Major players operating in the industry include Becker & Hickl GmbH, Bruker,3i (Intelligent Imaging Innovations), Femtonics Ltd, Lavision Biotech, Leica Microsystems, Nikon, NeuroLabware, Olympus Corporation, PicoQuant GmbH Scientifica (Judges Scientific Plc), Semrock , Sutter Instrument, Thorlabs Inc., and ZEISS.
Recent Developments
March 2022: The Ultima Investigator Plus, a brand-new modular platform for the Ultima range of multiphoton microscopes for deep tissue fluorescence imaging, was released by Bruker.
Dec 2021: The AX R MP multiphoton confocal microscope, developed by Nikon Instruments Inc., which is a pioneer in high-tech microscope systems, has been made available. It can quickly and efficiently capture images with a large field of view and high resolution, and high speed deep inside living things.
Sept 2020: Canopy Biosciences, LLC, a pioneer in high multiplex biomarker imaging for immunology, immuno-oncology, and cell therapy, has been acquired by Bruker Corporation. This acquisition expands Bruker's capabilities in fluorescence-based imaging and targeted multi-omics.
Dec 2020: Zeiss acquired Arivis AG. By buying the majority of Arivis's imaging company, ZEISS is enhancing its imaging technology capabilities with 3D and big-picture data software. By making this investment, ZEISS is enhancing its software capabilities and competitive position in the market for research microscopy image processing, visualization, as well as analysis tools.
Multiphoton Microscopy Market Report Scope
| | |
| --- | --- |
| Report Attributes | Details |
| Market size value in 2021 | USD 155.5 million |
| Revenue forecast in 2030 | USD 223.2 million |
| CAGR | 4.2 % from 2022 - 2030 |
| Base year | 2021 |
| Historical data | 2018 - 2020 |
| Forecast period | 2022 - 2030 |
| Quantitative units | Revenue in USD million and CAGR from 2022 to 2030 |
| Segments covered | By Type , By Application, By End-Use, and By Region |
| Regional scope | North America, Europe, Asia Pacific, Latin America; Middle East & Africa |
| Key companies | Becker & Hickl GmbH, Bruker,3i (Intelligent Imaging Innovations), Femtonics Ltd, Lavision Biotech, Leica Microsystems, Nikon, NeuroLabware, Olympus Corporation, PicoQuant GmbH Scientifica (Judges Scientific Plc), Semrock , Sutter Instrument, Thorlabs Inc., and ZEISS |