The global neuromorphic computing market was valued at USD 4.34 billion in 2022 and is expected to grow at a CAGR of 21.1% during the forecast period. The development of the neuromorphic computing market is fueled by factors including the rise in demand for artificial intelligence and machine learning technology, the extensive use of software in this field, and the demand for better performing integrated circuits (ICs). The market is growing as a result of an increase in demand for AI and ML across a number of industries, including media and entertainment, aerospace, utility, consumer electronics, food & beverage, and military.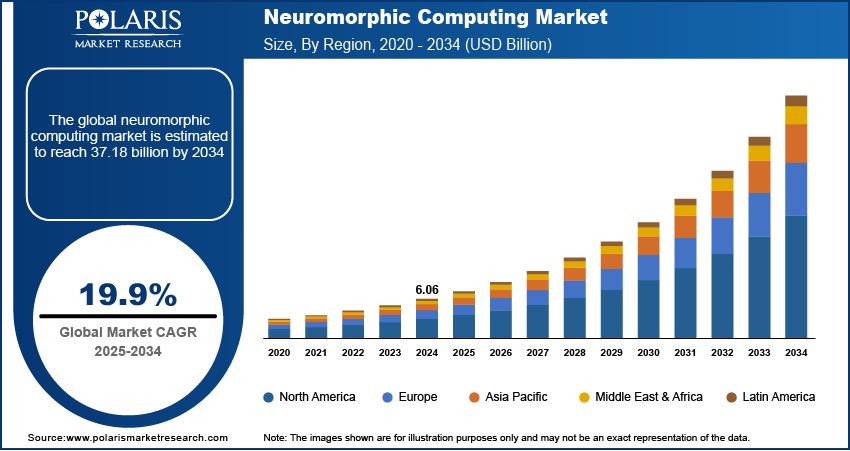 Know more about this report: Request for sample pages
Due to Spiking Neural Network (SNN's) ability to make flexible and agile judgements keeping not only prior experiences but also the context of the situation at hand, these industries frequently face issues that can be effectively addressed using SNN.
Neuromorphic computing systems are designed to be more efficient and more powerful than traditional computing systems for certain types of tasks, particularly those that involve processing large amounts of data or adapting to changing environments. Artificial intelligence (AI) relies on producing near-real time data processing, yet current computers are frequently ineffective at jobs like identifying, analyzing, and categorizing vast amounts of data. The goal of neuromorphic computing is to close this gap by simulating some aspects of how the brain works.
During the pandemic, although the reduced commuting and travelling has reduced CO2 emission the emergence of new data center has offset the benefits. Artificial Neural Networks (ANN), which are composed of billions of synthetic neurons, are where neuromorphic computing-enabled devices get their start in terms of operation. The neurons in this system resemble those in the human brain. Because of their incredibly quick processing, neuromorphic computers are particularly well recognized for their quick response times.
Since neuromorphic computers are designed to function similarly to the human brain as opposed to conventional computers, one of their key advantages is their quick reaction time. Neuromorphic computing has a mobile architecture, which is one of its key characteristics. Neuromorphic computers are portable and useful in contrast to traditional computers, which used to require a lot of workspaces. They are incredibly effective in terms of occupying space and don't take up a lot of room. As a result, it is expected that the market for neuromorphic computing would have growing prospects.
Industry Dynamics
Growth Drivers
To provide the services and information that customers need, emerging applications like big data, mobile services, cloud services, and the IoT need a lot of computational power and memory. In order to accomplish these objectives, neuromorphic computing is acknowledged by the electronics industry as a viable technique for providing high-performance computing and ultra-low power consumption.
The neuromorphic computing market is expanding due to the increasing demand for general-purpose humanoid robots with cognitive and cerebral capabilities. Switch from the Von-Neumann architecture to the neuromorphic based chips, is being driven by the inherent technical benefits of such chips, like less power consumption, greater speed, & optimal memory use.
Report Segmentation
The market is segmented based on end-use, component, application, deployment, and region.
By End-use

By Component

By Application

By Deployment

By Region

Consumer Electronics

Automotive

Healthcare

Military & Defense

Others

Hardware

Software

Services

Signal Processing

Image Processing

Data Processing

Object Detection

Others

North America (U.S., Canada)

Europe (France, Germany, UK, Italy, Netherlands, Spain, Russia)

Asia Pacific (Japan, China, India, Malaysia, Indonesia, South Korea)

Latin America (Brazil, Mexico, Argentina)

Middle East & Africa (Saudi Arabia, UAE, Israel, South Africa
Know more about this report: Request for sample pages
Image Processing segment is dominate the market share in 2022
Image processing is a common application for neuromorphic computing systems. These systems can be used to analyze and extract information from images in real-time, and are particularly useful for tasks such as object recognition, scene understanding, and facial recognition. In addition, neuromorphic computing systems are able to learn and adapt over time, which means that they can improve their performance on image processing tasks as they are exposed to more data. This makes them particularly useful for applications that require the ability to adapt to changing environments or to recognize new objects
Signal Processing segment is expected to exhibit substantial growth during the forecast period. Neuromorphic circuits and platforms are becoming more widely available, which is advancing the field of signal processing and neuromorphic computing. The signal-processing industry is expanding as a result of the rising demand for processing audio and acoustic inputs. The unique characteristics and limitations of neuromorphic computing systems pose intriguing new problems in the areas of regression, classification, control, and learning from the standpoint of signal processing.
Consumer Electronics segment accounted for the largest market share in 2022
The need for neuromorphic processors from the consumer electronics sector is gradually rising as a result of the rising demand for a variety of electronic devices, such as laptops, PCs, and tablets. The need for smaller, less costly products from consumers necessitates the shrinking of integrated circuits, which is related to the expansion of the consumer electronics industry for neuromorphic chips globally. Neuromorphic computing is being used in consumer electronics is in the development of image recognition systems for cameras and smartphones. These systems use neuromorphic algorithms to recognize and interpret visual information, making it possible for cameras and smartphones to understand and respond to their environment in real-time.
Automotive segment is expected to grow at a significant CAGR during the forecast period. To increase productivity and product quality, several businesses must automate their processes utilizing artificial intelligence and machine learning. Further affecting the automobile industry is the development of artificial intelligence and machine learning, as well as the surge in demand for the technology due to its increased speed, reduced power consumption, and optimal memory utilisation. In the automotive sector, neuromorphic computing is being researched and developed for a variety of applications, such as autonomous driving and advanced driver assistance systems (ADAS)
Edge computing held the largest market share in 2022
The segment is expanding due to the rising use of edge computing in touchless interfaces that can recognize all body motions, cars with sensitive voice commands, and helper robots with internal intelligence. Edge computing, which pushes data storage, computation, and control closer to the network's edge, has been generally viewed as a potential solution to address the requirement for low latency, parallel processing, quick response, and energy efficiency. Al has been used to a multitude of industries since the development of neural networks, with spectacular outcomes in several intelligent application fields. The edge computing industry is expanding globally because neuromorphic computing provides low-power applications and on-device adaptation.
Cloud computing segment is estimated to grow at the highest CAGR during the forecast period. This can be attributed to its many technological benefits, including a one-stop platform for securely storing and sending enormous amounts of data for any organization. Utilizing neuromorphic computing in the cloud has several benefits, such as the flexibility to scale resources up or down as required, the lower initial costs of hardware and software, and the accessibility of resources from any location with an internet connection.
However, there are other possible difficulties to consider as well, such as the possibility of latency and security issues. The rise of the cloud computing market is being driven by neuromorphic computing systems since they run independently without the need for data centres and have more processing capacity on-device.
Hardware segment to lead the global neuromorphic computing market in 2022
Hardware segment held the largest revenue share, in 2022. The market for hardware is expanding due to the increased implementation and integration of machine learning algorithms on embedded devices as well as the rising use of neuromorphic hardware to accelerate computing in embedded devices.
Neuromorphic hardware uses computing designs that imitate the morphology, or underlying structure, of neural networks. Instantaneous data transfer is made possible through a network of physical interconnections, and dedicated processing units execute neuron-like functions in hardware. Since the functions of neurons and synapses in the brain and network are similar, the human brain is used as a model for this idea. Specialized neuromorphic devices excel in deep learning training and inference due to their high performance and low power consumption, whereas general-purpose CPUs are more adaptable.
Software segment is anticipated to exhibit a high growth rate during the forecast period. This can be attributable to the rising need for software across several industries, including aerospace & military, IT, telecom, and medical. A larger market share is anticipated for the software sector as well, led by neuromorphic computing software applications such real-time data streaming, data modelling, and projections.
North America dominantly grows over the forecast period
North America accounted for the largest revenue share in the global market in 2021. The entire market share in North America will be significantly influenced by the economies of both the United States and Canada. The construction of data centres in several cities around the region and the rise in the number of nations using Al and ML technologies will both contribute to the market's growth. The use of voice and speech recognition technology powered by AI is one of the major trends in the area. As a result of the integration, its speech recognition engines could be improved to deliver superior voice quality.
Europe is expected to grow at a substantial CAGR in the global over the forecast period. As the demand for Al develops and consumer preferences change toward smaller product sizes, there is a rising need to miniaturize loT devices. Due to the spread of "smart" technology, a wide range of industries, including the automotive, electronics, and medical sectors, are discovering new applications for "smart" sensors. The extensive usage of neuromorphic semiconductors by a range of end customers, including the medical, defense, and military sectors, presents opportunities in this industry.
The advancement of the creation and usage of neuromorphic computing technology is the focus of several projects and organizations throughout Europe. Additionally, the growing usage of biometry in European nations is opening up a brand-new application space for neuromorphic computing's image processing applications. Overall, Europe is a major participant in the field of neuromorphic computing, and companies and researchers have several options to get engaged in this fascinating and quickly developing sector.
Competitive Insight
Some of the major players operating in the global market include International Business Machines Corporation (IBM), Intel Corporation, BrainChip, Qualcomm Technologies, Samsung Electronics, General Vision, Applied Brain Research, Hewlett Packard Enterprise, HRL Laboratories, LLC, Brain Corporation & Halo Neuroscience.
Recent Developments
In November 2022, Researchers from the Autonomous University of Barcelona have created a novel substance that can resemble the synapses in the human brain. A magneto-ionic material, this novel substance mimics cerebral activity by displacing ions, which modifies the magnetic characteristics of the substance. This development makes it possible to partially duplicate a variety of neuronal activities that were previously inaccessible to humans.

In September 2022, a novel method of object learning based on neural networks was presented by the Intel Labs in association with the Technical University of Munich & the Italian Institute of Technology. Real time learning which may reduce energy consumption by up to 175 times is demonstrated using Intel's Loihi neuromorphic research processor.
Neuromorphic Computing Market Report Scope
| | |
| --- | --- |
| Report Attributes | Details |
| Market size value in 2023 | USD 5.25 billion |
| Revenue forecast in 2032 | USD 29.54 billion |
| CAGR | 21.1% from 2023 – 2032 |
| Base year | 2022 |
| Historical data | 2019 – 2021 |
| Forecast period | 2023 – 2032 |
| Quantitative units | Revenue in USD billion and CAGR from 2023 to 2032 |
| Segments covered | By Application, By Deployment, By End-use, By Component, By Region |
| Regional scope | North America, Europe, Asia Pacific, Latin America; Middle East & Africa |
| Key companies | International Business Machines Corporation (IBM), Intel Corporation, BrainChip, Inc., Qualcomm Technologies, Inc., Samsung Electronics Co. Ltd., General Vision, Inc., Applied Brain Research, Hewlett Packard Enterprise Development LP, HRL Laboratories, LLC, Knowm Inc, Brain Corporation and Halo Neuroscience among others |