The global solid state drive market was valued at USD 51.02 billion in 2022 and is expected to grow at a CAGR of 15.2% during the forecast period.
Key advantages offered by solid-state drives (SSDs) compared to traditional hard disk drives (HDDs), such as enhanced reliability and performance efficiency, are driving the market forward. Additionally, the increasing adoption of SSDs in data centers is contributing to market expansion. Furthermore, there are regional regulations and international standards in place to monitor and control data security.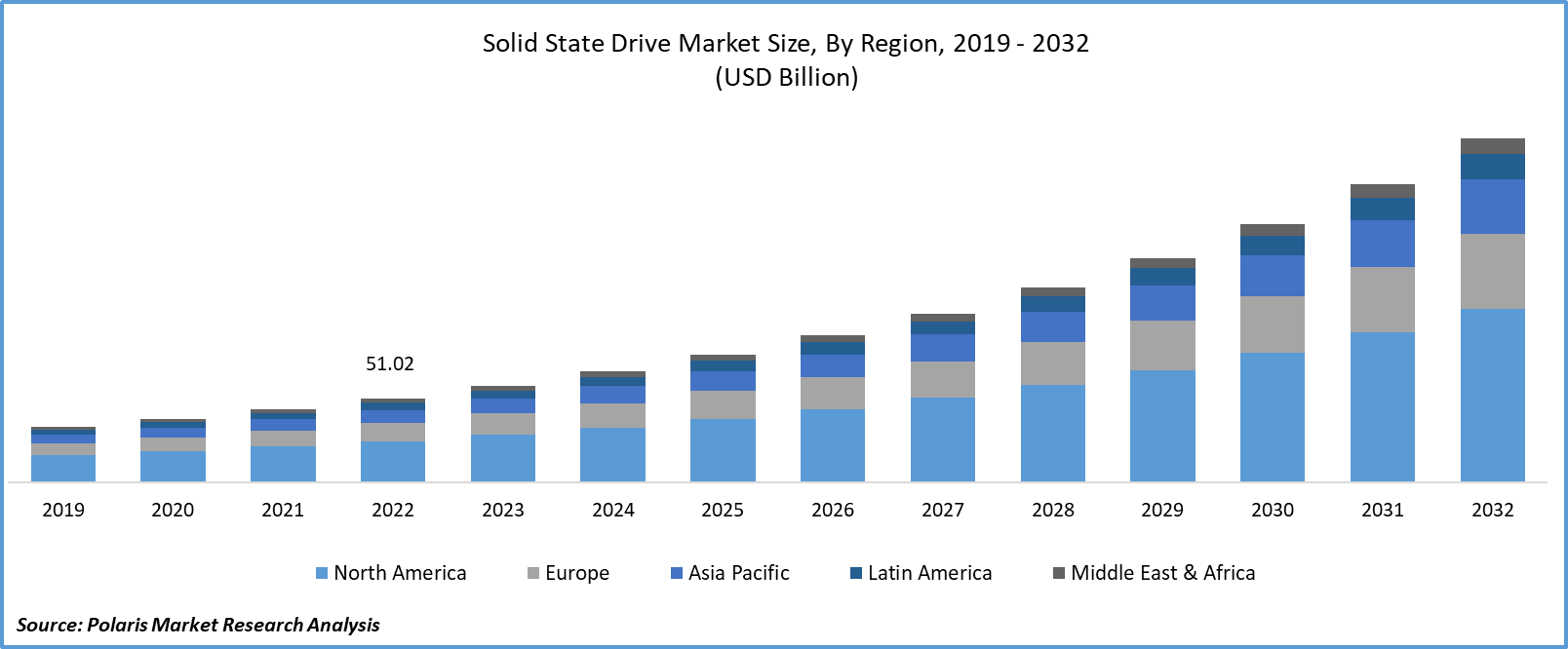 To Understand More About this Research: Request a Free Sample Report
For example, the European Union has regulations like the Waste Electrical and Electronic Equipment (WEEE) and Restriction of Hazardous Substances (RoHS) directives, while international standards such as ISO/IEC 27001:2013 and ISO/IEC 27002:2013 provide guidelines for information security management. SSD manufacturers also prioritize compliance with environmental regulations, particularly related to recycling.
The market is experiencing substantial growth due to the increasing need for extensive storage capacity driven by the surging demand for high-resolution photos and videos. The heightened demand for SSDs with larger capacities is a significant driver of solid state drive (SSD) market expansion. Additionally, the proliferation of smartphones and tablets, enabling users to generate substantial volumes of digital data and content, is further fueling the requirement for more storage space.
The global automotive industry's research and development efforts have faced setbacks due to the widespread closure of major production facilities during the COVID-19 pandemic. However, the post-pandemic landscape is anticipated to witness a surge in interest and investment in autonomous driving technologies, which is expected to propel the SSD market forward.
Additionally, the shift towards remote work arrangements has led to an increased data flow, driving up the demand for SSDs in data centers. These drives empower data center companies to deliver high-performance mega clouds and servers with robust input-output operations.
Industry Dynamics
Market Growth Drivers
Widespread of Digitalization
Expanding the reach of the Internet, the burgeoning online commerce industry, the widespread digitalization of everyday activities, and the escalating volume of data transfer related to media content. One significant trend is the increasing storage capacity at the household level, which is expected to continue in the coming years. It is primarily attributed to the widespread adoption of smartphones and tablets, enabling consumers to generate substantial amounts of digital data and content. Moreover, the rising demand for high-resolution images and videos has further amplified the creation of large digital datasets and content, emphasizing the need for ample storage capacity to accommodate this content.
Cloud computing has emerged as the predominant choice for data backup and retention, catering to both businesses and individuals alike. The demand for solid-state drives (SSDs) is experiencing continuous growth, extending from public cloud environments to personal cloud setups within homes. This widespread adoption is driven by the multitude of advantages associated with SSDs, including faster performance, portability, enhanced data read and write speeds, increased durability, reduced power consumption, improved efficiency, ease of installation, and the ability to support video-on-demand services.
Report Segmentation
The market is primarily segmented based on interface, type, storage, end use, and region.
By Interface

By Type

By Storage

By End Use

By Region

Under 120 GB

120GB-320GB

320GB-500GB

500GB-1TB

1TB-2TB

Above 2TB

North America (U.S., Canada)

Europe (France, Germany, UK, Italy, Netherlands, Spain, Russia)

Asia Pacific (Japan, China, India, Malaysia, Indonesia. South Korea)

Latin America (Brazil, Mexico, Argentina)

Middle East & Africa (Saudi Arabia, UAE, Israel, South Africa)
To Understand the Scope of this Report: Speak to Analyst
By Storage Analysis
120GB–320GB segment held the largest market share in 2022
In 2022,120GB–320GB segment held the largest revenue share. The adoption of SSD storage is on the rise due to its exceptional performance and mechanical attributes. While SSDs may come with a higher price tag, they are the preferred choice for both users and businesses due to the ever-increasing need for data storage. A typical SSD consists of essential components like a controller and a memory module. Presently, most SSD manufacturers utilize NAND flash-based memory primarily because it offers advantages such as cost-effectiveness and non-volatility when compared to dynamic random-access memory.
By End-Use Analysis
The enterprise segment held the fastest market share in 2022
In 2022, the enterprise segment held the fastest market share. Numerous enterprise applications demand top-notch reliability, uninterrupted operation, high-performance storage solutions, energy efficiency, and impressive data throughput capabilities. SSDs excel in meeting all these prerequisites for enterprise use. The surge in the creation and transmission of vast volumes of digital data and content, coupled with the necessity for dependable and rapid data storage alternatives, has elevated the demand for SSDs across both personal (client) and professional (enterprise) domains. There is a substantial demand for SSDs in the client segment as users seek swift and extensive data storage solutions.
Enhanced efficiency in contrast to conventional HDD storage, heightened requirements for storage infrastructure, and continuous improvements in enterprise-level SSDs concerning their reliability and performance also derived growth. Enterprises favor SSDs due to their lower energy consumption, capacity to reduce sprawl, and contribution to a more environmentally friendly footprint.
By Type Analysis
The internal segment held a significant market share
The internal segment held a significant market share. The expanding use of social media, increased data transfer activities, and the creation of substantial media content have led to a rise in global storage capacity per household. Consequently, smartphone manufacturers are integrating SSDs into mobile devices. Internal SSDs offer swifter performance and cost-effectiveness; nevertheless, users must utilize an interface for conversion and a power source when employing the drive portably.
The external segment will grow at a rapid pace. External SSDs, although somewhat slower and costlier, can be linked to systems or devices using USB or FireWire connections. They offer portability but might reduce a system's performance due to their slower speed.
Regional Insights
North America region dominated the largest market in 2022
In 2022, the North American region dominated the largest market. This is primarily due to the rate of transitioning from hard disk drives (HDDs) to solid-state drives (SSDs) being more rapid in this region compared to others. Furthermore, SSD manufacturers in the region are prioritizing product differentiation and innovation as part of their strategy to expand their market presence and revenue. These efforts are expected to drive the demand for solid state drive market.
APAC region held the fastest solid state drive market growth in 2022. rising use of social media, the proliferation of next-generation connected devices, increased IT budgets, a growing demand for high-capacity storage devices, and the expansion of data centers in the region. Furthermore, the increasing adoption of laptops and smartphones, a growing need for advanced computing systems, rising demand for on-site storage solutions, and the flourishing markets for cloud computing and big data are also contributing to the growth of the region.
Key Market Players & Competitive Insights
The growth is propelled by the widespread adoption of technology and substantial investments in research and development (R&D) by manufacturers and industry associations. This commitment to technological advancement and innovation results in the continuous improvement of SSDs, making them more efficient, reliable, and cost-effective.
Some of the major companies operating in the global market are:
Intel Corporation

Micron Technology, Inc.

Samsung Electronics Co., Ltd.

Seagate Technology PLC

Western Digital Corporation

Kingston Technology Corporation

Trexplus.com

CORSAIR.

Crossbar

G.Skill
Recent Developments
In June 2023, Seagate Technology unveiled the FireCuda 540, representing the latest advancement in SSD technology. This cutting-edge SSD boasts impressive sequential read and write speeds, reaching up to 10,000 MB/s. Its capabilities empower professional gaming and enhance content creation, surpassing the performance of Gen4 M.2 NVMe drives by more than 50%.

In May 2023, Micron Technology introduced two SSDs to the market: the Micron 6500 ION NVMe SSD & Micron XTR NVMe SSD. The former offers impressive storage capacity along with top-tier performance.

In January 2023, Micron Technology started production of the Micron 9400 NVMe SSD, tailored for handling the most challenging data center workloads, with a specific focus on AI training, machine learning (ML), & high-performance computing (HPC) applications.

In July 2022, Western Digital Corp. partnered with Sony Interactive to introduce the first officially licensed M.2 SSD for PlayStation 5 (PS5), making it available to gamers worldwide. This SSD expansion enhances the PS5 console's high-speed storage capacity, ultimately improving the overall gaming experience.
Solid State Drive Market Report Scope
| | |
| --- | --- |
| Report Attributes | Details |
| Market size value in 2023 | USD 58.65 billion |
| Revenue forecast in 2032 | USD 208.92 billion |
| CAGR | 15.2% from 2023 – 2032 |
| Base year | 2022 |
| Historical data | 2019 – 2021 |
| Forecast period | 2023 – 2032 |
| Quantitative units | Revenue in USD billion and CAGR from 2023 to 2032 |
| Segments covered | By Interface, By Type, By Storage, By End Use, By Region |
| Regional scope | North America, Europe, Asia Pacific, Latin America; Middle East & Africa |
| Customization | Report customization as per your requirements with respect to countries, region and segmentation. |