The global neuroprosthetics market was valued at USD 13.59 billion in 2022 and is expected to grow at a CAGR of 12.0% during the forecast period. The growth of the market is being driven by the increasing incidence of various diseases such as Parkinson's, auditory, epilepsy, and ophthalmic disorders, Alzheimer's, neuromuscular junction/muscles disorders, and severe depression.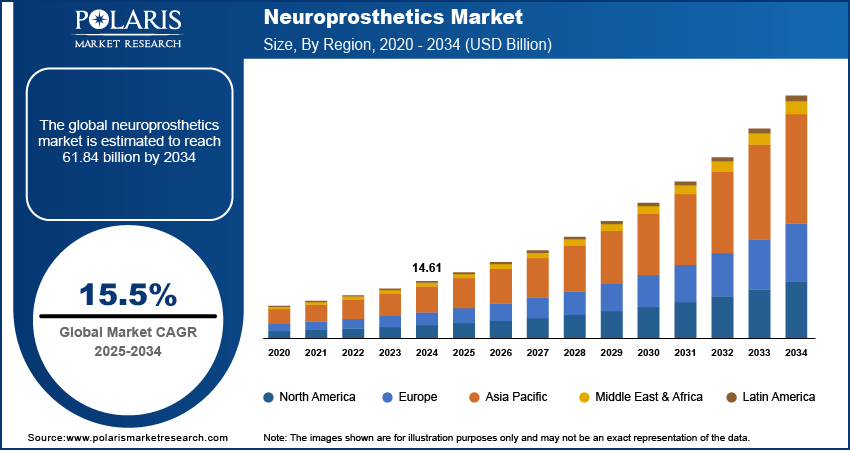 Know more about this report: Request for sample pages
Additionally, the market is expected to be boosted by rising investments in research and development for developing innovative technologies and devices to provide effective treatment for neurological diseases, particularly Brain Computer Interface (BCI) devices. The use of self-charging implants that utilize bioenergy is also expected to increase the demand for brain implants in the future.
Neuroprosthetic devices and implants are complex and advanced products that utilize various technologies in their manufacturing and functioning. These include MRI, automated movable electrical probes, local field potential, and image-guided surgical techniques. These technological advancements have led to numerous replacement strategies, rehabilitation procedures, and neuromodulation therapies to enhance the quality of life for patients with neuromotor disorders.
Technology has also made it possible to develop personalized neurotechnologies and rehabilitation for patient-specific neural impairments, which helps to deliver neuroprosthetic treatment in a timely manner. Cochlear implants and retinal implants are examples of advanced neuroprosthetic products that have benefited the deaf and blind populations, respectively
The COVID-19 pandemic has significantly impacted the market, particularly in the area of hearing healthcare. The pandemic has affected access to cochlear implants, leading to behavioral changes in children with hearing impairments. Additionally, the virus has been found to cause sensorineural hearing loss, as seen in a patient who recovered from COVID-19 but experienced acute hearing loss. Despite restricted access to hearing healthcare during lockdowns, the market for neuroprosthetics is anticipated to be significantly impacted by the rising prevalence of hearing loss among serious COVID-19 patients.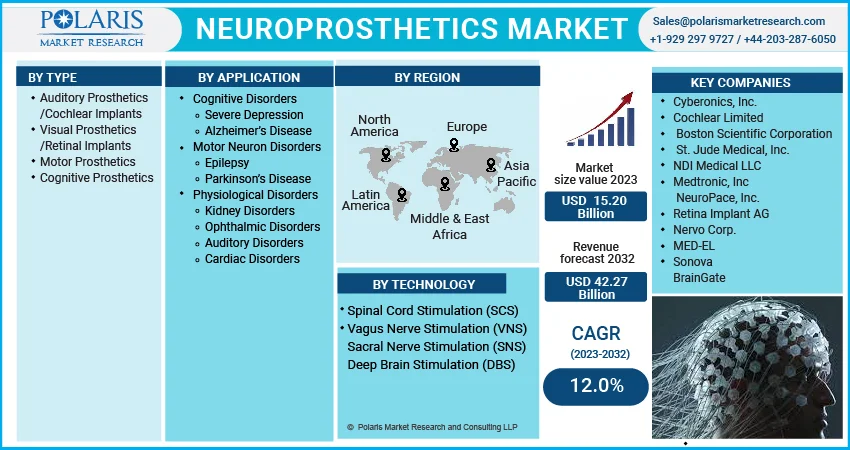 Know more about this report: Request for sample pages
Industry Dynamics
Growth Drivers
The increasing prevalence of neurological disorders is a key driver, as the conditions significantly impact quality of life and there is a need for effective treatments. Neuroprosthetics offer innovative solutions by replacing or enhancing nervous system function. The market offers significant potential for manufacturers and investors looking to capitalize on the growing demand for neuroprosthetic devices.
The market for neuroprosthetics has been significantly fueled by technological developments. Technological advancements such as miniaturization, improved materials, wireless technology, brain-computer interfaces, and artificial intelligence have contributed to the growth of the market. These advancements have allowed for the development of more sophisticated and effective neuroprosthetic devices that can improve patient comfort, ease of use, and precision of control.
The governments of various countries are providing support for the development and adoption of neuroprosthetic devices. For instance, the U.S. government has launched several initiatives to promote the development of neuroprosthetics, such as the Brain Research through Advancing Innovative Neurotechnologies (BRAIN) initiative. As technology continues to improve, there is significant potential for the development of even more advanced and effective neuroprosthetic devices.
Report Segmentation
The market is primarily segmented based on type, technology, application, and region.
By Type

By Technology

By Application

By Region

Auditory Prosthetics/Cochlear Implants

Visual Prosthetics/Retinal Implants

Motor Prosthetics

Cognitive Prosthetics

Spinal Cord Stimulation (SCS)

Vagus Nerve Stimulation (VNS)

Sacral Nerve Stimulation (SNS)

Deep Brain Stimulation (DBS)

Cognitive Disorders

Severe Depression

Alzheimer's Disease

Motor Neuron Disorders

Epilepsy

Parkinson's Disease

Physiological Disorders

Kidney Disorders

Ophthalmic Disorders

Auditory Disorders

Cardiac Disorders

North America (U.S., Canada)

Europe (France, Germany, UK, Italy, Netherlands, Spain, Russia)

Asia Pacific (Japan, China, India, Malaysia, Indonesia, South Korea)

Latin America (Brazil, Mexico, Argentina)

Middle East & Africa (Saudi Arabia, UAE, Israel, South Africa)
Know more about this report: Request for sample pages
Motor prosthetics held the largest market share in 2022
The motor prosthetics segment had the highest market share, primarily due to the growing usage of bladder control implants and brain-computer interfaces for patients suffering from paraplegia and lateral sclerosis, respectively.
In contrast, the auditory segment experienced rapid growth in the neural prostheses market because of the increasing use of devices like brainstem implants, auditory brainstem implants (ABI), and midbrain auditory implants (AMI) for individuals with hearing impairments. Cochlear implants, which are used for signal processing and stimulation therapy systems, have potential for future treatments of neural disorders.
Spinal Cord Stimulation (SCS) held the largest market share in 2022
The technology segment of the market is led by Spinal Cord Stimulation (SCS) due to its high adoption rate and the introduction of advanced devices for treating disorders related to motor, sensory, and autonomic functions. The commercial technologies such as DBS and VNS are expected to drive growth in this segment.
The market also presents opportunities for growth with the development of advanced devices such as Local Field Potentials (LFPs), automated probes, and MRI with surgical implants. Manufacturers are continually developing next-generation technologies for restoring impaired neurological functions, with SNS being the fastest-growing technology in the market.
Motor neuron disorders segment is accounted for largest revenue share in 2022
The market has been divided into three application segments, including physiological disorders, motor neuron disorders, and cognitive disorders. The motor neuron disorders segment is projected to hold the largest share of revenue during the forecast period due to the increasing prevalence of neurological disorders like Parkinson's disease and epilepsy.
According to Parkinson's Foundation, over 10 million people globally are affected by Parkinson's disease. Epilepsy is also a significant global health issue, affecting an estimated 5 million people annually according to the World Health Organization (WHO). These disorders can significantly impact an individual's quality of life, and the use of neuroprosthetics can help improve their condition, leading to increased revenue growth in this segment.
North America dominated the global market in 2022
The North American market is projected to hold the largest revenue share in the neuroprosthetics market during the forecast period. The market's growth is being driven by the increasing prevalence of neurological disorders, vision and hearing loss, as well as the presence of major market players in North America. For instance, the Parkinson's Foundation estimates that there are about a million individuals in the US who have Parkinson's disease.
Additionally, 3.4 million people in the US have epilepsy, and this number is expected to reach 1.2 million by 2030. This growing patient population is expected to increase demand for neuroprosthetics, leading to revenue growth in the region.
The Asia Pacific is expected to experience a fast growth rate in the market due to the increasing prevalence of neurological disorders in the region. By 2032, almost 50% of the global Parkinson's disease population is expected to be in China, while over 10 million people are believed to suffer from epilepsy in India. Consequently, there is an increasing demand for neuroprosthetics in the region, which is projected to drive market revenue growth.
Competitive Insight
Some of the major players operating in the global market include Cyberonics, Inc., Cochlear Limited, Boston Scientific Corporation, St. Jude Medical, Inc., NDI Medical LLC, Medtronic, Inc., NeuroPace, Inc., Retina Implant AG, Nervo Corp., MED-EL, Sonova, BrainGate
Recent Developments
In December 2022, The expanded Cochlear Implant Program was introduced by the Saskatchewan government to assist those who require a new external sound processor. It is run by the Ministry of Health and the Saskatchewan Health Authority (SHA). Individuals will co-pay USD 840 for each implant under the new program, and the Ministry of Health will handle the remaining expense, which is typically between USD 8,000 and USD 12,000.

In October 2022, Axoft, has released a brain-machine interface (BMI) to improve the treatment of neurological disorders. The company received FDA breakthrough device designation for the product. Axoft raised $8 million in funding to support pre-clinical studies with the FDA and to produce more prototypes of their neural implants.
Neuroprosthetics Market Report Scope
| | |
| --- | --- |
| Report Attributes | Details |
| Market size value in 2023 | USD 15.20 billion |
| Revenue forecast in 2032 | USD 42.27 billion |
| CAGR | 12.0% from 2023 – 2032 |
| Base year | 2022 |
| Historical data | 2019 – 2021 |
| Forecast period | 2023 – 2032 |
| Quantitative units | Revenue in USD billion and CAGR from 2023 to 2032 |
| Segments Covered | By Type, By Technology, By Application, By Region |
| Regional scope | North America, Europe, Asia Pacific, Latin America; Middle East & Africa |
| Key Companies | Cyberonics, Inc., Cochlear Limited, Boston Scientific Corporation, St. Jude Medical, Inc., NDI Medical LLC, Medtronic, Inc., NeuroPace, Inc., Retina Implant AG, Nervo Corp., MED-EL, Sonova, BrainGate |