The global olive oil market was valued at USD 13.84 billion in 2021 and is expected to grow at a CAGR of 3.33% during the forecast period.
The market is expanding rapidly, mostly due to rising demand for olive oil in both the food service and retail sectors. Olive oil is an oil extracted from olives and contains fatty acids that are good for human health, including oleic acid, palmitic acid, and linoleic acid. It's a cooking oil with lots of nutritional benefits. Due to its widespread appeal, there is a huge variety of olive oils available on the market.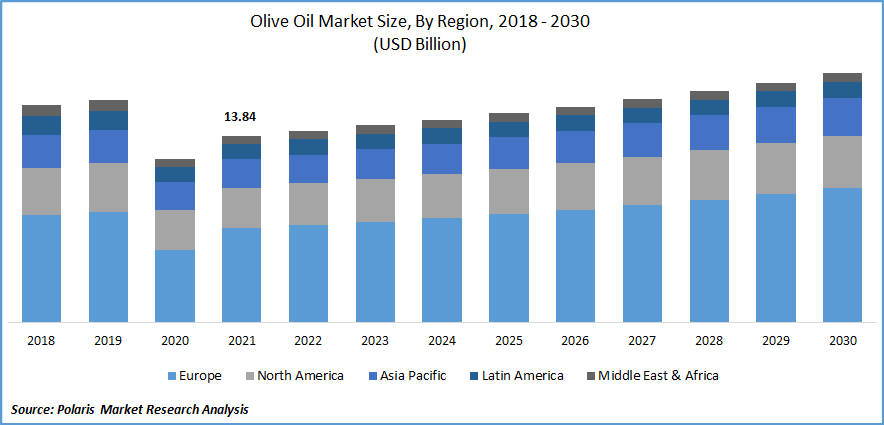 Know more about this report: Request for sample pages
Olive oil is used for various purposes besides being only edible cooking oil. Furthermore, a key element of the Mediterranean diet that is thought to be particularly advantageous for cardiovascular health is olive oil. Healthy mono-unsaturated fatty acids and antioxidants like polyphenols are abundant in olive oil. The quality and features of olive oils vary widely from nation to country, almost everywhere they are grown, with variations depending on the region and the freshness of the fruit.
For instance, according to a 2020 research paper by Constantinos Salis, a growing number of studies emphasize the importance of eating medicinal foods, especially olive oil, as one of the most crucial elements of the Mediterranean diet. Due to its high phenol content, a diet rich in extra virgin olive oil appears to lessen the incidence of age-related diseases. The relationship between the polyphenol tyrosol, which is present in extra virgin olive oil, and the protein tyrosinase, which is linked to Parkinson's disease, is highlighted as a paradigm of the relationship between polyphenols and neurodegenerative diseases.
Olive oil demand and sales have rapidly decreased as a result of the COVID-19 pandemic. The industry's growth was constrained by the disruption of trade activities brought on by widespread shutdowns in a number of countries. However, due to increased concerns about immunity and general health, the need for healthy oils has been re-established. It is projected that this need will persist during and after the pandemic. Due to rising concerns about food safety and the growing popularity of home cooking, oil sales have surged in Mediterranean countries.
For instance, according to Debabrata Majumder, a research report published in 2022, olive oil consumption is helpful for human health, notably for preventing cardiovascular illnesses, breast cancer, and inflammation. Maintaining the polyphenol components of olive oil allows for easy processing while yet providing protection against no communicable illnesses and SARS-CoV-2. Additionally, the rising demand for immunity-boosting food products during an outbreak like this will likely increase demand for wholesome and energy-efficient snack foods. The rising trend of goods with purpose-specific health benefits has been driven by the growing concern for health and well-being.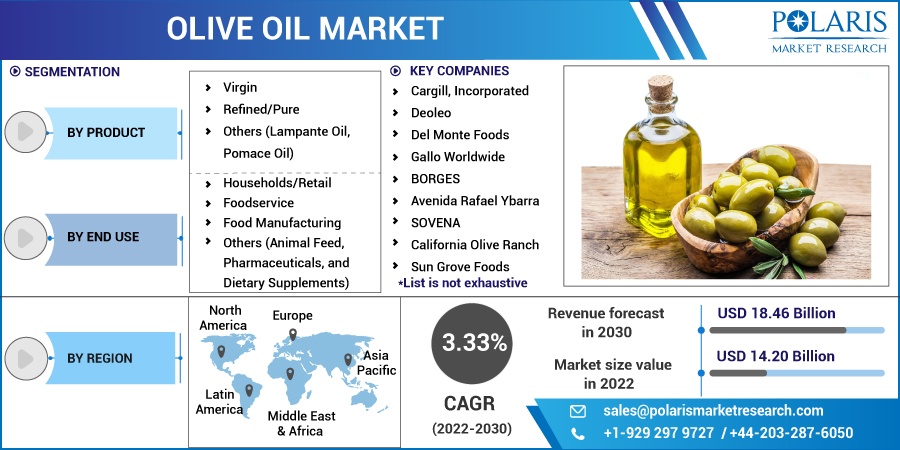 Know more about this report: Request for sample pages
Industry Dynamics
Growth Drivers
Consumer demand for MUFA-containing fats and oils has increased due to growing consumer appreciation for these foods' positive health effects. Recent clinical investigations have shown that consuming goods richer in omega-3s can promote the heart's health and other bodily processes. Because of their growing need for essential fatty acids consumption in sustaining good health, customers have raised their demand for olive oil due to its high omega-3 fatty acid concentration. Olive fruit oil has become incredibly well-known as a healthy oil worldwide because it offers healthy fatty acids, antioxidants, and vitamins.
The demand for olive fruit oil has greatly increased as ethnic Mediterranean foods become more and more well-liked around the world. Its widespread inclusion in many different cuisines, including Italian, Greek, and Spanish, has also contributed to its rise in demand. Additionally, customers' willingness to try new flavors, textures, and exotic cuisines, as well as the growth of travel and tourism, have boosted market performance.
Report Segmentation
The market is primarily segmented based on product, end Use and region.
By Product

By End Use

By Region

Virgin
Refined/Pure
Others (Lampante Oil, Pomace Oil)

Households/Retail
Foodservice
Food Manufacturing
Others (Animal Feed, Pharmaceuticals, and Dietary Supplements)

North America (U.S., Canada)
Europe (France, Germany, UK, Italy, Netherlands, Spain, Russia)
Asia Pacific (Japan, China, India, Malaysia, Indonesia, South Korea)
Latin America (Brazil, Mexico, Argentina)
Middle East & Africa (Saudi Arabia, UAE, Israel, South Africa)
Know more about this report: Request for sample pages
Virgin olive oil are the industry's largest market segment.
The virgin olive oil segment is predicted to perform well in terms of sales due to its growing popularity among consumers as a result of increased awareness about its health advantages. Virgin oil contains oleic acid and omega-3 fatty acids that help prevent diseases associated with a sedentary lifestyle, like obesity and cardiovascular disease.
The development of the market is further fueled by new processing methods and technological breakthroughs that allow producers to process virgin oils with the highest concentration of nutrients efficiently.
For instance, according to a Sara Salucci research paper published in 2022, extra virgin olive oil (EVOO) supplementation has been shown to increase muscle mass and health in sarcopenic individuals due to its anti-inflammatory and antioxidative effects. Due to the growing use of pure/refined olive oil in the cosmetic, dietary supplement, and pharmaceutical industries, this market is expected to increase significantly. The need for olive fruit oil to produce high-value animal feed has greatly increased due to the rising demand for nutrient-enriched animal feed.
Households Sector is expected to hold the significant revenue share
The rising demand for olive oil in households will drive market expansion in 2021. The growing knowledge of the function of olive fruit oil in sustaining good health has significantly raised retail demand for various varieties of olive fruit oil. The rising popularity of minimally processed natural oils has increased the demand for cold-pressed virgin olive oils. For instance, according to a research paper published in January 2022 by Marta Guasch-Ferre, higher olive oil consumption was related to a decreased risk of overall and cause-specific death. Olive oil was linked to a lower risk of death when replacing dairy fats like mayonnaise, butter, margarine, and butter.
The middle-aged and older consumers that make up the heavy-use sector have been driving the market expansion, along with widening menu selections. The use of olive oil as a condiment in Western, Chinese, and Japanese cuisines is growing in popularity, and it is also becoming more popular among young people. However, only 55% of consumers say they have bought olive oil. In the future, there will be a demand for convenient recipes and usage geared for lightweight users.
The demand in Europe is expected to witness significant growth
The largest production and cultivation of olive trees in the area is primarily responsible for the market's brisk rise in Europe.
The increasing popularity of functional foods has increased demand for Olea europaea fruit oil in the European food manufacturing industry. For instance, The European Union is the biggest producer, consumer, and exporter of olive oil, according to the European Commission 2022 report.
Approximately 67% of the world's olive oil is produced in the EU. With traditional, intense, and ultra-intensive plantations, olive trees are grown on over 4 million hectares, primarily in EU Mediterranean nations. With yearly consumption of about 500,000 tons each, Italy and Spain are the main users of olive oil in the EU, but Greece has the highest per-capita consumption at about 12 kg. The EU is responsible for about 53% of global consumption overall.
The market in Europe is further fueled by consumers' increased interest in healthy oils as a means of avoiding lifestyle-related health issues that can arise from their hectic lifestyles. As a result, enterprises intending to enter the worldwide olive oil sector find these regions to be the most enticing.
Competitive Insight
Some of the major players operating in the global market include Cargill, Deoleo, Del Monte, Gallo Worldwide, BORGES, Avenida Rafael, SOVENA, California Olive, Sun Grove Foods, Artajo oil, SALOV GROUP, Aceites Sandua, Tucan Olive, Domenico Manca, GRAMPIANS OLIVE, Victorian Olive, Gourmet Foods, JAENCOOP
Recent Developments
Olio Nuovo Extra Virgin Olive Oil, a batch released in February 2022 by Curation Foods, Inc. under the name Of Olive Oil & Vinegars, is a seasonal oil with a flavor that is both fresh and powerful.
Olive Oil Market Report Scope
| | |
| --- | --- |
| Report Attributes | Details |
| Market size value in 2022 | USD 14.20 billion |
| Revenue forecast in 2030 | USD 18.46 billion |
| CAGR | 3.33% from 2022 - 2030 |
| Base year | 2021 |
| Historical data | 2018 - 2020 |
| Forecast period | 2022 - 2030 |
| Quantitative units | Revenue in USD billion and CAGR from 2022 to 2030 |
| Segments Covered | By Product, By End Use, By Region |
| Regional scope | North America, Europe, Asia Pacific, Latin America; Middle East & Africa |
| Key Companies | Cargill, Incorporated, Deoleo, Del Monte Foods, Gallo Worldwide, BORGES, Avenida Rafael Ybarra, SOVENA, California Olive Ranch, Sun Grove Foods, EU Olive Oil, Artajo oil, SALOV GROUP, Aceites Sandúa, Tucan Olive Oil Company, Domenico Manca S.p.a., Les huiles d'olive Lahmar, GRAMPIANS OLIVE, Victorian Olive Groves, Gourmet Foods, JAENCOOP GROUP |