The global omega 3 supplements market was valued at USD 5.57 billion in 2020 and is expected to grow at a CAGR of 8.6% during the forecast period. Rising cases of lifestyle-borne sedentary chronic conditions such as cancer, stroke, coronary heart disease, and arthritis are the key driver for the market for omega 3 supplements.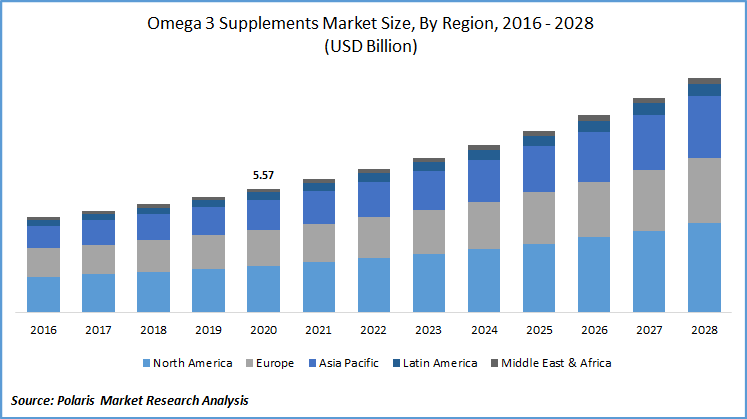 Know more about this report: request for sample pages
Omega 3 fatty acids are crucial for growth and body development. These are known for decreasing the risk of heart-related ailments such as heartbeats and arrhythmias, which could even lead to sudden death. It also helps in reducing triglyceride levels, which slows down the rate of formation of atherosclerotic plaques, lowering blood pressure fluctuations.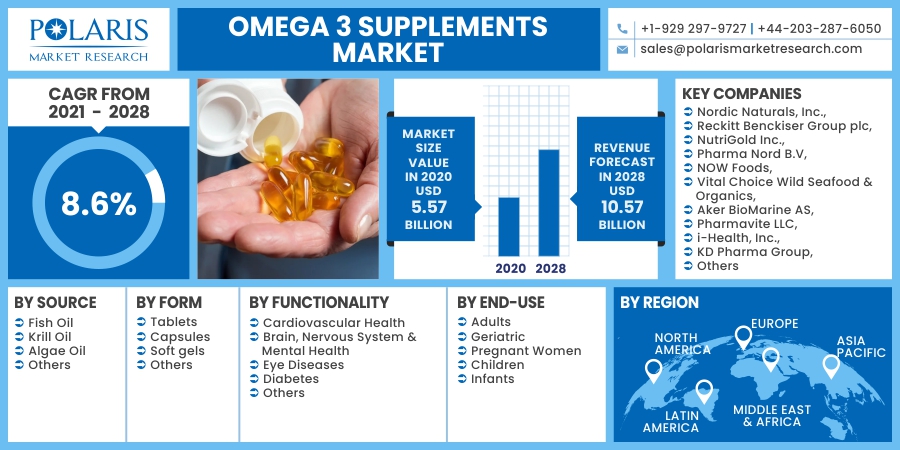 Know more about this report: request for sample pages
Omega 3 Supplements Market Report Scope
The market for omega 3 supplements is primarily segmented on the basis of source, form, functionality, end-use, and geographic region.
By Source

By Form

By Functionality

By End-Use

By Region

Fish Oil
Krill Oil
Algae Oil
Others

Tablets
Capsules
Soft gels
Others

Cardiovascular Health
Brain, Nervous System & Mental Health
Eye Diseases
Diabetes
Others

Adults
Geriatric
Pregnant Women
Children
Infants

North America (U.S., Canada)
Europe (France, Germany, UK, Italy, Spain, Netherlands, Austria)
Asia Pacific (Japan, China, India, Malaysia, Indonesia, South Korea)
Latin America (Brazil, Mexico, Argentina)
Middle East & Africa (Saudi Arabia, UAE, Israel, South Africa)
Know more about this report: request for sample pages
Insight by Source
The fish oil market segment of the omega 3 supplements accounted to hold the largest share in the global market, in 2020. Fish oil is one of the traditional sources of omega 3 fatty acids. COD liver oil derived from fish is mostly used to treat joint pains and is good for vision. Different types of fishes are an important source of vitamins and other essential nutrients also facilitating the segment's market growth.
However, the algae-based segment is anticipated to register a lucrative growth rate over the assessment period. The growing consumer inclination towards natural, plant-derived alternatives and growing vegan population are largely responsible for such high growth. There are different algae-based dietary supplements already available in the market such as soft gels, gummies, chlorella, capsules, and spirulina.
Insight by Functionality
The cardiovascular health segment accounted for the largest revenue share, in 2020. Omega 3 supplements are useful in preventing cardiovascular ailments, stabilizes heartbeats, reduce bad cholesterol, and maintains blood pressure. All such benefits are projected to drive the segment's growth of omega 3 supplements.
As per the estimates of the American Heart Association, in 2017, over 17.3 people were suffering from heart-related ailments, all over the world. People residing in developed nations such as the U.S., France, UK, and Spain have high cholesterol and blood pressure. This has led to the demand for highly graded health supplements in the form of omega 3.
However, the nervous system market segment of omega 3 supplements is projected to witness a lucrative market growth rate over the study period. As per the estimates of the World Health Organization, globally about 50 million individuals were suffering from epilepsy. Moreover, in the U.S. alone depression has impacted more than 322, as of 2017.
Moreover, in past few years, the number of people suffering from epilepsy increased in the U.S. For instance, according to a study published by the CDC, around 3 million people were suffering from epilepsy. The Anxiety and Depression Association in America reported that each year, there is over 18.1 percent of the total U.S population suffers from anxiety. The prevalence of mental disorders in the country has anticipated the demand for omega 3 supplements.
Geographic Overview
North America omega 3 supplements market is the largest revenue contributor to the global market and holding a major market share of omega 3 supplements. The region comprises a vast population suffering from obesity and other lifestyle-related diseases, which were primarily due to changing dietary needs and habits due to processed and ready-to-eat foods, hampering an individual's heath. The evolution of supplements and other functional foods can provide several health benefits, apart from nutrition.
As per the study done by the New York State Government, in 2020, there were about 610,000 people in the state died from heart-related problems every year. Omega 3 supplements are particularly useful in heart-related diseases in several men and women in the market. Hence, such dietary supplement with enhanced nutritional value is expected to complement the region's omega 3 supplements growth.
Asia Pacific omega 3 supplements market is projected to witness a lucrative growth rate over the study period. This is primarily due to rising expenditure on health supplements, growing consumer awareness, and rising fitness centers in the region. Moreover, the growing geriatric population, rising healthcare costs, and strong focus of multinational companies in expanding their distribution network also favoring the region's market growth for omega 3 supplements.
Moreover, in a country like India, there is a continuous evolution of lifestyles as adopted by western countries, which has resulted in lifestyle-borne conditions such as obesity, diabetes, and other heart-related ailments. Thus, urban populations with high disposable income are opting for such dietary supplements to avoid the occurrence of any kind such diseases.
Competitive Insight
Some of the key market players operating in the global omega 3 supplements industry comprises Nordic Naturals, Inc., Reckitt Benckiser Group plc, NutriGold Inc., Pharma Nord B.V, NOW Foods, Vital Choice Wild Seafood & Organics, Aker BioMarine AS, Pharmavite LLC, i-Health, Inc., KD Pharma Group, GlaxoSmithKline plc, Natrol LLC, OmegaBrite, Optimum Nutrition, Inc., Carlson Laboratories, VAYA Pharma, SPC, Bionova, The Nature's Bounty Co., and Arkopharma.