The global oncology information systems (OIS) market was valued at USD 2.66 billion in 2020 and is expected to grow at a CAGR of 7.6% during the forecast period. The rising demand for IT services due to rising prevalence is anticipated to fuel the growth of the market.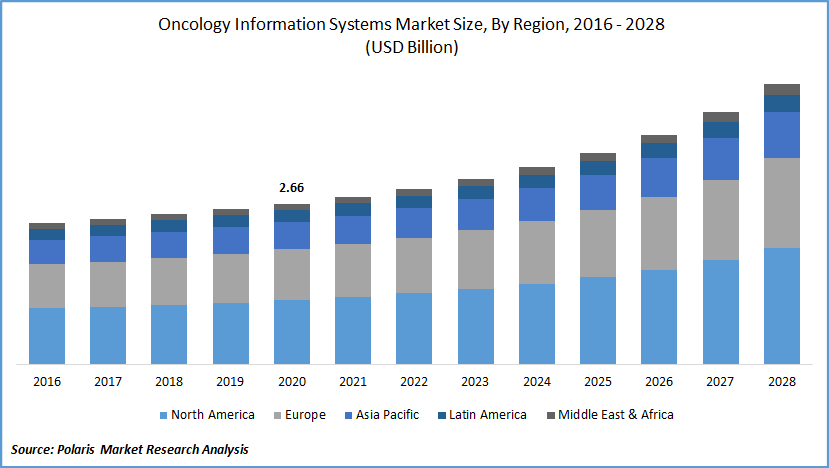 Know more about this report: request for sample pages
The use of blockchain technology in oncology data systems is a crucial development in the healthcare system, leading to the replacement of paper-based documents and care plan in cancer treatment, so it is one of the most important factors driving oncology information systems market growth.
Moreover, the demand for oncology information systems grew rapidly as healthcare policies are changing to promote the use of smart technology. Furthermore, it enhances patient treatment and aids in better patient management. Both of these factors contributed to the oncology information management industry expansion.
The industry is being driven by a rising investments by industry players in cancer research. In the coming years, the demand for these systems is expected to expand significantly, allowing companies to invest in the production of novel, advanced, and technologically innovative products.
As oncology is a fastest growing sector, the industry has been driven further from increased research & development support from cancer institutes and research centers. In addition, one of the key factors driving the potential growth of the industry is the implementation of AI in oncology. As it is mostly used by pharma firms and hospitals, software and systems create great demand in end-use facilities.
Industry Dynamics
Growth Drivers
The growing adoption of oncology information systems, the increasing number of cancer cases, the rapid development of healthcare IT, and increased investments in the oncology field for treatment are expected to drive the global industry during the forecast period.
According to the International Agency for Research on Cancer (IARC), 14 million new cancer cases were diagnosed in 2012 that raised to 17 million in 2018 and is estimated to increase over 22 million by 2030. Progress in developing therapies is allowing funds to put in oncology research. In the coming years, increased equity investments in cancer-therapeutics startups are expected to form the information systems industry. Cancer is one of the leading causes of mortality, according to the World Health Organization. Cancer is responsible for one out of every six deaths.
According to Novartis, there are over 200 different forms of cancer, each with its diagnosis and therapy. It also predicts that by 2030, over 21 million new cancer cases will have been diagnosed. Furthermore, the rate of end-stage pipeline therapies increased by 19.0% from 711 in 2017 to 849 in 2018, due to a rising number of unique treatments in the oncology pipeline. The usage of information systems to manage the information of these treatments among healthcare organizations and patients is also fueling oncology information systems market development.
Key product manufacturers are introducing strategic campaigns to raise brand awareness and product visibility between core end-users (such as doctors, patients, and oncologists) in major healthcare markets around the world. Companies in the industry are adopting a hybrid distribution approach, in which products are distributed both through distribution channels and through partnerships with multinational oncology information systems providers.
The companies operating in the market are investing in research and development to develop products with more features than currently available products. For instance, in November 2020, COTA, Inc., a curator of clinical data in the oncology field, reported an investment of about USD 10.0 million and a strategic partnership agreement with Varian Medical Systems, Inc. Both companies intend to provide decision support tools, data processing, and organizational decisions to cancer clinics.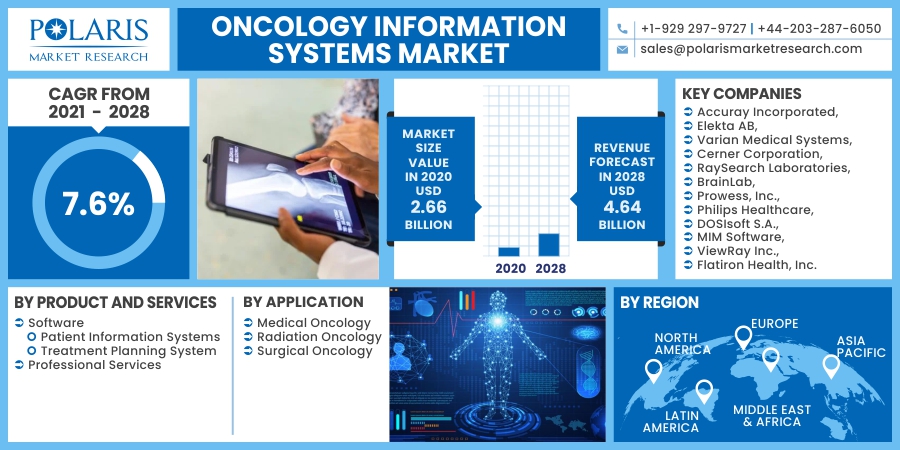 Know more about this report: request for sample pages
Oncology Information Systems Market Research Scope
The market is primarily segmented on the basis of product and services, application, and region.
By Product and Services

By Application

By Region

Software

Patient Information Systems
Treatment Planning System

Professional Services

Medical Oncology
Radiation Oncology
Surgical Oncology

North America (U.S., Canada)
Europe (France, Germany, Italy, Spain, UK, Netherlands, Austria)
Asia Pacific (China, India, Japan, South Korea, Malaysia, Indonesia)
Latin America (Argentina, Brazil, Mexico)
Middle East & Africa (Israel, Saudi Arabia, South Africa, UAE)
Know more about this report: request for sample pages
Insight by Product and Services
The software segment dominated the market and generated the highest revenue, in 2020. This is due to the increasing usage by healthcare professionals for better radiology information management. The software aids in the collection of cancer patient-reported results and allows for direct contact between doctors and patients, resulting in the segment's development. The introduction of more sophisticated information systems market software, which helps in better patient information management and enhances cancer care, can also be a driving factor for the growth of the segment.
Professional services, on the other hand, are becoming more widely recognized, since most hospitals and clinics outsource information systems services due to a shortage of qualified practitioners in hospitals and clinics. These programs provide online consultations as well as personalized schedules and reports, which helps to improve the quality of care.
Insight by Application
The medical oncology segment generated the highest revenue, in 2020, owing to rapid advances in hormonal therapy, immunotherapy, and targeted therapy for efficiently treating different cancers. Furthermore, key players are undertaking many cancer research programs, which are greatly affecting the growth of the segment.
Surgical oncology is expected to see substantial growth in the demand for oncology information systems over the next few years. Cancer care has evolved, and surgery is mostly not preferred for most solid malignancies. The most recommended approach is a combination of surgery and multi-modal treatments, with an emphasis on targeted molecular therapies, radiotherapy, and chemotherapy.
Laparoscopic cancer surgery, isolated limb perfusion, cytoreductive surgery, and sarcoma surgery are all procedures that can be conducted in highly advanced healthcare facilities. As a result, the segment's growth is expected to be driven by the growing complexity of surgical treatments for solid tumors.
Geographic Overview
The North American oncology information systems market is expected to be the biggest contributor of revenue share in the global market owing to the availability of advanced healthcare infrastructure and increased knowledge about patient data management in the region.
Furthermore, the increasing use of these systems to track and document cancer patients' treatment outcomes, as well as the role of electronic medical records (EMR) in making better care decisions, are some of the factors that drive the market. In addition, the growing need to maintain patient schedules, dosage management, and treatment planning in this area is expected to drive up demand for the market.
Asia Pacific region is expected to be the fastest-growing region in the global market due to increasing public knowledge of the OIS's benefits and encouraging government policies. The players seeking a significant share of this market must establish unique pricing policies as well as marketing strategies tailored to this area in order to gain a stronghold in these profitable markets.
Competitive Insight
The companies in the market are focusing more to invest in research & development to introduce innovative products with more features than those available in the market. There is a huge demand for OIS's and hence companies are entering into partnerships with other companies to offer software and services to hospitals and pharmaceutical companies.
Some of the major players operating in the market include Accuray Incorporated, Elekta AB, Varian Medical Systems, Cerner Corporation, RaySearch Laboratories, BrainLab, Prowess, Inc., Philips Healthcare, DOSIsoft S.A., MIM Software, ViewRay Inc., and Flatiron Health, Inc.