The global otoplasty market was valued at USD 988.42 million in 2022 and is expected to grow at a CAGR of 6.9% during the forecast period.
Otoplasty, also referred to as a cosmetic ear surgical procedure, is a method for shifting the positions, structure, or dimensions of the ears. It includes a surgical reworking of the pinna or outer ear to enhance its beauty or to correct deficiencies if any. The surgery is more prevalent during childhood; however, it is accomplished at any time after the ears have attained their full size. It could also be performed at the age of three years. If there are deformities in the ear structure, otoplasty can be utilized to correct them. The operation can treat macrotia, a disorder of having overly large earlobes and protruding ears. Numerous risks associated with otoplasty include scarring, asymmetrical ear placement, alterations in skin sensation, issues with stitches, and alternate versions.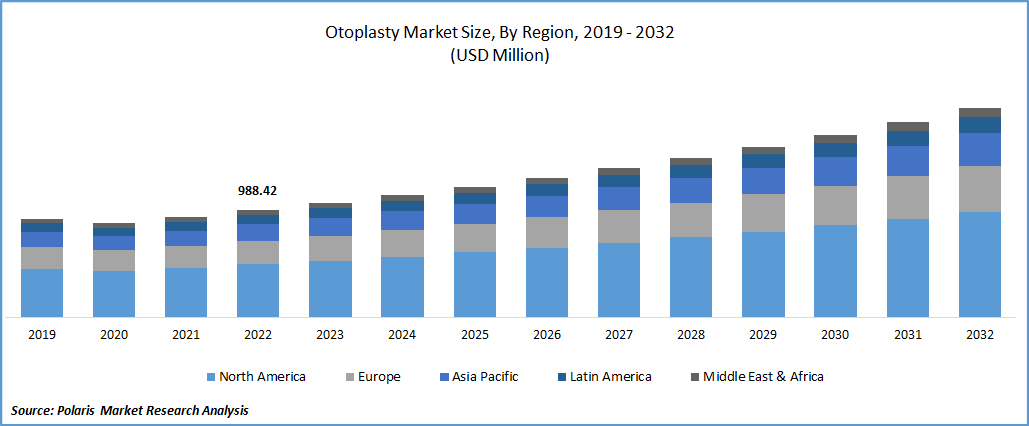 Know more about this report: Request for sample pages
The natural deformities and extremities, including cryptotic ears, bat ears, Stahl's ear malformation, macrotic ears, question mark ears, etc., are also contributing to the projected expansion of the global market. The global market is expanding as a result of the increased prevalence of prenatal screening for birth defects. There are four kinds of microtia, which tend to range from Type 1 to Type 4. Type 1 is the mildest kind, where the ear preserves its regular shape but still is smaller than usual.
The most severe type, known as type 4, is anotia, which is the absence of all external ear structures. This disorder can affect either or both ears. However, it is more usual for neonates to have only one impacted ear. For instance, according to the CDC, microtia affects roughly 1 in every 2,000 to 10,000 babies in the United States. For the record, microtia occurs in the early weeks of pregnancy and can range from being hardly perceptible to be a significant issue with ear development.
Further, in evolved and underdeveloped countries, the introduction of innovative approaches and the growing amount of cost-effective screening techniques are driving the market growth. Oncoplastic surgery's technical development is another important aspect boosting this market segmentation's expansion. For instance, 3D printing technology is increasingly being utilized to create prostheses and implants that are specifically designed for each patient's ear and don't cause discomfort or other issues after surgery. This technological development is anticipated to boost demand for otoplasty operations in the future years.
All surgical procedures were stopped during the height of the COVID-19 outbreak. The market has suffered due to the government's injunction to stay indoors to curb the virus's spread. The Royal College of Surgeons (RCS) also assigned cosmetic surgery a priority four operation ranking, the lowest ranking possible. Therefore, safe cosmetic surgery treatments resumed after the drop in COVID-19 cases and the relaxation of government prohibitions. As a result, the market is growing slowly, although this is anticipated to change over the next few years.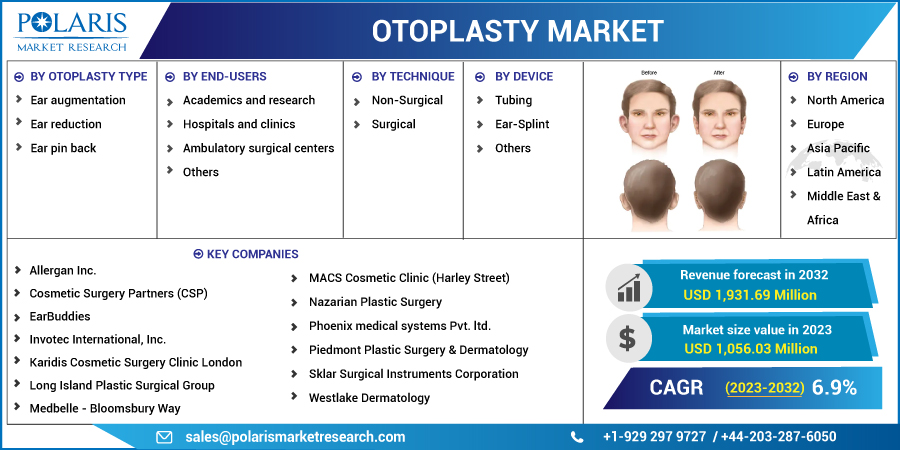 Know more about this report: Request for sample pages
Industry Dynamics
Growth Drivers
The otoplasty market is primarily driven by expanding youth awareness of facial features, increased use of cosmetic surgery, and the psychological effect of appearance, looks, and elegance on young people, which has led to an increase in the use of otoplasty operations. For instance, as per the Plastic Surgery report, cosmetics procedures taken in 2020 by a female were 92%, and the male was 8% of all cosmetics procedures taken in 2020. Out of 12.4 million female cosmetic procedures, 2.0 million were surgical procedures, and 10.4 million were minimally invasive.
Besides, in male, out of 1.1 million procedures, 0.3 million was surgical, and 0.9 million was minimally invasive. Minimally invasive operations are getting increasingly popular due to their shorter treatment cycle. Around USD 16.7 Bn was spent on cosmetic procedures in the U.S. alone. Approximately 3.8 million (25%) procedures in the South Atlantic.
Further, otoplasty is commonly considered a cosmetic surgical technique; however, it also offers medicinal advantages such as increasing hearing and avoiding additional damage to the ears from infections or traumas. As a result, there are changes in otoplasty procedures within and between people across all age categories, propelling its expanding interest. The global market is expanding due to the media and fashion industries' growing influence.
Report Segmentation
The market is primarily segmented based on otoplasty type, end-users, technique, device, and region.
By Otoplasty Type

By End-Users

By Technique

By Device

By Region

Ear augmentation
Ear reduction
Ear pin back

Academics and research
Hospitals and clinics
Ambulatory surgical centers
Others

North America (U.S., Canada)
Europe (France, Germany, UK, Italy, Netherlands, Spain, Russia)
Asia Pacific (Japan, China, India, Malaysia, Indonesia. South Korea)
Latin America (Brazil, Mexico, Argentina)
Middle East & Africa (Saudi Arabia, UAE, Israel, South Africa)
Know more about this report: Request for sample pages
The hospitals and clinics segment is expected to witness the fastest growth
The expanding number of clinics providing cosmetic surgery as a part-time or full-time vocation is one of the primary drivers driving this industry. As to the American Society of Plastic Surgeons, in 2018, almost 17 million cosmetic treatments were known performance which was a 9% rise from 2017. In 2020, around 53,095 ear surgery was done by the Plastic Surgery Organization.
This growth may be ascribed to increased knowledge about plastic surgery, especially with the growing spread of information on that one at the local level combined with a growth in the number of surgeons undergoing these treatments worldwide. Otoplasty treatments are frequently conducted in hospitals. The treatment is commonly performed on an outpatient basis, which indicates that the patient does not have to spend the night in the hospital. The otoplasty operation takes roughly two to three hours. Thus, the segment growth is propelling due to the rising number of patients treated at hospitals and clinics.
The ear augmentation segment industry accounted for the highest market share in 2022
The market is anticipated to be dominated by the ear augmentation category. This is because more ear surgeons are undertaking reconstructive surgery, and there is a growing demand for enhanced beauty that is achieved by minimizing the prominence of disproportionately large ears. Additionally, these techniques don't result in any problems after surgery, encouraging adoption.
Additionally, the WHO is initiating many infant hearing screening programs to attend to the increased number of ear deformations across the globe. Currently, a variety of methods, such as Otoacoustic Emissions (OAE) testing and Auditory Brainstem Response, are accessible for detecting hearing loss in newborns and infants. Thus, the rising programs for ear augmentation are boosting growth.
North America dominated the otoplasty market in 2022
North America emerged as the larges market for otoplasty in 2022. This is due to several variables, including the presence of highly skilled surgeons, the accessibility of the latest technology products and methods, and the rising demand for otoplasty treatments among young people. Due to the increased popularity of cosmetic surgery procedures as well as the increased incidence of congenital ear deformity in the region, the region is anticipated to lead the global market during the forecast period.
For instance, with around 13,000 members, the American Academy of Otolaryngology-Head & Neck Surgery (AAO-HNS) represents professionals who manage the ears, throat, and head & neck organs. In the United States and all over the world, otolaryngologists and head & neck surgeons treat and diagnose some of the most prevalent medical conditions that affect people of all ages.
Furthermore, due to higher healthcare spending, a great reimbursement environment, and advantageous insurance penetration, we then make a significant contribution to this regional market. Moreover, the US has faster market absorption of new technologies that are supporting worldwide market growth. Additionally, the European regional market has experienced the second-largest market increase due to the region's growing awareness and high level of disposable income.
Competitive Insight
Key players include Allergan Inc., Cosmetic Surgery Partners (CSP), EarBuddies, Invotec International, Inc., Karidis Cosmetic Surgery Clinic London, Long Island Plastic Surgical Group, Medbelle - Bloomsbury Way, MACS Cosmetic Clinic (Harley Street), Nazarian Plastic Surgery, Phoenix medical systems Pvt. ltd., Piedmont Plastic Surgery & Dermatology, Sklar Surgical Instruments Corporation, and Westlake Dermatology.
Recent Developments
In June 2022, a surgeon has an introduction of appropriate outer ear designed and 3D-printed in a facility. A lady who was diagnosed with the congenital condition "microtia" & had 1 mal-formed ear, and received this 3D printed ear, manufactured by the 3D Bio Therapeutics.
Otoplasty Market Report Scope
| | |
| --- | --- |
| Report Attributes | Details |
| Market size value in 2023 | USD 1,056.03 million |
| Revenue forecast in 2032 | USD 1,931.69 million |
| CAGR | 6.9% from 2023 - 2032 |
| Base year | 2022 |
| Historical data | 2019 – 2021 |
| Forecast period | 2023 – 2032 |
| Quantitative units | Revenue in USD million and CAGR from 2023 to 2032 |
| Segments Covered | By Otoplasty Type, By End-Users, By Technique, By Device, By Region |
| Regional scope | North America, Europe, Asia Pacific, Latin America; Middle East & Africa |
| Key Companies | Allergan Inc., Cosmetic Surgery Partners (CSP), EarBuddies, Invotec International, Inc., Karidis Cosmetic Surgery Clinic London, Long Island Plastic Surgical Group, Medbelle - Bloomsbury Way, MACS Cosmetic Clinic (Harley Street), Nazarian Plastic Surgery, Phoenix medical systems Pvt. ltd., Piedmont Plastic Surgery & Dermatology, Sklar Surgical Instruments Corporation, and Westlake Dermatology |