The global pharmaceutical dissolution testing services market was valued at USD 643.84 million in 2021 and is expected to grow at a CAGR of 8.2% during the forecast period.
Dissolution testing is a current requirement test used to show the effectiveness of all solid oral dosage forms where medication absorption is essential for the product to produce a therapeutic effect. Dissolution is the process by which, under controlled circumstances, a known quantity of a pharmacological substance dissolves in solution over a period of time. The development and production of pharmaceutical products are fundamentally based on the drug dissolution test, which is also used as a quality control tool to monitor the uniformity of drug release from a substance from batch to batch.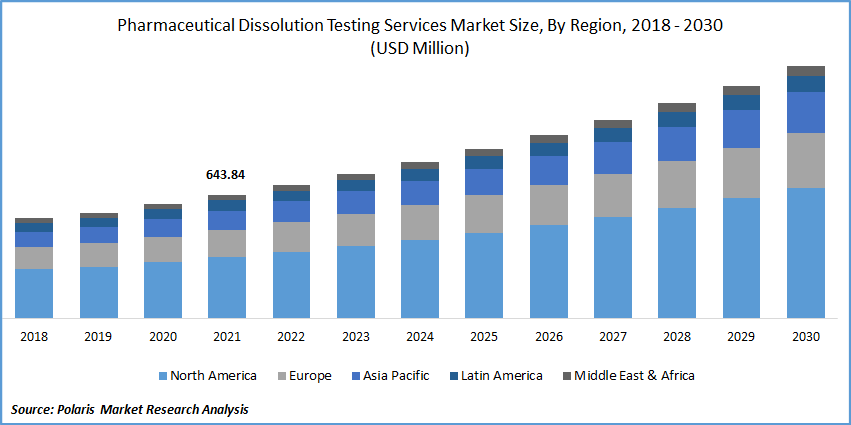 Know more about this report: Request for sample pages
Testing for drug dissolution reveals how quickly or slowly specific medications are taken into different bodily areas and how much they dissolve after delivery. This helps firms to determine if a drug will work properly once it enters a patient's system and whether any adverse effects caused by slower absorption rates might occur. Running the assays and creating regulatory files for pharmaceutical dissolution testing requires expert personnel. This element has significantly raised the demand for expert teams to conduct pharmaceutical dissolution testing, which is anticipated to impact the sector positively.
Pharmaceutical dissolution testing services are in more demand due to growing R&D spending by pharmaceutical companies, as well as a rise in the number of innovative drugs entering the developmental stage of research. According to the Center for Drug Evaluation and Research (CDER), Food and Drug Administration, 48 new medications were authorized in 2019. According to the FDA, the majority of the 53 medicines approved globally in 2020 were first approved in the United States before being approved in any other nation.
Further, the Congressional Budget Office reported in April 2021 that most pharmaceutical companies spend around one-quarter of their revenues on average on R&D expenses, which is about twice as much as they spent in 2000. Around USD 79.6 billion was spent on R&D by biopharmaceutical businesses in the US in 2019. The requirement for dissolution testing services is anticipated to be boosted by the rising number of clinical studies, drug approvals, and large corporations' engagement in increased R&D spending.
The COVID-19 pandemic has severely hit the global industry. During the crisis, the development of coronavirus prevention medications primarily met the needs of pharmaceutical companies, biotech companies, and other end-user demands. Numerous pharmaceutical businesses experienced an increased workload and a decrease in their internal lab testing capabilities during the COVID-19 pandemic.
Pharmaceutical dissolution testing services saw increased demand towards the second part of the pandemic due to research trials for drugs developed to prevent COVID-19. These organizations have been aggressively pursuing the creation of drugs that can be administered as a treatment for COVID-19 individuals who only experience modest symptoms since the end of 2019. Additionally, to assess safety, stability, and efficacy, these medication developments must undergo dissolution testing at every stage, which helps the sector grow.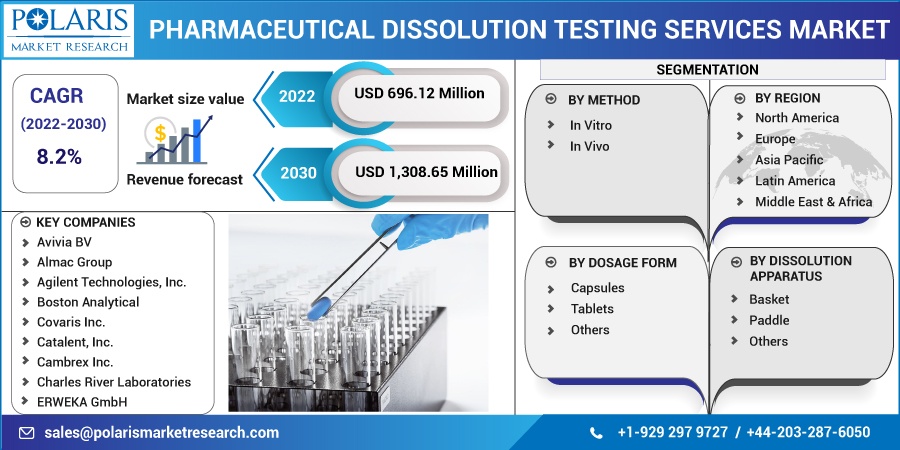 Know more about this report: Request for sample pages
Industry Dynamics
Growth Drivers
The manufacturing of multiple drugs for different chronic conditions, such as type-2 diabetes that need dissolution testing service is the major factor bolstering the market growth over the forecast period. The rising prevalence of type-2 diabetes has increased the demand for dissolution services for its drugs. According to the International Diabetes Federation, an estimated 537 million adults will have diabetes in 2021. The incidence of type 2 diabetes has increased among 541 million persons. About 90% of all occurrences of diabetes are type 2, making it the most prevalent. Further, for type-2 diabetes, Insulin resistance, in which the body does not fully react to insulin, is a common characteristic. Blood glucose levels continue to rise due to insulin's inability to function effectively, releasing more insulin. This may gradually tire the pancreas in some type 2 diabetics, causing the body to produce less and less insulin and raising blood sugar levels.
Therefore, the Glibenclamide drug requires dissolution testing services as it is used for treating type-2 diabetes. Glibenclamide is a sulphonylurea-class oral hypoglycemic medicine used to treat non-insulin-dependent diabetics. Diabetic patients with type II are treated with second-generation sulfonylurea glibenclamide (GLIB). GLIB is among the first possibilities for diagnosing DM-II patients who are unresponsive to non-pharmacological initiatives because of its close connection to pancreatic receptors and its powerful and effective role in stimulating insulin secretion, i.e., secretagogue action. GLIB is also extremely effective in clinical practice.
Thus, the rising prevalence of type-2 diabetes, along with the increasing dissolution testing services for drugs used in type-2 diabetes, is the primary factor bolstering the market growth over the forecast period.
Report Segmentation
The market is primarily segmented based on method, dosage form, dissolution apparatus, and region.
By Method

By Dosage Form

By Dissolution Apparatus

By Region

North America (U.S., Canada)
Europe (France, Germany, UK, Italy, Netherlands, Spain, Russia)
Asia Pacific (Japan, China, India, Malaysia, Indonesia, South Korea)
Latin America (Brazil, Mexico, Argentina)
Middle East & Africa (Saudi Arabia, UAE, Israel, South Africa)
Know more about this report: Request for sample pages
The in-Vitro segment is expected to witness the fastest growth
The in-vitro segment continues to gain its position as the market leader. The capacity of the preclinical pipeline is expanding, and dissolution testing is becoming more well-known, two major aspects influencing the segment's growth. Dissolution plays a crucial part in the life cycle of generic medicinal products. Investigators should consider the official procedures and requirements listed in the United States Pharmacopeia when creating a dissolving test for a generic drug for marketing in the USA.
According to the properties of the drug product, the USP outlines seven alternative dissolution apparatuses that can be employed to create an acceptable dissolve method. The dissolve method must be reliable and repeatable for daily use, portable between laboratories, and discriminating enough to identify any alterations that might influence the product's in vivo performance.
In-vitro pharmaceutical dissolution testing will expand due to the usual increases in the price of animal experiments and their socio-ethical issues. In vitro dissolving is suggested as a method for supporting post-approval alterations in the FDA advice on scale-up and post-approval changes (SUPAC) for instant-release oral dosage formulations. Significant advancements in the in-vitro dissolution testing assays, which are used to assess the safety of medications and their possible effects on cells and tissues, are expected to boost market expansion. Businesses are expanding their product lines in response to the escalating demand for these tests as the in-vitro pharmaceutical dissolution testing industry grows.
The Tablet Form segment industry accounted for the highest market share in 2021
Tablets' quick expansion can be due to their ease of mass production, good physical and chemical durability, and ability to customize the body's dosage requirements. For solid dosage forms like tablets, dissolution testing is a crucial and required in vitro quality control process. Such testing verifies that a tablet has, within the prescribed time frame, released the amount of active pharmaceutical ingredient (API) listed on the label into the solution.
It proves that the API will be easily absorbed after being administered orally. Sublingual (SL) tablets, such as those containing nitroglycerin, should preferably release the entire amount of API in a matter of seconds for optimal systemic circulation absorption through the SL veins. The SL route is beneficial for an API, including epinephrine, inhibited in the gastrointestinal tract (GIT) due to significant metabolism. Therefore, the benefits associated with tablet forms for disease treatment are the primary factor bolstering segmental growth.
The demand in North America is expected to witness significant growth
The presence of large firms that offer pharmaceutical dissolution testing services and the increased R&D expenditures by them for the creation of innovative therapies for chronic diseases might be ascribed to the high share of this market. Also, drug recalls across the region are increasing, requiring dissolution testing services to ensure their safety, which drives the market growth.
The FDA ordered 12,028 drug recalls in the US from 2012 to 2021. As a result, testing the products to assure their safety before marketing them becomes necessary. Since low-quality medications would have an adverse effect on both patient health and financial systems, medicines are designed to produce better results in both people and animals. Pharmaceutical dissolution testing is crucial to guarantee the safety and effectiveness of the drugs.
Moreover, growth in the burden of sickness and the expansion of the healthcare system have also raised the need for laboratory dissolution testing as well as the desire for innovative medicines. Because of the increasing expenditures made in improving regional healthcare by businesses from developed economies, the Asia Pacific area is anticipated to grow at the quickest CAGR during the projection period. To expand the reach of their services to different regions in the area, service providers are also building new facilities and developing collaborations.
Competitive Insight
Some of the major players operating in the global market include Avivia BV, Almac Group, Agilent Technologies, Inc., Boston Analytical, Covaris Inc., Catalent, Inc., Cambrex Inc., Charles River Laboratories, ERWEKA GmbH, Eurofins Scientific Incorporation, Intertek Group Plc., Kinesis Ltd., Pace Analytical Life Sciences, SGS SA, Sotax AG, Thermofisher Scientific Inc., Toxikon Inc., Teledyne Hanson Research, Inc., and West Pharmaceutical Services Inc.
Recent Developments
In October 2022, the "Dissolution Center of Excellence" facility in the UK has officially opened by Agilent Technologies. The core of Agilent's dissolution operation, including research and development, assurance, support, services, marketing, and more, will be located in the recently remodeled facilities. With this investment, the company can now centralize operations under one roof.
In February 2021, the launch of the NanoDis System for assessing the dissolving of nanoparticles was announced by Agilent Technologies Inc. The new NanoDis System offers a specialized workflow that is easy to automate and auditable, combining Agilent equipment and software to help companies comply with 21 CFR Part 11 and other regulations throughout its implementation.
Pharmaceutical Dissolution Testing Services Market Report Scope
| | |
| --- | --- |
| Report Attributes | Details |
| Market size value in 2022 | USD 696.12 million |
| Revenue forecast in 2030 | USD 1,308.65 million |
| CAGR | 8.2% from 2022 - 2030 |
| Base year | 2021 |
| Historical data | 2018 - 2020 |
| Forecast period | 2022 - 2030 |
| Quantitative units | Revenue in USD million and CAGR from 2022 to 2030 |
| Segments Covered | By Dosage Form, By Method, By Dissolution Apparatus, By Region |
| Regional scope | North America, Europe, Asia Pacific, Latin America; Middle East & Africa |
| Key Companies | Avivia BV, Almac Group, Agilent Technologies, Inc., Boston Analytical, Covaris Inc., Catalent, Inc., Cambrex Inc., Charles River Laboratories, ERWEKA GmbH, Eurofins Scientific Incorporation, Intertek Group Plc., Kinesis Ltd., Pace Analytical Life Sciences, SGS SA, Sotax AG, Thermofisher Scientific Inc., Toxikon Inc., Teledyne Hanson Research, Inc., and West Pharmaceutical Services Inc. |