The global plastic packaging market size was valued at USD 295.2 billion in 2017 and is anticipated to grow at a CAGR of 4.1% during the forecast period. Plastic packaging is used for protection of goods while in transit, storage and distribution. It also protects and extends shelf life of products from breakage, spoilage and contamination. It acts as a medium to offer consumer information about the product and manage brand identity and differentiation.
The food and beverage industry is increasingly using plastic packaging owing to its strength, durability, hygiene, and aesthetics. A variety of food products and consumer goods are being packaged using pouches, plastic bags, and sachets for increased efficiency and brand appeal. The increasing population and rising demand for food and beverages, personal care, and consumer goods drive the market growth. The growing middle-income population, cost effectiveness offered by plastics, and presence of numerous players in the market further augment the market growth. Increasing use of flexible and functional plastic packaging for food products supports the industry growth.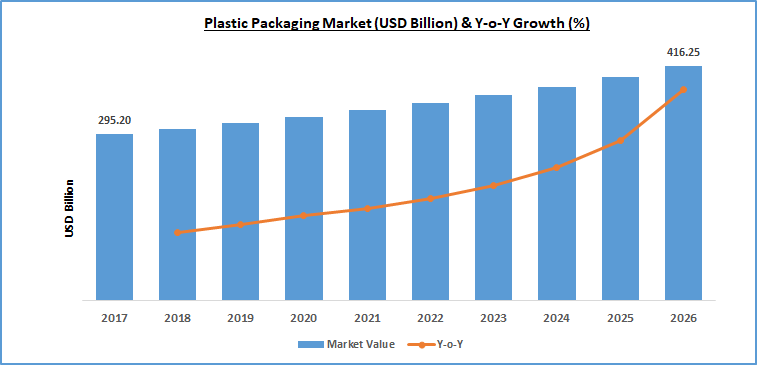 Know more about this report: request for sample pages
Industries such as automotive, and construction are increasingly using rigid packaging containers and canisters for transportation, protection, and preservation of a wide range of products. Improving lifestyles, and rising disposable income, especially in the emerging economies of Asia-Pacific, has increased the consumption of food and beverages, and purchase of consumer electronics, thereby augmenting the market growth. Growing demand from emerging economies, increasing purchasing power of consumers, and growth of e-commerce platforms are factors expected to provide numerous growth opportunities to the industry during upcoming period.
Segment Analysis
The global plastic packaging market is segmented on the basis of type, product, end-user, and region. Based on type, the industry is segmented into rigid and flexible plastic packaging. The flexible plastic packaging is expected to grow at the highest rate during the forecast period owing to greater demand from food and beverage, and pharmaceutical sectors. Flexible plastic packaging offers features such as cost-effectiveness, increased durability and flexibility, greater visual appeal, and convenience.
The plastic packaging industry report segments the products into bags, cans, bottles, pouches, and others. The bottles segment dominated the global industry in 2017 owing to increasing use in medical applications, and growing demand for PET bottles for soft drinks and water. Moreover, the report segments the end-users into food and beverage, healthcare, pharmaceutical, retail, personal and home care, and others.
Plastic Packaging Market Scope
By Type

By Product

By End User

By Region

Bags

Cans

Bottles

Pouches

Others

Food and Beverage

Healthcare

Pharmaceutical

Retail

Personal and Home Care

Others

North America (U.S., Canada)

Europe (Germany, UK, France, Italy, Spain, Belgium, Russia, Netherlands)

Asia Pacific (China, India, Japan, Korea, Singapore, Malaysia, Indonesia, Thailand, Philippines)

Latin America (Brazil, Mexico, Argentina)

Middle East & Africa (UAE, Saudi Arabia, South Africa)
Know more about this report: request for sample pages
Regional Analysis
The report comprises a detailed geographic distribution of the market across North America, Europe, Asia-Pacific, Latin America, and MEA. North America is further segmented into U.S., and Canada. Europe is divided into Germany, UK, France, Italy, Spain, Belgium, Russia, Netherlands, and Rest of Europe. Asia-Pacific is bifurcated into China, India, Japan, Korea, Singapore, Malaysia, Indonesia, Thailand, Philippines and Rest of Asia-Pacific. Asia-Pacific accounted for the largest share in the market during 2017. The brand owners operating in industries such as food packaging, healthcare, and retail demand plastic packaging owing to its light weight, durability, and affordability.
Competitive Landscape
The leading players in the report include Mondi Group, Berry Plastics Corporation, Sonoco Products Company, Amcor Limited, DS Smith plc, Bemis Company, Inc., NatureWorks LLC, Consolidated Container Company, Reynolds Group Holdings Limited, and Alpla Werke Alwin Lehner GmbH & Co. KG. These leading players in the plastic packaging industry are introducing innovative products to cater to the consumers. Global players are entering new markets in developing regions to expand their customer base and strengthen market presence.