The global pressure sensitive tapes market was valued at USD 61.94 billion in 2021 and is expected to grow at a CAGR 7.4% during the forecast period. These are manufactured using thin, flexible material with single- or double-sided coating. These tapes can be applied to varied substrates with clean and dry surfaces with pressure.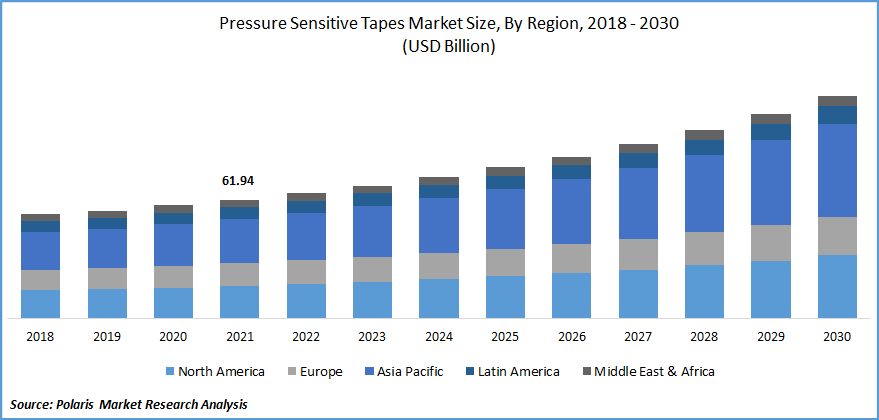 Know more about this report: Request for sample pages
These tapes provide a bond between two surfaces, which is influenced by the amount of pressure applied. They are widely used to bond these low-energy substrate materials efficiently and effectively is another important factor that is anticipated to offer a new opportunity in the forecast period.
Moreover, the increase in regulations in the adhesive sector and the rise in demand for sustainability have forced manufacturers operating in the industry to develop bio-based tapes. Manufacturers are inclined toward the development of sensitive adhesives that are derived from vegetable oil, lignin, carbohydrates, and terpenes.
Improved weathering of waterborne acrylic adhesive tapes makes them an ideal choice of material for exterior decorative applications, outdoor tapes, and outdoor signs. The addition of additives such as neutralizing agents, surfactants, wetting agents, plasticizers, cross-linkers, thickeners, preservatives, and defoamers helps to enhance shear strength and peel strength and improves compatibility and mechanical stability.
These factors are predicted to offer a new opportunity in the global market. Moreover, the predominant trend towards the use of lightweight and low-cost engineered plastic materials in sectors such as automotive, electronics, aerospace, and construction has created a need that helps to bond efficiently to these materials.
The outbreak of COVID-19 has affected the growth of the pressure sensitive tapes market owing to disruption in supply chain activities and transportation delays. The stakeholders of the market suffered from operational challenges due to limited manufacturing activities and reduced availability of workforce.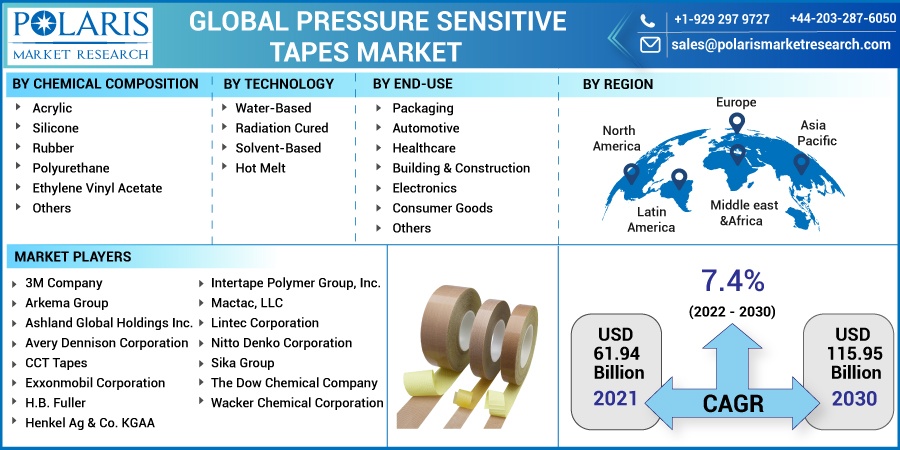 Know more about this report: Request for sample pages
Industry Dynamics
Growth Drivers
These are widely used for flexible packaging for the distribution and preservation of products such as food, pharmaceuticals, beverages, and others. Products in the industry have progressed from simple monolayer wrappings and bags to laminated or coextruded engineered coated and multilayer constructions, comprising of a variety of materials, including coatings, metal foils, plastics, paper foils, and other additives. As product proliferation and development of new products increase, the packaging operations require a reliable adhesive that can assist them in meeting the complex packaging demand.
Further, innovation in product formulations and manufacturing procedures of pressure sensitive adhesives is expected to drive market growth. New innovative formulations, such as the rise in the weight ratio of tackifiers in rubber-based adhesives, are anticipated to offer adhesive solutions having a stronger cross-linking structure.
A stronger cross-linking structure is expected to increase the application scope of these adhesives in various industries. The high-temperature resistance limitation of rubber-based pressure sensitive adhesives is anticipated to increase the amount of silicone utilized in the production of pressure sensitive adhesives.
Report Segmentation
The market is primarily segmented based on chemical composition, technology, end-use, and region.
By Chemical Composition

By Technology

By End-Use

By Region

Acrylic
Silicone
Rubber
Polyurethane
Ethylene Vinyl Acetate
Others

Water-Based
Radiation Cured
Solvent-Based
Hot Melt

Packaging
Automotive
Healthcare
Building & Construction
Electronics
Consumer Goods
Others

North America (U.S., Canada)
Europe (France, Germany, UK, Italy, Netherlands, Spain, Russia)
Asia Pacific (Japan, China, India, Malaysia, Indonesia, South Korea)
Latin America (Brazil, Mexico, Argentina)
Middle East & Africa (Saudi Arabia, UAE, Israel, South Africa)
Know more about this report: Request for sample pages
Acrylic segment accounted for the largest market share
By chemical composition, the pressure sensitive tapes market is segmented into Acrylic, Silicone, Rubber, Polyurethane, Ethylene, Vinyl Acetate, and Others. The market for the acrylic segment is expected to hold the largest share in 2021.
Advantages of acrylic pressure sensitive adhesive tapes offer advantages such as improved adhesion to non-polar compounds, quick dry ability, improved bonding strength with plastic materials, and versatility.
Waterborne acrylic-based pressure sensitive adhesives offer advantages such as improved adhesion towards polar substances, heat & aging resistance, and they can be cleaned easily. Quick setting, reduced solvent wastage, environmentally acceptable, and active nature are some benefits of hot melt acrylic-based tapes. Waterborne acrylic-based pressure sensitive adhesives are prepared from the emulsion polymerization technique using emulsifiers and water-soluble polymerization motivators.
Hot melt is expected to be the fastest growing segment during the forecast period
By technology, the market is segmented into water-based, radiation cured, solvent-based, and hot melt. Amongst these, hot melt is expected to be the fastest growing segment during the forecast period.
Hot melt pressure sensitive adhesive tapes are used for aircraft interiors and other industrial applications. The major advantage of hot melt sensitive tapes is their fast setup period as compared to other solvent or water-based, or curable pressure sensitive adhesives.
The demand for pressure sensitive tapes is expected to increase from the aerospace sector
They are used in other end-use industries such as packaging, automotive, healthcare, building & construction, electronics, consumer goods, and others. These are used in commercial and military airplanes for applications such as logos, decorative cabin applications, carpet running protection, and window masking application. In addition, these tapes are also used for different assembly applications in aerospace end-user.
These are widely adopted for bonding two materials in the aerospace industry as they are capable of offering strength and integrity. Airplane passenger cabins are usually made up of plastic materials such as polyvinyl fluoride and polyamide. They are used for securing these plastic films to various rigid substances. The electrical sector is also inclined towards the adoption of the industry for various applications that include electrical insulation of motors, coils, transformers, and wire harness wrapping.
Asia-Pacific region will lead the global pressure sensitive tapes market by 2030
The Asia-Pacific pressure sensitive tapes market is studied across China, Japan, India, South Korea, and the rest of Asia-Pacific. Urbanization, industrialization, and economic growth in the region drive the growth of the market. Increasing application in consumer goods and increasing penetration of passenger cars boost the adoption of pressure sensitive tapes in the applications.
The demand is expected to increase in the building and construction sector during the forecast period owing to growth in residential construction and the development of public infrastructure. Building & construction sector in China is witnessing rapid growth owing to industrialization and urbanization. For instance, according to a report by International Trade Administration, China's construction sector is the largest and is predicted to grow by 5.2% between 2021 and 2029.
Competitive Insight
Some of the major players operating in the global market include 3M Company, Arkema Group, Ashland Global Holdings Inc., Avery Dennison Corporation, CCT Tapes, Exxonmobil Corporation, H.B. Fuller, Henkel Ag & Co. KGAA, Intertape Polymer Group, Inc., Mactac, LLC, Lintec Corporation, Nitto Denko Corporation, Sika Group, The Dow Chemical Company, and Wacker Chemical Corporation.
The prominent market players operating in the global market are investing in R&D and technological advancements to develop new products to enhance their offerings. Several companies are collaborating with each other to strengthen market presence and enter new emerging markets.
Recent Developments
In August 2020, Henkel started construction of new facility in U.S. that will be engaged in the production of UV-curable acrylic pressure sensitive adhesives. This facility is predicted to be completed by end of 2021 and it is predicted to enhance the sales of adhesives in U.S. region and is predicted to offer wide choice of products and solutions for customers across this region.
In July 2020, Arkema acquired adhesive powder manufacturer known as Fixatti. Fixatti is mainly engaged in production of high-performance thermo-bonding adhesive powders. This powder is mainly used for production of hot melt pressure sensitive adhesives.
Pressure Sensitive Tapes Market Report Scope
| | |
| --- | --- |
| Report Attributes | Details |
| Market size value in 2021 | USD 61.94 billion |
| Revenue forecast in 2030 | USD 115.95 billion |
| CAGR | 7.4% from 2022 - 2030 |
| Base year | 2021 |
| Historical data | 2018 - 2020 |
| Forecast period | 2022 - 2030 |
| Quantitative units | Revenue in USD billion and CAGR from 2022 to 2030 |
| Segments covered | By Chemical Composition, By Technology, By End-Use, By Region |
| Regional scope | North America, Europe, Asia Pacific, Latin America; Middle East & Africa |
| Key companies | 3M Company, Arkema Group, Ashland Global Holdings Inc., Avery Dennison Corporation, CCT Tapes, Exxonmobil Corporation, H.B. Fuller, Henkel Ag & Co. KGAA, Intertape Polymer Group, Inc., Mactac, LLC, Lintec Corporation, Nitto Denko Corporation, Sika Group, The Dow Chemical Company, and Wacker Chemical Corporation. |