The global sandfish market was valued at USD 824.04 million in 2022 and is expected to grow at a CAGR of 17.6% during the forecast period.Sandfish is primarily consumed as a food item, particularly in Asian countries where it is considered a delicacy and has been a part of the local diet for centuries. Sandfish meat is valued for its unique texture and flavor and is often used in soups, stews, and stir-fries. In addition to its use as a food item, sandfish is also used in other industries, such as traditional Chinese medicine, cosmetics, and the aquarium trade. In traditional Chinese medicine, sandfish is believed to have medicinal properties and is used to treat various ailments, such as respiratory diseases, kidney problems, and impotence. Sandfish is a valuable and versatile commodity that is highly prized for its flavor, texture, and potential health benefits.

To Understand More About this Research: Request a Free Sample Report
Sandfish is a type of sea cucumber that is found in the Indo-Pacific region, including the coasts of Africa, Asia, and Australia. It gets its name from its ability to burrow through sandy substrates using muscular contractions, which allows it to avoid predators and find food. These are commercially important as they are considered a delicacy in many cultures and are used in traditional medicine. In addition to their economic importance, sandfish are also ecologically important as they play a role in nutrient cycling and sediment stability in marine ecosystems. They are also a food source for predators such as sea stars, crabs, and fish.
Rising disposable income in many countries has resulted in more people having the means to afford luxury foods like sandfish. As a result, economic growth is playing a vulnerable part in the global market's expansion. In many countries, sandfish is considered a delicacy and has cultural significance, which has helped to sustain demand for this product. In addition to this, the development of sandfish aquaculture has made it easier to produce sandfish in controlled environments, leading to increased supply and more affordable prices. This is significantly heightening the growth of global market.
The COVID-19 pandemic has disrupted global supply chains, making it more difficult to transport sandfish from producing regions to markets. The closure of restaurants and other food service establishments has reduced demand for seafood, including sandfish, which is often consumed in these settings. The disruption of supply chains and reduced demand has led to price fluctuations in the global market.
In addition to this, many countries have imposed export restrictions on seafood products, including sandfish, in response to the pandemic. Also, the pandemic has caused labor shortages in many countries of the world, which has impacted the ability of sandfish farmers and processors to produce and process sandfish. The pandemic has also led to shifts in consumer preferences, with many people preferring to buy local and fresh products, which may impact the demand for sandfish imported from other regions. As a result, the COVID-19 pandemic has had a complex and multifaceted impact on the sandfish market.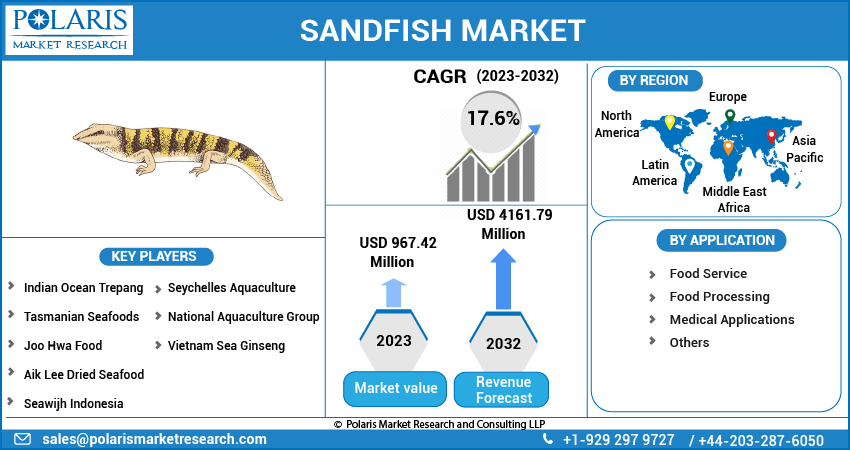 For Specific Research Requirements, Request for a Customized Report
Industry Dynamics
Growth Drivers
Expanding food and beverages industry is one of the prominent factors driving the growth of the global market. The food industry is continually evolving with latest innovations. For example, as of 2023, there are 201,865 fast-food restaurants operating in the United States. As of 2022, the US fast food market was worth USD 331.4 billion. The growing food and beverages industry is ultimately enhancing the sales of sandfish. As sandfish is a popular ingredient in many Asian cuisines, particularly Chinese, Japanese, and Korean. It is usually dried and rehydrated before cooking and can be added to soups, stews, and stir-fries. The texture of sandfish is gelatinous and is often described as having a mild, sweet, and slightly seafood taste. As a result, this factor is largely helping the market to grow exponentially with a considerable growth rate.
Escalating the fisheries and aquaculture industry is another aspect likely to broaden the global market's growth. This plays an important role in meeting the world's increasing demand for seafood. This industry has been increasing in recent years due to a growing demand for seafood and the development of new technologies that make aquaculture more efficient and sustainable. Both industries are important sources of protein, income, and employment for millions of people around the world. For example, 2020 saw a continuation of the global aquaculture industry's growth despite the COVID-19 pandemic's global spread 87.5 million tonnes of aquatic animals were produced, primarily for human consumption. This trend is expected to continue, driven by factors such as population growth, rising incomes, and increasing awareness of the health benefits of seafood. This factor is enhancing the growth of market worldwide.
Report Segmentation
The market is primarily segmented based application, and region.
By Application

By Region

Food Service

Food Processing

Medical Applications

Others

North America (U.S., Canada)

Europe (France, Germany, UK, Italy, Netherlands, Spain, Russia)

Asia Pacific (Japan, China, India, Malaysia, Indonesia. South Korea)

Latin America (Brazil, Mexico, Argentina)

Middle East & Africa (Saudi Arabia, UAE, Israel, South Africa)
To Understand the Scope of this Report: Speak to Analyst
Food processing segment held largest share of the global market in 2022
In fiscal year 2022, the food processing segment dominated the market as sandfish is mainly consumed as a food item, particularly in Asian countries, and food processing is an essential step in making the product available for consumption. It is a delicacy that is usually dried and rehydrated before cooking, which involves various stages of processing such as cleaning, gutting, soaking, and drying. Moreover, the processing of sandfish involves removing its internal organs, skin, and bones, leaving only the meat, which is then dried and preserved. The dried sandfish can be rehydrated and used in various dishes, such as soups, stews, and stir-fries, making it a popular ingredient in many Asian cuisines.
The food processing segment is gaining huge momentum in the global market because of the increasing demand for convenience food products. Processed sandfish is a convenient and ready-to-cook ingredient that can be used in a variety of dishes, making it a popular choice among consumers who are short oe but still n timwant to enjoy the flavor and health benefits of this delicacy.
Asia Pacific is accounting for the largest share of the global market in 2022
The demand for sandfish is highest in countries such as China, Japan, Korea, and Southeast Asian nations, where it is valued for its unique texture and flavor. For example, one of the top seafood consumers in the world is Japan. It was the third-largest importer of seafood in the world in 2022 with $15 billion in imports. Imports fill half of Japan's demand for seafood. In addition to this, in 2021, Korean seafood imports reached $5.74 billion, a 9% increase over 2020. As the global population continues to grow, the demand for seafood is increasing, including for delicacies like sandfish. As a result, increasing seafood consumption is significantly enhancing the growth of the market.
North America is accounting for a significant market share of the global revenue in the year 2022. The governments in this region have recognized the potential of the market and have provided support for the development of the sandfish industry, including funding research and development and providing incentives for sandfish farming. For example, the United States Environmental Protection Agency has committed to working with other agencies to identify problems that restrict aquaculture potential, develop science-based information to support decision-making, create tools for producers and regulators, and fund research and the development of permitting-related tools.
Competitive Insight
The global sandfish market involves Indian Ocean Trepang, Tasmanian Seafoods, Joo Hwa Food, Aik Lee Dried Seafood, Seawijh Indonesia, Seychelles Aquaculture, National Aquaculture Group, and Vietnam Sea Ginseng and others
Recent Developments
In June 2019, Sandfish and other aquatic species have been successfully farmed in the south-central coastal province of Khanh Hoa using a new model created by the Ministry of Agriculture and Rural Development's Research Institute for Aquaculture No 3.
Sandfish Market Report Scope
| | |
| --- | --- |
| Report Attributes | Details |
| Market size value in 2023 | USD 967.42 million |
| Revenue forecast in 2032 | USD 4161.79 million |
| CAGR | 17.6% from 2023 – 2032 |
| Base year | 2022 |
| Historical data | 2019– 2022 |
| Forecast period | 2023– 2032 |
| Quantitative units | Revenue in USD million/billion and CAGR from 2023 to 2030 |
| Segments covered | By Application, By Region |
| Regional scope | North America, Europe, Asia Pacific, Latin America; Middle East & Africa |
| Key companies | Indian Ocean Trepang, Tasmanian Seafoods, Joo Hwa Food, Aik Lee Dried Seafood, Seawijh Indonesia, Seychelles Aquaculture, National Aquaculture Group, and Vietnam Sea Ginseng and others |