The global semantic knowledge graphing market was valued at USD 1,387.68 million in 2022 and is expected to grow at a CAGR of 14.3% during the forecast period. The market's expansion is propelled by organizations' need to efficiently handle and derive valuable insights from extensive and intricate datasets. The growing demand for personalized experiences and the necessity for seamless interoperability and data sharing among diverse systems also contribute to the market's growth. Additionally, the market finds applications in various industries, such as healthcare, media and entertainment, financial services, e-commerce, and manufacturing. In these sectors, semantic knowledge graphing technologies are utilized to enhance operational efficiency, lower costs, and provide personalized experiences to users.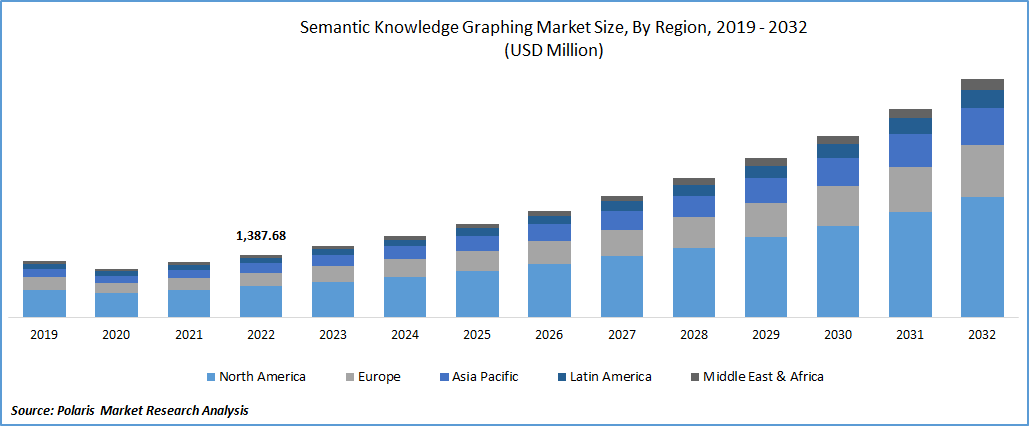 To Understand More About this Research: Request a Free Sample Report
The exponential growth of data from diverse sources, including social media, IoT devices, and digital platforms, poses a significant challenge for organizations to effectively manage, analyze, and derive meaningful insights from this vast information. Semantic knowledge graphs play a crucial role in this context by providing a structured framework to organize and contextualize the data. This enables easier search, exploration, and extraction of valuable insights. Furthermore, with the continuous advancements in AI and machine learning technologies, there is a growing demand for well-structured data that can seamlessly integrate into these systems. Semantic knowledge graphs offer a structured and organized representation of data, which can be utilized to train machine learning models and enhance the capabilities of AI systems.
The expanding internet traffic is poised to drive growth in the semantic knowledge graphing market. With the increasing number of internet users and connected devices, the volume of data being generated is growing at an unprecedented rate. However, a significant portion of this data must be more structured, challenging organizations to effectively manage and derive meaningful insights. Semantic knowledge graphs offer a solution by providing a structured framework to organize and represent data. By leveraging semantic technologies, data can be transformed into a graph-like structure that captures relationships and connections between various data elements. This facilitates the discovery of insights, analysis of data, and informed decision-making processes. As a result, the adoption of semantic knowledge graphs is expected to rise as organizations seek efficient ways to harness the potential of the expanding data landscape.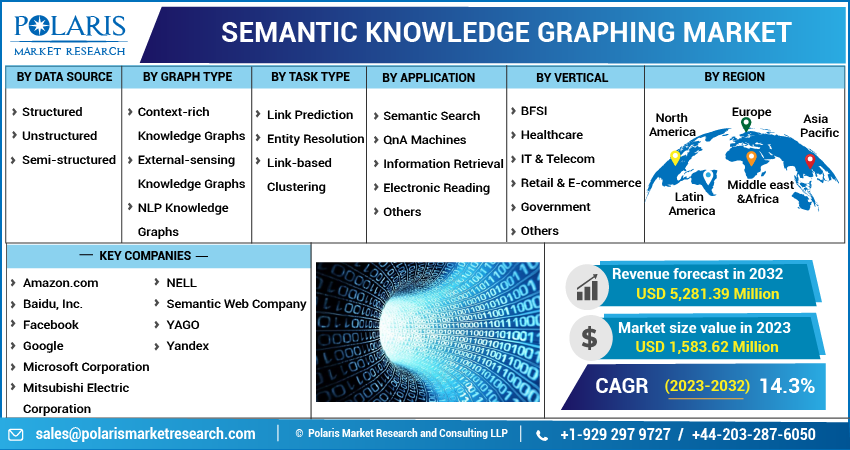 For Specific Research Requirements, Speak With a Resaerch Analyst
Industry Dynamics
Growth Drivers
The increasing volume of data on the internet has created a demand for personalized experiences & tailored recommendations. These graphs offer a solution by consolidating data from various sources, such as browsing history, daily activity, & purchase history, to create a comprehensive user activity graph. This enables the delivery of personalized recommendations, targeted messages, & customized experiences that cater to individual preferences.
Moreover, the proliferation of the Internet of Things (IoT) drives the adoption of semantic knowledge graphs. These graphs provide a means to integrate and analyze data from different IoT devices, facilitating the extraction of valuable insights and enabling informed decision-making. By leveraging semantic knowledge graphs, businesses can enhance customer experiences, improve marketing strategies, and optimize operations by harnessing the power of personalized data analysis and IoT connectivity.
Report Segmentation
The market is primarily segmented based on by data source, knowledge graph, task type, application, vertical and region.
By Data Source

By Graph Type

By Task Type

By Application

By Vertical

By Region

Structured

Unstructured

Semi-structured

Context-rich Knowledge Graphs

External-sensing Knowledge Graphs

NLP Knowledge Graphs

Link Prediction

Entity Resolution

Link-based Clustering

Semantic Search

QnA Machines

Information Retrieval

Electronic Reading

Others

BFSI

Healthcare

IT & Telecom

Retail & E-commerce

Government

Others

North America (U.S., Canada)

Europe (France, Germany, UK, Italy, Netherlands, Spain, Russia)

Asia Pacific (Japan, China, India, Malaysia, Indonesia. South Korea)

Latin America (Brazil, Mexico, Argentina)

Middle East & Africa (Saudi Arabia, UAE, Israel, South Africa)
To Understand the Scope of this Report: Speak to Analyst
Unstructured segment accounted for the largest market share in 2022
The unstructured segment accounted for the largest market share in 2022. A notable trend within this segment is the adoption of natural language processing (NLP) techniques, which enable the extraction of meaning and context from unstructured data sources. This trend has been driven by the increasing demand to integrate diverse unstructured data types such as text, images, and video into big data platforms, allowing businesses to derive deeper insights into customer behavior, market trends, and other crucial business metrics.
The structured segment recorded a steady growth rate. Within the structured segment, there is a strong focus on developing and implementing structured data models that effectively capture and organize data, facilitating more efficient processing and analysis. Open standards such as RDF (Resource Description Framework) and OWL (Web Ontology Language) enable interoperability and seamless integration of structured data across various applications and platforms.
Link prediction segment garnered largest share in 2022
The link prediction segment held the largest revenue share in 2022. As the field of link prediction evolves, there is a growing emphasis on enhancing the transparency and explainability of these models. This is essential to enable users to comprehend and trust the projections made by the algorithms. Researchers and developers are actively working towards ensuring that the inner workings of the link prediction models are understandable and interpretable. Moreover, the latest advancements in link prediction models consider contextual information such as time, location, and user behavior. Incorporating these contextual factors improves the accuracy and precision of predicting future relationships within knowledge graphs.
IT and Telecom is expected to witness highest growth rate during the forecast period
IT and Telecom are expected to witness the highest growth rate during the forecast period. This growth is primarily driven by the increasing utilization of semantic knowledge graphs to enhance cybersecurity measures within the industry. By analyzing vast amounts of data, semantic knowledge graphs enable the identification of potential threats and the detection of anomalies in network traffic, bolstering cybersecurity defenses. In addition to cybersecurity applications, the IT and telecom sector leverages semantic knowledge graphs for predictive maintenance of its infrastructure. By analyzing data collected from various sources, such as sensors and other monitoring devices, knowledge graphs can predict when equipment is likely to fail. This proactive approach enables companies to schedule maintenance activities before any critical failures occur, ensuring the smooth operation of IT and telecom systems.
North America dominated the global market in 2022
North America dominated the global market with a considerable market share. The region's dominance can be attributed to substantial investments in semantic knowledge graph technologies, particularly in the healthcare and life sciences sectors. The United States showcased robust growth, with numerous companies actively developing solutions to enhance data interoperability and analytics using semantic knowledge graphs.
APAC registered a robust growth rate. Region's growth is primarily due to the rising demand for data integration and analytics solutions, the rapid expansion of big data, and the increasing adoption of artificial intelligence and machine learning technologies. With a strong focus on technological advancements and innovation, countries in the region are leveraging semantic knowledge graphs to address complex data challenges and unlock valuable insights. This proactive approach, coupled with the region's expanding market opportunities, positions the Asia Pacific as a key growth region for semantic knowledge graphs in the years to come.
Competitive Insight
The market is highly competitive, with a few major global competitors holding a substantial market share. The key players in the market are focused on continuous innovation and product development to stay ahead in the competition. Collaboration among industry leaders is also prevalent, as it allows for the sharing of expertise and resources to drive advancements in the market. Some of the major players operating in the global market include Amazon.com, Baidu, Inc., Facebook, Google, Microsoft Corporation, Mitsubishi Electric Corporation, NELL, Semantic Web Company, YAGO, and Yandex.
Recent Developments
In October 2022, Amazon Web Services (AWS) introduced Amazon Neptune, a graph database service that caters to the storage and processing needs of extensive interconnected datasets. This service is specifically designed to handle large-scale knowledge graphs and employs semantic technologies to enable efficient querying and analysis of data.
Semantic Knowledge Graphing Market Report Scope
| | |
| --- | --- |
| Report Attributes | Details |
| Market size value in 2023 | USD 1,583.62 million |
| Revenue forecast in 2032 | USD 5,281.39 million |
| CAGR | 14.3% from 2023 – 2032 |
| Base year | 2022 |
| Historical data | 2019 – 2021 |
| Forecast period | 2023 – 2032 |
| Quantitative units | Revenue in USD million and CAGR from 2023 to 2032 |
| Segments covered | By Data Source, By Knowledge Graph, By Task Type, By Application, By Vertical, By Region |
| Regional scope | North America, Europe, Asia Pacific, Latin America; Middle East & Africa |
| Key companies | Amazon.com, Baidu, Inc., Facebook, Google, Microsoft Corporation, Mitsubishi Electric Corporation, NELL, Semantic Web Company, YAGO, and Yandex |