The global sericin market was valued at USD 314.69 million in 2022 and is expected to grow at a CAGR of 6.4% during the forecast period. Increasing product utilization across various types of industries such as pharmaceuticals, molecular biology, cosmetics, and textile, as it is extremely useful in reducing serum cholesterol levels and triglyceride levels through limiting the tyrosinase enzyme and numerous types of research that are being done to enhance the efficiency of sericin extraction, are major factors propelling the demand and growth of the market. Additionally, the growing focus of major market companies towards introducing new products with enhanced properties and characteristics and increased research & development activities to develop products that cater to consumers' global demands is positively contributing to the Sericin market growth.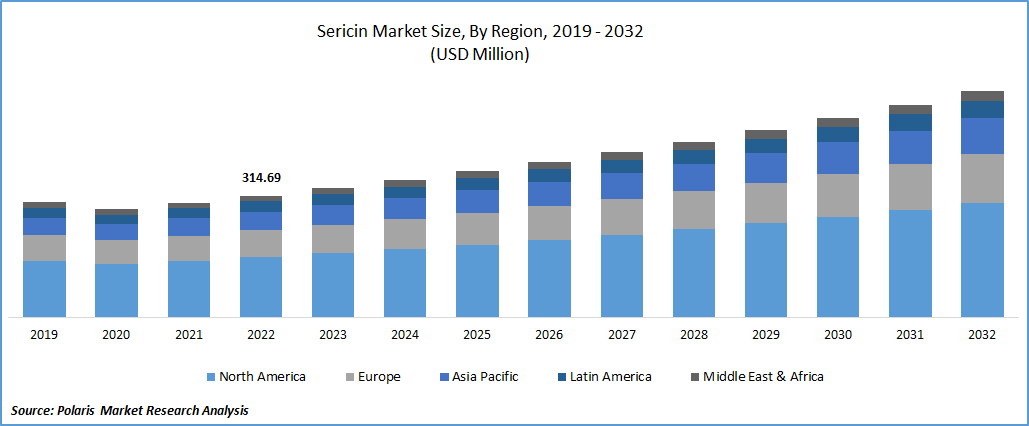 To Understand More About this Research: Request a Free Sample Report
For instance, in May 2022, Karnataka State Sericulture Research and Development Institute introduced 12 new cosmetic products of sericin, which are all organic and good for human skin and health. The institute is further inviting companies to showcase the technology to launch the products into the market commercially.
Moreover, as the product contains bioactive components that might have health benefits when consumed orally, hence the exploration of product potential in the development of nutraceuticals and dietary supplements can open up new opportunities in the health and wellness industry, which could further involve formulating sericin-based products that support joint health, skin health, or overall well-being, is pushing the market forward.
However, the product is still a relatively lesser-known ingredient than other skincare or textile additives available in the market, and this limited awareness among consumers, manufacturers, and end-users about the benefits and applications of sericin can hinder its market penetration and growth.
The emergence of COVID-19 across the globe resulted in several stringent regulations, like lockdowns and trade restrictions, that led to the closure of many manufacturing capabilities and huge disruptions in the global supply chain. The cosmetic industry has also experienced a slowdown during the pandemic due to reduced consumer spending and shifting priorities that negatively influenced the market.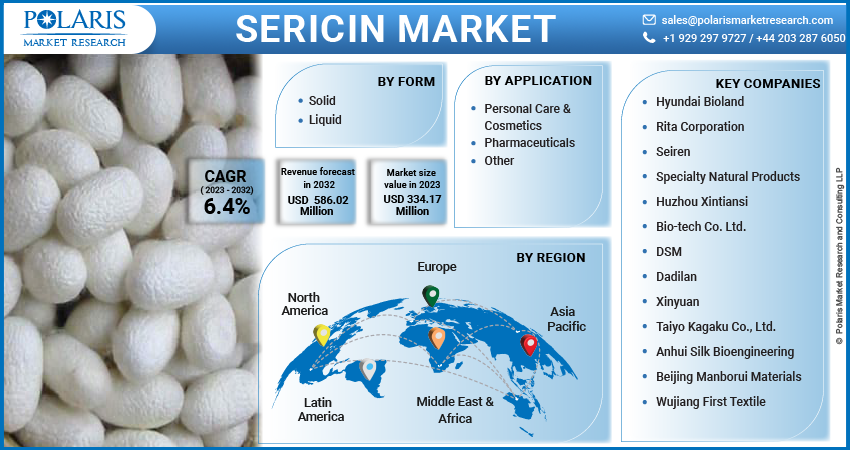 For Specific Research Requirements, Speak to Research Analyst
Growth Drivers
Rising Popularity in Skincare and Cosmetics
The growing popularity and prevalence of sericin due to its beneficial properties in skincare and cosmetics as it has moisturizing, anti-aging, and skin-nourishing effects, making it a sought-after ingredient in a wide range of cosmetic and skincare products along with the growing consumer preference for natural and organic beauty products, are among the key factors boosting the demand and growth of the sericin market.
Furthermore, because of its enhanced biocompatibility and bioactivities, silk sericin has gained significant traction to being used for tissue engineering and drug delivery along with the growing number of sericin-based materials that have been fabricated, including nano or microparticles and bulk materials, which are also the prominent factors driving the market growth. With the growing proliferation regarding the advances and development of sericin-based biomaterials, mainly for regeneration medicine and tissue engineering, the by-product of the silk industry has started showing huge potential in biomedical research and applications, which promotes the modernization of traditional industries.
Report Segmentation
The market is primarily segmented based on form, application, and region.
By Form

By Application

By Region

Personal Care & Cosmetics

Pharmaceuticals

Others

North America (U.S., Canada)

Europe (France, Germany, UK, Italy, Netherlands, Spain, Russia)

Asia Pacific (Japan, China, India, Malaysia, Indonesia. South Korea)

Latin America (Brazil, Mexico, Argentina)

Middle East & Africa (Saudi Arabia, UAE, Israel, South Africa)
To Understand the Scope of this Report: Speak to Analyst
Solid segment accounted for the largest market share in 2022
In 2022, the solid segment accounted for the largest market share due to continuous growth in the global population and rising consumer purchasing power across the globe, which led to higher product demand from different industries, including personal care and cosmetics, mainly because of its moisturizing, anti-aging, and skin-soothing properties.
In addition, the product has gained significant attention in the biomedical field due to its biocompatibility, wound-healing properties, and potential applications in tissue engineering and drug delivery systems. Besides this, several solid sericin-based materials, such as scaffolds and films, are also being researched and developed for these biomedical applications, creating new growth opportunities for the market players over the coming years.
The liquid segment is anticipated to be the fastest growing segment with a healthy CAGR over the study period, on account of an increasing number of consumers are becoming conscious of the ingredients used in personal care products coupled with the emergence of liquid Sericin as a natural and sustainable ingredient as it derived from silk, due to higher adoption of liquid Sericin in various applications.
The pharmaceutical segment accounted for the highest market share in 2022
In 2022, the pharmaceutical segment accounted for the highest market share, driven by its numerous beneficial and favorable characteristics like low toxicity and allergic potential. It makes the product suitable for a wide range of pharmaceutical applications. Apart from this, Sericin is being widely used as a carrier or matrix for drug delivery systems, as its porous structure allows for the encapsulation of drugs, controlled release, and targeted delivery to specific sites in the body, thereby propelling the growth of the segment at a rapid pace.
The personal care & cosmetics segment led the industry market with substantial revenue share in 2022, mainly due to a significant surge in the trend of self-care and emotional wellness, with a large number of individuals globally seeking products that promote relaxation, rejuvenation, and overall well-being coupled with the ongoing advancements in formulation techniques that have made it possible to incorporate Sericin into various personal care and cosmetics products without compromising their stability or texture.
North America dominated the global market in 2022
In 2022, North America dominated the global sericin market, which is largely attributable robust presence of supportive regulations and standards in the region that promote the use of natural and sustainable ingredients in consumer products and also encourage companies to invest in sericin-based products and provide a supportive market environment for their development and commercialization. In addition, the availability of well-established textile and cosmetics industries, mainly in countries like the US and Canada, presents lucrative opportunities for integrating Sericin into existing products or developing new product lines.
The Asia Pacific region is likely to emerge as the fastest growing region with a significant growth rate during the forecast period, as the APAC region is the home to several major silk-producing countries, including China, India, Japan, and Thailand, provides a steady supply of raw silk and making product readily available for extraction and utilization. Additionally, the widespread incorporation of Sericin in traditional medicine systems such as Ayurveda and Tradition Chinese Medicine because of its anti-oxidant effects and wound healing properties, which in turn, influence the growth of the regional market at an exponential pace shortly.
Competitive Insight
Some of the major players operating in the global market include Hyundai Bioland, Rita Corporation, Seiren, Specialty Natural Products, Huzhou Xintiansi Bio-tech Co., Ltd., DSM, Dadilan, Xinyuan, Taiyo Kagaku Co., Ltd., Anhui Silk Bioengineering, Beijing Manborui Materials, and Wujiang First Textile.
Recent Developments
In May 2022, the Karnataka State Sericulture Research and Development Institute revealed its plans to introduce 12 cosmetic products based on Sericin. This initiative signifies the growing interest and recognition of Sericin's potential in the cosmetics industry. By leveraging Sericin's unique properties, these upcoming products aim to offer innovative skincare solutions to consumers.
Sericin Market Report Scope
| | |
| --- | --- |
| Report Attributes | Details |
| Market size value in 2023 | USD 334.17 million |
| Revenue forecast in 2032 | USD 586.02 million |
| CAGR | 6.4% from 2023 – 2032 |
| Base year | 2022 |
| Historical data | 2019 – 2021 |
| Forecast period | 2023 – 2032 |
| Quantitative units | Revenue in USD million and CAGR from 2023 to 2032 |
| Segments covered | By Form, By Application, By Region |
| Regional scope | North America, Europe, Asia Pacific, Latin America; Middle East & Africa |
| Key companies | Hyundai Bioland, Rita Corporation, Seiren, Specialty Natural Products, Huzhou Xintiansi Bio-tech Co., Ltd., DSM, Dadilan, Xinyuan, Taiyo Kagaku Co., Ltd., Anhui Silk Bioengineering, Beijing Manborui Materials, and Wujiang First Textile. |