The global Snus market was valued at USD 2,923.86 million in 2022 and is expected to grow at a CAGR of 4.1% during the forecast period.
The rising usage of snus to encourage the use of less harmful tobacco products, as well as the convenience of use of snus, are key market drivers. The term "snus" refers to moistened tobacco products. Although it has a higher nicotine content than cigarettes and can be used as a smokeless substitute for tobacco products, it is also quite addictive. Due to the fact that snus emits no smoke, its popularity has led to a rise in snus-based products. Salt and dried tobacco leaves are combined to manufacture snus, and boiled water is then used to evaporate the mixture to add moisture.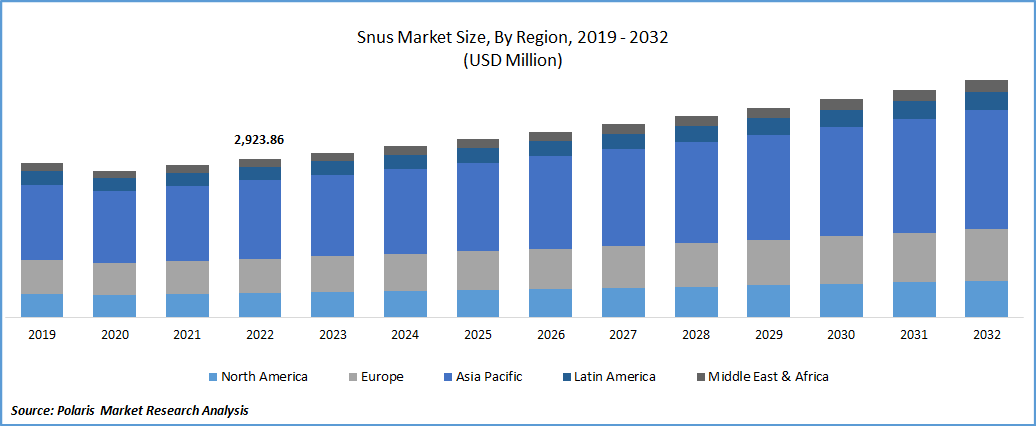 Know more about this report: Request for sample pages
Nicotine inhalation with snus is less dangerous than through combustible tobacco products. According to a 2019 research paper by Elizabeth Clarke et al, long-term population studies on independent bodies show that the health hazards connected with snus use are far lower than those associated with cigarette smoking. Snus use is not associated with an increased risk of developing lung cancer, cardiovascular illness, pancreatic cancer, or oral cancer.
The increasing use of tobacco-free snus is another market trend. To preserve the product's dominance in the market as tobacco consumption declines globally, industry companies are concentrating on creating tobacco-free alternatives. The product helps those who want to cut back or quit using cigarettes. There are several kinds and brands to choose from, and they all include a combination of herbs and flavors that combined provide a taste and sensation similar to that of conventional snus.
Smokers are likely more vulnerable to covid-19 because using snus or any other tobacco product exposes their fingers to their lips, increasing the possibility of the virus transferring from hand to mouth. Smokers are more likely to develop severe symptoms or die with COVID-19 since the disease primarily affects the lungs. Evidence from countries reporting fatalities associated to COVID-19 has demonstrated that those with pre-existing non-communicable disorders are more likely to get very unwell with covid-19. Smokers and tobacco users are indirectly at risk for COVID-19 because tobacco use is one of the main causes of these non-communicable diseases. Additionally, because COVID-19 transmits predominantly by salivary droplets or discharge from the nose when an infected person coughs or sneezes, tobacco use presents a significant risk because it hastens the virus's spread.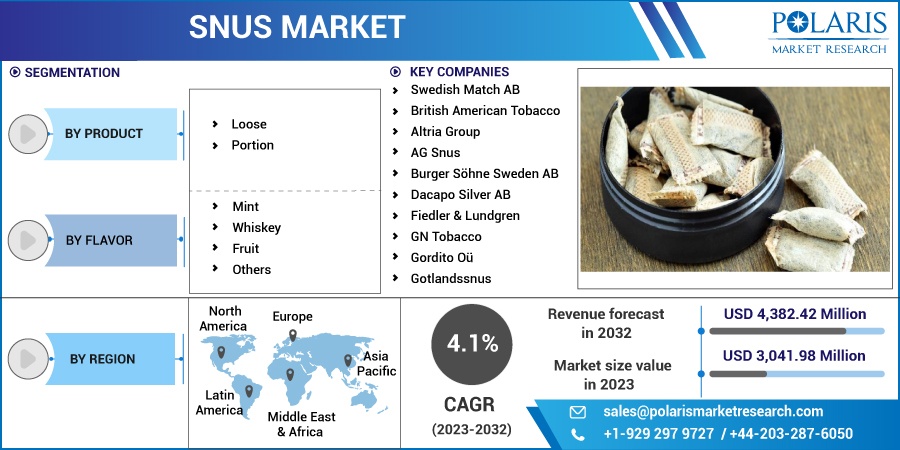 Know more about this report: Request for sample pages
Industry Dynamics
Growth Drivers
The tobacco firms' strong awareness campaigns about the bad consequences of smoking and the less damaging effects of snus have been credited with the rapid increase in the use of snus among the young population today. Additionally, the production of snus uses pasteurized tobacco steam rather than fermented tobacco steam, which lowers the risk of pancreatic, oral, and respiratory cancer and slows the growth of bacteria that produce the nitrosamines found in tobacco.
It is a significant factor in driving the snus market. Young people have been using snus more frequently ever since the snus industry started creating snus boxes with appealing flavors like vanilla, menthol, and licorice that appeal to young people. But the millennial generation, regardless of gender, has advanced the market with an increased demand for unique and new snus flavors.
Report Segmentation
The market is primarily segmented based on product, flavor, and region.
By Product

By Flavor

By Region

Mint
Whiskey
Fruit
Others

North America (U.S., Canada)
Europe (France, Germany, UK, Italy, Netherlands, Spain, Russia)
Asia Pacific (Japan, China, India, Malaysia, Indonesia. South Korea)
Latin America (Brazil, Mexico, Argentina)
Middle East & Africa (Saudi Arabia, UAE, Israel, South Africa)
Know more about this report: Request for sample pages
The Portion segment is predicted to dominate the industry's market segment.
In 2022, Portion in the product segment dominates the industry with a maximum revenue share. The main aspect driving the market is that customers can carry tobacco pouches in their pockets more conveniently. Additionally, due to their lower production costs, pouches are commonly utilized by firms for the packaging of tobacco products.
A tobacco product for oral use, snus was first developed in Sweden. Finely cut loose tobacco or pre-portioned porous "pouches" are two ways to purchase snus goods. They come in a variety of colors, including white, original, and dry white. Comparing the pouch to the usual original portions reveals that the pouch's surface is dryer, gives less drip, and imparts flavor for a longer period of time. Additionally, there are All White Portions, which, in contrast to regular portion snus, are entirely white before, during, and after use.
The initial serving is the most flavorful and nicotine-releasing, with a dark hue and juicy texture. These factors may support the segment's growth in the near future. Because the white portions are kept dry throughout the manufacturing process, there is less dripping and less salivation produced while yet getting a longer-lasting nicotine release. The portion snus comes in different sizes and shapes, weighing under one gramme each, such as thin, large, small, and super slim.
Mint segment will account for a higher share of the market.
In 2022, the mint flavor sector led the market. Due to consumers' preference for the odor, flavor, pleasantness, and intensity of mint-flavored snus, the product may be used more frequently if it is made readily available. Additionally, the mint flavor gives the product a fresh flavor in the tongue that appeals to younger consumers. The segment is primarily driven by the category's easy availability and freshness.
Furthermore, youth like sweet flavors & scents, increasing adoption of the flavored items, particularly popular flavor categories of the candy & fruit. It is projected that the segment will rise in the next few years since, flavored snus products are considered by youth and young adults as having better taste, being more enticing, and having less negative health effects than non-flavored tobacco products.
The demand in North America is expected to witness significant growth
North America witnessed significant revenue growth in 2022. The key factor affecting increased snus usage in the region is expected to be the government's actions in the United States to minimize smoking among persons by allowing the use of nicotine and tobacco alternatives. According to the Centers for Disease Control and Prevention's 2022 report, about 13 out of every 100 U.S. individuals aged 18 and above (12.5%) smoked cigarettes in 2020. This indicates that there are currently 30.8 million adult smokers in the US.
Europe has a considerable market share in the global snus business. An important factor in the expansion of the snus business in Europe is the fact that snus consumption in Sweden has been rising and has now exceeded cigarette use. As more people choose snus products, cigarette usage has been falling in Sweden over the past few years. While their use of cigarettes has decreased in recent years, general usage of snus among women has increased. Due to the relatively young consumer base and their increased familiarity with e-commerce, the advent of e-commerce was an industry trend that helped the snus business in European nations like Norway.
Competitive Insight
Some of the major players operating in the global market include Swedish Match, British American Tobacco, Altria Group, AG Snus, Burger Sohne Sweden, Dacapo Silver, Fiedler & Lundgren, GN Tobacco, Gordito Ou, and Gotlandssnus.
Recent Developments
In 2022, Swedish Match declared that it will completely cease producing combustible tobacco products and would separate its cigar business through a shareholder spin-off.
In May 2021, Phillip Morris completed the acquisition of AG Snus Aktieselskab, & Mazanti-Andersen aided the sellers and, also acquired portfolio of brands.
Snus Market Report Scope
| | |
| --- | --- |
| Report Attributes | Details |
| Market size value in 2023 | USD 3,041.98 million |
| Revenue forecast in 2032 | USD 4,382.42 million |
| CAGR | 4.1% from 2023 - 2032 |
| Base year | 2022 |
| Historical data | 2019 – 2021 |
| Forecast period | 2023 – 2032 |
| Quantitative units | Revenue in USD million and CAGR from 2023 to 2032 |
| Segments covered | By Product, By Flavor, By Region |
| Regional scope | North America, Europe, Asia Pacific, Latin America; Middle East & Africa |
| Key companies | Swedish Match AB, British American Tobacco, Altria Group, AG Snus, Burger Söhne Sweden AB, Dacapo Silver AB, Fiedler & Lundgren, GN Tobacco, Gordito Oü, and Gotlandssnus |