The global squash drink market was valued at USD 1,033.19 million in 2022 and is expected to grow at a CAGR of 4.4% during the forecast period.
The increasing need and demand among the consumers for botanical ingredients and plant extracts in their beverages and the easy availability of these drinks across both online and online stores coupled with the exponential growth in the product demand from health-conscious consumers due to its higher nutritional properties and characteristics, driving the demand and growth of the market.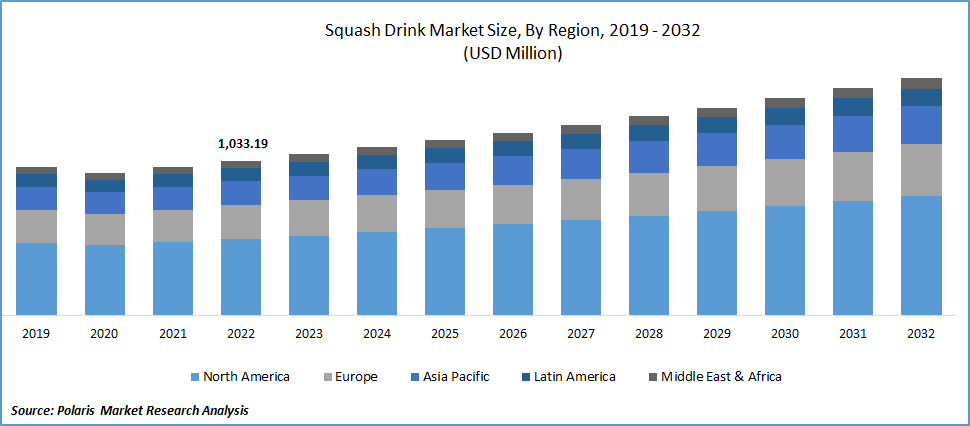 To Understand More About this Research: Request a Free Sample Report
Additionally, the growing consumption of various natural fruit juices and greater penetration for consuming ready-to-drink beverages, as a result of the busy and hectic lifestyles of people, particularly in urban regions, have paved the way for higher product demand and growth opportunities.
For instance, in April 2022, Robinsons, launched of its new benefit drops with added vitamins, and is available in four different flavors. The newly developed Britvic-owned range is likely to offer customers a more convenient way to gain some additional vitamins and these benefit drops can be easily displayed on the clip strips in the refrigerators, encouraging the impulse of buys and keeping the brand visibility among shoppers.
Moreover, the growing introduction to improved production and processing techniques, which have allowed manufacturers to extract and preserve the natural flavors and nutrients from fruits more efficiently and in a convenient manner. Besides this, advanced processing methods also help manufacturers to retain the freshness and nutritional value of the ingredients, resulting in high-quality squash drinks and increased demand globally.
The outbreak of the COVID-19 pandemic has significantly impacted the growth of the squash drink market. The rapid emergence of the pandemic across the world led to huge disruptions in supply chains due to lockdowns, restrictions on movement, and border closures, that affected the sourcing of raw materials, production, and distribution of squash drinks. The closure of hotels, restaurants, and cafes during lockdowns, who are the major significant consumers of such beverages, also resulted in a decline in revenue and sales of the product globally.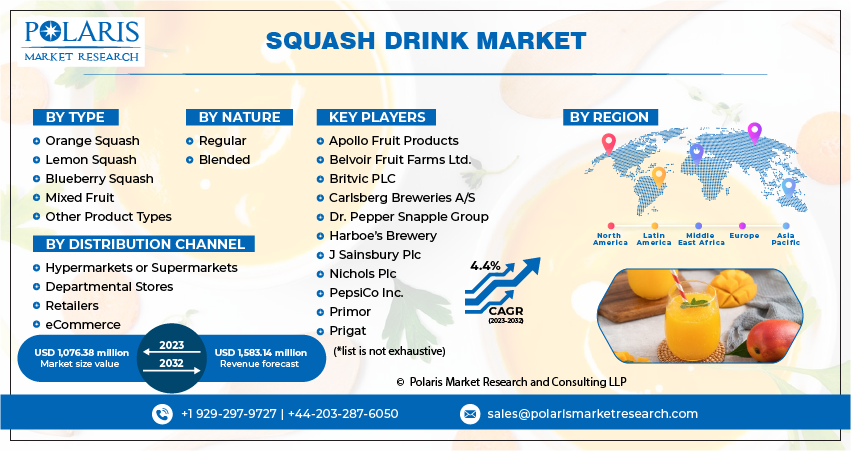 For Specific Research Requirements, Request for a Customized Report
Industry Dynamics
Growth Drivers
Rising popularity of naturally derived beverages with added nutrients
The rapidly increasing popularity and adoption of several naturally derived beverages that come with additional minerals, vitamins, and other nutrients and the surging number of favorable government initiatives promoting the adoption of organic farming, are primary factors driving the demand and growth of the market. The rising utilization of numerous types of natural ingredients and the introduction to various rare exotic fruits and vegetable flavors in squash drinks, leading to its higher demand across the world.
Furthermore, with the growing focus of major product manufacturers and distributors around the world on producing sustainable and advanced packaging solutions that can easily withstand extreme weather and temperatures as well as can be conveniently transported over longer distances, the demand and prevalence for these drinks have increased drastically and gained significant momentum.
Report Segmentation
The market is primarily segmented based on type, nature, distribution channel, and region.
By Type

By Nature

By Distribution Channel

By Region

Orange Squash

Lemon Squash

Blueberry Squash

Mixed Fruit

Other Product Types

Hypermarkets or Supermarkets

Departmental Stores

Retailers

eCommerce

North America (U.S., Canada)

Europe (France, Germany, UK, Italy, Netherlands, Spain, Russia)

Asia Pacific (Japan, China, India, Malaysia, Indonesia. South Korea)

Latin America (Brazil, Mexico, Argentina)

Middle East & Africa (Saudi Arabia, UAE, Israel, South Africa)
To Understand the Scope of this Report: Speak to Analyst
By Type Analysis
Orange squash segment accounted for a noteworthy market share in 2022
The orange squash segment accounted for the largest market share, on account of its high popularity and widespread acceptance across the globe because of its natural sweetness and appealing taste and an increasing number of consumers focusing on health and wellness, leading to higher consumption of orange flavor squash as a healthier alternative to the sugary carbonated drinks. Besides this, orange squash drinks are gaining huge traction across the world, as it offer convenience and allow consumers to easily mix it with water to create their desired level of sweetness and flavor intensity.
The mixed fruit segment is expected to grow at the highest growth rate over the next coming years, which is largely accelerated to an exponential rise in the number of consumers seeking a diverse range of flavors and opting for mixed fruit squash drinks, as they provide a combination of different fruit flavors in a single product and their varied taste experiences attracts a broader consumer base and caters to different preferences.
By Nature Analysis
The regular segment held the maximum market share in 2022
Regular segment held the largest share, driven by its widespread availability in different types of flavors as well as in different combinations including lemon, orange, blackcurrant, and apple among others along with its cost-effectiveness compared to other standard bottled beverages, which makes them a preferred choice for price-conscious consumers.
In addition, with the increasing demand for natural and clean label products worldwide, consumers are increasingly seeking squash drinks made with natural ingredients and free from artificial flavors, colors, and preservatives, thereby, leading to growth of the segment market.
By Distribution Channel Analysis
The eCommerce segment is expected to witness the highest growth during the forecast period
The eCommerce segment is expected to grow at the highest growth during the projected period, mainly due to continuous changes in consumer behavior, and shift towards online shopping, and a significant rise in internet penetration across both developed and developing economies, leading to a greater number of online shoppers and drives the product demand through online shopping platforms.
For instance, according to our findings, the total number of internet users globally using the internet at the start of the third quarter of 2023 was around 5.19 billion, which equals around 64.5% of the world's total population. The number of internet users grew by more than 100 million users in the period of the last 12 months.
The rising proliferation of advanced data analytics and machine learning algorithms, which enable eCommerce platforms to efficiently personalize product recommendations based on users browsing and purchase history, which significantly enhances the shopping experience and increases the likelihood of repeat purchases, are further likely to boost the segment market growth at a rapid pace.
Regional Insights
North America region dominated the global market in 2022
The North American region dominated the global market with a substantial share. The regional market growth is highly attributed to higher consumption of squash drinks and rising awareness regarding the potential health benefits mainly as a weight loss aid coupled with the growing need for on-the-go beverages in high-income countries like US and Canada. Moreover, squash drinks in the region typically come in different concentrated forms, allowing consumers to easily mix them with water according to their desired taste intensity and preferences, is further anticipated to create huge growth potential in the market.
The Asia Pacific region is anticipated to emerge as fastest fastest-growing region with a healthy CAGR during the projected period, owing to rapid rate of urbanization and changing lifestyles in several Asian countries, that have led to a rise in demand for convenient and ready-to-drink beverages and continuous rising investments by major companies in the market for introducing unique flavor combinations and natural and organic ingredients.
Competitive Insight
In the highly competitive squash drink market, established players are investing in research and development to create unique flavor profiles and healthier options, tapping into the increasing consumer demand for natural and low-sugar beverages. Simultaneously, emerging brands are leveraging their agility to introduce novel ingredients and packaging solutions, often targeting niche markets with premium offerings. Sustainability practices, such as eco-friendly packaging and responsible sourcing of ingredients, are becoming crucial differentiators.
Some of the major players operating in the global market include:
Apollo Fruit Products

Belvoir Fruit Farms Ltd.

Britvic PLC

Carlsberg Breweries A/S

Dr. Pepper Snapple Group

Harboe's Brewery

J Sainsbury Plc

Nichols Plc

PepsiCo Inc.

Primor

Prigat

Robinsons

Simpsons Beverage Supply Co. Ltd.

Suntory Group

The Coca-Cola Company

Tovali Limited

Unilever Plc
Recent Developments
In February 2023, Swizzels launched of its new range of confectionery-flavored squash drinks, which includes seven different ranges including Love Hearts, Menon and Sour Apple, Sour Cherry & Apple, and Drumstick and Parma Violets. The newly developed range of squash comes with no added sugar and artificial colors or flavors, and every squash provides only 5 calories per 50 ml serving.

In December 2021, Tesco launched of its first quadruple-strength squash, which offers customers more drinks in lesser or fewer plastic bottles. With this new launch, customers can easily enjoy the same squash amount that have done previously, while using the half number of plastic bottles.
Squash Drink Market Report Scope
| | |
| --- | --- |
| Report Attributes | Details |
| Market size value in 2023 | USD 1,076.38 million |
| Revenue forecast in 2032 | USD 1,583.14 million |
| CAGR | 4.4% from 2023 – 2032 |
| Base year | 2022 |
| Historical data | 2019 – 2021 |
| Forecast period | 2023 – 2032 |
| Quantitative units | Revenue in USD million and CAGR from 2023 to 2032 |
| Segments covered | By Type, By Nature, By Distribution Channel, By Region |
| Regional scope | North America, Europe, Asia Pacific, Latin America; Middle East & Africa |
| Customization | Report customization as per your requirements with respect to countries, region and segmentation. |