The global structured cabling market was valued at USD 11.89 billion in 2022 and is expected to grow at a CAGR of 5.3% during the forecast period. The demand for structured cabling has increased significantly over the years owing to greater need for improved bandwidth, connectivity, and security. Copper cables, fiber cables, or a combination of both is used for offering high bandwidth.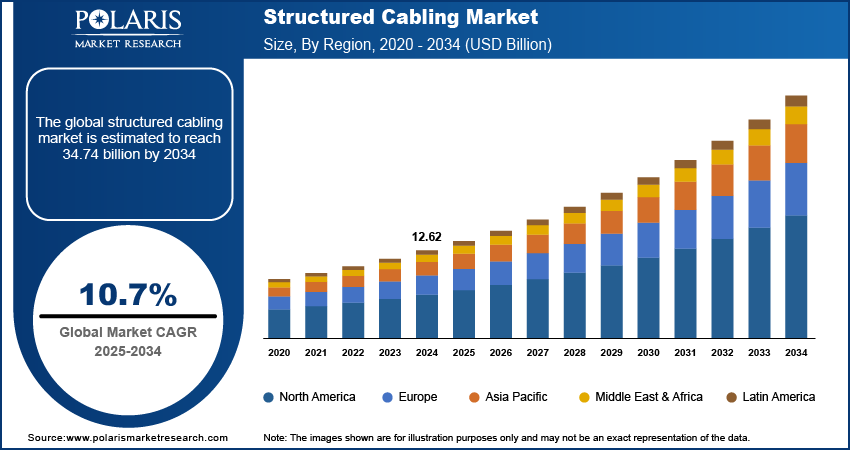 Know more about this report: Request for sample pages
The growth of the data center industry and the rising demand for high-speed communication solutions are the main drivers influencing the structured cabling market. The structured cabling industry is also driven by the increased need for structured cabling brought on by technological developments. The development of wireless communication networks, however, limits market expansion. Contrarily, the growth of the IT and telecom industries and the rise in investment in the Asia-Pacific region are anticipated to drive the market for the industry.
The massive growth in internet services along with reductions in the cost of bandwidth demands deployment of advanced cabling solutions. Future broadband applications will foster a higher demand for high-density space utilization, reliable data transfer services and reduced provisioning interval. The increasing demand for high performance and expandability from data center supplements the market growth for structured cabling.
The transition from 10Gb/s to 40Gb/s and 100Gb/s and the ensuing rise in virtualization and cloud computing requirements have left data centers today struggling with significant bandwidth capacity issues. High-quality cabling solutions are being utilized to provide stability, decrease air gaps and reflections, and reduce insertion loss in response to the growing requirement to cut costs, interference, noise, and installation time.
Advanced structured cabling solutions are being launched by market players to perform better in challenging environments and provide stability to ensure uninterrupted transmission. Cabling systems are being designed to address significant space, energy and cooling constraints to enhance performance.
Copper cabling solutions are used in data centers owing to benefits such as low capital expenditures, reduced operational expenditures, enhanced reliability, and improved performance. Copper cables transfer data at high bandwidth and are capable of functioning with less power and less amount of cooling owing to their thermal design. The use of optical cable is expected to increase during the forecast period. Optical cables are thinner, lighter and offer higher data transmission rates. Optical cables are lighter in weight with smaller bend radius, which provide enhanced flexibility for data center configuration.
The COVID-19 epidemic has severely impacted the electronics and semiconductor industry. Due to a rise in COVID-19 cases, businesses and manufacturing facilities throughout many nations have been shut down. Also, a partial or whole lockout has disrupted the worldwide supply chain, making it difficult for businesses to reach customers. The global economy and society are both being impacted by the COVID-19 epidemic. This outbreak's effects are becoming more severe day by day, and they are also having an effect on world commerce as a whole. Because of the crisis, the stock market is unclear, which in turn causes a decline in corporate confidence, a significant slowdown in the supply chain, and an upsurge in consumer concern.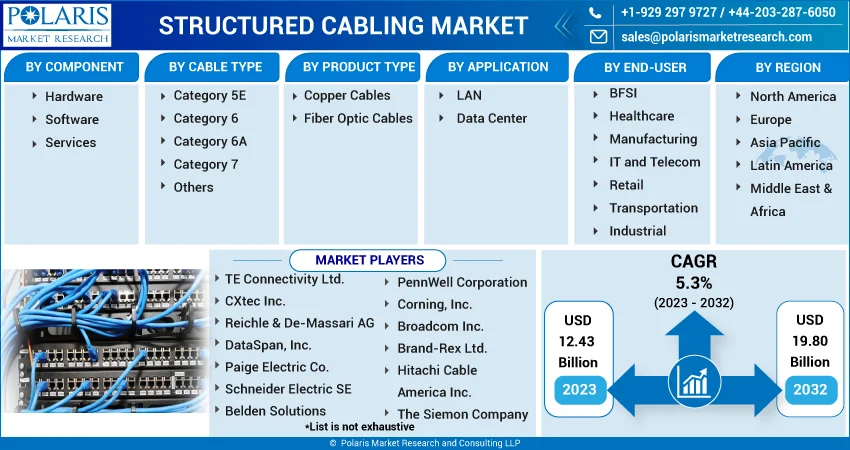 Know more about this report: Request for sample pages
Industry Dynamics
Growth Drivers
The increasing data generation by various large and small businesses is driving this market. The growing need for high-speed data transmission without compromising the quality has increased the demand of structured cabling solutions. The growing adoption of mobile devices and mobility services by consumers has increased data requirements of customers, thereby boosting the market growth for structured cabling.
With the advent of new technologies and enhanced hardware, structured cabling solutions are now lightweight, small, and efficient to render enhanced performance. The rising adoption of Internet of Things (IoT) and Bring Your Own Devices (BYOD) is further driving the growth of this market. The increasing penetration of smart devices, growing digitization, and need to provide improved customer experiences further supplements the market growth for structured cabling.
Report Segmentation
The market is primarily segmented based on component, cable type, product type, application, end-use, and region.
By Component

By Cable Type

By Product Type

By Application

By End-Use

By Region

Hardware

Software

Services

Category 5E

Category 6

Category 6A

Category 7

Others

Copper Cables

Fiber Optic Cables

BFSI

Healthcare

Manufacturing

IT and Telecom

Retail

Transportation

Industrial

Others

North America (U.S., Canada)

Europe (Germany, UK, France, Italy, Spain, Netherlands, Austria)

Asia Pacific (China, India, Japan, South Korea, Malaysia, Indonesia)

Latin America (Brazil, Mexico, Argentina)

MEA (Saudi Arabia, South Africa, Israel, UAE)
Know more about this report: Request for sample pages
The component segment is anticipated the highest market share in 2022
On the basis of components, the market for structured cabling is segmented into hardware, software, and services. In 2022, the hardware segment accounted for the highest market share. The hardware market segment of structured cabling industry encompasses cables, patch cords, and cable assemblies, communication outlets, connectors, and patch panels, among others.
The product type segment is anticipated the highest CAGR over the forecast period
Over the projected period, the segment for fiber optic cables is anticipated to have the greatest CAGR. The optical fiber cables that carry data between locations form the backbone of the internet, which is made of fiber optics. These cables are employed in many industries, including communications, residential and commercial, government, utilities, aerospace, and private data networks. The category for fiber optic cables is anticipated to experience the most growth due to rising demand for high-speed Internet services.
Copper cables are increasingly being used in data centers owing to their ability to transfer rates at a higher rate over long distances. Copper cables are cost-efficient, consume less power, and do not require excessive cooling. A combination of copper and fiber optic cables are being used for greater network flexibility and improved network performance.
The End-Use segment accounted to witness significant market share in 2022
On the basis of end-use, the market is segmented into BFSI, healthcare, manufacturing, IT and telecom, retail, transportation, industrial, and others. In 2022, the IT and telecom segment accounted for the highest market share. A massive increase in the use of smartphones, mobile devices, and multimedia content has resulted in increased demand for structured cabling from this sector. With the increased need to reduce costs, interference, noise, and installation time, high-quality structured cabling is being used to ensure stability and reduced reflections and insertion loss.
North America is projected to dominate the market during the forecast period
North America dominated the global structured cabling market in forecast years. Established communication infrastructure in the region combined with high adoption of advanced technologies fuels the growth of the market for structured cabling. Increasing adoption of cloud services, development of smart cities, and rising adoption of FTTH/FTTP boost the market growth for structured cabling.
The high market share of structured cabling accounted for by North America is also attributed to various mergers and acquisitions taking place between leading vendors. The industry leaders are expanding and strengthening their presence in the region, leading to market growth.
During the projected period, Asia Pacific is anticipated to become the region with the quickest growth rate. The development of the regional market is expected to be aided by crucial elements such as government measures to promote digitalization, sophisticated infrastructure, an aging population, rapid adoption of smart devices, and investments in cloud and IoT technologies. China and Japan, two developing nations, are leading the APAC area. The number of broadcast activities increases as Internet usage increases in these nations. Over the projection period, this is expected to drive the regional market.
Competitive Insight
The leading players in the structured cabling market include TE Connectivity Ltd., CXtec Inc., Reichle & De-Massari AG, DataSpan, Inc., Paige Electric Co., Schneider Electric SE, Belden Solutions, Teknon Corporation, PennWell Corporation, Corning, Inc., Broadcom Inc., Brand-Rex Ltd., Hitachi Cable America Inc., and The Siemon Company.
Recent Developments
In November 2021, Nexans SA introduced the Mobiway Un'Reel solution, which streamlines, improves, and secures cable installation across a variety of low- and medium-voltage wires.

In November 2021, Reichle & De-Massari AG increased the capacity of the cable facility in Dèn, Czech Republic. By the end of 2022, the corporation intended to invest millions of dollars in creating modern fiber optic cables.

In September 2021, Latin American premium cable maker Centelsa SA, based in Mexico, was purchased by Nexans SA. This produced operational synergies and increased value development for energy cables and grid management software.
Structured Cabling Market Report Scope
| | |
| --- | --- |
| Report Attributes | Details |
| Market size value in 2023 | USD 12.43 billion |
| Revenue forecast in 2032 | USD 19.80 billion |
| CAGR | 5.3% from 2023 - 2032 |
| Base year | 2022 |
| Historical data | 2019 - 2021 |
| Forecast period | 2023 - 2032 |
| Quantitative units | Revenue in USD billion and CAGR from 2023 to 2032 |
| Segments covered | By Component, By Cable Type, By Product Type, By Application, By End-Use, By Region |
| Regional scope | North America, Europe, Asia Pacific, Latin America; Middle East & Africa |
| Key companies | TE Connectivity Ltd., CXtec Inc., Reichle & De-Massari AG, DataSpan, Inc., Paige Electric Co., Schneider Electric SE, Belden Solutions, Teknon Corporation, PennWell Corporation, Corning, Inc., Broadcom Inc., Brand-Rex Ltd., Hitachi Cable America Inc., and The Siemon Company |