The global Tea Extracts market was valued at USD 3,083.86 million in 2022 and is expected to grow at a CAGR of 7.1% during the forecast period. The myriad advantages and uses linked with tea extract are increasing its popularity and demand. Tea extract contains bioactive compounds such as theaflavins, epigallocatechin gallate (EGCG), polyphenols, and caffeine, the latter being the most important. It is utilized in ready-to-drink drinks as well as healthful beverages.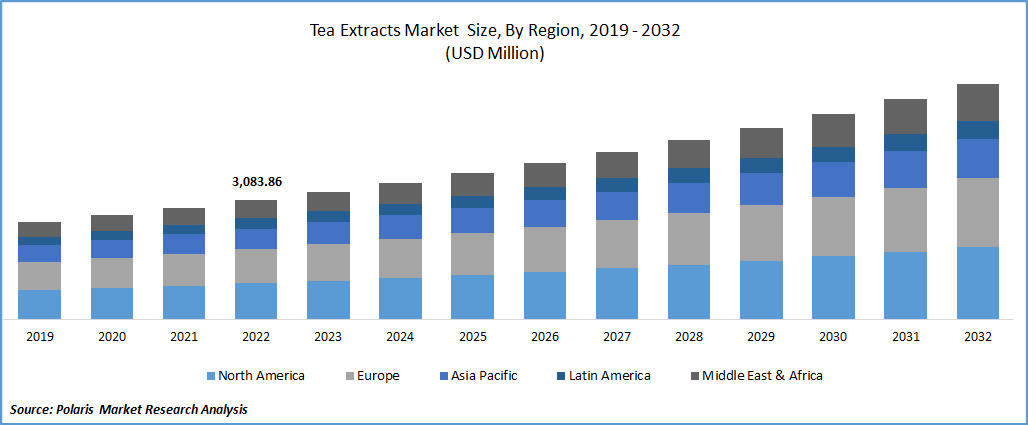 Know more about this report: Request for sample pages
Tea extract contains antioxidants, which have a plethora of health advantages. Tea extract has a relaxing impact on the nervous system and mind, decreases blood sugar and cholesterol levels, which aids in the maintenance of human cardiovascular health, lowers the risk of cancer and other diseases such as Alzheimer's, and increases the metabolism and helps burn excess body fat.
Tea, one of the world's most popular beverages, is made from the Camellia sinensis plant. Depending on how the leaves of the Camellia sinensis plant are processed, numerous tea extracts are available on the market, including white, black tea extract, green tea extract, tea extract, and oolong tea extract. White tea is made from fresh leaves and blooms, green tea from matured leaves with minimal processing, oolong tea from partially fermented mature leaves, and black tea from completely fermented mature leaves.
Tea extracts are also employed in animal nutrition as premixes for cattle, cows, and poultry. Tea extracts are also used in aesthetics for hair and skin care. They help decrease dark spots, pimples, and symptoms of age, offer brightness to the face and activate the hair follicles.
Following the COVID-19 epidemic, the tea extract industry has exhibited a favorable influence. This is because individuals have grown considerably more health concerned in recent years. Green tea, black tea, and lemon tea are all excellent immune enhancers. Second, because more people are working from home, they are drinking more tea than ever before. As a result, the COVID-19 pandemic has had a significant beneficial influence on the tea extract industry
Industry Dynamics
Growth Drivers
Tea extracts are utilized in a range of sectors, including cosmetics, food and beverage, and medicines, to boost the nutritional value of products. Tea extracts are available in both organic and conventional varieties. The market for organic tea extract has risen in recent years as demand for certified organic goods has expanded. Rising consumer knowledge of wellness and organic goods, as well as a rising propensity of consumers and the food industry toward vegetable elements such as flavoring or flavoring compounds, all, contribute to increased demand for tea extracts throughout the projection period until 2032.
Tea extracts are expected to benefit from expanding premium food consumption as well as the increasing popularity of functional meals. Green tea extract's novel cosmetic applications have increased the tea extract market's development potential. Rising consumer knowledge of nutritious refinement and calorie management is predicted to transform the food and beverage sector, boosting the growth of the black tea extract market. Furthermore, rising consumer awareness of personal health is strengthening the nutritional and functional segment of the industry under examination. Furthermore, rising demand for functional foods is expected to drive growth throughout the projection period.
Report Segmentation
The market is primarily segmented based on Product Type, Distribution Channel, and region.
By Application

By Category

By Form

By Type

By Region

Food

Beverages

Pharmaceuticals

Cosmetics

North America (U.S., Canada)

Europe (France, Germany, UK, Italy, Netherlands, Spain, Russia)

Asia Pacific (Japan, China, India, Malaysia, Indonesia. South Korea)

Latin America (Brazil, Mexico, Argentina)

Middle East & Africa (Saudi Arabia, UAE, Israel, South Africa)
Know more about this report: Request for sample pages
Food segment emerged as the largest application segment in 2022
The tea extract market is seeing continuous expansion due to the increased consumption of beverages globally. An increase in the demand for tea extract is one of the primary drivers of the tea extract industry. Moreover, increased knowledge among people about health & wellness has resulted in customers' propensity toward healthier and natural products. Health advantages associated with using tea extract are responsible for the increased demand for tea extract.
Tea extracts offer various medicinal properties, including helping to relax the mind, manage cholesterol and sugar levels, burn excess fat, and prevent illnesses such as Alzheimer's and cancer, contributing to their appeal among consumers. Furthermore, using tea extracts in animal feeds, functional food ingredients, cosmetics, and personal care goods has pushed the tea extract industry forward.
Green tea dominated the global tea extracts market in 2022
Green tea is becoming increasingly popular as the desire for organic weight loss solutions, and public health awareness grows. Various health advantages of consuming green tea and tea developments. Wrapping has resulted in a rise in storage life and an expansion in export, increasing the quantity of new green tea brands, both of which are key contributors to driving market sales growth.
The antioxidants in green tea can cleanse the body of pollutants and boost health. According to research done by the American Association for Cancer Research promotes the creation of enzymes that aid in the battle against cancer compounds. Green tea's natural polyphenols aid in the body's regular detoxification process. Polyphenols act as antioxidants, fighting free radicals and directly impacting the liver, the body's primary detoxification organ. Free radicals are very unstable molecules that must be neutralized before they may destroy healthy cells. Various health benefits linked with drinking green tea are projected to increase revenue growth.
Europe held the significant market share in 2022
In the West, there is an increasing public awareness of the socioeconomic ills linked with tea farming. Various standards systems are being developed to solve these challenges. Suppliers are required by codes of conduct to satisfy requirements for food safety, working conditions, and environmentally responsible production techniques. Global producers are fighting for market share. Their emphasis is on providing relatively low-quality bulk tea for blending and on the niche market with premium-priced, high-quality goods and standard compliance tea, which increases the product's worth. The certified niche items, which are frequently offered as a specialty, are especially popular in the northern and western EU countries.
One benefit of the industry's highly consolidated nature is the ability of significant corporations to switch supplies to standard-compliant sources very fast. Sustainability problems in the tea business have encouraged the creation and implementation of various tea-specific standards. Tea market leaders, on the other hand, certify most of their tea lands through the Rainforest Alliance sustainability program. Based on the Rainforest Alliance, as of 2020, 14% of the world's tea was Rainforest Alliance-certified. Tea ecological requirements are most prevalent in nations that export a lot of tea. Voluntary sustainability norms are widely adopted in countries such as Indonesia and Vietnam, where 60 to 95% of output is exported. Hence, Asia Pacific is projected to maintain its dominance over the forecast period.
Competitive Insight
Some of the major players operating in the global market include Finlay Tea Solutions, Akbar Brothers, Martin Bauer GmbH, Kemin Industries, AVT Natural Products, Nestle, Tata Global Beverages, Amax NutraSource, and Cymbio Pharma.
Recent Developments
In 2021, Tetley India released 'green tea immune'. The new TV commercial reminds us that exercise is about feeling healthy on the inside as well as the outer, highlighting the relevance of product, which combines the benefits of the green tea with the immune strength of added the Vit C.

In 2021, Danta Herbs has released its own matcha tea. Matcha includes caffeine and L-theanine, as well as all of the minerals found in the leaves. It has also been shown in studies to increase attention, memory, and response time. Matcha is also high in vitamins, fibre, chlorophyll, and catechins, which have anti-inflammatory and cancer-fighting properties in the body.
Tea Extracts Market Report Scope
| | |
| --- | --- |
| Report Attributes | Details |
| Market size value in 2023 | USD 3,298.49 million |
| Revenue forecast in 2032 | USD 6,094.81 million |
| CAGR | 6.8% from 2023 – 2032 |
| Base year | 2022 |
| Historical data | 2019 – 2021 |
| Forecast period | 2023 – 2032 |
| Quantitative units | Revenue in USD million and CAGR from 2023 to 2032 |
| Segments covered | By Application, Category, Form, Type, By Region |
| Regional scope | North America, Europe, Asia Pacific, Latin America; Middle East & Africa |
| Key companies | Martin Bauer GmbH & Co KG, Kemin Industries, Inc., AVT Natural Products Ltd., Nestle, Tata Global Beverages Limited, Amax NutraSource Inc. |