The global transcritical CO2 market is anticipated to grow at a CAGR of 15% between 2018 and 2026. The use of transcritical CO2 as direct refrigerant in various systems such as heat pumps, refrigerators and other systems is expected to drive the market over the forecast period.
Carbon dioxide is an economic, environmentally sustainable and most importantly safe refrigerant that is applicable in refrigeration systems and heat pumps as a refrigerant. A few of the product properties are superlative for its application as working fluids in heat pumps and vapor compression refrigerating machines. It is abundant in the environment, a perfectly waste gas of several technological processes; CO2 cost is hence extremely low, available anywhere easily, and CO2 recovery from any dismissed equipment or in any maintenance type is not necessary. It's a naturally occurring fluid that has no harm to biosphere. It is indeed a greenhouse gas, however to be used as a refrigerant it is normally rescued from industrial waste gases. This has a positive impact in green house gas emissions and hence in the stratospheric ozone depletion. CO2 as a refrigerant gas has no especial local safety problems as it is non-toxic and non-flammable. As it is heavier compared to air it easily accumulates in the lower part of non-ventilated ambient and causing suffocation for oxygen lack. Moreover, being an inert product it is attuned with every common material of a refrigerating circuit including plastics, metals and elastomers. Owing to such properties of the product it offers enormous advantages in terms of functionality and hence no other gas is as compatible as it is for using as a refrigerant. These factors are expected to drive demand for transcritical CO2 market globally.
There has been a significant increase in the R&D in the transcritical CO2 market. Several research and development projects into transcritical refrigeration of CO2, heat pump and air-conditioning systems have been undertaken currently mainly as an increasing concern towards green house gas emissions. During the last decade, commercialization of transcritical carbon dioxide heat pump water heaters has increased globally. Coco Cola's decision to stop using fluorinated refrigerants in their new vending equipments and primarily switching to carbon dioxide systems is one among the initiatives taken by many multinational industry participants that have significantly added to the demand of these products and is considered as a driving factor for increasing the commercial use of CO2.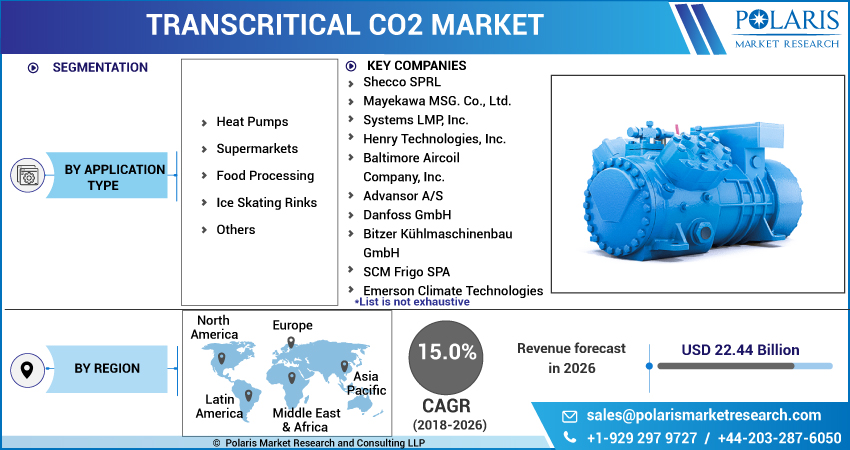 Segment Analysis
The global transcritical CO2 market is segmented into its application sectors and regional markets. The application segments of transcritical CO2 is further segmented into heat pumps, supermarkets, food processing, ice skating rinks and others. Food processing industry was the largest application market for transcritical CO2. It commonly functions as a low temperature refrigerant in cascade types of industrial applications. The product has been also used as a secondary fluid in food display applications where there is a need for keeping the harmful refrigerants separately for safety reasons.
Application of CO2 in heat pumps has also increased in the past five to six years. Both transcritical and subcritical heat pumps utilizing transcritical carbon dioxide are capable of operating with higher pressures compared to with most other refrigerants. Hence, these advantages have significantly helped adding to product demand.
Regional Analysis
North America was the leading region in 2017 for the transcritical CO2 market. The region is home to most of the world's top and other leading food manufacturing companies that have switched to using CO2 for refrigeration is one of the factors for the region's high demand for the product from the food manufacturing base. Supermarkets are yet another potential application segment mainly in the U.S. Along with these, presence of leading heat pump systems manufacturing industry in the region especially in the U.S. is yet another factor driving the regional market. Commercialization of transcritical CO2 have increased at a significantly higher rate compared to the other regions.
Competitive Analysis
Some of leading and currently active industry participants in the transcritical CO2 market include Shecco SPRL, Mayekawa MSG. Co., Ltd., Systems LMP, Inc., Henry Technologies, Inc. , Baltimore Aircoil Company, Inc. , Advansor A/S, Danfoss GmbH, Bitzer Kühlmaschinenbau GmbH , SCM Frigo SPA, Emerson Climate Technologies, Carnot Refrigeration Inc., Green & Cool World Refrigeration Ab, Carrier Commercial Refrigeration, and Hill Phoenix Inc.