The global unified communications market was valued at USD 56.76 million in 2022 and is expected to grow at a CAGR of 12.6% during the forecast period. The market is experiencing significant growth due to the increased usage of mobile devices and the adoption of Bring Your Device (BYOD) policies. Enhancing enterprise communication for improved productivity also contributes to this growth. Cloud-based unified communication is becoming more popular and is expected to continue driving market growth.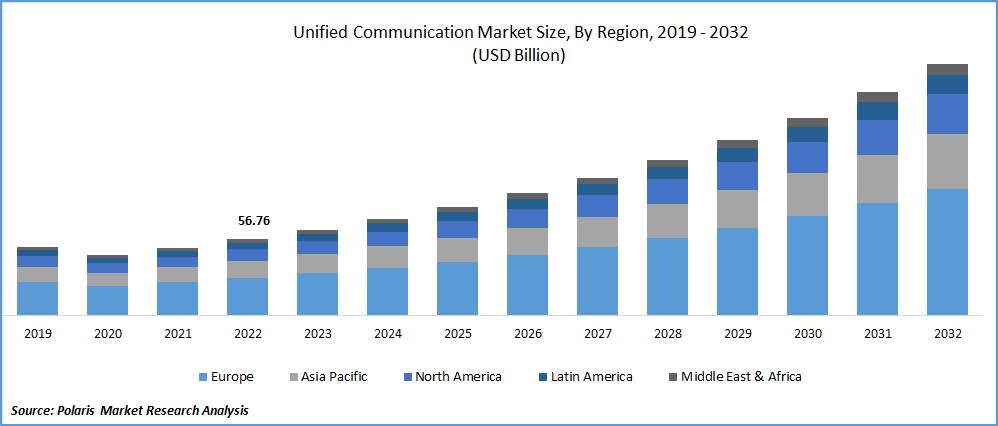 Know more about this report: Request for sample pages
Technological advancements, a need for collaboration, mobility, and improved workforce productivity are also factors driving the unified communications market. However, concerns about data security and interoperability may hinder growth. Nonetheless, emerging economies and small to medium enterprises present growth opportunities.
Unified communication is a system that combines real-time and asynchronous tools to boost productivity and collaboration in business communication. This system connects different devices and applications for enterprise communication, which enhances interaction and workflow. Unified communication encompasses various communication modes, including voice communication (like voicemail, email, and fax), multimedia elements (such as pictures, animations, and videos), and real-time communication (like conferencing, call screening, instant messaging, and paging). By utilizing unified communication tools, companies can improve service delivery, increase profits, and generate higher revenue while keeping costs low.
Furthermore, the need for effective management of complex business communication, cost reduction, and increased productivity drives the adoption of Unified Communications (UC) solutions. These solutions are increasingly being delivered through cloud-based or hosted Unified Communications as a Service (UCaaS) models. Companies are redefining their business models to gain flexibility, productivity, and agility.
In addition, today's fast-paced business environment, real-time data, video communications, and telephony systems have become critical. As a result, organizations are adopting UC solutions to enhance both internal communication and collaboration with remote staff and external communication with clients and suppliers.
The COVID-19 pandemic has significantly impacted the Unified Communications (UC) market, with a sudden shift to remote work leading to increased demand for UC solutions that can facilitate communication and collaboration between remote teams. This has resulted in a surge in demand for cloud-based UC solutions that can be easily deployed and scaled to meet the needs of remote workers. The pandemic has also highlighted the importance of business continuity planning, fueling the adoption of UC solutions. Companies need reliable and flexible communication infrastructures to support remote work and enable seamless business operations during disruptions.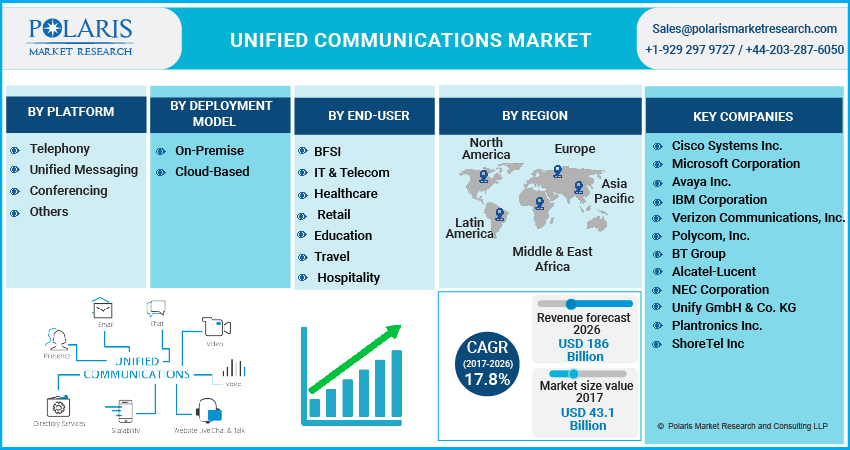 Know more about this report: Request for sample pages
Industry Dynamics
Growth Drivers
Several factors drive the market, including the increasing adoption of remote work, leading to a growing demand for UC solutions enabling remote communication and collaboration. This trend is expected to continue as more companies realize the benefits of remote work, such as increased productivity and reduced costs.
Another important driver of the market is technological advancements. Technological advances, such as the development of 5G networks and the Internet of Things (IoT), enable new features and capabilities for UC solutions. This allows companies to improve communication and collaboration processes, helping to drive the adoption of UC solutions.
The growing importance of customer experience is also driving the market. UC solutions can help companies improve customer experience by enabling faster response times and better customer communication. Additionally, the rising need for security drives demand for UC solutions that offer robust security measures to protect against data breaches and cyberattacks.
Report Segmentation
The market is primarily segmented based on platform, deployment model, organization size, end-use, and region.
By Platform

By Deployment Model

By Organization size

By End-Use

By Region

Telephony

Unified Messaging

Conferencing

Others

Small and Medium Enterprise

Large Enterprise

BFSI

IT & Telecom

Healthcare

Retail

Education

Travel and Hospitality

Others

North America (U.S., Canada)

Europe (France, Germany, UK, Italy, Netherlands, Spain, Russia)

Asia Pacific (Japan, China, India, Malaysia, Indonesia, South Korea)

Latin America (Brazil, Mexico, Argentina)

Middle East & Africa (Saudi Arabia, UAE, Israel, South Africa)
Know more about this report: Request for sample pages
Unified Messaging segment dominated the market in 2022
The unified messaging segment dominated the market in 2022 and will continue its dominance over the forecast period. This is because there is an increasing need among enterprises to have quick and efficient communication, especially in critical situations where real-time notifications are crucial. Unified Messaging is an ideal solution that combines voice, fax, and text messages in one platform that can be easily accessed via a PC or phone. This is particularly advantageous for mobile users who require seamless communication with clients and colleagues.
Cloud based segment anticipated to hold highest CAGR during the forecast period
The cloud-based segment is expected to hold highest CAGR during the forecast period due to the increasing adoption of cloud-based solutions by organizations of all sizes. The cloud-based segment of the unified communications market refers to the delivery of UC services through cloud-based deployment models, where UC solutions are hosted and managed by third-party service providers on the cloud.
Cloud-based UC solutions offer numerous benefits, such as scalability, flexibility, cost-effectiveness, and ease of deployment and management, making them an attractive option for organizations looking to streamline their communication and collaboration processes. Additionally, cloud-based UC solutions enable remote work and support the growing trend of mobile workforces.
Large enterprise segment held the highest market share in 2022
Large enterprises segment held the highest market share in 2022. These enterprises prioritize corporate network performance and tightly integrate emerging technologies like SD-WAN. Service providers cater to the needs of multi-regional and multinational enterprises by improving UC solutions with additional features such as business process integration, centralized provisioning, and service management. Furthermore, large enterprises have a global presence and are consistently expanding, creating a demand for secure and efficient unified communication solutions.
The small and medium enterprises (SMEs) segment is expected to experience significant growth in the market. SMEs utilize UC services to reduce capital and operational expenses incurred in deploying a UC solution independently. In addition, several vendors are now shifting their focus towards SMBs, which were previously not considered a primary market due to a lack of awareness about the potential benefits of UC and the high costs of on-premise equipment.
IT & Telecom segment hold the largest market share in the market
The IT and telecom segment hold the largest market share. The segment is expected to continue its dominance during the forecast period due to the high demand for UC solutions among IT and telecom companies. UC solutions help these companies streamline their communication and collaboration processes, improve customer service, and enhance efficiency.
Moreover, the IT and telecom sector constantly evolves, with new technologies and trends emerging regularly. UC solutions can help these companies stay ahead of the competition by providing them with the latest communication tools and capabilities. For instance, the industry's growing adoption of 5G networks and IoT devices drives demand for UC solutions that can integrate these technologies.
Europe region held the largest market share in 2022
Europe held the largest market share in 2022 and will continue its dominance over the forecast period, attributed to the increased use of BYOD services and the need for operational efficiency. This has led to the adoption of UC systems across enterprise applications and an influx of regional vendors.
North America and the Asia Pacific are also expected to see substantial growth due to the increasing adoption of cloud-based solutions, the trend of remote work, and technological advancements such as 5G networks and IoT. The healthcare sector is also expected to drive growth by adopting automation strategies in light of the COVID-19 pandemic.
Competitive Insight
Some of the major players operating in the global unified communications market include Verizon Communications Inc., Mitel Network Corporation, Cisco Systems Inc., Alcatel-Lucent Enterprise, NEC Corporation, Poly (Platonics Inc.), IBM Corporation, Unify (Atos SE), Microsoft Corporation, Avaya Inc., and Tata Communications.
Recent Developments
In February 2023, Zoho Corporation launched Trident, a UC&C platform that combines Zoho Cliq and Zoho Meeting for improved business communication.

In April 2022, Genesys and 8x8, Inc. collaborated to integrate unified communication through Genesys Cloud CX and 8x8 Work to provide employee and customer satisfaction by combining contact centers and UC.
Unified Communications Market Report Scope
| | |
| --- | --- |
| Report Attributes | Details |
| Market size value in 2023 | USD 63.82 billion |
| Revenue forecast in 2032 | USD 186.28 billion |
| CAGR | 12.6% from 2023 – 2032 |
| Base year | 2022 |
| Historical data | 2019 – 2021 |
| Forecast period | 2023 – 2032 |
| Quantitative units | Revenue in USD billion and CAGR from 2023 to 2032 |
| Segments Covered | By Platform, By Deployment Model, By Organization Size, By End-Use, By Region |
| Regional scope | North America, Europe, Asia Pacific, Latin America; Middle East & Africa |
| Key Companies | Verizon Communications Inc., Mitel Network Corporation, Cisco Systems Inc., Alcatel-Lucent Enterprise, NEC Corporation, Poly (Platonics Inc.), IBM Corporation, Unify (Atos SE), Microsoft Corporation, Avaya Inc., and Tata Communications. |