The global vaginitis therapeutics market was valued at USD 3.30 billion in 2022 and is expected to grow at a CAGR of 8.1% during the forecast period.
The demand for improved vaginal healthcare facilities and infrastructure has increased, primarily due to women's heightened awareness of the significance of maintaining optimal vaginal health and the introduction of new medications for vaginitis treatment. Disruptions in the vaginal microbiome can lead to bacterial vaginosis (BV). This condition affects nearly 30% of women of reproductive age worldwide and incurs an estimated annual treatment cost of USD 4.8 billion. BV doubles the risk of various sexually transmitted infections, including HIV, and increases the chances of pre-term birth in pregnant women, contributing significantly to neonatal mortality. Currently, antibiotics are used to treat BV, but frequent recurrence can result in severe complications such as pelvic inflammatory disease and infertility.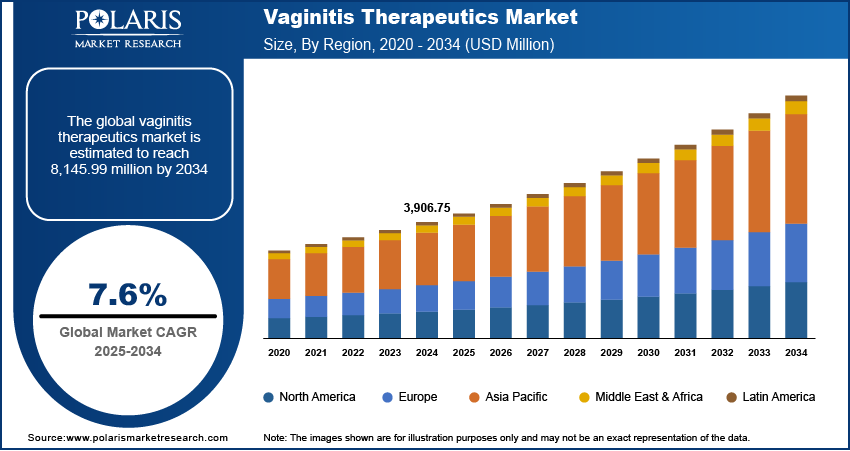 To Understand More About this Research: Request a Free Sample Report
Scientists at the Wyss Institute, Harvard University, have developed a novel Organ Chip that addresses this issue by mimicking the microenvironment of human vaginal tissue, including its microbiome, in a lab setting. The Vagina Chip is made up of human vaginal epithelial cells and underlying connective tissue cells, reproducing various physiological aspects of the vagina, and can be exposed to different bacterial strains to explore their impact on the organ's health.
The Burnet Institute initiative, aimed at enhancing women's sexual and reproductive health by addressing bacterial vaginosis & its recurrence, has received funding from the Victorian Government's Victorian Medical Research Acceleration Fund (VMRAF). Researchers highlighted the potential of lactic acid, a bioactive substance generated by beneficial vaginal microbiota, to combat bacterial vaginosis (BV).
Research indicates that the well-being of the female reproductive tract is influenced not just by the vaginal microbiota but also by the presence of healthy intestinal flora. Consequently, the potential of Vaginal Microbiota Transplantation (VMT) has been largely overlooked in comparison to the gut microbiota, leading to underappreciated clinical applications. Fecal Microbiota Transplantation (FMT) has been used to restore gut microbiota as a method for treating female reproductive tract diseases.
Scientists funded by the National Institute of Allergy and Infectious Diseases (NIAID) have developed a test for yeast infection to facilitate accurate anti-fungal treatment. Additionally, researchers from the National Institute of Child Health and Human Development (NICHD), collaborating with the Division of Intramural Population Health Research, are analyzing both existing and new data to explore various aspects concerning the connection between bacterial vaginosis and pregnancy outcomes.
The market plays a vital role in increasing awareness about vaginitis and its causes, enabling women to take preventive measures. It also contributes to research efforts aimed at developing new and enhanced vaginitis treatments, ultimately improving outcomes for women. If left untreated, vaginitis can lead to severe complications like pelvic inflammatory disease (PID), a grave infection affecting female reproductive organs, potentially causing infertility, chronic pain, and, in extreme cases, death.
The COVID-19 pandemic hindered women's access to healthcare, making it challenging for them to obtain necessary treatment for vaginitis. Treatment costs escalated, and certain vaginitis products became scarcer due to the pandemic, exacerbating the difficulty for women to find suitable treatments. Nevertheless, the global market is projected to expand in the study period, offering crucial support for women affected by the condition. By ensuring access to effective treatments, increasing awareness, and backing research efforts, the market can significantly enhance the quality of life for women dealing with vaginitis.
Industry Dynamics
Growth Drivers
Increasing awareness and education on women's health
The vaginitis therapeutics market is significantly influenced by increased awareness and education on women's health. With the society becoming more informed about women's health issues and encouraging open conversations surrounding these topics, women are more likely to seek medical attention when they experience vaginitis symptoms. This increased awareness results in earlier diagnosis and treatment, leading to a higher demand for vaginitis therapeutics. Moreover, it promotes research and development in the field, which contributes to the growth of innovative and effective treatments, ultimately improving the overall well-being of women affected by vaginitis.
Furthermore, several governmental and non-governmental entities, including organizations like the Women's Health Organization and the European Institute of Women's Health (EIWH), have launched initiatives to raise awareness about women's health. Ongoing research and development efforts by various companies and shifts in women's lifestyle patterns worldwide, such as smoking and alcohol consumption, are the primary drivers of market expansion. Vaginitis therapeutics hold the promise of offering women access to effective treatments that can alleviate symptoms and mitigate potential complications.
Report Segmentation
The market is primarily segmented based on disease type, product, and region.
By Disease Type

By Product

By Region

Anti-fungal

Anti-bacterial

Hormone

Over-the-counter (OTC)

Prescription

North America (U.S., Canada)

Europe (France, Germany, UK, Italy, Netherlands, Spain, Russia)

Asia Pacific (Japan, China, India, Malaysia, Indonesia. South Korea)

Latin America (Brazil, Mexico, Argentina)

Middle East & Africa (Saudi Arabia, UAE, Israel, South Africa)
To Understand the Scope of this Report: Speak to Analyst
By Disease Type Analysis
Anti-bacterial segment accounted for the largest share in the market
The anti-bacterial segment held the largest share. This growth is due to the increasing incidence of bacterial vaginosis. According to the Centers for Disease Control and Prevention, approximately 21 million women aged 14 to 49 were affected by this condition. Bacterial vaginosis is commonly treated with medications such as Metronidazole, clindamycin, & tinidazole.
The hormone segment is projected to grow at a rapid pace. The segment's robust growth is expected to be supported by the presence of promising drugs in the pipeline and the overall rapid expansion of the global vaginitis therapeutics industry, driven by the increasing prevalence of vaginitis. Women's treatment preferences for vaginitis have transformed. While topical treatments were more common in the past, there is now a growing inclination toward oral hormonal treatments due to their convenience and effectiveness.
By Product Analysis
Prescription segment accounted for the largest share in 2022
The prescription segment held the largest share. Prescription medications are specifically formulated and prescribed by healthcare professionals based on individual patient needs and the severity of the condition. These drugs often undergo rigorous testing and clinical trials to ensure their effectiveness and safety. For individuals suffering from severe or recurrent vaginitis, prescription drugs offer targeted and potent solutions that can effectively alleviate symptoms and prevent the condition from worsening.
The OTC segment is projected to grow at a rapid pace. This growth is attributed to the availability of a diverse range of OTC drugs, including vaginal creams and gels. For instance, Clindamycin is one such OTC option used to treat bacterial vaginosis.
Regional Insights
The demand in North America garnered the largest share in 2022
The North America region dominated the global market. This dominance can be attributed to the region's robust healthcare infrastructure, widespread disease prevalence, and the presence of key manufacturers alongside a dense network of healthcare providers and hospitals. These factors play a pivotal role in securing its leading position. Additionally, favorable government initiatives and a steadily increasing target population further contribute to the continuous growth of the market.
As per the CDC, approximately 30% of women in the U.S. frequently suffer from vaginitis. Moreover, women in the region tend to be more conscious of their vaginal health compared to those in other regions. This heightened awareness is, in part, a result of comprehensive public health initiatives and educational campaigns carried out in the region.
Asia Pacific will grow at rapid pace. This growth is driven by substantial unmet clinical needs in the region, a boost in consumer disposable income, heightened awareness about early disease diagnosis, and the availability of effective medications in emerging economies like India and China. Additionally, favorable government initiatives and a burgeoning target population are further accelerating market expansion in this region.
Key Market Players & Competitive Insights
Companies primarily focus on strategies such as developing new products, obtaining approvals, engaging in mergers & acquisitions, and investing in research and development. These efforts result in the creation of innovative vaginitis treatments.
Some of the major players operating in the global market include:
Pfizer, Inc.

Merck & Co.

Novartis AG

Bayer AG

Lupin Pharmaceuticals, Inc.

Symbiomix Therapeutics, Inc.

Mission Pharmacal Company
Recent Developments
In April 2022, Pfizer introduced Daivobet, a topical cream combining steroids and vitamin D, designed to treat vulvovaginal candidiasis (VVC). Daivobet stands as the sole FDA-approved topical cream with this combination for VVC treatment.

In May 2022, Bayer acquired FemTec, including Vagisan, a vaginal moisturizer. Additionally, Seres Therapeutics introduced SER-109, a microbiome-based therapy for recurrent vulvovaginal candidiasis (RVVC).
Vaginitis Therapeutics Market Report Scope
| | |
| --- | --- |
| Report Attributes | Details |
| Market size value in 2023 | USD 3.56 billion |
| Revenue forecast in 2032 | USD 7.20 billion |
| CAGR | 8.1% from 2023 – 2032 |
| Base year | 2022 |
| Historical data | 2019 – 2021 |
| Forecast period | 2023 – 2032 |
| Quantitative units | Revenue in USD billion and CAGR from 2023 to 2032 |
| Segments covered | By Disease Type, By Product, By Region |
| Regional scope | North America, Europe, Asia Pacific, Latin America; Middle East & Africa |
| Customization | Report customization as per your requirements with respect to countries, region and segmentation. |