The global wheat protein market was valued at USD 6.42 billion in 2022 and is expected to grow at a CAGR of 4.4% during the forecast period.
Wheat protein market development is predicted to be driven by increased plant-based diet acceptance as well as a rise in the number of individuals embracing vegan diets in developing nations. Moreover, a growing senior population, rising income levels, and increased urbanization are projected to drive product demand. Weight control has long been a problem in the global population, and obesity has now become a worldwide epidemic. Global obesity has quadrupled since 1975, according to the World Health Organization, with around 13% of individuals obese and 39% of persons overweight.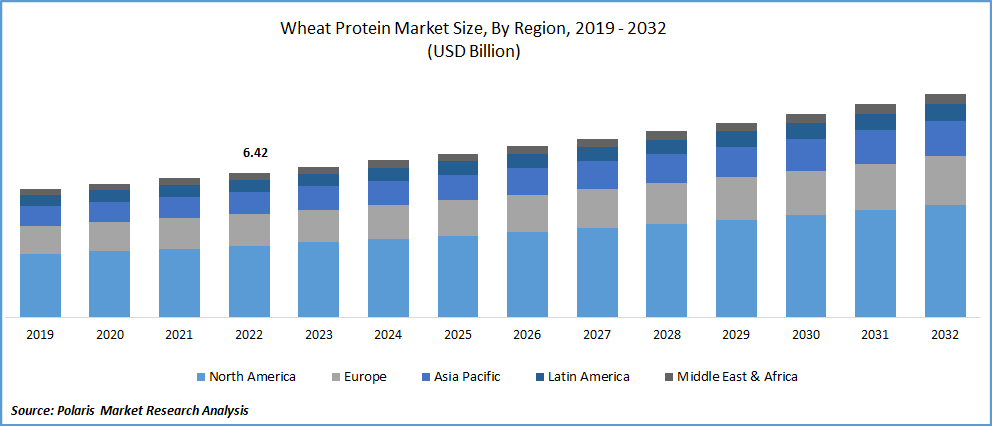 Know more about this report: Request for sample pages
Furthermore, 149.2 million children under the age of five are stunted, 38.9 million are overweight. As a result, to maintain their overall health and weight, individuals are focused on eating a healthy, plant-based diet, which is driving wheat protein market growth.
Factors such as growing knowledge about the advantages of nutrition and weight control, higher demand for plant-based goods, and rising demand from the food and beverage sector are driving the expansion of this market. Furthermore, rising economies and a growing consumer preference for vegan diets are likely to present considerable development prospects for wheat protein makers. However, the large preference for animal-based protein, changing raw material prices, and high demand for gluten-free goods are likely to significantly impede market expansion.
As consumers want to live healthy lives for as long as possible, well-being has become nothing short of a worldwide movement. Consumers' desire for plant-based diets is being driven by health and well-being concerns. Food availability has increased and diversified as living standards have risen. Furthermore, the rising frequency of diet-related disorders has fueled demand for cutting-edge health and wellness goods and services.
In some places, a scarcity of wheat for protein extraction is projected to impede market expansion in the future years. It also includes gluten, which might induce illnesses in customers, restricting product demand. Furthermore, rising wheat prices with high protein content, a large number of alternatives, and rising celiac disease incidences are expected to limit growth over the projected timeframe.
The COVID-19 pandemic strengthened the plant-based protein market, boosting wheat protein demand. Because of different safety and environmental concerns, many customers have converted from animal-based proteins to plant-based proteins. The pandemic increased demand for plant-based foods with high protein content by emphasizing the need of adopting a healthy diet. To meet the unexpected surge in demand, several businesses in the plant-based food sector began to change their strategy and invest in R&D for new product development.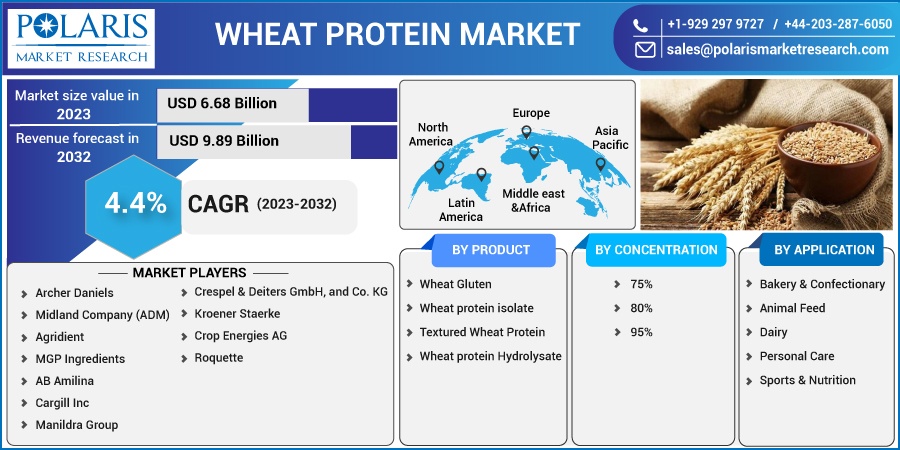 Know more about this report: Request for sample pages
Industry Dynamics
Growth Drivers
The wheat protein market is expected to increase steadily due to rising health concerns, the prevalence of nutritional deficiencies, and widely of natural protein supplements. Protein or dietary supplements are becoming increasingly popular, particularly among gym-conscious people. According to a 2020 study by the International Health, Racquet and Sports Club Association (IHRSA), the ratio of health-conscious in the United States was roughly 24.3% of the overall population in 2019.
Natural, organic & GMO-free are some phrases consumers often search to make quick buying categorizations. As a result, these protein products continue to be the preferred option for capitalizing on growth potential. Plant-based protein is in high demand as a sustainable dietary source. Furthermore, the economic benefit & high awareness about the authenticity of naturally occurring products are a few of the reasons why this market's appeal has been expanding.
Report Segmentation
The market is primarily segmented based on product, concentration, application, and region.
By Product

By Concentration

By Application

By Region

Wheat Gluten
Wheat protein isolate
Textured Wheat Protein
Wheat protein Hydrolysate

Bakery & Confectionary
Animal Feed
Dairy
Personal Care
Sports & Nutrition

North America (U.S., Canada)
Europe (France, Germany, UK, Italy, Netherlands, Spain, Russia)
Asia Pacific (Japan, China, India, Malaysia, Indonesia, South Korea)
Latin America (Brazil, Mexico, Argentina)
Middle East & Africa (Saudi Arabia, UAE, Israel, South Africa)
Know more about this report: Request for sample pages
Product Insights
The wheat gluten segment industry accounted for the highest market share in 2022
Wheat gluten has several functions, including texturing, viscoelasticity, foaming, binding, and emulsification, which makes it popular in baking items. It's also a great meat alternative for vegetarian and vegan items. During the projected period, these qualities are likely to boost segment demand. Wheat protein has several functional properties as well as important minerals and fiber. Wheat protein is used in food items to improve flavor, texture, flowability, and moisture content, hence increasing shelf life.
Consumers want meals that come in tiny portions and provide a variety of advantages. As a result, wheat protein is employed as a functional component in a variety of food products, including supplement bars, morning cereals, bakery goods, pasta, and breads. As a result, increased use of wheat protein in diverse food applications will raise worldwide demand even higher. However, as gluten sensitivity rates rise, demand for wheat gluten has slowed in recent years. According to Beyond Celiac, one out of every 133 people in the United States has celiac disease. The illness is hereditary and is handed down via families. It increases the risk of arthritis, liver illness, obesity, peripheral neuropathy, lactose intolerance, and other ailments.
Protein Concentration Insights
In 2021, 95% segment garnered the largest revenue share and is expected to retain its dominance over the study period.
Concentrations of 95% exhibit certain concerns with aggregation, gelation, precipitation, and excessive viscosity. As a result, the formulation's development necessitates manufacturing process stability as well as a number of other delivery-related challenges. This reduces overall demand for formulations containing greater protein contents.
Application Insights
Bakery & Confectionary dominated the market share
Factors such as higher moisture content, enhanced water absorption, and end-product softness all influence wheat protein consumption in baking applications. Furthermore, when people's lifestyles change, they consume more quick-bite items such as sweets and snacks, increasing product demand. Due to growing product use in the making of pastries, bread, cakes, rolls, and other bakery goods to suit rising customer demand, the market will develop further over the projection period.
Furthermore, in fermented dairy products, this protein efficiently replaces lactose. It is widely used as a low-cost alternative for milk in vegetable drinks and desserts. Lactose-intolerant persons are the items' target market. Hydrolyzed proteins can also be used to replace dairy proteins. As a consequence, new dairy applications will aid in maintaining demand in the coming years.
Regional Insights
In 2022, North America is predicted to account for the largest share of the market.
The increased consumer knowledge of the health advantages of wheat protein, as well as the well-established food processing sector, can be credited to this region's market share. Furthermore, a growing vegetarian population increased consumption of bakery items, and meat alternatives are driving product demand. Other variables that contribute include the region's massive wheat output and increased demand for healthful and nutritious food.
The mainstream food industry, growing consumer concerns about the ill effects of animal protein and animal products, a growing vegan population, increasing consumption of baked goods and meat substitutes, massive wheat production, growing demand for healthy and nutritious foods, and growing awareness of the Consumers for the health benefits of consuming wheat protein all contribute to this region's large market share.
Due to an increasing vegan population and greater awareness of healthy food consumption among those aiming to live a healthy lifestyle, Asia Pacific is expected to expand over the projected period. Product demand is being boosted by the industrial expansion of the healthcare and cosmetics industries in China, Japan, India, and South Korea, as well as expanding domestic consumption. Furthermore, cheap protein manufacturing prices in contrast to the United States and developed European nations are expected to drive the market throughout the forecast period.
Competitive Insight
Key players include Archer Daniels Midland, Agridient, MGP Ingredients, AB Amilina, Cargill, Manildra Group, Crespel & Deiters, Kroener Staerke, Crop Energies, and Roquette.
Recent Developments
In 2019: Cargill invested in the Aleph Farms, integrating new cell-based technological frontiers with global food system & supply chain expertise.
In November 2017, Archer Daniels introduced Nutriance, a novel line of wheat-based protein concentrates. It has 85% protein and a high glutamine content, making it ideal for sports and geriatric nutrition.
In 2019, Cargill committed USD 200 million to convert its corn processing operation in Germany to wheat protein & specialty starch manufacture. This new facility is outfitted with innovative manufacturing technology to aid company's prospects.
Wheat Protein Market Report Scope
| | |
| --- | --- |
| Report Attributes | Details |
| Market size value in 2023 | USD 6.68 billion |
| Revenue forecast in 2032 | USD 9.89 billion |
| CAGR | 4.4% from 2023 – 2032 |
| Base year | 2022 |
| Historical data | 2019 – 2021 |
| Forecast period | 2022 - 2032 |
| Quantitative units | Revenue in USD billion and CAGR from 2023 to 2032 |
| Segments Covered | By Product, By Concentration, By Application, By Region |
| Regional scope | North America, Europe, Asia Pacific, Latin America; Middle East & Africa |
| Key Companies | Archer Daniels Midland Company (ADM), Agridient, MGP Ingredients, AB Amilina, Cargill Inc, Manildra Group, Crespel & Deiters GmbH, and Co. KG, Kroener Staerke, Crop Energies AG,Roquette. |