The Global Carbon Nanotubes market was valued at USD 985.14 million in 2022 and is expected to grow at a CAGR of 14.1% during the forecast period.Carbon nanotubes can be classified into two categories, single-walled carbon nanotubes (SWCNTs) and multi-walled carbon nanotubes (MWCNTs). Despite their similarities, SWCNTs and MWCNTs have distinct structural differences that impact their physical properties.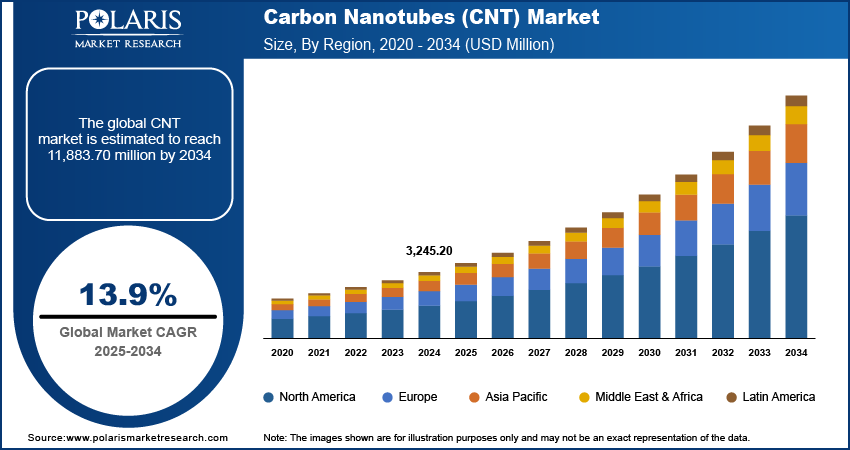 To Understand More About this Research: Request a Free Sample Report
The key feature that separates SWCNTs is that they consist of only a single layer of graphene on the nanotube's wall. This makes SWCNTs resemble rolled-up graphene sheets, often called graphene nanotubes (GNTs). On the other hand, MWCNTs can be considered concentric layers of SWCNTs or graphene sheets rolled into a tube shape. SWCNTs' chirality, or the type of self-assembly, influences their electrical conductivity properties, determining whether they are conductive or semiconductive.
The state of twisting for an SWCNT can be described using "n" and "m" chirality indexes, which reflect the vector direction for rolling the hexagonal lattice into a tube. The electrical resistance reduction provided by nanotubes depends on factors such as dosage, length, and the proportion of conductive CNTs among the total amount of nanotubes. Doping with SWCNTs can increase the fraction of conductive nanotubes by almost threefold, showcasing their potential as multifunctional additives for creating new products with unique properties.
SWCNTs have shown promise in improving various characteristics in various materials, including imparting anti-static and conductive properties, enhancing strength, crack resistance, flexibility, adhesion, and more. Furthermore, SWCNTs can often achieve these improvements at low concentrations, typically in the tenths or hundredths of a percent range, allowing existing manufacturing techniques for end products to be retained.
SWCNT applications can be classified in different ways, such as by material, industrial product type, or industry. The most significant volume of SWCNT consumption is seen in industrial coatings, composite and reinforced plastics, automobile tires and rubber technical goods, structural materials, and materials for electrochemical power sources. Other applications with lower volumes of SWCNTs include adhesives, lubricants, anti-static plastics, transparent conductive films, and cables. There are also niche applications that use small quantities of SWCNTs.
Industry Dynamics
Growth Drivers
Carbon nanotubes (CNTs) market have gained significant attention due to their unique properties, which include high mechanical strength, excellent electrical conductivity, and exceptional thermal stability. These properties have led to various growth drivers for CNTs in the industry, and they are being increasingly utilized in a wide range of applications.
The significant growth driver for CNTs is their use in temperature sensors. CNTs exhibit remarkable sensitivity to changes in temperature, making them ideal for temperature-sensing applications. When CNTs are assembled into a film or incorporated into a polymer nanocomposite, they can act as temperature-sensitive elements that can detect and respond to temperature changes with high precision. This makes CNT-based temperature sensors suitable for various applications, including industrial process control, aerospace, automotive, and electronics.
The versatility of CNTs in assembling into various forms, such as films and composites, allows for their integration into existing manufacturing processes. CNTs can be dispersed in polymers, coatings, or other materials, resulting in enhanced properties of the final products. For example, CNTs can improve polymers' electrical conductivity, mechanical strength, and thermal stability, thereby expanding their potential applications in fields such as automotive parts, aerospace components, and electronic devices.
CNT-based temperature sensors offer several advantages over traditional temperature sensing technologies. They exhibit fast response times, high sensitivity, and a wide operating temperature range. CNT-based sensors can also be tailored to specific requirements, such as sensitivity and temperature range, by adjusting the concentration, alignment, and morphology of CNTs in the film or nanocomposites in various other industries. For instance, they are used in energy storage devices, such as batteries and supercapacitors, due to their high surface area and electrical conductivity. They are also utilized in electronics, aerospace, automotive, and coatings industries for their unique properties.
CNTs have emerged as a promising material for many applications, with temperature sensing being a significant growth driver. CNT-based temperature sensors offer high sensitivity, fast response times, and a wide operating temperature range. Their ability to be integrated into existing manufacturing processes through film or nanocomposite formation allows for enhanced properties of the final products. With their unique properties and versatile applications, CNTs hold great potential for driving advancements in various industries.
Report Segmentation
The market is primarily segmented based on Type, Method, End-Use, and region.
By Type

By Method

By End-Use

By Region

Single-walled carbon nanotubes

Multi-walled carbon nanotubes

Chemical vapor Deposition

Catalytic Chemical Vapor Deposition

High-pressure carbon monoxide reaction

others

Electronics & Semiconductors

Energy & Storage

Chemical Material & Polymers

Medical

Structural Composites Applications

Others

North America (U.S., Canada)

Europe (France, Germany, UK, Italy, Netherlands, Spain, Russia)

Asia Pacific (Japan, China, India, Malaysia, Indonesia, South Korea)

Latin America (Brazil, Mexico, Argentina)

Middle East & Africa (Saudi Arabia, UAE, Israel, South Africa)
To Understand the Scope of this Report: Speak to Analyst
The Multi-walled carbon nanotubes segment is expected to witness the fastest growth during forecast period
Carbon Nanotubes multi-walled carbon nanotubes (MWCNTs) segment is anticipated to experience robust growth in the foreseeable future, driven by several factors. MWCNTs, which consist of concentric layers of graphene rolled into a cylindrical shape, possess unique structural characteristics that contribute to their increasing demand in various industries.
The primary driver of the fast-paced growth of MWCNTs is their exceptional mechanical strength. MWCNTs exhibit high tensile strength, making them ideal for applications that require durable and tough materials. Their unique structure allows them to withstand high stresses and strains without undergoing significant deformation, making them suitable for various industrial applications, including aerospace, automotive, and construction.
Overall, MWCNTs also exhibit excellent electrical conductivity. This makes them highly sought-after for applications requiring efficient electrical conduction, such as electronics, energy storage devices, and sensors. MWCNTs can enhance the electrical properties of materials, such as polymers and composites, by forming conductive networks within the matrix. This unique characteristic of MWCNTs has resulted in their growing demand in industries where electrical conductivity is a critical factor.
MWCNTs are being increasingly utilized in the development of advanced composites. The unique structure of MWCNTs allows them to be easily dispersed and aligned within a matrix, forming nanocomposites with superior properties. MWCNTs can enhance composites' mechanical strength, thermal stability, and electrical conductivity, making them highly attractive for a wide range of applications, including aerospace, automotive, and sports equipment.
The ability to tailor the properties of MWCNTs by varying their diameter, length, and wall thickness further expands their potential applications. MWCNTs can be functionalized with various chemical groups, allowing for surface modifications and customization of their properties to suit specific requirements. This versatility in properties and customization options makes MWCNTs highly versatile and attractive for various industries.
The Chemical vapor Deposition segment accounted for the largest market share in 2022
The chemical vapor deposition (CVD) method is one of the most widely used techniques for synthesizing carbon nanotubes (CNTs), and it has accounted for the largest market share in the CNT industry. CVD involves the growth of CNTs by decomposing precursor gases on a substrate under controlled temperature and pressure conditions. This method offers several advantages, contributing to its significant industrial impact and diverse uses.
One of the key factors driving the widespread adoption of CVD for CNT synthesis is its scalability and reproducibility. CVD allows for the controlled growth of CNTs with precise control over their diameter, length, and alignment, making them suitable for large-scale production. This scalability has enabled CNTs to be used in various industrial applications, including aerospace, automotive, energy, electronics, and composites.
The industrial impact of CVD in the CNT industry can be seen in its contribution to developing advanced materials with improved properties. CVD-grown CNTs possess unique structural characteristics, such as a high aspect ratio, surface area, and excellent mechanical, thermal, and electrical properties. These properties make CVD-grown CNTs highly desirable for a wide range of applications.
One of the major industrial uses of CVD-grown CNTs is developing advanced composites. CNTs can be dispersed and aligned within a matrix using CVD, forming nanocomposites with enhanced properties. These nanocomposites exhibit superior mechanical strength, thermal stability, and electrical conductivity, making them suitable for applications in aerospace, automotive, sports equipment, and other industries where lightweight and high-performance materials are required.
Furthermore, CVD-grown CNTs have found applications in sensors and actuators due to their excellent electrical properties. CNT-based sensors, such as temperature, strain, gas, and biosensors, have shown high sensitivity, fast response time, and low power consumption. The ability of CVD to produce CNTs with controlled properties and alignment has greatly contributed to the advancement of CNT-based sensor technologies.
The demand in Asia Pacific is expected to witness significant growth
Asia Pacific region is projected to experience a substantial surge in demand for carbon nanotubes, a revolutionary nanomaterial with wide-ranging applications. Carbon nanotubes are cylindrical nanostructures composed of carbon atoms arranged in a hexagonal lattice, known for their exceptional mechanical, electrical, and thermal properties. These unique properties have paved the way for various industrial and technological advancements, and the Asia Pacific region is expected to be at the forefront of this growth.
One of the key drivers of the increasing demand for carbon nanotubes in the Asia Pacific is the rapidly expanding electronics and electrical industry. Carbon nanotubes possess excellent electrical conductivity, making them ideal for applications in electronic devices, such as transistors, sensors, and batteries. The demand for smaller, faster, and more efficient electronic devices is constantly growing, and carbon nanotubes offer unparalleled performance advantages that can enable the development of next-generation electronic products.
Moreover, the automotive industry in the Asia Pacific is also expected to contribute to the increased demand for carbon nanotubes significantly. Carbon nanotubes' lightweight and high-strength properties make them a promising material for automotive components, such as body panels, chassis, and batteries. As the demand for electric vehicles (EVs) continues to rise in Asia, carbon nanotubes can play a crucial role in making EVs lighter, more energy-efficient, and environmentally friendly.
The aerospace and defense sectors in Asia Pacific are also anticipated to drive the demand for carbon nanotubes. The exceptional mechanical properties of carbon nanotubes, including their high tensile strength and flexibility, make them suitable for use in aerospace and defense applications, such as aircraft components, armor, and composites. With the Asia Pacific region witnessing a significant rise in aerospace and defense spending, carbon nanotubes are expected to find increasing adoption in these sectors.
Furthermore, the Asia Pacific region is also witnessing a growing focus on research and development in nanotechnology and materials science. Leading academic institutions and research organizations in countries such as China, Japan, and South Korea are actively engaged in research and innovation in carbon nanotubes. This research focus, coupled with government initiatives and funding support, is expected to further drive the demand for carbon nanotubes in Asia.
Competitive Insight
Some of the major players operating in the global market include Carbon Nanotubes (CNT) are Cabot Corporation (US), Showa Denko K.K. (Japan), LG Chemical Limited (South Korea), Chengdu Organic Chemicals Co. Ltd. (China), and Jiangsu Cnano Technology Co., Ltd. (China).
Recent Developments
In March 2021, Cabot Corporation, a specialty chemicals and performance materials company, has launched a new ENERMAX 6 Carbon nanotube (CNT) series, which effectively enhances the battery performance at lower loadings, enabling higher energy density of a battery.
Carbon Nanotubes Market Report Scope
| | |
| --- | --- |
| Report Attributes | Details |
| Market size value in 2023 | USD 1,114.19 Million |
| Revenue forecast in 2032 | USD 3,652.67 Million |
| CAGR | 14.1% from 2023 - 2032 |
| Base year | 2022 |
| Historical data | 2019 - 2021 |
| Forecast period | 2023 - 2032 |
| Quantitative units | Revenue in USD million/billion and CAGR from 2023 to 2032 |
| Segments covered | By Type, By Method, By End-Use, By Region |
| Regional scope | North America, Europe, Asia Pacific, Latin America; Middle East & Africa |
| Key companies | Carbon Nanotubes (CNT) are Cabot Corporation (US), Showa Denko K.K. (Japan), LG Chemical Limited (South Korea), Chengdu Organic Chemicals Co. Ltd. (China), and Jiangsu Cnano Technology Co., Ltd. (China). |