The global 4D printing market was valued at USD 43.4 million in 2018 and is expected to exhibit a CAGR of 31.9% over the forecast period. The technology is on the verge of marketing and will replace 3D printing during the forecast period. Innovative demand for several 3D printers and significant R&D investments is expected to drive the 4D press market between 2019 and 2026. 4D printing technology is an extension of 3D printing and offers better quality, effectiveness and performance compared to the conventional manufacturing techniques. The technology develops materials that can change their behavior and properties on the basis of external stimuli, for example temperature changes, pressure changes and so on. 4D printing is still in its infancy, and it can be hard to say how it can be used. But it can develop with great potential, "said Amar Hansal, AutoDesk's senior vice president.
Innovations in various 3D applications and considerable research and development investments from the US military are the main driving forces for the market of 4D printing technology. Although there are several market driving factors, the researchers remain faced with complicated coding techniques and exorbitant expenditures involved in smart materials. Due to fierce competition, for Materialion and processing costs needs to be reduced and is also expected to be a major factor in speeding up the 4D global printing market growth for the years to come. 4D technology, based on 3D printer technology, proposes a new business model that meets current business needs by providing less capital, inventories, time-to-market needs.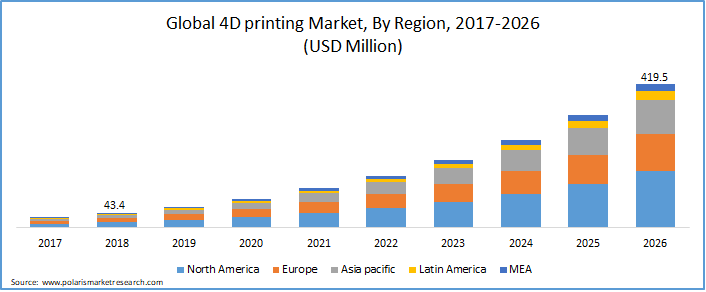 Know more about this report: Request for Sample Pages
4D printed objects ' capacity for self-transformation enables them to utilize limited resources because they respond to external stimuli, which allows the object to be easily placed after use, thus helping to maintain a sustainable environment. In the near future, the increasing focus on ensuring a sustainable environment will likely drive market growth. Companies have begun to develop Materials for the long term by implementing these strategies. The cost of manufacturing, transportation and manipulation of a 4D printed material would be lower, which would in turn save resources and energy in order to maintain our environment.
The market is primarily segmented on the basis of materials, end uses and geographic region.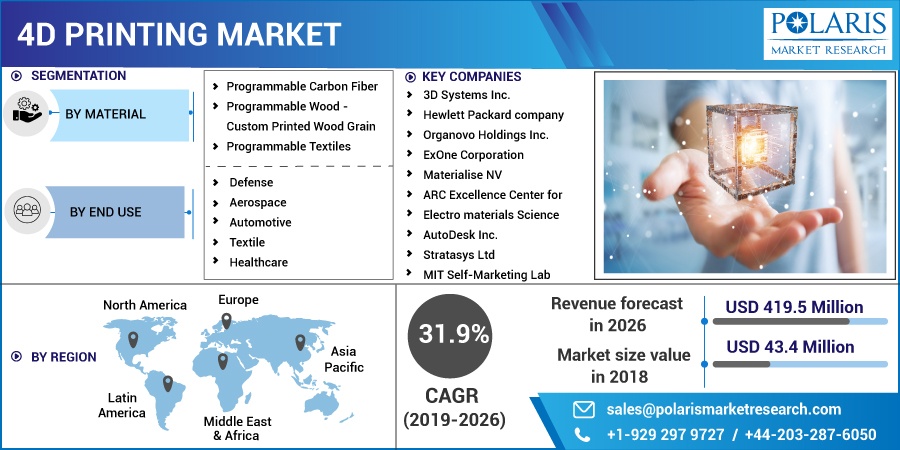 Know more about this report: Request for Sample Pages
4D printing Market Report Scope
By Material

By End use

By Region Type

· Programmable Carbon Fiber

· Programmable Wood - Custom Printed Wood Grain

· Programmable Textiles

· Defense

· Aerospace

· Automotive

· Textile

· Healthcare

· Others (Clothing, Construction, Utility)

· North America (U.S., Canada)

· Europe (UK, Germany, France, Italy, Russia)

· Asia Pacific (India, Japan, China, South Korea)

· Latin America (Brazil, Mexico, Colombia)

· MEA (Saudi Arabia, South Africa, Israel, UAE)
Know more about this report: Request for Sample Pages
Material Outlook
Many technologies are now being combined in order to contribute to the breakthrough in 4D materials ' performance. The technology covers advances in materials science, 3D/4D multi-materials and new optimization / simulation software capabilities. These functions have enabled a range of materials to be programmed to change their appearance, form or other characteristics as required. These new materials include carbon fibre, customized textile composites and printed wood grain, which provide unprecedented capacity to process oneself, to program and sense a simple material.
Programmable carbon fiber is expected to have a healthy market growth by 2026 due to its low weight high stiffness, and tensile strength, making it useful for many industrial applications. By printing active material on flexible carbon fiber, the heat activator can be independently transformed. Furthermore, no complex electronics, actuators or sensors are required. It also reduces mechanisms that are liable to failure and reduces the weight as their husbands will increase in the next few years.
Programmable textiles and programmable wood should both raise at a CAGR of more than 20%. Applications for furniture design, product production, and shipping were found by programmable textiles. It has also developed new self-assembling and user interaction methods; for example, methods that reduce the necessity for additional materials. Printing material in various waters on stretched textiles enables self-transforming structures to be developed that can be reconfigured in pre-programmed forms.
End-use Outlook
It is estimated that the self-transforming capacity of 4D printers is increasingly being adopted by various end-use industries including the military and defense industries, aerospace, automobiles and so forth. Major market players in several industries have begun to develop 4D printing technologies to meet their needs. Military & defense is expected to be the largest growing sector by 2026, due to several technology benefits, such as the ability to be repaired and replicated to the environment. In addition, new techniques like a soldier uniform are being introduced in the US Army Research Center that can effectively offer protection against toxic gas or alter one's own camouflage while traveling in various climatic areas.
Aerospace, which holds a market share of over 25 percent by 2026, is anticipated to follow the military-defense sector. The 4D printing spatial storage technique would help to build a self-sustaining structure that applies within the aerospace market segment; for example, to create ventilation of air. In addition, Airbus S.A.S. is evolving a technology to calm its engines with intelligent, temperature-reacting material.
Regional Outlook
The 4D printing market is divided into North America, Europe, Latin America, Asia Pacific and Middle East & Africa from a regional point of view. During the forecast period, the North American market is expected to enjoy strong growth, accounting for a significant share of the overall market. The initialization of the 4D technology concept, especially in the United States, and the increasing focus on the technological developments also attributed to the market growth. In the region, research and development is increasingly being invested and scientists are concentrating on developing 4D material that can be adapted to different environmental conditions. North America is scheduled to follow the Asia Pacific market by 2026. Technological developments and a growing focus on developing new products should fuel the growth of the 4D printing market in the Asia Pacific, creating profitable prospects for the industry's leading actors. The high initial costs are however forecast in the coming years to challenge market growth.
Competitive Landscape
3D Systems Inc., Hewlett Packard company, Organovo Holdings Inc., ExOne Corporation, Materialise NV, ARC Excellence Center for Electro materials Science, AutoDesk Inc., Stratasys Ltd, MIT Self-Marketing Lab are some of the market's leading players in 2017. In the coming years, these market players will be witnessing an intense competition. In addition, the growth of the overall market will likely increase significantly in the near future. Currently, the technology is in R&D process. However, 4D printing is already in use in some prototyping installations or labs.