The global 5G Testing Equipment Market was valued at USD 1,776.4 million in 2019 and is expected to grow at a CAGR of 8.85% during the forecast period. Innovation in segment of network connectivity starts from 2G, 3G, to 4G and now reached to 5G, which is a one of the recent introduced network connectivity technology. Rising smartphone penetration and many more connected equipment is surging the demand for such connecting technologies and these are operated by the use of 5G testing devices.
For building a safe and most trust worthy 5G network the tests are continuously performed so that network operation deficiency is reduced or completely eliminated and 5G testing device is used for testing of such network problems. The suppliers of 5G testing device aiming on new developments until the start of commercial deployment of 5G. Continuous research and development activities for producing 5G testing devices which are industry compliant and more application oriented is predicted to drive the market over prediction period.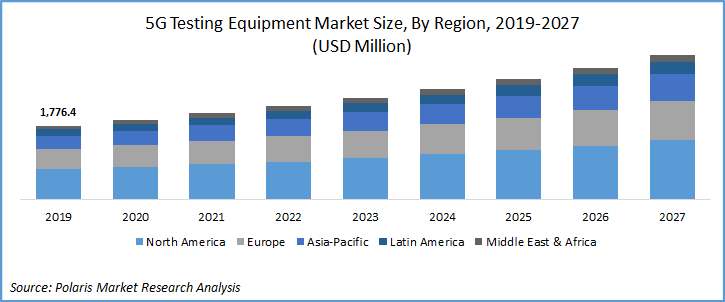 Know more about this report: request for sample pages
Industry Dynamics
Growth Drivers
The market is driven by rising telecom subscriber base, and surging research and development activities globally. Moreover, fueling deployment of 5G network coupling with rising popularity of software-defined testing are some more significant factors attributed to drive the 5G testing equipment market throughout the prediction period.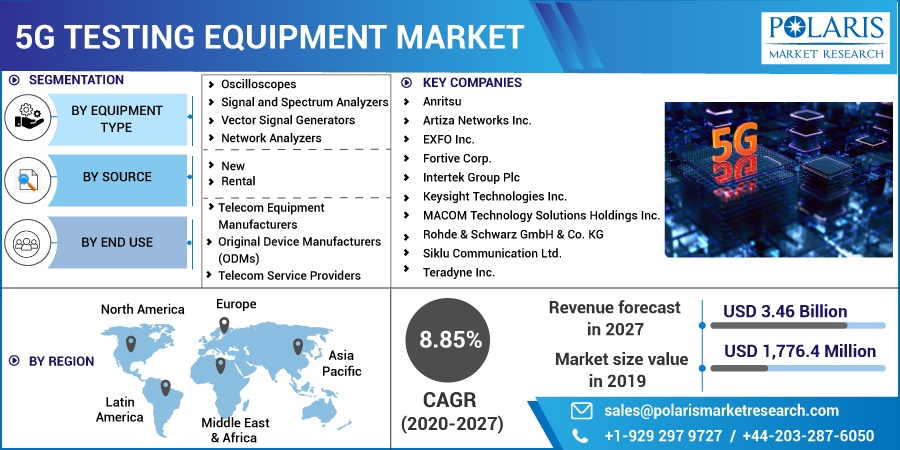 Know more about this report: request for sample pages
Additionally, the advent of hyper-connected globe is one of the significant factors which is predicted to inflate the demand for 5G testing instruments. Rising use of connected equipment in developing nations such as India, China, and others is generating a data traffic in the network which is generating a requirement for building a safe, reliable and effective network. For instance, in February 2020, Cavli, as an IoT hardware solutions provider platform, released its primary 5G test network in India. The release of 5G technologies is predicted to have a transformative effect, mainly in smart cities and industries globally.
5G Testing Equipment Market Report Scope
The market is primarily segmented on the basis of Equipment type, By source, By End-Use, and by geographic region.
By Equipment Type

By Source

By End-Use

By Region

· Oscilloscopes

· Signal and Spectrum Analyzers

· Vector Signal Generators

· Network Analyzers

· Others

· New

· Rental

· Telecom Equipment Manufacturers

· Original Device Manufacturers (ODMs)

· Telecom Service Providers

· Others

· North America (U.S., Canada)

· Europe (France, Germany, UK, Italy, Spain, Netherlands, Austria)

· Asia Pacific (Japan, China, India, Malaysia, Indonesia. South Korea)

· Latin America (Brazil, Mexico, Argentina)

· MEA (Saudi Arabia, UAE, Israel, South Africa)
Know more about this report: request for sample pages
Insight by Equipment Type
Based on equipment type, the market is bifurcated into oscilloscopes, signal and spectrum analyzers, vector signal generators, network analyzers, and others. On focusing on revenue, signal and spectrum analyzers holds supreme position in the market in the forecast period. This is due to its speedy and easy signal analysis, along with its capability to capture and analyze phase-associated details of the signal. The oscilloscopes segment held a remarkable market share in 2019 owing to rising intelligence of electronic equipment, a surging demand for signal storage and self-evaluated facilities, user interface enhancements, inflating bandwidth, and modular instrumentation.
Insight by Source
Focusing on source the market is segmented into new and rental. In terms of revenue, rental holds dominating position in the market with a highest share. Forth mentioning the fact that the 5G market came into top position only after 2019 as is hold largest share in 2019, most end users have moved towards rental sources. It has been noted that renting out of 5G test equipment is one of the vital key approach acquired by major vendors in the communication testing market.
However, most end users intend to develop their equipment portfolios, thus creating new revenue sources. Diverse factors like structure, power needs, and cost requirement to be keep in mind before the overall deployment of 5G testing devices. Though this is a time-consuming procedure, new revenue sources are predicted to show a speedy growth momentum through the foreseen future.
Insight by End User
On putting light on end users, the market is divided in Telecom Equipment Manufacturers, Original Device Manufacturers (ODMs), Telecom Service Providers, Others. On focusing on revenue, telecom equipment manufacturers show significant growth in the market. This growth is attributed to surge in the deployment of 5G network and long-term research, i.e. LTE network, globally. Telecommunications devices producers use test equipment access multiplexers, transmission lines, base transceiver stations, and among others.
Test devices offers instrument management, repair technology, maintenance, calibration, and deployment of telecom networks. It also allows that the products are specific to the international standards. Producers make sure that broadband service suppliers deliver a high-quality experience to their customers, along with productive and reliable service management via technologies, Like Voice over Internet Protocol (VoIP) and Internet Protocol TV (IPTV).
Geographic Overview
North America holds commanding position in the 5G testing equipment market. This growth is owing to rising deployment of 5G network infrastructure and existence of remarkable network service supplier organizations, such as AT&T, who have acquired 5G testing devices at an incubation stage. The firms in the US region are focusing more on R&D investments to apply 5G technology in smartphones and healthcare applications aiming to improve network performance.
European regions is also attributed to evidence lucrative demand for 5G services due to increasing demand for high data speeds for commercial and residential applications, and thus high demand for 5G testing equipment works well. For instance, in September 2018, Vodafone declared its plan to start up 1,000 5G testing sites in Europe in 2019.
Asia Pacific is predicted to evidence notable growth over the predicted period owing to presence of Major market players in China, Japan, and South Korea who are focusing on deploying 5G network infrastructure for the media and entertainment, transportation and logistics, healthcare, manufacturing, among other industry verticals. Moreover, because of speedy penetration of IoT and connected tools the market of 5G testing equipment surges in the near future in this region and this reason is generating a requirement for using 5G testing devices for building a 5G network. Japan is one of the primary and prompt adopters of 5G testing equipment as the automotive producers of the region are emphasizing on connected cars. For instance, in November 2018, NTT DOCOMO and Mitsubishi Electric Corporation collaborated and acquired 25 to 27 Gbps download speed in the vehicles using 5G network.
Competitive Insight
The key market players focused to increase their market share and product portfolio by adopting strategies such as new product releases, expansions, agreements, joint ventures, partnerships, collaboration, and merges and acquisitions (M&A) to enhance their footprints in the market for long term.
Some of the major players operating the market include Anritsu, Artiza Networks Inc., EXFO Inc., Fortive Corp., Intertek Group Plc, Keysight Technologies Inc., MACOM Technology Solutions Holdings Inc., Rohde & Schwarz GmbH & Co. KG, Siklu Communication Ltd., Teradyne Inc., Trex Enterprises Corporation, and VIAVI Solutions Inc.