The global A2P messaging market was valued at USD 66.36 billion in 2022 and is expected to grow at a CAGR of 4.7% during the forecast period. The growing number of mobile users is a significant driver for the growth of the A2P (Application-to-Person) messaging market. As the mobile user base expands, so does the potential audience for A2P messaging services.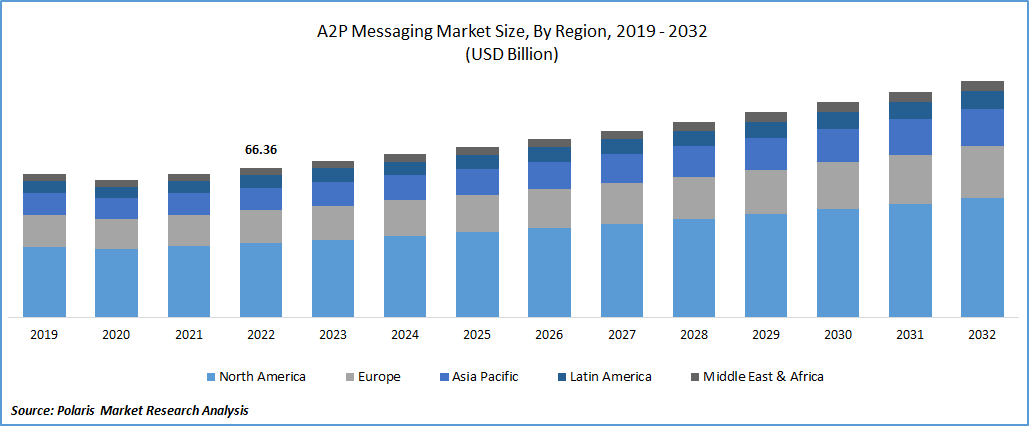 To Understand More About this Research: Request a Free Sample Report
The Telecom Regulatory Authority of India estimates that 1.14 billion people worldwide use mobile phones. Due to the exponential rise in smartphone users in India, smartphones have emerged as a favored target for SMS fraud and smishing (SMS phishing) activities. These findings highlight the critical need for robust security measures within the A2P messaging market. As more individuals in India rely on smartphones and engage in mobile messaging, developing effective solutions that can combat fraud, protect user privacy, and maintain the integrity of A2P messaging channels becomes essential. This will create growth opportunities for the market in the coming years.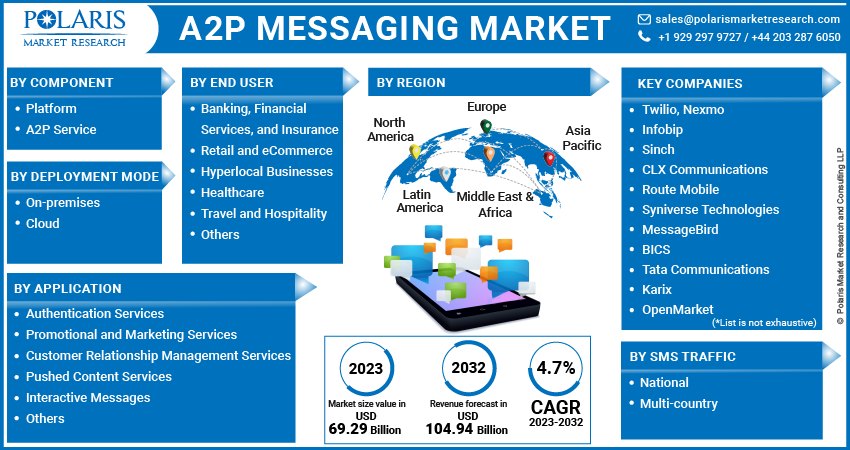 For Specific Research Requirements, Request for a customized Report
Industry Dynamics
Growth Drivers
As the number of online shoppers continues to grow, businesses increasingly use A2P messaging services to send their customers notifications, alerts, promotions, and other relevant information. According to a cursory search online, there are currently more than 200 million active online consumers, and by the year 2030, that number will rise to 500 million, much to their convenience, satisfaction, and habit. The projected increase in online shoppers reinforces the significance of A2P messaging in enabling businesses to connect efficiently with their expanding customer base. This growing trend drives the demand for reliable and scalable messaging solutions within the A2P messaging market. Service providers and technology companies in this sector have opportunities to meet the rising demand and capitalize on the thriving online shopping industry.
Report Segmentation
The market is primarily segmented based on component, application, deployment mode, SMS traffic, end user and region.
By Component

By Application

By Deployment Mode

By SMS Traffic

By End User

By Region

Authentication Services

Promotional and Marketing Services

Customer Relationship Management Services

Pushed Content Services

Interactive Messages

Others

Banking, Financial Services, and Insurance

Retail and eCommerce

Hyperlocal Businesses

Healthcare

Travel and Hospitality

Others

North America (U.S., Canada)

Europe (France, Germany, UK, Italy, Netherlands, Spain, Russia)

Asia Pacific (Japan, China, India, Malaysia, Indonesia. South Korea)

Latin America (Brazil, Mexico, Argentina)

Middle East & Africa (Saudi Arabia, UAE, Israel, South Africa)
To Understand the Scope of this Report: Speak to Analyst
Platform segment is projected to experience faster growth during the forecast period
The platform segment is expected to have faster growth in the market. This provides the technological infrastructure necessary for businesses to send A2P messages. This includes cloud communication platforms, messaging gateways, and other software solutions. These platforms enable companies to connect with telecom operators and aggregators, ensuring the smooth delivery of messages to end-users. The robustness and scalability of the media are essential for handling large volumes of messages and supporting the growing demand for A2P messaging services.
Promotional and Marketing Services segment accounted for the largest market share in 2022
The promotional and marketing services segment holds the largest market share for the market in the study period, as this allows businesses to reach many customers quickly and effectively. Promotional and marketing services leverage A2P messaging to send targeted messages, discounts, offers, and promotional campaigns to a broad customer base. This wide reach enables businesses to engage with their customers directly, fostering customer engagement and driving brand awareness. A2P messaging offers a cost-effective marketing channel compared to traditional direct mail or telemarketing methods. With A2P messaging, businesses can send mass messages at a fraction of the cost, making it an attractive option for promotional activities. The affordability and efficiency of A2P messaging contribute to its popularity among businesses, driving the market's growth.
Cloud-based segment is expected to hold the larger revenue share during projected years
The cloud-based segment will witness a larger revenue share in the coming years. These solutions can be quickly provisioned and deployed compared to on-premises implementations. Businesses can leverage pre-built cloud platforms and services, reducing the time required for infrastructure setup and configuration. This rapid deployment capability enables enterprises to launch their A2P messaging services faster, reducing time-to-market and driving market growth. Cloud deployment typically eliminates the upfront hardware and infrastructure investments required for on-premises solutions. With cloud-based A2P messaging, businesses can avoid capital expenditure and instead opt for a pay-as-you-go model, where they pay only for the resources and services they use. This cost-effectiveness makes cloud deployment an attractive option for businesses of all sizes, including small and medium-sized enterprises (SMEs), contributing to the market's growth.
Multi-country segment is expected to witness higher growth during upcoming years
The multi-country segment is projected to witness higher growth for the market in the coming years. Businesses operating globally require A2P messaging solutions that can reach customers across multiple countries. The multi-country segment caters to the needs of these businesses by providing A2P messaging services that enable communication with customers in different countries. As globalization continues to drive business expansion and cross-border operations, the demand for A2P messaging solutions that support multi-country messaging increases, driving the market's growth.
APAC registered with the highest growth rate in the study period
APAC is projected to witness a higher growth rate for the market. The booming e-commerce industry in the Asia Pacific and the rise of digital payments are driving the demand for A2P messaging services. A2P messaging is crucial for order confirmations, delivery updates, payment notifications, and customer support in the e-commerce ecosystem. As more consumers in the region engage in online shopping and digital transactions, the need for A2P messaging solutions grows. According to the RBI's Digital Payments Index, digital payments in India experienced a substantial growth rate of 24.13% within a year until September 2022. The significant growth in digital revenues in India has profound implications for the A2P messaging market within India and across the wider Asia Pacific.
North America is expected to witness a larger revenue share in the market. The growth of MMS (Multimedia Messaging Service) in the United States is a driving factor for the expansion of the A2P messaging market, not only in the United States but also in the broader North America. MMS enables the exchange of multimedia content such as images, videos, and audio, enhancing the communication experience for both businesses and consumers. MMS is gaining popularity in the United States, and companies recognize the value of utilizing multimedia-rich messages to engage with customers, deliver visual content, and convey information more effectively. This drives the demand for A2P messaging services that support MMS capabilities.
Competitive Insight
Some of the major players operating in the global market include Twilio, Nexmo, Infobip, Sinch, CLX Communications, Route Mobile, Syniverse Technologies, MessageBird, BICS, Tata Communications, Karix, tyntec, OpenMarket, Clickatell, Plivo, Mitto, 8x8, MessageMedia, IQSMS, Comverse, HORISEN, SMSGlobal, FortyTwo Telecom, Routee, Voxox, Onehop, Beepsend, Global Messaging Solutions, Anam Technologies, Global Message Services, MobiWeb, Telnyx, TextMagic, CellTrust, AQL, Gupshup Technology India, Link Mobility, EngageSpark & TeleSign.
Recent Developments
In May 2023, Twilio and Camping World Holdings established a partnership in which Camping World utilizes Twilio's Customer Engagement Platform to enhance its customer outreach efforts.

In May 2023, Route Mobile, a prominent CPaaS provider catering to enterprises, introduced Route Guard. This cutting-edge solution utilizes blockchain, artificial intelligence (AI), and machine learning (ML) to enhance security and combat spamming and phishing attacks.
A2P Messaging Market Report Scope
| | |
| --- | --- |
| Report Attributes | Details |
| Market size value in 2023 | USD 69.29 billion |
| Revenue forecast in 2032 | USD 104.94 billion |
| CAGR | 4.7% from 2023 - 2032 |
| Base year | 2022 |
| Historical data | 2019 - 2021 |
| Forecast period | 2023 - 2032 |
| Quantitative units | Revenue in USD billion and CAGR from 2023 to 2032 |
| Segments covered | By Category, By Application, By Deployment Mode, By SMS Traffic, By End User, By Region |
| Regional scope | North America, Europe, Asia Pacific, Latin America; Middle East & Africa |
| Key companies | Twilio, Nexmo, Infobip, Sinch, CLX Communications, Route Mobile, Syniverse Technologies, MessageBird, BICS, Tata Communications, Karix, tyntec, OpenMarket, Clickatell, Plivo, Mitto, 8x8, MessageMedia, IQSMS, Comverse, HORISEN, SMSGlobal, FortyTwo Telecom, Routee, Voxox, Onehop, Beepsend, Global Messaging Solutions, Anam Technologies, Global Message Services, MobiWeb, Telnyx, TextMagic, CellTrust, AQL, Gupshup Technology India, Link Mobility, EngageSpark & TeleSign. |