The global advanced ceramics market was valued at USD 103.44 billion in 2021 and is expected to grow at a CAGR of 4.1% during the forecast period. Advanced ceramics outperform traditional ones in terms of corrosion resistance, vehicle maintenance, and armor. As a result, these advanced ceramics are used in a variety of industries, including aerospace, electric energy, automotive, electronics, and army and defense.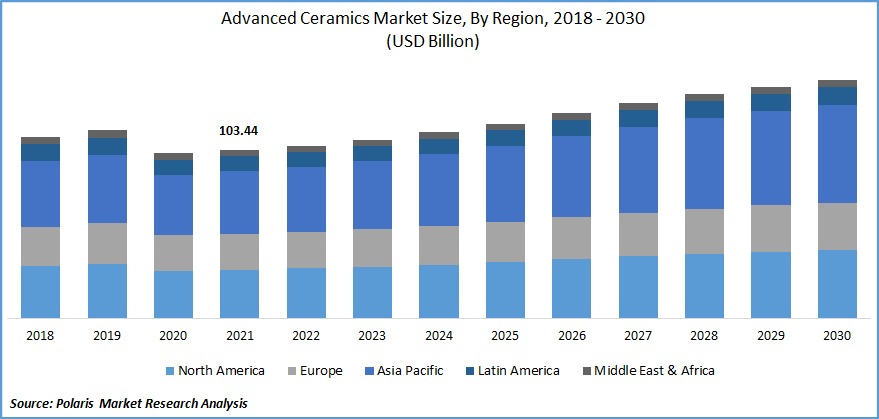 Know more about this report: Request for sample pages
High-performance advanced ceramics, technological, and engineering ceramics are all terms used to describe the advanced ceramics market. Hydraulic pressing, isostatic pressing, tape, and compression casting are some of the technologies used to improve the quality of advanced ceramics. They possess a comprehensive range of properties, including heat, wear, temperature, and chemical resistance, as well as food compatibility and biocompatibility.
The current COVID-19 epidemic has influenced worldwide healthcare, the electrical and electronics industries, and the economics of numerous countries. COVID-19 has heightened worries about hygiene, resulting in increased demand for personal protective equipment (PPE), gloves, masks, and drapes.
To fulfill the demands of an expanding patient influx, healthcare facilities have had to boost and expand their infrastructure due to capacity shortages. The production and fabrication of electronic products and materials had been halted due to a lack of raw materials, a delay in logistics, and a reduction in manpower. Consumer traffic in retailers has decreased dramatically, as have sales of electronics equipment due to a labor shortage.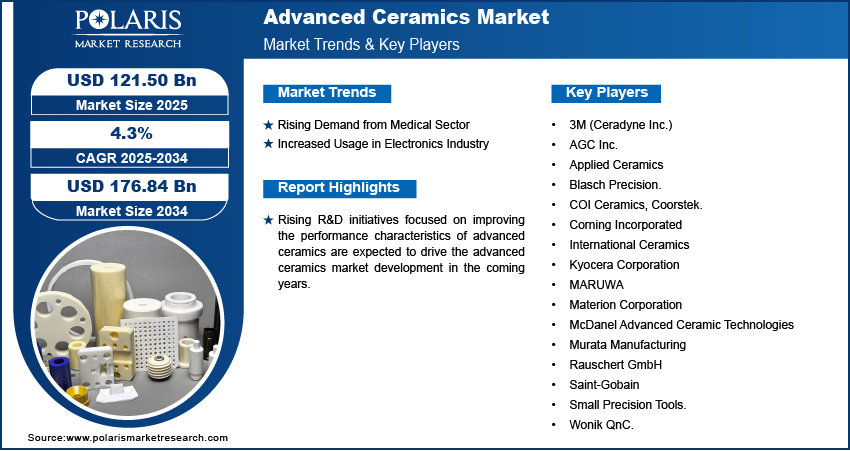 Know more about this report: Request for sample pages
Industry Dynamics
Growth Drivers
The growing quantity demanded in the automotive and medical industries will help to propel the major market forward. Because of their thermal and electrical qualities, battery elements in the automotive industry have a high consumption rate. Its beneficial biological, physical, and aesthetic features are driving its rise.
As a result, the demand for implant abutment teeth, artificial bones, and endosseous implants will be on the rise. As a result, rising product demand in these industries will drive market expansion throughout the forecast period.
Report Segmentation
The market is primarily segmented based on material, application, end-use, and region.
By Material

By Application

By End-Use

By Region

Alumina
Titanate
Zirconia
Silicon Carbide
Others

Monolithic Ceramic
Ceramic Coatings
Ceramic Matrix Composites
Ceramic Filters
Others

Electrical & Electronics
Transportation
Medical
Defense & Security
Environmental
Chemical
Others

North America (U.S., Canada)
Europe (France, Germany, UK, Italy, Netherlands, Spain, Russia)
Asia Pacific (Japan, China, India, Malaysia, Indonesia, South Korea)
Latin America (Brazil, Mexico, Argentina)
Middle East & Africa (Saudi Arabia, UAE, Israel, South Africa)
Know more about this report: Request for sample pages
Ceramic Matrix Composites (CMCs) are expected to witness the fastest growth
Ceramic matrix and reinforcing materials are used in these composites. Because of the combination of diverse materials, they have improved properties. As a result, CMCs are light, strong, and have good thermal shock qualities. Also, the major players' focus on the launches of CMC materials with various benefits provided for many industries is driving the segmental growth.
In July 2021, Mitsubishi Chemical announced the launch of a CMC material, which combines metal and carbon fiber. The product has high molding workability and is inexpensive without sacrificing attributes like wear resistance, lightweight, heat resistive, and stiffness. It is utilized in industrial machine parts and as a brake component.
Alumina ceramics segment accounted for the highest market share in 2021
Alumina advanced ceramic is the cheapest material in the advanced ceramics market and has excellent performance. They based on aluminum are utilized in severe applications that require thermostability and wear resistance. High-voltage separators, mechanical seals, semiconductors parts, and ballistic armor are just a few of the uses. As a result, it is manufactured in enormous quantities.
Alumina advanced ceramic is widely used in cast and grey iron finishing and roughing applications. Zirconia, on the other hand, is the global industry's second-largest segment. Because of its dielectric and ferroelectric qualities, the substance is widely used in the electrical and electronics industries.
Titanate based advanced ceramic has gained popularity as a separator segment among catalyst substrates and the external cladding of ports liners in the automotive industry. Silicon carbide ceramic is used in automotive clutches and brakes, as well as in protective vest ceramic plates. Because of its superior mechanical qualities, silicon nitride ceramic is in high demand.
Electrical & Electronics is expected to hold the significant revenue share
The electrical and electronics category dominates the advanced ceramic market. The segment's expansion will be fueled by increased technical advancements and high demand for power electronics and electronic sensors. Aerospace & defense security, as well as the automotive sectors, make up the transportation category. Electric water pumps and aeronautical engines are examples of substantial product adoption in these industries.
Advanced ceramic is in high demand in the medical business due to their biocompatibility and wear resistance features, which make them an ideal material for implant materials, biodegradable splints, and artificial bones. Ceramic materials such as silicon nitride and silicon carbide ceramic are commonly utilized in input liners in commercial chlorinators in the chemical sector. Because of their superior corrosion and temperature resistance qualities, they are in high demand.
The environmental segment is expected to grow the fastest in the global advanced ceramic market. They are eco-friendly materials that can aid in the restoration of ecosystems that have been destroyed. The necessity for energy-efficient and cost-effective production processes with reduced material waste has increased as a result of the strict execution of various environmental rules around the world and the rising competitiveness among diverse businesses.
The demand in Asia-Pacific is expected to witness significant growth
The Asia-Pacific advanced ceramics market is being driven by expanding population, increased need for improved electronics products, and changing lifestyles. China is the region's main market for advanced ceramics. The increase can be ascribed to rising product demand in the medical business. Furthermore, the market will be propelled forward by rapid technological advancement and increased research and development efforts. China has the greatest share in the market in this area due to the growing use of titanium oxide in the automotive sector.
The introduction of 5G technology and advancements in medical electronics are projected to boost demand for advanced ceramics in the region. India and China are predicted to be the country's fastest-growing markets owing to increased population, urbanization, technological developments such as 5G and IoT, and supportive government policies.
North America is the global market's second-largest region. The increase is attributable to increased demand for the product in the production of electrical and electronic gadgets. The strong demand for advanced ceramics over metals and other plastic items in this region will drive market expansion.
The Middle East and Africa's market will develop owing to the rise in the use of alumina and zirconium in the aerospace and defense industries. The increased use of silicon dioxide and silicon nitride in industries such as chemical and electronics is credited with the expansion of South America.
Competitive Insight
Some of the major players operating in the global market include 3M (Ceradyne Inc.), AGC Inc., Applied Ceramics, Blasch Precision., COI Ceramics, Coorstek., Corning Incorporated, International Ceramics, Kyocera Corporation, MARUWA, Materion Corporation, McDanel Advanced Ceramic Technologies, Murata Manufacturing, Rauschert GmbH, Saint-Gobain, Small Precision Tools., and Wonik QnC.
Recent Developments
In July 2021, Morgan Advanced Materials joined The Midlands Industrial, which was awarded USD 18.27 Mn in funding support through the UK Research and Innovation's signature Strength in Places Fund (SIPF) to establish Midlands, England as a global center for the industry.
The investments will be used to establish a world-class industrial and academic research and development program, resulting in the creation of a concentration of new enterprises in the Midland and the enhancement of the region's distribution chain.
Further, in August 2021, the commercialization availability of the alumina ceramic has been announced by XJet Ltd, expanding offerings in the additive manufacturing material capabilities. Because of its widespread use as a technical ceramic and the clear market need for parts made with the advantages of XJet NanoParticle Jetting (NPJ) manufacturing, alumina (aluminum oxide) was chosen for advancement.
Advanced Ceramics Market Report Scope
| | |
| --- | --- |
| Report Attributes | Details |
| Market size value in 2021 | USD 103.44 billion |
| Revenue forecast in 2030 | USD 146.46 billion |
| CAGR | 4.1% from 2022 - 2030 |
| Base year | 2021 |
| Historical data | 2018 - 2020 |
| Forecast period | 2022 - 2030 |
| Quantitative units | Revenue in USD million/billion and CAGR from 2022 to 2030 |
| Segments covered | By Material, By Application, By End-Use, By Region |
| Regional scope | North America, Europe, Asia Pacific, Latin America; Middle East & Africa |
| Key companies | 3M (Ceradyne Inc.), AGC Inc., Applied Ceramics Inc., Blasch Precision Ceramics Inc., COI Ceramics Inc., Coorstek Inc., Corning Incorporated, International Ceramics Inc., Kyocera Corporation, MARUWA Co. Ltd, Materion Corporation, McDanel Advanced Ceramic Technologies, Murata Manufacturing Co. Ltd, Rauschert GmbH, Saint-Gobain Inc., Small Precision Tools Inc., and Wonik QnC Corporation |