The global orthopedic implants market was valued at USD 49.02 billion in 2020 and is expected to grow at a CAGR of 5.1% during the forecast period. Orthopedic implants are a medical device that is used to stand in for missing joints or bones. They sign up for the missing joints or bones by supplying medications, lend support to damaged bones or tissues and optimize body functioning. These are primarily used in minimally invasive surgeries that are used for treating spinal injuries and lumbar spinal stenosis.
This industry for orthopedic implants is anticipated to grow at a faster pace owing to the rising risk of osteoporosis and osteoarthritis among the geriatric population. These are the devices that replace or provide bone fixation or replace articulating surface joints. Such implants are made of iron, cobalt, chromium, titanium, and plastic-coated alloys that behave as cartilages.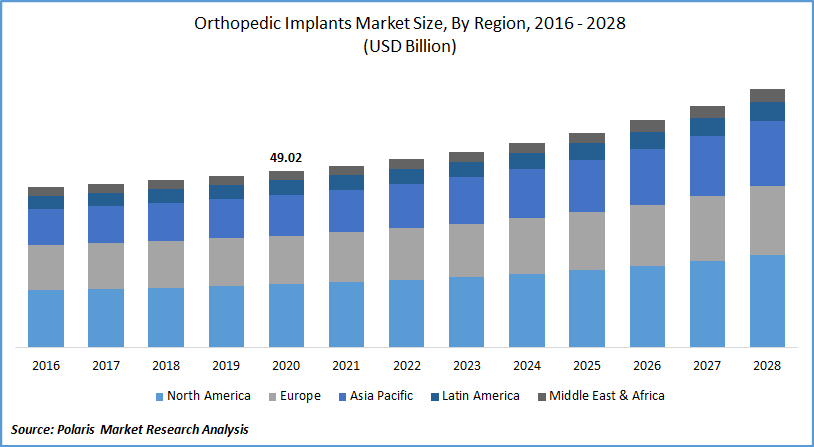 Know more about this report: request for sample pages
They can be used life-long or even replaced once they have fulfilled their purpose. Risks associated with the devices occur during the replacement or removal of orthopedic implants. The drivers to the growth of the orthopedic implants market are the increasing geriatric population present globally. The center for health designs states that the elderly population is going to double over the coming years.
Furthermore, the increasing number of joint replacements and sports accidents across the globe would also enjoy reassuring growth during the forecast period. Most importantly, trauma cases and fractures boost this industry infinitely during the forecast period. Accompanying trauma cases and fractures, hip implants also push demand growth higher during the forecast period.
Restraints to the industry growth include the exorbitant costs, negligent reimbursable policies, and strict confirmatory policies followed by Government in adopting orthopedic implants. Product recalls on several occasions have also hindered the demand for orthopedic implants during the forecast period.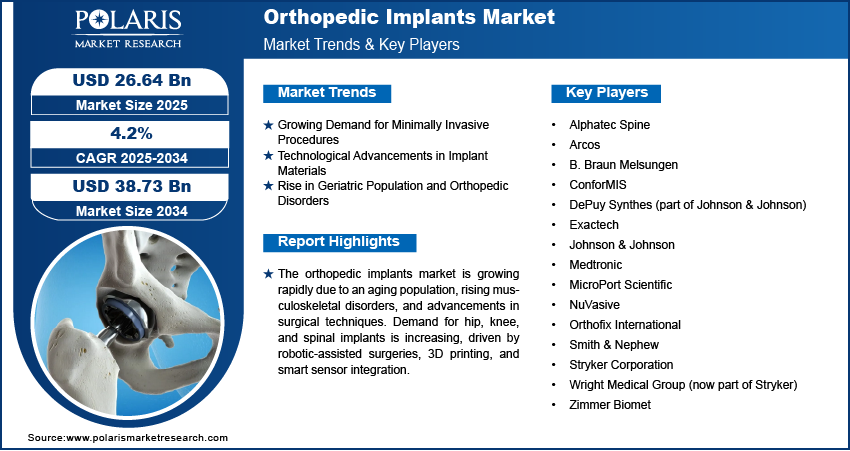 Know more about this report: request for sample pages
Industry Dynamics
Growth Drivers
The rise in demand for spinal surgery and the increase in the incidence of spinal fractures among the geriatric population are prime factors fueling the growth of the segment. Based on end-use, the hospital segment led the industry in terms of revenue growth in 2020.
Furthermore, favorable reimbursements for different musculoskeletal disorders under Medicare policy boost the market growth in the region. For instance, Medicare paid for more than 400,000 hip and knee replacements for USD 7 Billion to taxpayers for hospitalization alone. The focus of leading players will also pave the way for the growth of the industry.
In the U.S., over 1.35 million children suffered a sports-related injury which was complicated enough to send them to a hospital emergency. Such a volume of sport-related injuries will drive the industry's growth. It has come to notice that total joint arthroplasty has been grabbing a lot of eyeballs due to increasing demand and more so its cost.
In the U.S. cost of the product is grossly high and some health care providers have tried their best in reducing costs which certainly have showed positive signs in industry growth. Australians over 50 have osteoporosis or poor bone health with data showing that 1 in every 3.6 minutes is recorded and these patients who suffer from bone-related injuries will likely improve industry growth in the Asia Pacific market.
Orthopedic Implants Market Report Scope
Application Outlook

By Region

Spinal
Hip
Knee
Dental
Craniomaxillofacial
S.E.T (Sports Medicine, Extremities, Trauma)

North America (U.S., Canada)
Europe (Germany, UK, France, Italy, Spain, Netherlands, Austria)
Asia-Pacific (China, Japan, India, South Korea, Thailand, Malaysia)
Latin America (Argentina, Brazil, Mexico)
Middle East & Africa (Israel, Saudi Arabia, South Africa, UAE)
Know more about this report: request for sample pages
Insight by Application
Based on application type, the overall market is segmented as spinal, hip, knee, dental, craniomaxillofacial, and S.E.T (Sports Medicine, Extremities, Trauma) orthopedic implants. The knee segment beats market figures with joint replacement surgeries for the geriatric population increasing in physical numbers across the globe.
Furthermore, developing regions are getting more educated on joint replacement surgeries that will drive market extremities during the forecast period. In the same vein, the spinal segment will have a good run during the forecast period.
The spinal orthopedic implants segment is tipped to lead market growth in the forecast period. Key findings suggest that the orthobiologics segment is expected to tap profuse market growth with a concurrent rise in demand for advanced therapies, the requirement of minimally invasive procedures, and patient awareness towards orthobiologics.
Spinal orthopedic implants branch into spinal fusion devices, non-fusion devices/motion preservation devices, and invasive spinal bone stimulators. Dental orthopedic implants are classified into root form and plate form. Trauma is categorized into screws, plates, staples, and others. Based on type, the market is segmented into knee, hip, wrist and shoulder, spine, dental, ankle, and others.
Geographic Overview
Based on region, the orthopedic implant market is segmented into North America, Europe, Asia Pacific, Middle East & Africa, and Latin America. North America keeps a strong grip on the entire orthopedic implants market. The growth in the market is driven by the increasing healthcare spending by local government and well-established healthcare infrastructure in U.S. and Canada.
Increasing investments by Government in healthcare and doting companies with a well-developed healthcare infrastructure add momentum to the market in North America and Canada. The Asia Pacific offers key players operating in the market a thriving opportunity due to a high population base, high awareness regarding orthopedic implants, surge in healthcare infrastructure, and rise in the geriatric population.
The Asia Pacific also improves upon growth rankings in the foreseeable future owing to knowledge with the use of various orthopedic implants, nascent market needs, and developing healthcare infrastructure. Joint replacements and its increased knowledge with the accessible market for treatment in the Asia Pacific will boost the orthopedic transplant industry's future in the forecast period.
Competitive Landscape
Some of the major key players in the orthopedic implants industry include Medtronic, Zimmer Bionet Holdings, Inc., Aesculap Implants Systems, DePuy Synthes, Biotek Instruments, Inc., Conmed Corporation., The Orthopedic Implant Company, Smith and Nephew plc., Stryker Corporation, Wright Medical Group, N.V., Nuvasive Inc., and Arthrocare Corporation.