The global advanced energy storage systems market was valued at USD 141.67 billion in 2021 and is expected to grow at a CAGR of 4.9% during the forecast period. Key factors such as the rapid expansion of the grid and investment in modern infrastructure are driving the industry growth during the forecast period. Emerging economies, such as India and China, demand infrastructure modernization and grid expansion.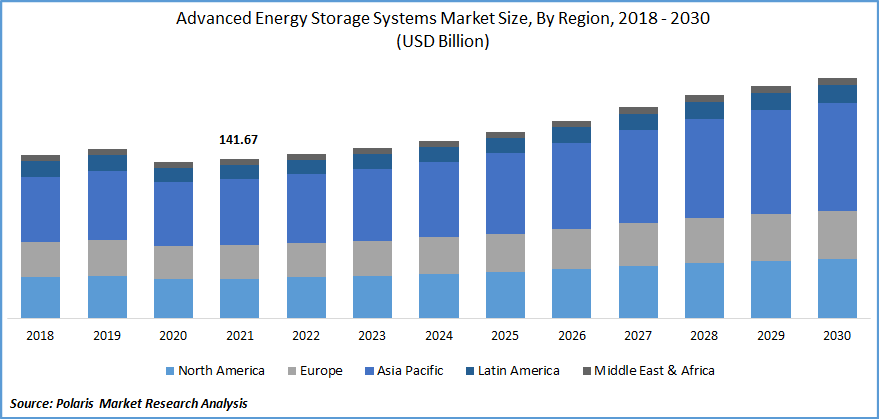 Know more about this report: Request for sample pages
For instance, in May 2022, Bipartisan Infrastructure Law created the USD 2.5 Bn Transmission Facilitation Program to focus on building out essential new transmission lines, across the nation and the US Department of Energy released a Request for Information going to seek public consultation on the structure of the program.
The start of this new initiative, which is the largest infrastructure legislative investment just in transmission, is one of the first steps in DOE's new Building a Better Grid Initiative, which will invest over USD 20 Bn. Thus, these are boosting segmental growth.
Furthermore, there is presently a need to provide power to an estimated 30% of the world's fast-rising population who do not have access to electricity. Furthermore, the UN Sustainable Energy for All initiative (SE4All) estimates that roughly USD 45 billion in investment will be required, by 2030, to enable universal access to electric power. Advanced power storage systems are projected to play a key role in such investments, protecting the grid from a variety of hazards such as natural disasters and allowing for more efficient deployment of both new and existing resources.
However, customers such as power generation customers and residential customers are hesitant to use advanced energy storage systems market due to the obvious high capital costs associated with the installation which is restraining the market growth during the forecast period.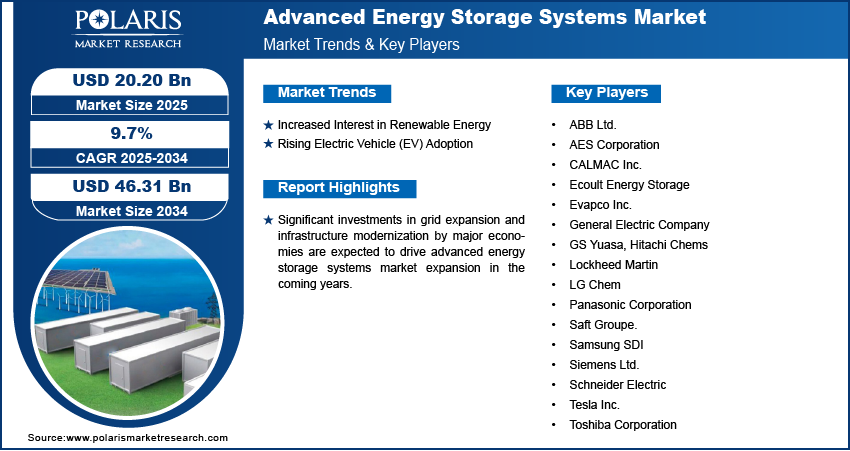 Know more about this report: Request for sample pages
Industry Dynamics
Growth Drivers
Rising investments in the renewable energy sector is the factor driving the demand for advanced energy storage systems market which is boosting the market growth during the forecast period. Around the world, people are becoming more conscious of the harmful effects of CO2 emissions and greenhouse gases on the environment. This has sparked interest in renewable power sources as an alternative to coal and fossil fuels.
Energy policies in both developed are revised to have a significant part produced from renewable sources. For an instance, the Japanese government declared, in December 2020, that as part of its net-zero emission goals, 2050, it plans to acquire a wind capacity of around 45,000 MW, by 2040. These goals may be codified in the 6th Strategic Energy Plan, which will be released soon.
Report Segmentation
The market is primarily segmented based on application, technology, end-use, and region.
By Application

By Technology

By End-Use

By Region

Transportation
Grid Storage

Electro-Chemical

Lithium-ion battery
Lead-Acid battery
Sodium Sulfur (NaS) battery
Flow battery
Nickel Metal Hydride (NiMH) & Nickel Metal Cadmium (NiCd)

Mechanical

Pumped Hydro
Flywheel
Compressed Air Energy Storage (CAES) & Liquid Air Energy Storage (LAES)

Thermal

Thermo Chemical
Sensible
Latent

Residential
Non-Residential

North America (U.S., Canada)
Europe (France, Germany, UK, Italy, Netherlands, Spain, Russia)
Asia Pacific (Japan, China, India, Malaysia, Indonesia. South Korea)
Latin America (Brazil, Mexico, Argentina)
Middle East & Africa (Saudi Arabia, UAE, Israel, South Africa)
Know more about this report: Request for sample pages
Utilities is expected to witness the fastest growth
Growing electrification needs, as well as an increase in transmission and distribution stations, are expected to have a significant impact on utility in the worldwide advanced energy storage systems market share. Increasing the deployment of various sources of renewable power to meet increased power demand will be critical.
Emerging economies such as China and India are putting more emphasis on safely integrating these green resources into the grid in order to sustain supply and demand and avoid power constraints, which is good news for the global market. Grid expansion and modernization, as well as the growing requirement for new infrastructure, are expected to bolster the segment's prospects.
Renewable power is estimated to account for 70% of all new generating capacity investments in 2021, totaling USD 530 billion. Renewables have now surpassed fossil fuels as the preferred power source for expanding, updating, and modernizing power networks all around the world. Thus, these are propelling the advanced power storing systems market growth during the forecast period.
Pumped Hydro Storage segment accounted for the highest market share in 2021
The pumped hydro advanced systems segment is mostly used to generate electricity at various elevations by moving water between two reservoirs at various elevations. PHS provides great stability, power balancing, and the capacity to quickly recover heavy electrical loads. In different places, these devices provide advanced storage power and transmission grid ancillary benefits. Pumped hydro advanced systems now account for more than 90% of total capacity, and further focus on the development of higher-potential facilities will have a substantial impact on the market.
Materials and technology advancements have significantly enhanced the output and reliability of current batteries while lowering associated prices, and expanding the global market. Solid-state batteries are made up of one or more electrochemical cells that transform energy from chemical into electrical.
Transportation is expected to hold the significant revenue share
The rising installation of lithium-ion batteries in the electric vehicle market is driving this segment's growth. For instance, in March 2022, the government of India's Road Transports and Highways Minister announced that India produces 81% of the lithium-ion batteries used in electric vehicles. Furthermore, grid development and new investments in infrastructure in developing countries present growth potential.
The demand in Asia-Pacific is expected to witness significant growth
In the Asia Pacific, there is a growing demand for improved advanced energy storage systems technologies. In comparison to industrialized regions such as Europe and North America, Asia Pacific saw a late start in the advanced power storing systems. However, it has experienced a tremendous expansion in recent years and is likely to continue to do so over the forecast period.
Due to enormous advances in power distribution infrastructure, particularly in thriving economies such as China, India, and South Korea, the Asia Pacific market is expected to grow rapidly throughout the forecast period. The need for advanced storing systems in this region is being driven by an increase in the usage of renewable power resources for power generation, particularly in China, South Korea, and India, as well as a growth in the number of electric vehicles.
The market is predicted to increase in response to the growing need for advanced power dependability and efficiency, and it represents a promising opportunity for large advanced energy storage systems providers.
Moreover, North America is expected to witness a high CAGR in the global market. The United States will be driven to advanced energy storage systems market infrastructure by retrofitting existing pumped hydro advanced storage systems and introducing new large-capacity projects. The fast shift in power sources from fossil fuels to renewables is expected to have a beneficial impact on Latin America's advanced power storing systems.
Large rural electrification needs, as well as cost-effective advanced storage systems solutions, are being seen in countries like Brazil, Mexico, and Chile, which supports worldwide market expansion. Different industries have invested in creating advanced storing systems in the region as a result of national ambitions to use reliable, safe, efficient, continuous, and sustainable electricity systems.
Competitive Insight
Major players operating in the global market include ABB Ltd., AES Corporation, CALMAC Inc., Ecoult Energy Storage, Evapco Inc., General Electric, GS Yuasa, Hitachi Chems, Lockheed Martin, LG Chem, Panasonic Corporation, Saft Groupe., Samsung SDI, Siemens Ltd., Tesla Inc., Toshiba Corporation.
Recent Developments
In June 2021, Pearl Homes, a community-focused house builder based in Florida, launched a set of luxury home complexes in Cortez. The project consists of 86 solar-powered family dwellings with Sonnen ecoLinx advanced energy storage devices. Homeowners may regulate their energy consumption and backup power using Sonnen ecoLinx.
In July 2021, Babcock and the "National Renewable Energy Laboratory" have agreed to sign an "Intellectual Property Option Agreement" giving B&W ground exclusive rights to start negotiations on a licensing agreement that will allow advertising of particle-based advanced thermal storage systems technologies.
Advanced Energy Storage Systems Market Report Scope
| | |
| --- | --- |
| Report Attributes | Details |
| Market size value in 2021 | USD 141.67 billion |
| Revenue forecast in 2030 | USD 213.43 billion |
| CAGR | 4.9% from 2022 - 2030 |
| Base year | 2021 |
| Historical data | 2018 - 2020 |
| Forecast period | 2022 - 2030 |
| Quantitative units | Revenue in USD billion and CAGR from 2022 to 2030 |
| Segments covered | By Application, By Technology, By End-Use, By Region |
| Regional scope | North America, Europe, Asia Pacific, Latin America; Middle East & Africa |
| Key companies | ABB Ltd., AES Corporation, CALMAC Inc., Ecoult Energy Storage Solutions, Evapco Inc., General Electric Company, GS Yuasa Corporation, Hitachi Chems, Lockheed Martin Corporation, LG Chem, Ltd., Panasonic Corporation, Saft Groupe S.A., Samsung SDI Co Ltd., Siemens Ltd., Tesla Inc., Toshiba Corporation |