The global animal feed additives market size was valued at USD 38.75 billion in 2020 and is expected to grow at a CAGR of 5.4% during the forecast period. Additives such as vitamins, amino acids, enzymes, and probiotics are added to enhance growth, feed efficiency, and metabolism. Additives are aimed at improving digestibility, gut health, and food product quality.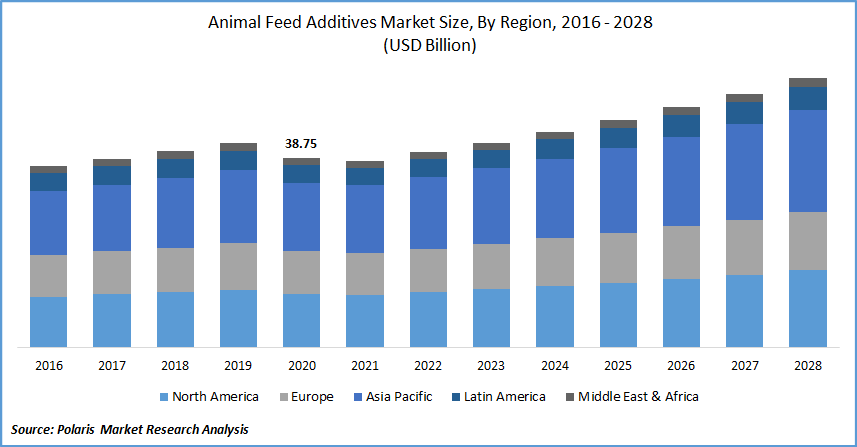 Know more about this report: request for sample pages
Additives containing antibiotics and other drugs reduce health risks such as diseases, weight loss, and infections. Minerals are added to the feed to enhance immune system response, weaning and conception rates, and the overall health of livestock. Increasing demand for meat products and quality and safety concerns associated with meat products have increased the market demand for the additives.
The initial phase of the lockdown experienced intensified purchases and panic buying behavior across the world. The demand for additives and related products has been relatively stable during the pandemic. However, the supply has been impacted by operational challenges, transportation delays, and travel restrictions.
The industry has been affected by supply chain disruption, port congestion, closure of restaurants, and workforce impairment. Manufacturing activities have also been halted due to various government regulations across the globe. Restrictions on imports of goods to curb the spread of the virus have further contributed to restricting the market growth. However, the economic growth, relaxation of restrictions, increased awareness, and reopening markets are expected to drive the market growth post the pandemic.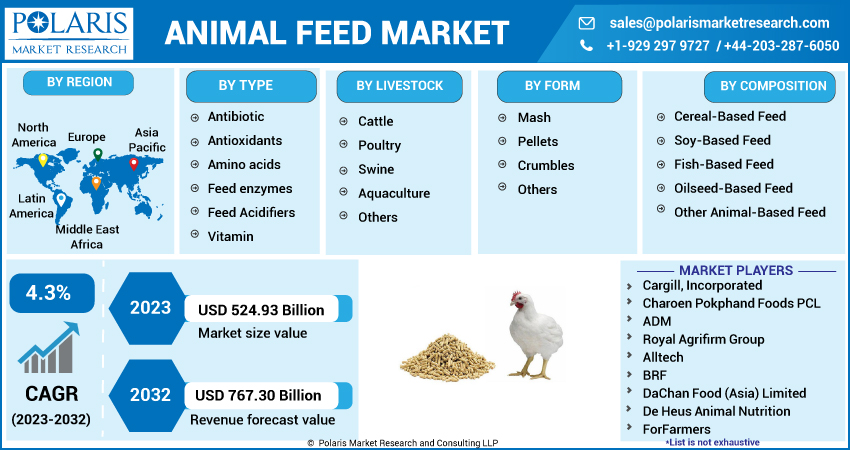 Know more about this report: request for sample pages
Market Dynamics
Growth Drivers
The global animal feed additives market is fueled by the economic growth in countries such as China, Japan, and India, rising production of fodder, and growing demand for animal-based products. There has been increasing market demand for eggs, dairy, and meat across the globe. Growing disposable income, changing lifestyles, and increasing awareness regarding health and nutrition have accelerated the market's growth.
Consumers are more aware of their nutritional intake and consumption of protein to meet the body's nutritional requirements, increasing the need for additives in fodder to offer proper nutritional content. Increasing inclination towards the use of feed and additives produced naturally and adopting effective animal husbandry further supports market growth. The outbreak of diseases also compels standardization of meat products, resulting in growth in demand for animal feed additives.
Probiotics are increasingly being used as animal feed additives to facilitate healthy intestinal microbial balance in livestock. They assist in preventing and controlling gastrointestinal pathogens, leading to enhanced animal performance, efficient digestion, and improved immunity. Some bacterial probiotics include Bacillus, Lactobacillus, and Bifidobacterium.
Probiotics lead to an increased population of beneficial microorganisms, thereby limiting the growth of harmful microorganisms. They are being used to replace antibiotic products to control pathogen load through decreased intestinal colonization and the spread of other enteric pathogens. There has been stable demand for animal feed additives during the pandemic owing to greater concerns regarding the health of livestock and several rumors regarding coronavirus in the market.
Report Segmentation
The market is primarily segmented on the basis of livestock, type, form, and region.
By Livestock

By Type

By Form

By Region

Cattle
Poultry
Swine
Aquaculture
Others

Vitamins
Minerals
Amino Acids
Antibiotics
Binders
Enzymes
Antioxidants
Acidifiers
Others

North America (U.S., Canada)
Europe (Germany, UK, France, Italy, Spain, Netherlands, Austria)
Asia-Pacific (China, India, Japan, South Korea, Indonesia, Malaysia)
Latin America (Brazil, Mexico, Argentina)
Middle East & Africa (Saudi Arabia, South Africa, Israel, UAE)
Know more about this report: request for sample pages
Livestock Outlook
The livestock market segment has been divided into cattle, poultry, swine, aquaculture, and others. The demand for poultry feed additives is expected to be high during the forecast period. The use of feed additives in poultry feed results in modified intestinal microflora enhanced performance & health status and improved digestibility of feed.
Greater concerns regarding animal health, increasing instances of bird flu, and growth in poultry meat consumption support the development of this segment. Easy availability and cost-effectiveness of poultry, coupled with growing demand for a protein-enriched diet, boost the need for animal feed additives from this market segment.
Type Outlook
On the basis of type, the market is segmented into vitamins, minerals, amino acids, antibiotics, binders, enzymes, antioxidants, acidifiers, and others. Acidifiers are used to reduce the pH of the feed. This, in turn, lowers the pH of the gut environment and restricts the growth of pathogenic intestinal microbes.
Organic acids such as fumaric acid, lactic acid, citric acid, and formic acid are used to improve health and performance. They also assist in improving the immune response by modifying the intestinal microbial population. They are responsible for enhanced digestibility of nutrients and absorption of minerals.
Form Outlook
The form segment has been divided into dry and liquid. The dry animal feed additives are used owing to easy availability and storage. The dry animal feed additives are mixed with feed for maintenance, growth, and enhanced livestock milk production. The addition of dry animal feed additives offers benefits such as nutrient digestibility and antimicrobial effects.
Regional Outlook
Asia-Pacific is expected to exhibit significant growth during the forecast period. Increasing urbanization, growing demand for animal-based products, expansion of international players in this region, and technological advancements are some factors attributed to the growth of this region. Greater demand for high-quality meat, food safety concerns, and the increasing trend towards a protein-rich diet has further increased the demand for animal feed additives in Asia-Pacific.
Competitive Landscape
The leading players in the animal feed additives market include Adisseo, ADM, Ajinomoto, Alltech, BASF, Bentoli, Cargill, Centafarm SRL, Chr. Hansen, DSM, DuPont, Evonik, Global Nutrition International, Kemin Industries Inc., Novozymes, Novus International, Inc., NUQO Feed Additives, Nutreco, Palital Feed Additives B.V, TEGASA.
These players are expanding their presence across various geographies and entering new markets in developing regions to expand their customer base and strengthen their presence in the market. The companies are also introducing new innovative products in the market to cater to the growing consumer demands.
Animal Feed Additives Market Report Scope
| | |
| --- | --- |
| Report Attributes | Details |
| Market size value in 2020 | USD 38.75 billion |
| Revenue forecast in 2028 | USD 55.09 billion |
| CAGR | 5.4% from 2021 - 2028 |
| Base year | 2020 |
| Historical data | 2016 - 2019 |
| Forecast period | 2021 - 2028 |
| Quantitative units | Revenue in USD million/billion and CAGR from 2021 to 2028 |
| Segments covered | By Livestock, By Type, By Form, By Region |
| Regional scope | North America Europe Asia Pacific Latin America; Middle East & Africa |
| Key companies | Adisseo, ADM, Ajinomoto, Alltech, BASF, Bentoli, Cargill, Centafarm SRL, Chr. Hansen, DSM, DuPont, Evonik, Global Nutrition International, Kemin Industries Inc., Novozymes, Novus International, Inc., NUQO Feed Additives, Nutreco, Palital Feed Additives B.V, TEGASA |