The global antimicrobial packaging market was valued at USD 9.45 billion in 2021 and is expected to grow at a CAGR of 5.5% during the forecast period. The increased market demand for packaged food is one of the primary drivers of the antimicrobial packaging market. Market demand for packaged food is propelled by the rise in the percentage of the working women population, increase in disposable income, and increasing migration rate towards cities.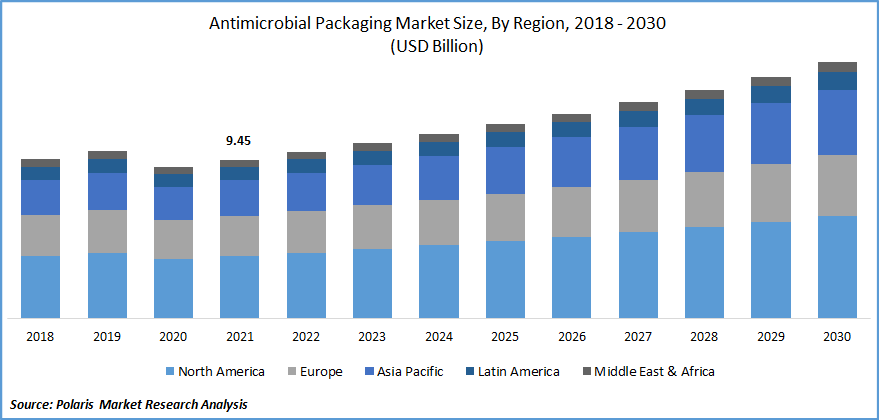 Know more about this report: Request for sample pages
Most of the time, packaged food is preferred over fresh food due to its quality & hygiene. Furthermore, it is less time-consuming than the traditional method of cooking. Moreover, rising consumer awareness and preference for clean and virus-free packing are anticipated to have a positive impact on the growth of the antimicrobial packaging market.
The breakout of COVID-19 has had a significant impact on the packaging industry's manufacturing operations and global supply chain. Various businesses, including the packaging industry, food and beverage, and medical, were considered important and were never completely closed during the epidemic.
During the peak of the pandemic, the packing industry continued to operate at more than 90% of capacity. During the pandemic, consumer preferences changed dramatically, influencing the packaging business. Due to the rise in food delivery along with a surge in e-commerce activities, the market demand for containers and boxes is at an all-time high.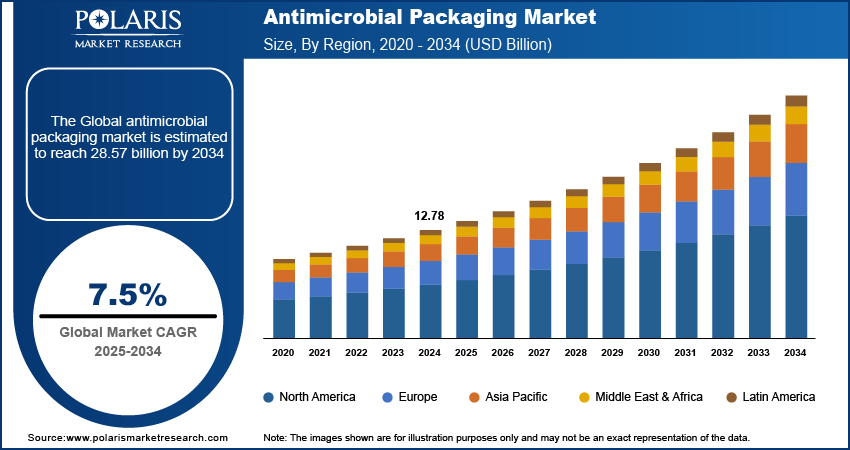 Know more about this report: Request for sample pages
Industry Dynamics
Growth Drivers
Antimicrobial packaging products are being used more frequently as consumers become more concerned about their health, and items have longer shelf lives. The market demand for minimally processed ready-to-eat and fast food is increasing by the day. For example, revenue from the ready-to-eat food segment is expected to amount to more than 83 thousand USD million in 2020, according to the market forecasts. The rise of ready-to-eat and grab-and-go meals are anticipated to drive the growth of the antimicrobial packaging market in the upcoming years.
Antimicrobial packing is widely used in various healthcare practices. The rising market demand for recycled disposable medical products such as medical tubes, connectors, syringes, as well as molded parts has opened up numerous of possibilities for antimicrobial packing solutions, as it provides several advantages over conventional materials, such as improved hygiene, sterility, easy use, simplicity, and low cost. This factor is anticipated to boost the growth of the antimicrobial packaging market.
In the forecast period, rising consumer market demand for baked and confectionery products in developing nations is predicted to help the market expansion of antimicrobial packing. Additionally, antimicrobial packing enhances the quality of food by preventing undesirable items such as vapor and pressurized liquids from infiltrating the package. In packaged food, oxygen should be present in a sufficient amount. Specifically, oxygen aids in the prevention of rotting and harmful bacteria.
Report Segmentation
The market is primarily segmented based on base material, pack type, antimicrobial agents, end-use industry and region.
By Base Material

By Pack Type

By Antimicrobial Agents

End-Use Industry

By Region

Plastics
Biopolymer
Paper & Paperboard
Aluminum Foil
Other Materials

Bags
Pouches
Trays
Carton packages
Cups & lids
Others

Organic acid
Bacteriocins
Enzymes
Essential oil
Metal ions & oxidizers
Other Agents

Food & beverages
Healthcare
Personal care
Consumer Goods
Other Industries

North America (U.S., Canada)
Europe (France, Germany, UK, Italy, Netherlands, Spain, Russia)
Asia Pacific (Japan, China, India, Malaysia, Indonesia. South Korea)
Latin America (Brazil, Mexico, Argentina)
Middle East & Africa (Saudi Arabia, UAE, Israel, South Africa)
Know more about this report: Request for sample pages
The plastic segment is estimated to garner the largest revenue share
The plastic market segment is estimated to garner the largest revenue share owing to its easy availability and low price. Plastic-type packing is light and takes up less space than alternatives, resulting in lighter airline and truck payloads and lower emissions. Plastic packing is extremely adjustable and versatile, allowing manufacturers to customize the form, size, and design to match the needs of their customers.
Plastic packing can resist extreme temperatures and does not degrade fast in hot or cold climes, ensuring that the food or beverage inside remains fresh. Products are also protected from moisture, light, oxygen, dust, and odors. DowDuPont's net sales in the packing and specialty plastics segment were recorded at 18,357 million USD in 2015, which increased to 24,906 million USD in 2018.
The pouch segment is estimated to account largest market share over the forecast period
Among all the pack types, the pouch segment is estimated to account for the largest share over the forecast period. Pouch packing allows customers to tear the pack, which provides an easy opening method, and grip seal closures are used to make it easy to open or close the pack for recurrent use.
Both sellers and end-users find that the pouches are simple to store and easy to transport. Pouches are extremely adaptive and flexible. Producers can alter the shape, size, and materials to meet individual requirements. Pouches require fewer resources to manufacture than other types of packing, cutting production costs. Pouches help to keep the product fresh and ensure long shelf life.
The carton packages segment is anticipated to grow at a high CAGR in the years to come. When compared to different packaging materials, carton-type packaging provides the best recycling potential. Any product can be cushioned with a corrugated carton, which keeps it safe during long-distance transportation, shipment, and handling. It's made to resist the wear and strain of typical everyday transportation. They also facilitate and speed up the packing process. All these factors are expected to augment the growth of this segment.
The Healthcare segment anticipated growing at highest growth rate
The healthcare segment is anticipated to grow at a high CAGR in the years to come. Antimicrobial packaging is used at hospitals, dental offices, nursing homes, and GP offices for items such as beds, cubicle curtains, and nursing call systems. Infection concerns in hospitals and dentistry equipment have resulted in an ever-increasing need for microbial infection control in these settings.
Antibiotic resistance is a major and developing problem that has become one of the most pressing public health issues of the twenty-first century. Antimicrobial packaging can help to reduce the different types of hospital infections. All these factors are anticipated to have a positive impact on the growth of this particular segment.
The use of antimicrobial packaging in the food sector has increased due to the rise in food-borne diseases and increased public health awareness. Microbial development in packaged foods can be controlled with antimicrobial packaging.
Antimicrobial packaging is used to proactively affect the inside environment by interacting with the food on a regular basis across the shelf-life of the product. In 2016, worldwide packaged food sales were estimated to be over 2.47 trillion dollars, with food sales expected to be around 2.64 trillion dollars by 2019.
Among all regions, Asia Pacific is estimated to capture the highest revenue share
Among all regions Asia-Pacific is estimated to capture the highest revenue share, owing to the rapid population growth and rising consumer awareness about personal hygiene. The regional antimicrobial packaging market is growing as a result of the rising preference for packaged food among teens and adults, as well as increasing infectious disease prevalence.
Moreover, governments of several Asian countries are providing funding to improve the local hospital facilities. Governments are strengthening the overall healthcare system with the adoption of new solutions.
Over the forecast period, the North American region is expected to grow at a high CAGR. A large percentage of the population present in this region spends a high amount on packaged foods. Moreover, consumers prefer safe packaging owing to increasing awareness about healthy and safe packaging options. Customers in the United States spent an average of 52.21 dollars per person on organic packaged foods and beverages, in 2017. All these factors are having a positive impact on the growth of the target market in this region.
Competitive Insight
Some of the major players operating in the global market include BASF, Biocote Limited, CSP Technologies, Dow Chemical, Dunmore Corporation, Linpac Holdings, Microban International, Mondi Plc, and Oplon Pure, PolyOne Corporation, Takex Labo, Wunderman, and others.
Recent Developments
In Jan 2022, Researchers from Nanyang Technological University Singapore developed a biodegradable food plastic packaging material that eliminates harmful microorganisms and extends the shelf life of fresh fruit by 2 to 3 days.
Antimicrobial Packaging Market Report Scope
| | |
| --- | --- |
| Report Attributes | Details |
| Market size value in 2021 | USD 9.45 billion |
| Revenue forecast in 2030 | USD 15.23 billion |
| CAGR | 5.5% from 2022 - 2030 |
| Base year | 2021 |
| Historical data | 2018 - 2020 |
| Forecast period | 2022 - 2030 |
| Quantitative units | Revenue in USD billion and CAGR from 2022 to 2030 |
| Segments covered | By Base Material, By Pack Type, By Antimicrobial Agents, By End-Use Industry And BY Geographic Region |
| Regional scope | North America, Europe, Asia Pacific, Latin America; Middle East & Africa |
| Key companies | BASF, Biocote Limited, CSP Technologies, Dow Chemical, Dunmore Corporation, Linpac Holdings, Microban International, Mondi Plc, Oplon Pure , PolyOne Corporation, Takex Labo, Wunderman and others. |