The global bakery products market was valued at USD 219.70 billion in 2022 and is expected to grow at a CAGR of 4.8% during the forecast period.
The success of Thai and Mexican cuisine has sparked a heightened interest in exploring new culinary experiences, and bakery products have emerged as a natural accompaniment to these flavorful dishes. This surge in demand for bakery items is driven by consumers seeking to recreate the full spectrum of flavors and textures associated with these ethnic cuisines, ultimately enriching their dining experiences.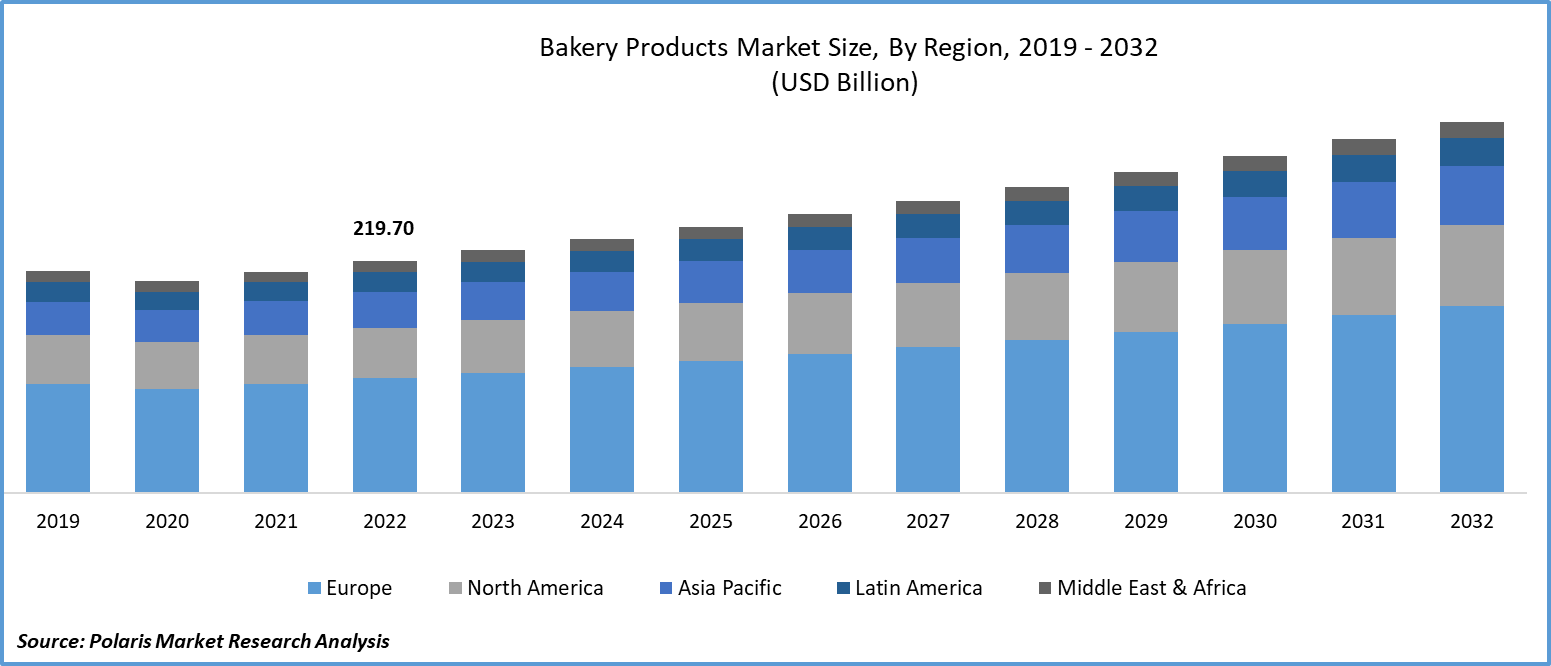 To Understand More About this Research: Request a Free Sample Report
Furthermore, the escalating per-capita income within these nations is poised to contribute to the expansion of the regional market significantly. The foundational raw materials essential to produce bakery products encompass a range of components, including milk, emulsifiers, fats, stabilizers, flavors, sugar, and flour. The pricing dynamics of bakery products are intricately linked to the costs and availability of these raw materials. The equilibrium between supply and demand, as well as the inherent uncertainties, have prompted several companies, like Associated British Foods, Dawn Foods, and Bakels, to adopt backward integration strategies. This strategic approach aids in managing potential supply disruptions and market fluctuations.
It's important to note that the bakery product market involves a substantial utilization of energy, along with significant costs associated with logistics and storage. This is attributed to the necessity of transporting these products using specialized automotive components equipped with advanced refrigeration capabilities to ensure product quality and safety. These factors, while integral to maintaining product integrity, may pose certain constraints on the growth of the market.
Industry Dynamics
Growth Drivers
Rising ready-to-eat food demand due to busy lifestyles.
The global trend of escalating consumption of ready-to-eat foods can be attributed to the prevailing fast-paced lifestyles that individuals lead. This shift in dietary preferences is poised to act as a driving force behind the demand for these products throughout the projected years. The convenience and time efficiency offered by ready-to-eat options cater to the demands of modern life, making them an increasingly popular choice among consumers.
Furthermore, the rise in the preference for ethnic cuisines has significantly impacted the culinary landscape. This is especially evident in the European market, where ethnic foods like Thai and Mexican cuisines have achieved notable success in various restaurants and food outlets. As a result, there has been a notable increase in the demand for bakery products that complement these ethnic flavors.
Report Segmentation
The market is primarily segmented based on product, distribution channel, and region.
By Product

By Distribution Channel

By Region

Bread & Rolls

Loaves

Baguettes

Rolls

Burger Buns

Sandwich Slices

Ciabatta

Frozen Bread

Others

Cakes & Pastries

Cupcakes

Dessert Cakes

Sponge Cakes

Pastries

Cookies

Bar Cookies

Molded Cookies

Rolled Cookies

Drop Cookies

Others

Tortillas

Pretzels

Others

Hypermarkets & Supermarkets

Convenience Stores

Specialty Stores

Others

North America (U.S., Canada)

Europe (France, Germany, UK, Italy, Netherlands, Spain, Russia)

Asia Pacific (Japan, China, India, Malaysia, Indonesia. South Korea)

Latin America (Brazil, Mexico, Argentina)

Middle East & Africa (Saudi Arabia, UAE, Israel, South Africa)
To Understand the Scope of this Report: Speak to Analyst
By Product Analysis
The bread and rolls segment accounted for the largest market share in 2022.
The bread and rolls segment accounted for the largest market share, primarily driven by a substantial surge in demand for these products across key regions. The cake and pastries segment will grow at a steady pace. This projection is primarily attributed to the introduction of innovative flavors that resonate with consumers and the simultaneous uptick in disposable income levels among the consumer base. Additionally, the expanding population in the emerging region offers a promising landscape for industry players, presenting enduring opportunities for long-term growth and engagement.
By Distribution Channel Analysis
The specialty stores segment held the largest share in 2022.
The specialty stores segment dominated the market and is projected to register the highest growth rate over the study period. This growth is primarily due to the increasing awareness of health considerations, which has prompted bakery producers to incorporate functional elements into their offerings. This includes the integration of ingredients like legumes, oats, probiotics, fortified margarine, and cereals. As a result, the consistent pursuit of innovative product development stands as a driving force that has the potential to amplify the growth trajectory of the industry greatly.
Regional Insights
Europe region dominated the global market in 2022
Europe held the largest share. This prominence is attributed to the robust demand observed for a diverse range of baked products within the region. Notably, products like gluten-free options, high-fiber selections, and Trans-fat-free items are capturing significant attention due to their status as staple foods in European diets.
The escalating demand for these baked goods is closely aligned with the prevailing health-conscious trends among consumers. Gluten-free options cater to individuals with gluten sensitivities or celiac disease. At the same time, high-fiber products align with the growing awareness of the importance of dietary fiber in promoting digestive health and overall wellness. Moreover, the avoidance of Trans fats resonates with health-conscious consumers aiming to minimize their intake of unhealthy fats linked to adverse health effects.
Given the central role of baked goods in European diets and the simultaneous shifts in dietary preferences, the market for these specialized products is experiencing substantial growth. This dynamic underscores the significance of the region as both a dominant force and a rapidly advancing player within the baked goods industry. The industry's responsiveness to evolving dietary preferences, coupled with the demand for staple baked products, underscores the intricate relationship between food trends and market dynamics.
Asia Pacific will grow at a steady pace. His projection is grounded in the strategic presence of prominent companies within emerging economies, notably China, India, Singapore, and Japan. These countries' pivotal roles within the region serve as significant catalysts for the anticipated growth trajectory. The burgeoning markets of the region hold tremendous growth potential, predominantly due to two key factors: the escalating population and the concurrent rise in per-capita income levels. This synergy creates a fertile ground for the expansion of various industries, including the bakery products market.
Additionally, a noteworthy driver of the market's growth within the region stems from the heightened demand observed for breakfast grains and cereals, particularly in countries like China and India. These staple food items hold immense cultural significance and cater to the dietary preferences of the local populations. The growing awareness of the importance of a nutritious breakfast, coupled with the convenience offered by these products, further fuels their demand.
Key Market Players & Competitive Insights
Significant hurdles in the form of high entry barriers, stemming from strong brand loyalty and substantial capital requirements, are expected to sustain a fiercely competitive environment within the industry. Prominent companies within the sector are committed to achieving optimal business expansion through the implementation of diverse growth strategies. These strategies encompass forging joint ventures, executing mergers and acquisitions, establishing strategic partnerships with regional manufacturers, and broadening the scope of distribution channels.
Some of the major players operating in the global market include:
Associated British Foods

Bimbo Bakeries USA

Britannia Industries Ltd.

Campbell Soup Company.

General Mills

Kraft Food Group, Inc.

Nestle S.A.
Recent Developments
In January 2023, Sara Lee Bread unveiled a fresh addition to its lineup – a new white bread infused with vegetables. This 18-ounce loaf not only delivers a delectable flavor but also boasts the inclusion of one cup of vegetables. Packed with essential vitamins A, D, and E, the bread offers a smooth texture and balanced nutrition. Importantly, it is crafted without the addition of artificial colors, flavors, or high fructose corn syrup.

In July 2022, Britannia introduced its newest offering, the Biscafe cracker, which boasts a delightful coffee flavor. This innovative product is strategically aimed at capturing the interest of a younger demographic.
Bakery Products Market Report Scope
| | |
| --- | --- |
| Report Attributes | Details |
| Market size value in 2023 | USD 229.98 billion |
| Revenue Forecast in 2032 | USD 351.61 billion |
| CAGR | 4.8% from 2023 – 2032 |
| Base year | 2022 |
| Historical data | 2019 – 2021 |
| Forecast period | 2023 – 2032 |
| Quantitative units | Revenue in USD billion and CAGR from 2023 to 2032 |
| Segments Covered | By Product, By Distribution Channel, By Region |
| Regional scope | North America, Europe, Asia Pacific, Latin America; Middle East & Africa |
| Customization | Report customization as per your requirements with respect to countries, regions, and segmentation. |