The global Autonomous Truck market was valued at USD 846.2 million in 2019 and is expected to exhibit a CAGR of 12.8%, over the forecast period. Autonomous Truck possess features similar to conventional trucks; however, with a certain level of upgradation. The self-driving system utilizes several hardware components, such as LiDAR, infrared radars, advanced movement sensors, cameras, extremely precise sensors, and complicated algorithms that enable the truck to drive autonomously. Furthermore, the self-driving truck market is expected to show notable growth due to an increase in government efforts for decongesting traffic. With the increasing penetration of advanced technology in commercial vehicles, the global market is anticipated to grow swiftly during the forecast period.
The demand for autonomous truck is rising across the globe due to the shortage of truck drivers and an increase in supply of goods and materials to multiple end sources. As per the American Truck Association, there was a shortage of around 36,500 drivers in 2016 in the US, which increased to nearly 60,000 in 2018. It is projected that growing shipment volumes at a fast rate will drive the sales of Autonomous Truck and promote investments by manufacturers or new entrants. Increasing driver labor costs will generate growth opportunities for self-driving trucks market, which are based on techniques with minimal human input to eliminate mistakes and damage. In addition, shifting manufacturing activities to emerging nations and increasing economic growth would lead to a rise in self-driving truck sales. Therefore, there will be opportunities in the market for new entrants based in emerging economies, such as China and India. However, enhanced fuel efficiency requirements and rigid regulations on poor fuel emissions will be the biggest challenge for manufacturers in the sector.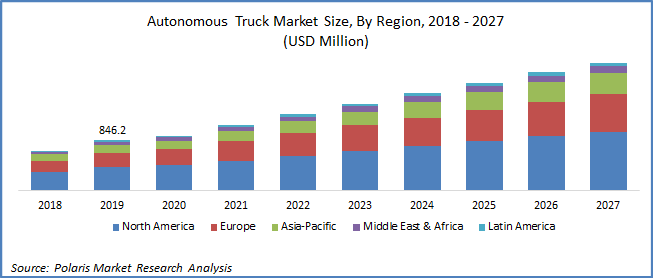 Know more about this report: request for sample pages
The Autonomous Truck work on electricity; therefore, it consumes less oil and gas, when compared to conventional trucks. This ultimately helps in reducing pollution, which is offering growth opportunity to the self-driving trucks market. Increased awareness regarding air pollution and increased levels of traffic & noise exposure also drive the growth of Autonomous Truck. The hacker's risk and increase in cybercrime, however, limit the growth of the self-driving truck industry.
Due to its several advantages such as minimum price, high velocity, environmentally friendly nature, and energy-efficient approach, the autonomous truck is transforming the travel experience and industrial sector. However, privacy and safety issues related to operating software access to data are anticipated to hamper the market growth, as this software is susceptible to hackers. Moreover, even if there is an autonomous truck supervisor inside the car, it is possible for hackers to infiltrate the software and overrule the controls. Thus, rising hacker threats and cybercrime are anticipated to restrict the growth of the self-driving truck market in the upcoming years.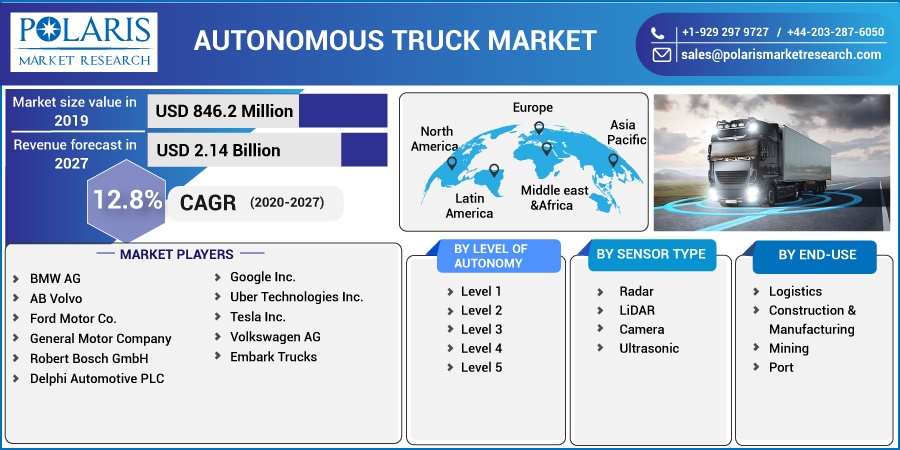 Know more about this report: request for sample pages
Autonomous Truck Market Report Scope
The market is primarily segmented on the basis of autonomy level, sensor type, end-use, and geographic region.
By Level of Autonomy

By Sensor Type

By End-Use

By Region Type

Level 1
Level 2
Level 3
Level 4
Level 5

Radar
LiDAR
Camera
Ultrasonic

Logistics
Construction & Manufacturing
Mining
Port

North America (U.S., Canada)
Europe (Germany, UK, France, Italy, Spain)
Asia Pacific (India, Japan, China, South Korea)
Latin America (Brazil, Mexico, Colombia)
Middle East & Africa (Saudi Arabia, South Africa, Israel, UAE)
Know more about this report: request for sample pages
Autonomy Level Outlook
Due to the existence of ADAS (advanced driver assistance system) and the growing awareness of safety precautions among customers, the demand for self-driving or semi-Autonomous Truck segment is presently at a stake in the market. However, governments' growing attempts to encourage the use of fully Autonomous Truck are anticipated to fuel the growth of the full autonomous truck segment over the forecast period.
Sensor Type Outlook
The radar sensor segment currently dominates the autonomous truck market due to its countless benefits such as lightweight and its ability to function even under negative environmental circumstances such as rain, fog and snow, long-range detection and flexible mounting. A new form of the sensor is being created, known as a fusion sensor, combining the characteristics of both LiDAR and radar sensors. The fusion sensor is presently being developed. However, comprehensive research and development in the area of fusion sensors are anticipated to provide the fusion sensor segment of the autonomous truck industry with profitable possibilities towards over the forecast period.
End-Use Outlook
The logistics End-Use presents the largest demand for Autonomous Truck and is expected to remain the lucrative industry for market growth. At the time, there is a huge shortage of professional truck drivers in the United States and in other developed economies, such as the UK and Germany. For instance, an official declaration has been published by the American Trucking Association (ATA) that says the logistics industry is short on more than 38,000 drivers. Due to the effect of eCommerce, these developments will continue in the next few decades. There are many firms specializing in eCommerce logistics today. There are many other firms that need dozens of reliable drivers with a strong track record. In the automated logistics stage, autonomous vehicles will play a supporting role. By calculating the safest maneuvers in hard circumstances, this technology will assist drivers prevent potential hazards. This will decrease the incidence of road accidents drastically.
Regional Outlook
North America is anticipated to grow at a substantial pace in the global market during the forecast period. This is attributed to the high adoption rate of advanced technologies and growing attempts by OEMs towards the development of Autonomous Truck in the region. For instance, the startup Embark has created Autonomous Truck that are being used in California to transport refrigerators. The self-driving truck of Uber is used to transport beer cases across Colorado. It is also anticipated that the industry in Europe will grow at a significant pace in the near future due to the growing attempts made by OEMs and the European Union to create and introduce Autonomous Truck in this region.
Competitive Landscape
The primary industry players include BMW AG, AB Volvo, Ford Motor Co., General Motor Company, Robert Bosch GmbH, Delphi Automotive PLC, Google Inc., Uber Technologies Inc., Tesla Inc., Volkswagen AG, and Embark Trucks. Furthermore, the leading truck manufacturers are integrating with robotics firms to develop advanced self-driving technology. For instance, Daimler, a multinational automaker, acquired an independent American car business, Torc Robotics to deploy independent technology into the trucks. Torc robotics has collaboration with Caterpillar, an American engine, equipment, and other engine manufacturer and distributor to develop self-driving technology for mining and agricultural applications.