The global biopreservation market was valued at USD 1.67 billion in 2021 and is expected to grow at a CAGR of 28.7% during the forecast period. The market for biopreservation is expanding due to a number of factors, including the growing habit of conserving newborn cord blood stem cells, advancements in biobanking, increased financing for regenerative medicine research, and rising demand for personalized treatment.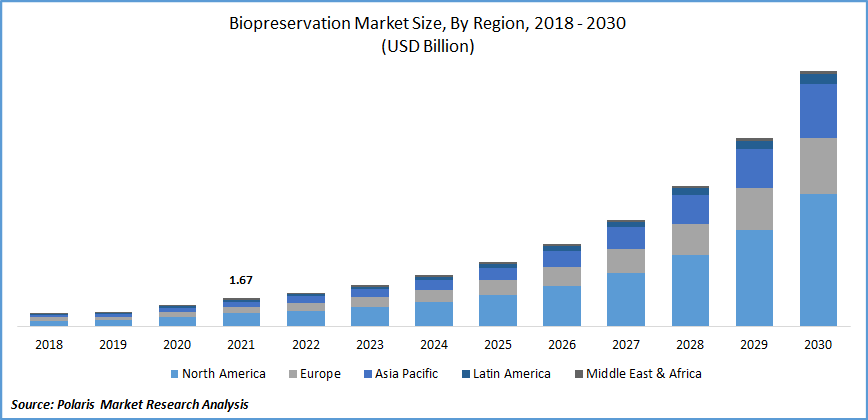 Know more about this report: Request for sample pages
The process of biopreservation aids in the preservation of biospecimens such as cells, DNA, saliva, and plasma. Through biopreservation, biospecimens are preserved for a longer period of time and are shielded from harm outside of their native environment. The effectiveness of the preservation procedure is increased by the availability of long-term storage.
Biobanking, a form of biopreservation, is frequently utilized in medical research connected to personalized medicine and genomics research. There are many biopreservative products in the biopreservation market, and research in the field continues. In the current research, microorganisms are used from sources other than fermentation or food isolates, like soil and animals, or they are combined with other cultures or purified antimicrobials.
This technique, which uses lactic acid bacteria, is frequently used to preserve food and increase its shelf life. Healthcare spending growth is anticipated to be fueled by improved access to high-quality healthcare and advanced technological items like biopreservation facilities, which will broaden biopreservation market growth. Because of this, biopreservation is now essential for a variety of clinical and commercial applications of emerging cell-based technologies.
Know more about this report: Request for sample pages
Industry Dynamics
Growth Drivers
Improvements in healthcare spending, the use of internal sample storage in hospitals and labs, and rising R&D spending are some factors propelling the market growth for biopreservation. Each year with increasing healthcare expenditure, the government collaborates with firms and institutions for better exposure to the technology employed, and its development for improved efficiency is expanding.
A greater share of healthcare spending will be invested in this segment due to the growing technological developments in biopreservation and healthcare equipment, as well as the affordability of these tools.
In many nations, healthcare spending is still rising more quickly than economic growth. The development of innovative biologics and vaccination technologies has also been pushed by the COVID-19 pandemic. These factors will likely lead to more opportunities for the production and preservation of biologics, which will increase the need for biopreservation market.
Report Segmentation
The market is primarily segmented based on product, application, cell providers volume, and region.
By Product

By Application

By Cell Providers Volume

By Region

Equipment

Freezers
Refrigerators
Consumables

Vials
Straws
Microtiter Plates
Bags
Liquid Nitrogen

Media
Laboratory Information Management System (LIMS)

Regenerative Medicine

Cell Therapy
Gene Therapy
Others

Bio- Banking

Human Eggs
Human Sperms
Veterinary IVF

Drug Discovery

CD34+
CD19+
MSC
iPSC
hESC
Tumour Cells
Others

North America (U.S., Canada)
Europe (France, Germany, UK, Italy, Netherlands, Spain, Russia)
Asia Pacific (Japan, China, India, Malaysia, Indonesia, South Korea)
Latin America (Brazil, Mexico, Argentina)
Middle East & Africa (Saudi Arabia, UAE, Israel, South Africa)
Know more about this report: Request for sample pages
The equipment segment was dominant and accounted for the largest share
With the growing need for bio-banking to preserve stem cells, DNA, plasma, and tissue culture, the equipment category had the most significant revenue share in 2021. Due to preservation's widespread acceptance and application, there is now enough storage space and little maintenance required, which is predicted for market expansion of biopreservation.
The demand for biological freezers and refrigerators for proper biological specimen storage and preservation will determine the amount of the biopreservation equipment market's revenue.
The media product segment is anticipated to grow at a significant rate over the forecast period. Given that it is an essential step in the biopreservation process, the biopreservation market has room to develop.
The market is likely to grow through media applications that offer information and additional features that enable researchers to access and share research data and analysis, boosting their capacity to research, diagnose, monitor, and treat health issues.
Tumor cells held the largest revenue share in 2021
In 2021, tumor cells accounted for the greatest revenue share. This can be attributed to a rise in cancer therapy development-related diagnosis, research, and treatment activities. In numerous cancer studies, and investigations, including those involving prostate, colon, and breast carcinomas, tumor cells are used as biomarkers. The segment growth has been further supported by the tumor cells' clinical utility.
Mesenchymal stem or stromal cells are being used more frequently in a variety of research investigations and clinical trials, which can be the cause of the segmental expansion. The multipotent mesenchymal stem cells' capacity to develop into diverse cell types, such as chondrocytes, osteoblasts, myocytes, and adipocytes, will improve their uptake and promote segmental growth.
Furthermore, due to the rising utilization of iPSCs in restorative therapy, the iPSC market is anticipated to expand quickly over the forecast period.
The Biobanking segment accounted for the largest market share
With a revenue share in 2021, the biobanking sector dominated the global biopreservation market. For the preservation of tissue, pharmaceutical firms collaborate with hospitals and reserve biobanks. Growing acceptance of sperm and egg banking, rising awareness of stem cell preservation, and the use of animal-assisted reproduction technology are all driving the segment's expansion.
The use of biobanking will increase with the rising demand for biospecimens to support many forms of modern research, such as customized medicine and genomics, thereby supporting market growth.
Over the forecast period, the regenerative medicine segment will grow because it is increasingly being used to treat serious and life-threatening disorders. Chronic diseases are becoming more common, which causes organ deformities and an increase in the need for organ transplants. The goal of regenerative medicine is to restore or establish normal functioning by engineering or to regenerate human cells, tissues, or organs. The rise of the regenerative medicine segment will be fueled by a lack of organ donors.
North America is expected to dominate and witness the fastest growth
Nearly half of North America's revenue comes from the United States. The government's requirements for the ethical use of biological samples, the advent of modern biopreservation market techniques, and the rising need for the diagnosis of chronic disease factors are responsible for the growth of this region.
The major factor driving the North American market is the rise in demand for solid tissue specimens, including paraffin-embedded or frozen bio-specimens of tumors, other tissues, including peripheral blood cells, bone marrow, and cord blood and its derivatives, from numerous research institutes, pathological centers, and hospitals. Positive governmental regulations in this area encourage the sharing of biological material.
Germany is anticipated to see the fastest growth in Europe during the projected period because of the rising funding support for biobanking techniques and services, as well as the rising partnerships and collaborations resulting from bio-preservation methods. Increased government funding for the networking of biobanks like the UK Biobank and international partnerships for extending the reach of biobanking lead to high biopreservation market growth.
Competitive Insight
Some of the major players operating in the global biopreservation market include Azenta Inc (US)., AMS Biotechnology (England), BioCision, LLC (US), BioLife Solutions, Biomatrica, Inc., Bio-Techne Corporation (US), Chart Industries, Inc. (US), Exact Sciences Corporation (US), Helmer Scientific, Inc. (US), LabVantage Solutions, Inc., MVE Biological Solutions, OPS Diagnostics (US), Panasonic Corporation, PrincetonCryo, Princeton CryoTech Inc (US), Stirling Ultracold, So-Low Environmental Equipment Co., Inc. (US), STEMCELL Technologies, Inc. (Canada), ,Taylor-Wharton, Thermo Fisher Scientific, Inc., Worthington Industries, Inc. (US).
Recent Developments
In Jan 2022, Collaboration between BioLife Solutions and Seattle Children's improves the production of viral vectors and cell- and gene-based therapeutics. Best practices for manufacturing in closed systems and biopreservation will be the main areas of this collaboration.
In July 2021, Tissue Solutions Ltd., a virtual biobank established in Glasgow, UK, was purchased by BioIVT.
In July 2020, A leading cell therapy developer has engaged in a wide-ranging collaboration with BioLife Solutions, Inc., a leading developer, and provider of class-defining bioproduction products and services for cell and gene therapies and the larger biopharma market. The collaboration will utilize BioLife's CryoStor freeze media, evo cold chain management platform, and SciSafe storage services.
Biopreservation Market Report Scope
| | |
| --- | --- |
| Report Attributes | Details |
| Market size value in 2021 | USD 1.67 billion |
| Revenue forecast in 2030 | USD 15.12 billion |
| CAGR | 28.7 % from 2022 - 2030 |
| Base year | 2021 |
| Historical data | 2018 - 2020 |
| Forecast period | 2022 - 2030 |
| Quantitative units | Revenue in USD billion and CAGR from 2022 to 2030 |
| Segments covered | By Product, By Application, By Cell Provider Volume, By Region |
| Regional scope | North America, Europe, Asia Pacific, Latin America; Middle East & Africa |
| Key companies | Azenta Inc (US)., AMS Biotechnology (England), BioCision, LLC (US), BioLife Solutions, Biomatrica, Inc., Bio-Techne Corporation (US), Chart Industries, Inc. (US), Exact Sciences Corporation (US), Helmer Scientific, Inc. (US), LabVantage Solutions, Inc., MVE Biological Solutions, OPS Diagnostics (US), Panasonic Corporation, PrincetonCryo, Princeton CryoTech Inc (US), Stirling Ultracold, So-Low Environmental Equipment Co., Inc. (US), STEMCELL Technologies, Inc. (Canada), ,Taylor-Wharton, Thermo Fisher Scientific, Inc., Worthington Industries, Inc. (US) |