The cell banking outsourcing market was valued at USD 9.81 billion in 2021 and is expected to grow at a CAGR of 16.2% during the forecast period. Increasing cryopreservation and cell bank preparation methodologies, growing demand for monoclonal antibodies and effective biopharmaceuticals, and growing adoption of stem cell therapies are the crucial factors attributed to the growth of the cell banking outsourcing market.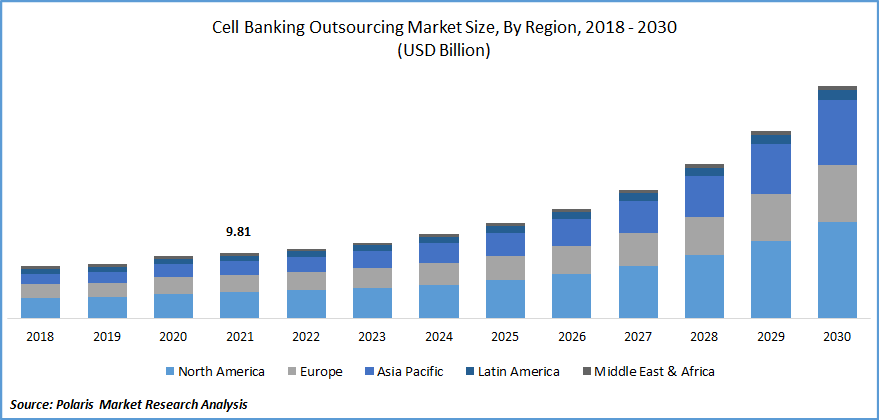 Know more about this report: Request for sample pages
The preparation of the cell bank includes the careful cryopreservation of the cells. The biology of the cell line being frozen, the freeze media being utilized, and the method of freezing or the freeze profile are the three most crucial elements that affect the quality of cryopreservation. The cell bank's size substantially impacts the quality of cryopreservation as the smaller or bigger bank may experience significant vial-to-vial variability due to temperature variations, handling nuances, and timing differences.
For instance, Eurofins discovered the cell banks for bioassay, which are extensively tested, are proven system and provides long-term storage. Similarly, this development has increased cryopreservation and cell bank preparation methodology, augmenting the industry's growth.
The cell banking outsourcing industry involves the storage, collection, testing, and characterization of cells, cell lines, and tissues, which assist in the production of R&D activities and biopharmaceuticals to ensure minimum adverse effects and high effectiveness. However, a significant obstacle facing this sector is the high expense associated with keeping these cells in cell banks. Several legal issues related to stem cell banking and other types of cell banking are expected to restrain the industry.
The Covid-19 pandemic has positively impacted the market as the pandemic has created a new market for those companies which are engaged in the manufacturing of MSCs products due to the rise in cell therapy efforts for treating COVID-19, and over half of those trials for COVID-19 employ umbilical cord MSCs.
Growing dependency on cell-based therapies for probable COVID-19 treatment has increased the demand for services such as storage and processing, which have driven the industry's growth.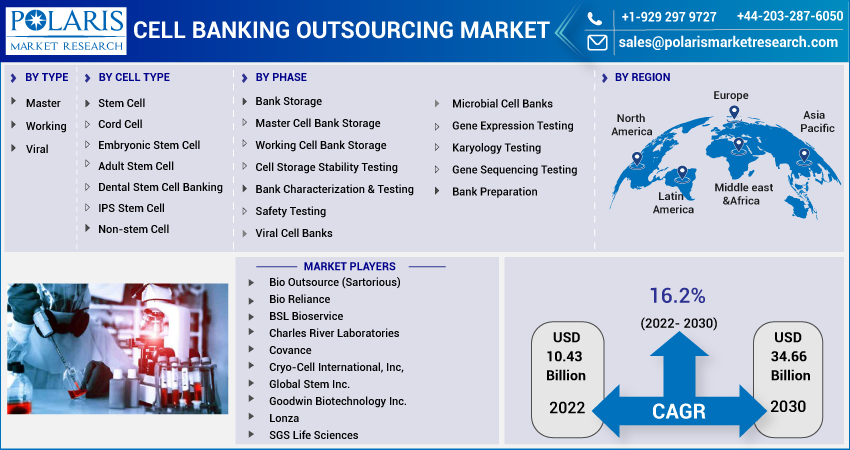 Know more about this report: Request for sample pages
Industry Dynamics
Growth Drivers
The rising demand for stem cell therapies is one of the crucial factors escalating the market's growth. The application of stem cells in cell therapy, regenerative medicine, drug discovery, toxicity, and developmental biology research is very promising for preserving their biological features, avoiding contamination and deterioration, and enabling their efficient use in fundamental and translational research as well as current and future therapeutic applications.
Furthermore, many stem cells originate from tissues that only exist once. For instance, cord blood that was once discarded can now be used to treat various illnesses, including blood malignancies. These cells, which have been kept for extended periods of time and frequently banked, can be used promptly for treatment when necessary, and early treatment can slow the spread of disease.
A clone with ideal traits is chosen and stored in a bank and is permitted to produce monoclonal antibodies, which can be repeated for a decade, stimulating the growth of monoclonal antibodies. The rise of the monoclonal antibody industry and the advantages associated with it, including treatment for diseases such as cancer, inflammatory diseases, and autoimmune diseases, have increased the demand for monoclonal antibodies, accelerating the market's growth.
Additionally, increasing vaccine production, rising prevalence of cancer, rising number of cell banks, and increasing demand for monoclonal antibodies have also driven the market's growth. Increasing collaboration and acquisition strategies by the industry players have influenced the industry's growth. For instance, in June 2016, BioGenes GmbH collaborated with Eurofins Munich, Contract Research Organization, for biopharmaceutical product testing and enhancing the testing of host cell protein (HCP).
Report Segmentation
The market is primarily segmented based on, type, cell type, phase, and region.
By Type

By Cell Type

By Phase

By Region

Stem Cell

Cord Cell
Embryonic Stem Cell
Adult Stem Cell
Dental Stem Cell Banking
IPS Stem Cell

Non-stem Cell

Bank Storage

Master Cell Bank Storage
Working Cell Bank Storage
Cell Storage Stability Testing

Bank Characterization & Testing

Safety Testing

Viral Cell Banks
Microbial Cell Banks

Gene Expression Testing
Karyology Testing
Gene Sequencing Testing

Bank Preparation

North America (U.S., Canada)
Europe (France, Germany, UK, Italy, Netherlands, Spain, Russia)
Asia Pacific (Japan, China, India, Malaysia, Indonesia. South Korea)
Latin America (Brazil, Mexico, Argentina)
Middle East & Africa (Saudi Arabia, UAE, Israel, South Africa)
Know more about this report: Request for sample pages
Master cell banking type accounted the largest market share in 2021
The master cell banking type acquired the largest market, as their construction is an essential factor for the production and utilization of working cell banks. They are preserved for a substantially longer duration, which also attracts the application of high-grade cryopreservation methodologies and equipment.
Additionally, it finds applications in several research and development outlooks for stem cell therapy and gene therapy. The growing number of patients with cancer and autoimmune diseases that can be treated using therapies in combination with regenerative medicine is a prominent factor anticipated to fuel the segment.
The Viral Cell Banking type is supposed to grow at the fastest over the forecast as it ensures reproducible testing and production of recombinant viruses developing vaccines and recombinant protein. The viral banking services are segregated to ensure no cross-contamination of products from non-viral activities.
Stem cell type acquires the largest market share
Based on cell type, the market is categorized as stem cell and non-stem cell. The stem cell type accounts for the largest revenue share in 2021 due to the growing application scope of stem cells in therapies and regenerative medicine. Stem cells can regenerate and develop into many different types of blood and tissue cells, propelling their research applications.
Increasing demand for technological advancement in stem cell therapeutics and biologics and a growing focus on developing personalized medicines are anticipated for the segment's growth. Additionally, increasing focus on treating neurological disorders contributes to the market's growth.
Also, cord cell banking accounted for the largest revenue share due to the increasing number of cord blood banks and banking services worldwide. It provides advantages such as donor convenience, serving as a source of hematopoietic stem cells, minimized risk of graft versus host diseases, and low risk of viral contamination and immediate availability.
Bank Storage is expected to hold the significant revenue share
The bank storage is expected to acquire the largest market share. It is also the fastest-growing segment during the forecast period owing to sophisticated maintenance needs, which are important for the maintenance of either master or working banks.
Bank storage in cell banking encloses the preservation of master and working banking and their respective safety testing. Bank characterization & testing has anticipated growth during the forecast period as the industry players outsource bank characterization & testing services to different hospitals and clinical research organizations.
For instance, Creative Biogene offers a wide-ranging bank characterization service to safeguard biosafety and control biotechnological and biological products. Also, technologically advanced in cryopreservation techniques have propelled the growth of the industry.
North America is projected for the largest market share
North America accounted for the most considerable cell banking outsourcing market share due to the increased production of antibiotics, therapeutics protein, and vaccines. Additionally, the presence of various biopharmaceutical companies in the region has driven the growth of the cell banking outsourcing market in North America.
Extensive R&D laboratories and rising incidences of metabolic disorders, including Parkinson's, Alzheimer's, and various cancers, can be treated by gene therapy. This factor has raised the demand for the region's cell banking outsourcing market.
Furthermore, Asia Pacific is expected to show significant growth during the forecast period due to supportive government initiatives coupled with increasing awareness about cell therapies.
Competitive Insight
Some of the major players operating in the global market include Bio Outsource (Sartorious), Bio Reliance, BSL Bioservice, Charles River Laboratories, Covance, Cryo-Cell International, Inc, Global Stem Inc., Goodwin Biotechnology Inc., Lonza, SGS Life Sciences.
Recent Developments
In February 2021, American CryoStem collaborated with BioTherapeutic Labs Corp for the research and development of stem cells.
In February 2021, Cryo-Cell International, Inc. collaborated with Duke University for expanding its business units.
Cell Banking Outsourcing Market Report Scope
| | |
| --- | --- |
| Report Attributes | Details |
| Market size value in 2022 | USD 10.43 billion |
| Revenue forecast in 2030 | USD 34.66 billion |
| CAGR | 16.2% from 2022 - 2030 |
| Base year | 2021 |
| Historical data | 2018 - 2020 |
| Forecast period | 2022 - 2030 |
| Quantitative units | Revenue in USD billion and CAGR from 2022 to 2030 |
| Segments covered | By Type, By Cell Type, By Phase, By Region |
| Regional scope | North America, Europe, Asia Pacific, Latin America; Middle East & Africa |
| Key companies | Bio Outsource (Sartorious), Bio Reliance, BSL Bioservice, Charles River Laboratories, Covance, Cryo-Cell International, Inc, Global Stem Inc., Goodwin Biotechnology Inc., Lonza, SGS Life Sciences |