The global conformal coatings market was valued at USD 946.35 million in 2022 and is expected to grow at a CAGR of 5.3% during the forecast period.
The conformal coatings that protect electronic components and assemblies from various environmental factors such as moisture, chemicals, dust, and temperature extremes are rapidly growing. These coatings are applied to the surface of printed circuit boards (PCBs) and other electronic devices to provide insulation, improve reliability, and extend their operational lifespan.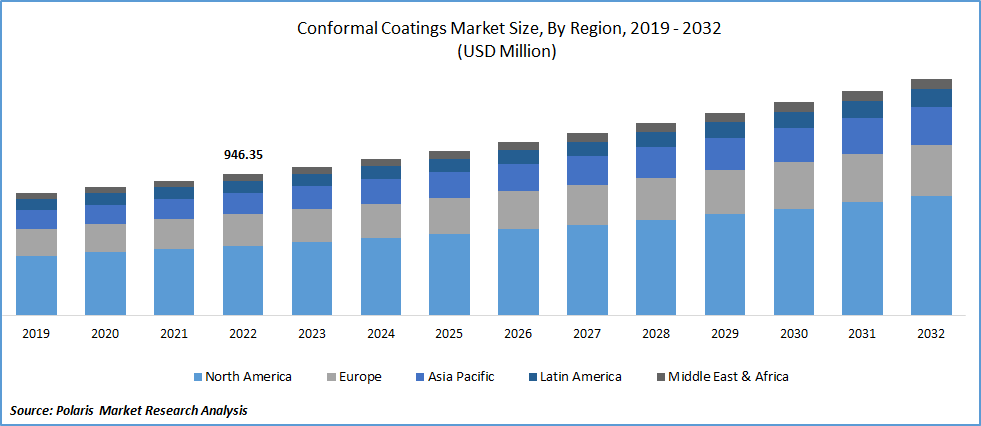 To Understand More About this Research: Request a Free Sample Report
The increasing demand for consumer electronics, automotive electronics, and aerospace applications drives the market for conformal coatings. With the advancement in technology and miniaturization of electronic components, the need for protective coatings has become paramount to ensure the performance and reliability of electronic devices in harsh environments. Silicone, acrylic, epoxy, and urethane are the commonly used materials for conformal coatings. Each material offers specific properties such as flexibility, chemical, and high-temperature resistance, allowing manufacturers to choose the most suitable coating for their application requirements.
The automotive sector is a major consumer of conformal coatings due to the rising adoption of electronic vehicle components, including advanced driver-assistance systems (ADAS), infotainment systems, and engine control units. The aerospace industry relies heavily on conformal coatings to protect avionics systems from extreme temperatures, humidity, and vibrations.
Additionally, the growing trend of smart homes and the Internet of Things (IoT) devices further expands the conformal coatings market. As IoT devices become increasingly pervasive in various industries and households, the need for reliable and durable protection against environmental stressors becomes crucial.
The COVID-19 pandemic has impacted the market. The market faced challenges initially as global supply chains were disrupted, manufacturing facilities shut down, and production activities slowed due to lockdown measures. The automotive and electronics sectors, major consumers of conformal coatings, were particularly affected as manufacturing plants closed and consumer spending on non-essential electronic devices decreased. However, as the pandemic progressed, the market began to recover. The increased reliance on remote work and online activities drove the demand for electronic devices, leading to a subsequent rise in the need for conformal coatings to protect these devices. Additionally, the healthcare sector played a significant role in driving demand as medical devices and equipment became crucial, requiring robust protection. The emphasis on cleanliness and hygiene also contributed to the growth of antimicrobial coatings, a conformal coating that inhibits the growth of bacteria and viruses.
Industry Dynamics
Growth Drivers
Rising automotive and aerospace production
The rising production in the automotive industry is contributing to market growth. As vehicle production increases globally and advanced electronic systems are integrated into automobiles, there is a higher demand for conformal coatings. These coatings protect against extreme temperatures, humidity, and vibrations, ensuring the durability and performance of electronic components used in vehicles.
The growing aerospace and defense sector is another driver for the market. High-performance conformal coatings are required to protect critical electronic components in aircraft, satellites, military equipment, and communication systems. The increasing investments in defense and aerospace technologies and stringent safety and reliability standards are driving the demand for conformal coatings in this sector. Furthermore, advancements in coating technologies are fueling market growth. Developing advanced coating technologies such as low-VOC formulations, UV-curable coatings, and nanocoatings has expanded the application possibilities for conformal coatings. These technological advancements offer improved performance, faster curing times, and environmental benefits, leading to increased adoption in various industries.
The trend toward product miniaturization is also driving the demand for conformal coatings. With the increasing preference for smaller and more compact electronic devices, there is a need for coatings that protect without adding excessive weight or bulk. Conformal coatings with thin film thickness and high dielectric properties are gaining popularity, enabling manufacturers to achieve product miniaturization while maintaining the required performance and reliability.
Additionally, increasing awareness of environmental regulations is influencing market growth. Environmental rules and restrictions on using hazardous substances have led to the development of eco-friendly conformal coatings. Manufacturers focus on producing coatings with reduced VOC content and conforming to regulations such as RoHS (Restriction of Hazardous Substances). This shift towards environmentally friendly coatings will likely drive market growth as companies seek compliance with laws and consumer demand for sustainable products.
Report Segmentation
The market is primarily segmented based on material, application, and region.
By Material

By Application

By Region

Acrylic

Epoxy

Urethane

Silicon

Parylene

Others

Electronics

Automotive

Medical

Aerospace & Defense

Marine

Industrial

Others

North America (U.S., Canada)

Europe (France, Germany, UK, Italy, Netherlands, Spain, Russia)

Asia Pacific (Japan, China, India, Malaysia, Indonesia, South Korea)

Latin America (Brazil, Mexico, Argentina)

Middle East & Africa (Saudi Arabia, UAE, Israel, South Africa)
To Understand the Scope of this Report: Speak to Analyst
By Material Analysis
Acrylic segment is accounted for the highest revenue shares of the market in 2022
The acrylic segment accounted for the highest revenue shares in the market. The demand for acrylic conformal coatings is expected to grow due to their enhanced properties, such as adhesion and moisture resistance. Additionally, the segment will likely benefit from regulations favoring water-based products with minimal environmental impact, as acrylic coatings fall under this category.
The parylene segment is projected to experience the fastest growth rate during the forecast period. Parylene is highly regarded for its excellent resistive properties, making it highly desirable for complex electronics. However, its application has been limited to specific industries due to the high cost of the material.
By Application Analysis
Electronics segment is accounted for the largest shares of the revenue in 2022
The electronics segment accounted for the largest shares of the total revenue. This segment is a significant consumer of conformal coatings primarily used to protect circuit boards from corrosion and heat. Circuit boards are crucial in various electronic devices such as mobile phones, computers, and televisions.
Conformal coatings offer desirable characteristics for electrical devices, including excellent insulation, high dielectric permittivity, non-toxicity, low leakage current, cost-effectiveness, easy processing, water solubility, and good film-forming properties. These features make conformal coatings a suitable choice for dielectric layer applications, contributing to the increasing market share of the electronics segment.
Industrial electronics primarily involve electronic components such as AC/DC drives, sensors, resistors, meters, and semiconductors. These components are required in large volumes and often have shorter production times. Furthermore, industrial electronics are subjected to harsher environments and operating conditions.
The automotive industry heavily relies on electronic components, including advanced GPS systems and entertainment devices, making automotive electronics a substantial part of vehicle technology. The increasing complexity of electronics used in the automotive sector drives the demand for advanced conformal coatings. Additionally, the growing adoption of electric vehicles is expected further to boost this industry's demand for conformal coatings.
Regional Insight
North America anticipated to hold the highest revenue shares over the forecast period
The North American market is expected to witness the highest revenue growth during the forecast period, primarily fueled by the increasing demand for conformal coatings in the automotive and medical industries. In the United States, well-equipped medical facilities and continuous technological advancements drive the need for conformal coatings to protect and enhance the accuracy of electronic devices.
Spain experiences a surge in consumer electronics sales due to the widespread use of smartphones, tablets, and mobile internet, along with a growing demand for advanced in-car electronics.
Meanwhile, India's conformal coatings market is on the rise, propelled by the automotive sector's increasing demand and the government's focus on infrastructure development and initiatives like Make in India, leading to a higher demand for advanced technology and electronic devices.
Market Key Players & Competitive Insight
In the highly competitive conformal coatings market, major players such as Henkel AG & KGaA, H. B. Fuller, and Dow Corning, among others, are vigorously engaged in research and development initiatives to create innovative and environmentally friendly products. These companies leverage their extensive industry experience and global presence to maintain a competitive edge. The demand for conformal coatings spans various sectors, from automotive and aerospace to consumer electronics, driving companies to continually improve their formulations and adapt to changing industry needs. As environmental regulations become more stringent, the focus on eco-friendly coatings is increasingly pivotal, shaping the competitive landscape.
The key market players operating in this market include:
Chase Corporation

Chemtronics

Dow Corning

Dymax Corporation

Electrolube

H. B. Fuller

Henkel AG & KGaA

Shin-Etsu Chemical Company Ltd.
Recent Developments
In March 2022, HumiSeal has launched the UV500-2 conformal coating, which offers enhanced protection for printed circuit boards (PCBs). Specifically designed to excel in thermal and mechanical cycling tests, this coating is particularly suited for automotive and white goods applications. The UV500-2 provides added performance and durability, ensuring reliable PCB protection in challenging operating conditions.

In January 2022, Novaria Group, a company based in Fort Worth, has acquired Advanced Coating. This strategic acquisition strengthens Novaria Group's market position and expands its coating industry capabilities. With this acquisition, Novaria Group aims to enhance its offerings and provide advanced coating solutions to its customers.
Conformal Coatings Market Report Scope
| | |
| --- | --- |
| Report Attributes | Details |
| Market size value in 2023 | USD 994.42 million |
| Revenue forecast in 2032 | USD 1,580.09 million |
| CAGR | 5.3% from 2023 – 2032 |
| Base year | 2022 |
| Historical data | 2019 – 2021 |
| Forecast period | 2023 – 2032 |
| Quantitative units | Revenue in USD million and CAGR from 2023 to 2032 |
| Segments Covered | By Material, By Application, By Region |
| Regional scope | North America, Europe, Asia Pacific, Latin America; Middle East & Africa |
| Customization | Report customization as per your requirements with respect to countries, region and segmentation. |