The global electrolyzer market was valued at USD 5.69 billion in 2022 and is expected to grow at a CAGR of 41.5% during the forecast period. The electrolyzer market is a rapidly growing sector critical in transitioning to a low-carbon energy system. Electrolyzers are being increasingly used to produce green hydrogen, which is hydrogen gas produced through the electrolysis of water using renewable sources of electricity, such as wind or solar power. Green hydrogen is seen as a key component in achieving carbon neutrality, as it can be used as a fuel for transportation fuel and a medium for renewable energy.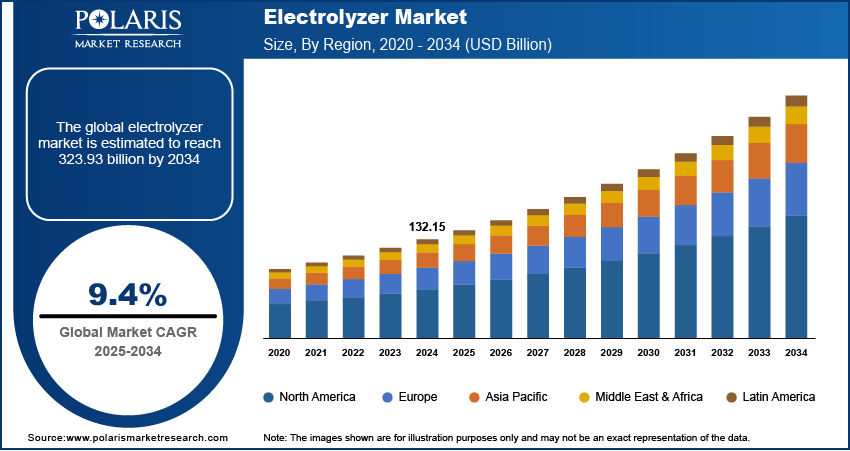 Know more about this report: Request for sample pages
Hydrogen gas is a highly efficient and environmentally-friendly fuel commonly used in producing chemicals like ammonia and methanol and in the petroleum industry for making gasoline and diesel. It is also gaining popularity as a fuel for transportation and energy-related industries and has been used to cool power plant generators and stabilize electrical grids. Hydrogen gas is typically produced through coal gasification, steam methane reforming, or water electrolysis using electrolyzers.
Electrolyzers are devices that use electricity to split water into hydrogen and oxygen, which can then be used as fuel for various applications, including transportation, power generation, and industrial processes.
Currently, the main markets for electrolyzers are hydrogen production for industrial purposes, such as refining petroleum and producing ammonia. However, there is growing interested in using electrolyzers to produce green hydrogen using renewable energy sources such as wind and solar power.
The disruption of supply chains and manufacturing operations led to delays and reduced production capacity for electrolyzer manufacturers. Additionally, a decrease in demand for hydrogen in some industries, such as oil refining, negatively affected electrolyzer demand.
However, the pandemic also increased the demand for green hydrogen in the transportation and power generation sectors. Governments and industries are investing in green hydrogen projects as part of economic recovery plans, leading to increased funding for research and development and the deployment of electrolyzer projects. Overall, the demand for green hydrogen continues to grow, leading to a positive long-term outlook for the electrolyzer industry.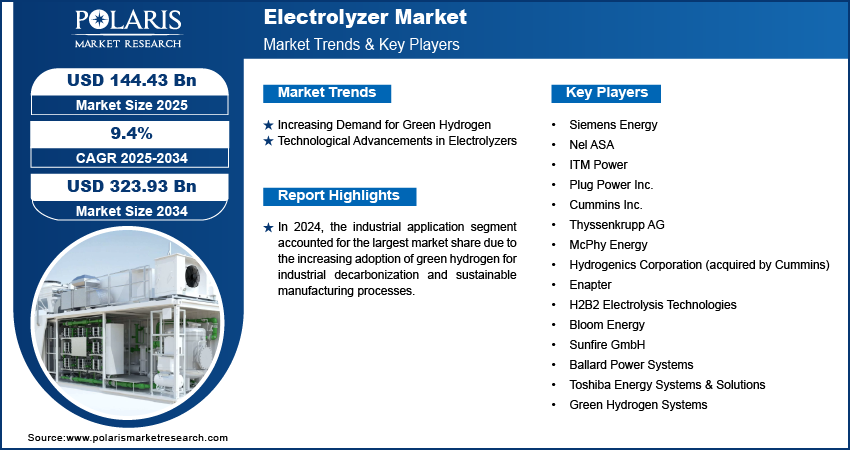 Know more about this report: Request for sample pages
Industry Dynamics
Growth Drivers
The increasing need to decarbonize and meet energy requirements has led to adoption of hydrogen as an alternative to fossil fuels. Governments worldwide focus on creating a sustainable hydrogen economy, and manufacturers are conducting research & development to improve efficiency and cost-effectiveness. The demand for hydrogen is also increasing in various industries, such as chemical, glass, mining, food & beverage, and semiconductor, which is expected to drive the market growth.
The growing global population, rural electrification initiatives, and infrastructure projects have increased power supply demand. Encouraging regulatory policies promoting low-carbon technologies has further propelled the market size. For instance, in September 2020, Asahi Kasei installed an alkaline water electrolysis system in Japan, which successfully evaluated its performance in response to fluctuating power input and commenced full-fledged operation.
Report Segmentation
The market is primarily segmented based on capacity, type, application, and region.
By Capacity

By Type

By Application

By Region

Above 2 MW

500 kW to 2 MW

Less than 500 kW

PEM Electrolyzer

Alkaline Electrolyzer

Solid Oxide Electrolyzer

Transportation

Building Heat & Power

Industry Feedstock

Industry Energy

Power Generation

Others

North America (U.S., Canada)

Europe (France, Germany, UK, Italy, Netherlands, Spain, Russia)

Asia Pacific (Japan, China, India, Malaysia, Indonesia, South Korea)

Latin America (Brazil, Mexico, Argentina)

Middle East & Africa (Saudi Arabia, UAE, Israel, South Africa)
Know more about this report: Request for sample pages
The above 2 MW segment is expected to have the highest growth rate in 2022
The above 2 MW segment is expected to have the highest growth rate in the electrolyzers market due to the increasing demand for large-scale hydrogen production for industrial and transportation purposes. This segment is expected to grow at a higher rate due to the adoption of alkaline electrolysis technology, which is more suitable for large-scale applications.
Government initiatives and investments in green hydrogen projects are also expected to contribute to the growth of the above 2 MW segment in the market.
The PEM electrolyzer segment is expected to be the fastest-growing in 2022
The PEM (Proton Exchange Membrane) electrolyzer segment is expected to be the fastest-growing electrolyzer market. This is primarily due to the advantages of PEM technology, such as high efficiency, low maintenance, and quick start-up time.
PEM electrolyzers can also operate at high pressures, making them suitable for various applications, including power-to-gas, energy storage, and fuel cell vehicles. Additionally, the increasing demand for green hydrogen in various industries, such as transportation and power generation, is expected to drive the growth of the PEM electrolyzer segment.
The power generation segment is expected to hold the largest share in 2022
The power generation segment is expected to hold the largest share of the electrolyzer market during the forecast period. The growing demand for clean energy and government initiatives to promote green hydrogen production for power generation are driving the growth of this segment. The transportation sector is also expected to grow significantly due to the increasing adoption of fuel-cell vehicles and the demand for hydrogen refueling stations.
North America had a significant share in 2022
North America had a significant share in the electrolyzers market value and volume in 2022. This growth can be attributed to the increasing demand for hydrogen gas in various applications in the manufacturing and power industries. The region also has well-established manufacturing infrastructures for global brands, which has led to a growing interest in energy storage or fueling for FCEVs operations. Furthermore, the region has witnessed substantial investment in the production, exploration, and refining sectors, which is anticipated to drive the demand for hydrogen gas further.
In Europe, the market size is favored by increasing investments and plans to expand and strengthen the grid infrastructure networks to support the installation of renewable energy sources. Additionally, a positive regulatory framework mandating energy security across establishments is set to add to market growth. For example, the German government approved the National Innovation Program for Hydrogen and Fuel Cell Technologies for another ten years, providing USD 1.54 billion of funding, including subsidies for publicly fuel cell car purchases, easily available hydrogen refueling sites, and micro-cogeneration purchases, in addition to USD 3.4 billion in private funding.
The rising awareness of clean energy, government-aided financial support, and the need to fulfill demand and supply mismatches in the Asia Pacific region will contribute to the industry's growth. The continuous construction of new domestic and commercial spaces and the establishment of new industrial gas facilities have increased the adoption of these systems in the region.
Competitive Insight
Some major global players operating in the worldwide market include Nel Hydrogen, Hydrogenics, Asahi Kasei, Shandong Saikesaisi Hydrogen Energy Co., Ltd., Siemens, Teledyne Energy Systems, Kobelco Eco-Solutions, Next Hydrogen, Green Hydrogen Systems, and H-Tec Systems.
Recent Developments
In January 2022, Green Hydrogen Systems and Logan Energy reached an agreement for the supply of electrolysis equipment to be used in a project in Dorset, England. As part of the plans to establish a regional hydrogen economy, the electrolysis systems will be deployed in a 40 ft container, forming a completely green hydrogen plant. The systems, manufactured by Green Hydrogen Systems and operated by Logan Energy, will include two GHS HyProvide A90 systems with a combined capacity of 0.9 MW. These systems will produce green hydrogen from renewable energy sources.

In March 2022, Man Energy Solutions revealed its plans to invest a maximum of USD 500 billion in its subsidiary, H-Tec Systems, to rapidly transform the hydrogen specialist into a mass-producer of PEM systems. This move will allow H-Tec to leverage the global sales network and expertise of Man Energy Solutions and the Volkswagen Group, particularly in production scaling and supplier-based series production business, to expand its operations.
Electrolyzer Market Report Scope
| | |
| --- | --- |
| Report Attributes | Details |
| Market size value in 2023 | USD 7.96 billion |
| Revenue forecast in 2032 | USD 181.09 billion |
| CAGR | 41.5% from 2023 – 2032 |
| Base year | 2022 |
| Historical data | 2019 – 2021 |
| Forecast period | 2023 – 2032 |
| Quantitative units | Revenue in USD billion and CAGR from 2023 to 2032 |
| Segments Covered | By Capacity, By Type, By Application, By Region |
| Regional scope | North America, Europe, Asia Pacific, Latin America; Middle East & Africa |
| Key Companies | Nel Hydrogen, Hydrogenics, Asahi Kasei, Shandong Saikesaisi Hydrogen Energy Co., Ltd., Siemens, Teledyne Energy Systems, Kobelco Eco-Solutions, Next Hydrogen, Green Hydrogen Systems, and H-Tec Systems |