The global graphite market was valued at USD 23.08 billion in 2022 and is expected to grow at a CAGR of 6.2% during the forecast period. Carbon-based graphite is utilized in various industries, including construction, lubricants, electric vehicles, and refractory materials. Due to its numerous benefits, including reduced wear, ease of machining, resistance to thermal shock, high metal removal rate, and others, graphite is increasingly used in the industries above. Graphite is a non-metal, although it has metallic qualities, including high stiffness and strength, and is an excellent conductor of electricity and heat. Graphite comes in two main varieties: natural graphite and synthetic graphite.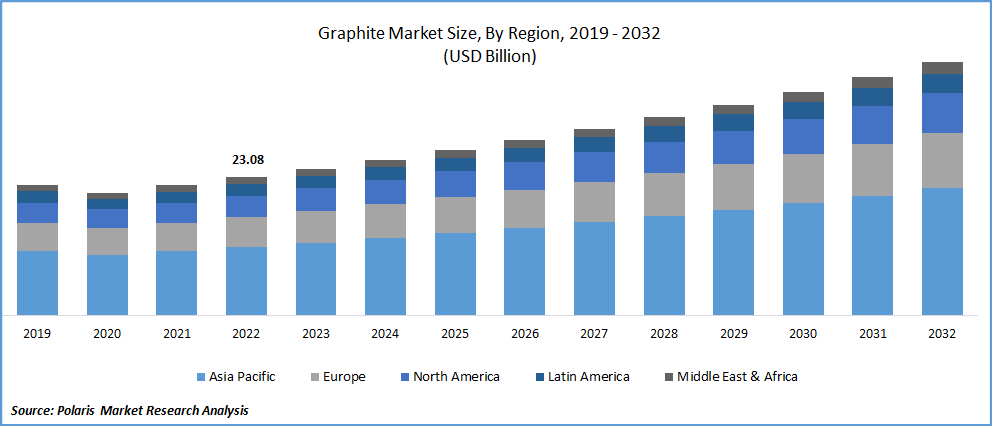 Know more about this report: Request for sample pages
The growth of the world economy is the major factor driving the graphite market. Increasing demand for steel, aluminum, and other metals from many industries has driven the demand, especially for synthetic electrodes. This is essential for producing steel through the electric arc furnace process. Moreover, graphite electrodes are also used for other metallurgy applications. The increasing number of novel and technologically advanced outlets globally that range from fuel cells to graphene is also expected to add to the sales figures of the products in the graphite market.
Carbon fiber, a type of graphite product, has witnessed double-digit growth for the past four consecutive years due to its immense need and hence increasing demand from a wide range of industries, including automotive, aerospace, wind turbine, and several others. Light weight and high strength of carbon fiber attributes are the major advantages for its significantly increasing demand over its counterparts.
The lithium-ion batteries used widely in electric vehicles and several electronic gadgets is yet another factor driving product demand, as graphite is a crucial component of these types of batteries. Expandable graphite, a new product introduced in the graphite market a few years back, has gained significant momentum. The product is considered a high-quality flame-retardant construction material and environmentally. The globally developing construction industry has increased the need and demand for expandable graphite, especially in China, as its government has laid out several regulations supporting its use in building construction. Hence, increasing demand from various industrial processes and yearly increase in product production has significantly influenced the graphite market in the present industry scenario.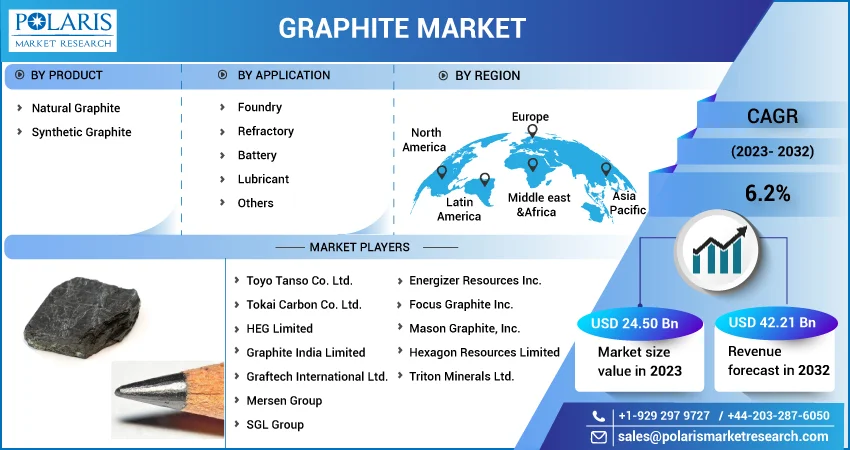 Know more about this report: Request for sample pages
Industry Dynamics
Growth Drivers
The utilization of lithium-ion batteries for portable gadgets and electric vehicles is driving the market's expansion. Moreover, as people's attention turns to renewable energy sources in response to growing environmental concerns, graphite is responding by being widely used in the wind energy sector, which is fueling market expansion.
Additionally, the expanding use of this technology in the military and aviation sectors to produce structural composite components contributes to the market's growth. Nevertheless, concern over the high export taxes on graphite is anticipated to impede market expansion. Graphite is a common anode material used in lithium-ion batteries.
In the coming years, it's anticipated that graphite usage will increase by 200 percent. Two factors fueling the growth of the graphite market are the fast-developing electric vehicle sector and the rise of the utility storage industry. With an estimated 500 electric car manufacturers in the biggest automotive market, China has one of the fastest-growing EV markets. Additionally, the nation now leads the world in both the manufacture and sales of electric automobiles. As a result, the market for electric cars is predicted to see a growth in graphite demand.
A few other factors propelling the graphite market are the growing demand for high-quality graphite from the automotive sector and OEMs. Graphite plays a significant part in the automobile sector due to its lightweight and lubricating qualities, better energy economy, high mechanical strength, and electrical conductivity. From the perspective of the automobile sector, China is the largest automotive market in the world in terms of both production and consumption, making it a desirable market for graphite. It is anticipated that declining steel demand will result in less use of graphite electrodes. This problem might have a detrimental effect on the projection period's total consumption and production rate of graphite.
Report Segmentation
The market is primarily segmented based on product, application, and region.
By Product

By Application

By Region

Natural Graphite

Synthetic Graphite

Foundry

Refractory

Battery

Lubricant

Others

North America (U.S., Canada)

Europe (France, Germany, UK, Italy, Netherlands, Spain, Russia)

Asia Pacific (Japan, China, India, Malaysia, Indonesia, South Korea)

Latin America (Brazil, Mexico, Argentina)

Middle East & Africa (Saudi Arabia, UAE, Israel, South Africa)
Know more about this report: Request for sample pages
Synthetic graphite segment holds the highest market share.
Due to rising demand from the steel and battery industries, the synthetic graphite market sector has the highest market share. The increased usage of graphite electrodes is responsible for this rise in demand from the steel and battery production industries. Synthetic graphite will continue to dominate the market throughout the projected period.
Natural graphite is one of the crystalline forms of the element carbon. It is layered and has atoms that are organized in a hexagonal pattern. The naturally occurring substance, which transforms into a diamond under high pressures and temperatures, is found in metamorphic rocks, igneous rocks, and meteorites.
Petroleum coke is baked at very high temperatures to create synthetic products, which is challenging. It is utilized in producing products that require a very pure ingredient and is over 99 percent pure carbon.
Refractory Segment to dominate market
The graphite market is divided into refractories, batteries, foundries, friction products, and lubricants based on applications. The rise of the refractories market may be ascribed to the quickening of industrial development and rising demand from many sectors, including the metal production, aerospace, automotive, and building industries.
The foundry sector, which accounted for the third-highest consumption, employed graphite as facing sand and mold wash in several casting processes. Of all casting kinds, ferrous castings made up the largest global proportion, followed by non-ferrous castings made of aluminum, copper, zinc, lead, magnesium, and titanium. The automotive, pipeline and industrial industries are the most common applications for foundry-cast metals.
Additionally, building materials, molded products for the automotive, aerospace, electronics, and industrial machinery industries, friction materials like brake pads and clutches for the aviation and automotive sector, and lubricants like oils, greases, and fluid dispersions are used in manufacturing and consumer applications.
Asia Pacific dominated the global market in 2022
Asia Pacific is expected to be the largest regional market in the global graphite market, owning its largest graphite consumption. China's large manufacturing economy produces around one-third of overall graphite globally. The country is also one of the top consumers of graphite worldwide. Other potential consumers include Japan, India, and South Korea. Product demand is scattered within the developed economies, mainly Western Europe, the U.S., Japan, and China. The Chinese primarily dominated the natural graphite industry. In contrast, the production of synthetic graphite is distributed among several nations, and every single producer plays a significant role in marinating the global demand-supply scenario.
Competitive Insight
Some of the major players operating in the global market include Toyo Tanso Co. Ltd., Tokai Carbon Co. Ltd., HEG Limited, Graphite India Limited, Graftech International Ltd., Mersen Group, SGL Group, Energizer Resources Inc., Focus Graphite Inc., Mason Graphite, Inc., Hexagon Resources Limited, and Triton Minerals Ltd.
Recent Developments
In March 2021, SGL Carbon received funding from IPCEI totaling €42.9 million for their graphite anode materials (GAM) for lithium-ion batteries. The SGL Carbon project seeks to establish cutting-edge anode materials as a significant value-added step in electromobility in Europe.
In October 2020, Imerys announced intentions to boost the production of synthetic graphite at its Bodio factory in Switzerland to meet the rising demand from Asia, Europe, and North American lithium-ion battery markets.
Graphite Market Report Scope
| | |
| --- | --- |
| Report Attributes | Details |
| Market size value in 2023 | USD 24.50 billion |
| Revenue forecast in 2032 | USD 42.21 billion |
| CAGR | 6.2% from 2023 – 2032 |
| Base year | 2022 |
| Historical data | 2019 – 2021 |
| Forecast period | 2023 – 2032 |
| Quantitative units | Revenue in USD billion and CAGR from 2023 to 2032 |
| Segments Covered | By Product, By Application, By Region |
| Regional scope | North America, Europe, Asia Pacific, Latin America; Middle East & Africa |
| Key Companies | Toyo Tanso Co. Ltd., Tokai Carbon Co. Ltd., HEG Limited, Graphite India Limited, Graftech International Ltd., Mersen Group, SGL Group, Energizer Resources Inc., Focus Graphite Inc., Mason Graphite, Inc., Hexagon Resources Limited, and Triton Minerals Ltd. |