The global hang tags market was valued at USD 1.58 billion in 2022 and is expected to grow at a CAGR of 5.54% during the forecast period.
In the realm of logistics, tags and labels are typically unsung heroes who provide vital information without receiving any of the media attention that, for example, IoT networks or smart robots do. These can include barcodes or QR codes for efficient tracking and inventory management. Hang tags are an effective tool for branding and marketing. They can feature the company logo, brand name, and unique design elements to create brand recognition and differentiation. Their versatility makes them a valuable tool in various industries, including fashion, accessories, cosmetics, electronics, food and beverages, home goods, and more. Hang tags serve multiple purposes, from identification and branding to marketing and customer communication.

To Understand More About this Research: Request a Free Sample Report
The COVID-19 pandemic has disrupted global supply chains, including the production and distribution of hang tags. Many retail stores, particularly non-essential ones, faced temporary closures or restrictions during the pandemic. This has led to a decrease in the demand for hang tags as fewer products were being sold and displayed in physical stores. With social distancing measures and limitations on public gatherings, promotional activities and events have been significantly impacted. Trade shows, exhibitions, and other marketing events that typically utilize hang tags for branding and product promotion were postponed or canceled, leading to a decline in demand.
However, the pandemic has caused a shift in consumer behavior, with changes in shopping patterns and preferences. The closure of physical retail stores and the rise of e-commerce have altered the demand for hang tags. There has been an increased emphasis on online shopping, which has impacted the demand for hang tags in traditional brick-and-mortar retail settings. Apart from this, with the closure of physical stores and the surge in online shopping, businesses have had to adapt their packaging strategies to suit e-commerce requirements. This has impacted the design and functionality of hang tags, with a greater emphasis on compatibility with online platforms, including barcode scanning and digital information.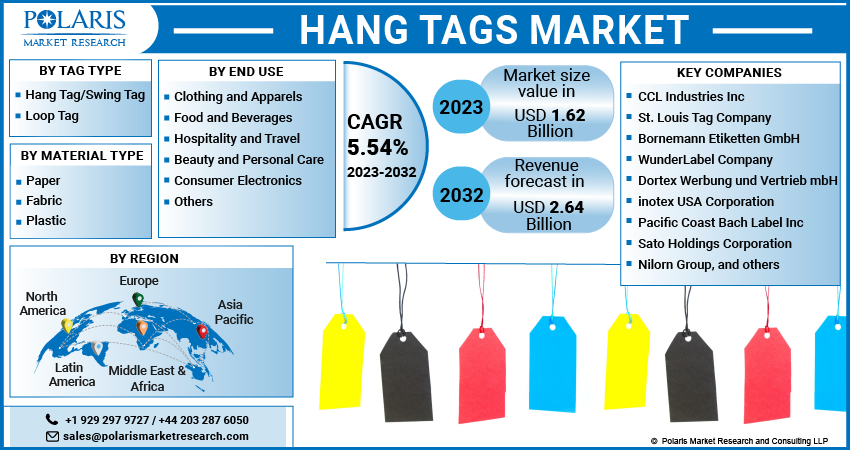 For Specific Research Requirements, Request for a Customized Report
Industry Dynamics
Growth Drivers
Enhanced apparel industry is responsible for the market growth
Improving clothing and apparel industry is significantly responsible for the development in the global market. One of the most major industries in the world, fashion is responsible for a sizeable portion of the world economy.
For example, every day, new business joins the market to serve the 3,000-billion-dollar textile and apparel industry. The LVMH Group, with a market valuation of over USD 367 billion, was by far the apparel company in March 2022. With growing clothing and apparel industry, the need for hang tags is also escalating.
As a result, these tags contribute to an enhanced customer experience by providing relevant and helpful information. Also, they offer an opportunity to add a personalized touch to garments through unique designs, shapes, and colours. Hence, improving clothing and apparel sector is helping the market to enhance with a significant growth rate.
Hang tag technology is moving to the next level with advent of emerging trends in the hang tags market. The advancement of technology and innovative solutions has made it easier to produce sustainable hang tags without compromising quality or design.
For example, in May 2023, garment manufacturers have been requesting authorization from Congress and the Federal Trade Commission (FTC) to replace physical garment tags with digital labels, most likely in the form of a QR code. These labels must include care recommendations, fibre content, country of origin, etc.
This factor is dynamically driving the market's expanding across the various regions globally.
Report Segmentation
The market is primarily segmented based on material type, tag type, end user, and region.
By Material Type

By Tag Type

By End Use

By Region

Hang Tag/Swing Tag

Loop Tag

Clothing and Apparels

Food and Beverages

Hospitality and Travel

Beauty and Personal Care

Consumer Electronics

Others

North America (U.S., Canada)

Europe (France, Germany, UK, Italy, Netherlands, Spain, Russia)

Asia Pacific (Japan, China, India, Malaysia, Indonesia. South Korea)

Latin America (Brazil, Mexico, Argentina)

Middle East & Africa (Saudi Arabia, UAE, Israel, South Africa)
To Understand the Scope of this Report: Speak to Analyst
By Material Type Analysis
Paper segment made largest contribution to the global market in 2022
Paper segment garnered largest share as these tags are considered more environmentally friendly compared to other materials like plastic or synthetic materials. The use of paper aligns with the increasing consumer demand for sustainable and eco-friendly products. Brands and businesses are opting for paper hang tags as a way to demonstrate their commitment to sustainability. Also, paper tags are typically recyclable and biodegradable, making them a more sustainable option compared to non-recyclable materials. This resonates with environmentally conscious consumers who prioritize products and packaging that can be easily disposed of without causing harm to the environment. Further, this hang tags offer a wide range of options for customization. They can be easily printed, stamped, embossed, or textured to suit the branding and design requirements of different products.
By Tag Type Analysis
Hang tag segment held largest share in the global market in 2022
In fiscal year 2022, the hang tag or swing tag segment dominated the market as these tags offer a versatile format that can be easily customized to meet the specific branding and design requirements of different products and industries. They can be printed on various materials, such as paper, cardboard, fabric, or plastic, allowing for a wide range of shapes, sizes, and finishes. Hang tags can be designed to include essential product information, branding elements, pricing details, care instructions, and promotional messages. Hang tags provide a visible and tangible representation of a brand's identity and image. They offer an opportunity for brands to showcase their logo, colors, typography, and other design elements, helping to create a consistent and cohesive brand experience. These tags also play a crucial role in conveying important information to consumers.
By End-Use Analysis
Clothing and apparels is gaining a huge traction in the global market inn 2022
Clothing and apparels segment is leading the global market fiscal year 2022 in terms of volume as well as value. Hang tags play a crucial role in branding and product differentiation in the clothing and apparel industry. They provide an opportunity for clothing brands to showcase their logo, brand name, and unique design elements. Hang tags can be customized with various colors, shapes, and finishes creating a distinct and recognizable brand identity. By incorporating their branding elements on hang tags, clothing brands can effectively differentiate their products from competitors and establish a strong brand presence.
Hang tags provide a convenient and visible platform to communicate this information, ensuring that customers have access to relevant details about the product. Moreover, hang tags play a practical role in the clothing and apparel industry by streamlining the supply chain. They facilitate product identification, sorting, and inventory management during manufacturing, warehousing, and distribution processes.
Regional Insights
North America is accounting the largest share in the global market in 2022
In the fiscal year 2022, North America is expected to lead the global market with a XX% share. The region has a large consumer market with high purchasing power. Consumers in the region have diverse preferences and a strong inclination towards fashion and style. For instance, The US fashion market is estimated to be worth USD 343.7 billion. By 2030, it is anticipated that the retail sales in the fashion sector would reach three trillion dollars. This drives the demand for clothing and apparel products, leading to a higher need for hang tags. As a result, the market is largely augmenting in the region.
Europe is another significant region accounting notable market share of the global revenue in the fiscal year 2022. The logistics industry is responsible for the efficient distribution and management of products throughout the supply chain. This includes transporting hang tags from manufacturers to retailers, wholesalers, and other points of sale. For example, with its top-notch infrastructure and cutting-edge logistics services, Germany is the continent's biggest economy and most significant logistics hub. There are also 226,220 logistics businesses in the UK. Therefore, this factor is propelling the market's growth in the region.
Key Market Players & Competitive Insights
The hand tags market is highly competitive and is anticipated to witness competition due to several players' presence. The players are constantly extending their product lines to stay ahead of the competition. These players focus on partnership, product upgrades, and collaboration to gain a competitive edge over their peers and capture a significant market share.
Bornemann Etiketten

CCL Industries

Dortex Werbung

Inotex USA Corporation

Nilorn Group

Pacific Coast Bach Label

Sato Holdings Corp.

St. Louis Tag Company

Vertrieb

WunderLabel Company

others
Recent Developments
In May 2018, Customers of Hang Tag used the new data management system from St. Louis Tag to complete many jobs in the same order. Depending on the information the buyer supplies, each tag in an order of 1,000 tags may have a different message or purpose.
Hang Tags Market Report Scope
| | |
| --- | --- |
| Report Attributes | Details |
| Market size value in 2023 | USD 1.62 billion |
| Revenue forecast in 2032 | USD 2.64 billion |
| CAGR | 5.54% from 2023 – 2032 |
| Base year | 2022 |
| Historical data | 2019– 2022 |
| Forecast period | 2023– 2032 |
| Quantitative units | Revenue in USD billion and CAGR from 2023 to 2030 |
| Segments covered | By Material Type, By Tag Type, By End User, By Region |
| Regional scope | North America, Europe, Asia Pacific, Latin America; Middle East & Africa |
| Key companies | CCL Industries Inc, St. Louis Tag Company, Bornemann Etiketten GmbH, WunderLabel Company, Dortex Werbung und Vertrieb mbH, inotex USA Corporation, Pacific Coast Bach Label Inc, Sato Holdings Corporation, Nilorn Group, and others |