The global hospital outsourcing market was valued at USD 267.96 billion in 2019 and is expected to grow at a CAGR of 10.2% during the forecast period. Rising operating and maintenance costs/overheads making hospitals an expensive entity. Hospitals commonly outsource non-core services such as facilities management, operations, cleaning, catering, and maintenance. Through outsourcing, providers could reduce costs by improving service capability and patient outcomes.
According to the market data published by the Centers for Medicare & Medicaid Services (CMS), in 2018, healthcare expenditure in the U.S. was stood at a whopping USD 3.6 trillion, by value, it counted as one of the biggest industries in the country, equaling 17.7 percent of the GDP. It translates to around USD 11,172 per citizen. Healthcare expenses have risen faster than the average annual income. The inconsistent government policies and surge in chronic disease diseases, particularly, diabetes and heart-related disorders.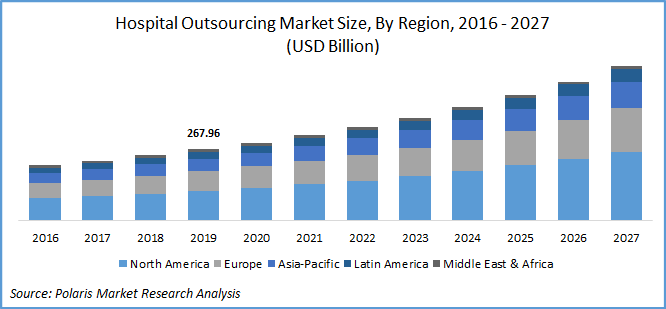 Know more about this report: request for sample pages
Medical institutions usually outsource the internal activity to third-party providers such as IT transformation services to the medical billing processes. Commonly outsourced clinical services include pathology, dialysis, radiology, mental health, physiotherapy, rehabilitation, home-based healthcare services, medical tourism, and speech therapies.
However, data breaches and patient privacy are considered to be the biggest risk factors. In 2018, around 15,085,302 records were breached, tripling in number from 2017. Moreover, the challenges in IT transformation projects, including a shortfall in experienced professionals, data, and technology platform standardization.
Industry Dynamics
Growth Drivers
Due to budget constraints, hospitals lack operational efficiencies and in-house capabilities. Third-party service providers have effective approaches to offer low-cost services. It also enables a mutual win-win situation for both hospitals and service providers. Moreover, the complexities in the revenue cycle management, supply chain, payroll processing, and home care services also making the functioning of hospitals more cumbersome and are considered as better proposition if it is outsourced to the industry experts. The healthcare industry is witnessing a rise in outsourcing trends, owing to a strong government push to implement Electronic Medical Records (EMR), ICD-10 coding systems, and a surge in healthcare costs.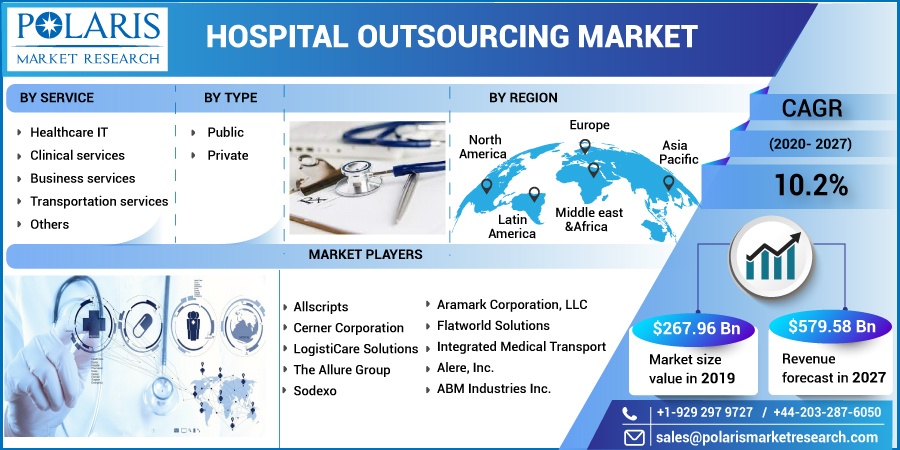 Know more about this report: request for sample pages
According to the Black Book Survey (BBS), most of the hospitals outsource their work to reduce their cost burden, in line with this, the survey found that 91 percent of the surveyed hospitals witnessed return on investment (ROI), within six months, had access to trained staff and needed technology, countered cybersecurity risks through collaborations with IT companies, having expertise in IT transformations, and enabled hospitals to focus on its key areas of healthcare delivery and improved patient outcomes.
Furthermore, the market survey also found that productive and happy staff yields contented and satisfied patients. An online survey on doctors revealed that physicians' burnout rate at 44 percent. To counter this workload, hospitals have to outsource their work to achieve national health goals. Thus, hospital outsourcing is expected to be fruitful in the foreseeable time.
Hospital Outsourcing Market Report Scope
The market is primarily segmented on the basis of service, type, and region.
By Service

By Type

By Region

Healthcare IT
Clinical services
Business services
Transportation services
Others

North America (U.S., Canada)
Europe (France, Germany, UK, Italy, Spain, Netherlands, Austria)
Asia Pacific (Japan, China, India, Malaysia, Indonesia, South Korea)
Latin America (Brazil, Mexico, Argentina)
Middle East & Africa (Saudi Arabia, UAE, Israel, South Africa)
Know more about this report: request for sample pages
Insight by Service
Based on the service, the global hospital outsourcing market is categorized into healthcare IT, clinical, business, transportation, and other services. The other segment accounted for the largest share of over 40%, in 2019. It includes non-core day to day activities such as housekeeping, catering, laundry, and maintenance services. Rising costs and forcing hospitals for outsourcing non-core activities to maintain sustainable market growth. Moreover, the clinical services market segment is projected to register the highest growth rate over the forecast period in healthcare outsourcing industry. There is an increasing trend in outsourcing clinical services to specialty firms through strategic collaborations and partnerships.
Insight by Type
Based on the type, the global hospital outsourcing market is categorized into public and private. In 2019, private hospitals accounted for the majority of market share in the assessment period. Private hospital's prime objective is to make profits, to have a sustainable model, they need to have operational efficiencies, though a strong focus on their core services. This is evident from the recent, Black Book survey, which stated that the hospitals need to cut down costs by more than 24%, just to break even.
Geographic Overview
The global hospital outsourcing market is bifurcated into North America, Europe, Asia Pacific, Latin America, and Middle East & Africa (MEA). North American market is the largest revenue contributor followed by Europe and the Asia Pacific region. In 2019, the North American region accounted for over 60% of the global market.
Healthcare expenditure in the U.S. has risen exponentially, and, somehow, the income flow is not enough, till today. According to the research done by the Black Book, a survey, it found that hospitals are required to reduce their cost burden by more than 24 percent in the coming two years, to break even. Cost structure in the U.S. has become unsustainable, as a result, nearly all the healthcare facilities in the country considering outsourcing, majorly non-core services. The trend is more common in private hospitals, as they are profit-driven and have improved management practices. Moreover, the private hospitals in the country are more focused on delivering value-based healthcare, by offsetting non-core services and outsourcing them.
Asia Pacific is a lucrative market for the global hospital outsourcing industry. The major countries contributing to the revenue of this region are Japan, India, and China. India and China are the two world's most populous countries, with huge population base suffering from chronic disorders. Rising hospital chains in both countries are favoring market growth.
Competitive Insight
The prominent market players operating in the market are Allscripts, Cerner Corporation, LogistiCare Solutions, The Allure Group, Sodexo, Aramark Corporation, LLC, Flatworld Solutions, Integrated Medical Transport, Alere, Inc. and ABM Industries Inc. Hospitals are focusing on partnerships and collaborations to streamline their cost structure. For instance, Cerner Corporation and Amazon Web Services signed partnership agreement to drive IT innovations in healthcare facilities.