The global industrial enzymes market size was valued at USD 5.88 billion in 2020 and is expected to grow at a CAGR of 6.3% during the forecast period. Industrial enzymes are developed for commercial uses to reduce water and energy consumption, minimize raw material requirements, and limit carbon emissions and toxic by-products.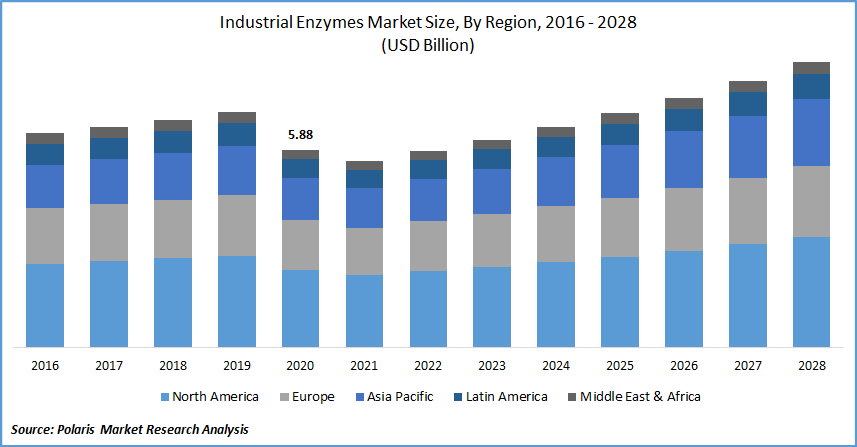 Know more about this report: request for sample pages
The demand for industrial enzymes has increased due to increasing applications in textile, personal care, wastewater, paper and pulp, and biofuels. Increasing industrialization, rapid urbanization, and rising investments in research and developments have increased the adoption of industrial enzymes. Growing environmental concerns and stringent government regulations regarding the use of chemicals in certain products have encouraged market players to utilize industrial enzymes.
The outbreak of COVID-19 has resulted in increased demand for functional food products across the globe. Increasing health awareness and growing consumption of food and beverages to enhance metabolism, digestion, and overall health positively affect the market. However, the COVID-19 outbreak has negatively affected industries such as textile, biofuel, and paper and pulp due to the disrupted supply chain. The automotive industry has also experienced a decline in demand for vehicles, thereby hampering the growth of the biofuel market. Scarcity of raw material, decreased deliveries, lockdown, and reduced workforce have severely impacted the market.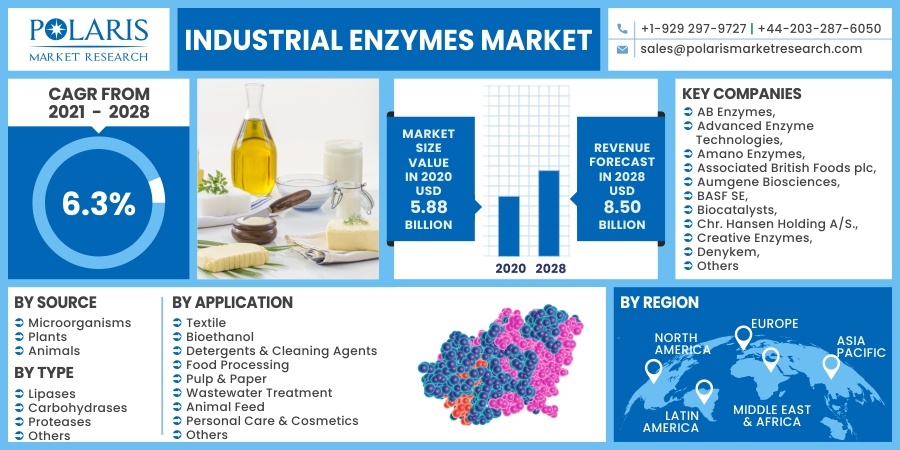 Know more about this report: request for sample pages
Industry Dynamics
Growth Drivers
The increasing demand for industrial enzymes from the food and beverages sector drives the growth of the market. Growing health concerns and increasing awareness regarding nutrition and overall wellness have led to increasing demand for functional food products. Consumers are more conscious regarding food quality and safety, encouraging market players to develop new processed food products using industrial enzymes. The growing demand for nutraceuticals, especially during the pandemic, further augments market growth.
Other industries utilizing industrial enzymes include paper and pulp, animal feed, healthcare, biofuel, and textile. Greater adoption of sustainable industrial activities further increases the application of industrial enzymes. Growing demand from emerging economies, increasing industrialization, and technological advancements in enzyme engineering are some factors anticipated to provide lucrative opportunities in the coming years.
Industrial enzymes are increasingly being used in the food & beverage sector to aid food processing in products such as vinegar, cheese, wine, bread, and baked goods. The use of industrial enzymes enhances the overall performance and efficiency while reducing the resources and toxicity of by-products. Some categories of the product used in the food & beverage sector include baking, fruit and vegetable processing, brewing, and starch & sweetener, among others. The increasing inclination of consumers towards nutritive food products, plant-based ingredients, and lactose-free dairy products has increased the acceptance of industrial enzymes in this sector.
Report Segmentation
The market is primarily segmented on the basis of source, type, application, and region.
By Source

By Type

By Application

By Region

Microorganisms
Plants
Animals

Lipases
Carbohydrases
Proteases
Others

Textile
Bioethanol
Detergents & Cleaning Agents
Food Processing
Pulp & Paper
Wastewater Treatment
Animal Feed
Personal Care & Cosmetics
Others

North America (U.S., Canada)
Europe (Germany, UK, France, Italy, Spain, Netherlands, Austria)
Asia Pacific (China, India, Japan, South Korea, Indonesia, Malaysia)
Latin America (Brazil, Mexico, Argentina)
Middle East & Africa (Saudi Arabia, South Africa, Israel, UAE)
Know more about this report: request for sample pages
Insight by Source
On the basis of source, the market is segmented into microorganisms, plants, and animals. In 2020, the microorganisms segment held the largest global market. Share. Industrial enzymes are obtained from bacteria, fungi, and yeast through different processes. The bacterial genera such as Bacillus, Clostridium, and Pseudomonas, and fungi such as Aspergillus, Trichoderma, and Penicillium are used for industrial enzymes. They are used in the fermentation processes for the production of bread, wine, and beer. Some other applications include improving the quality of the fabrics in the textile industry, biomechanical pulping and bleaching in the paper and pulp industry, and cleaning and removing dirt in detergents.
Insight by Type
On the basis of type, the market is segmented into lipases, carbohydrases, proteases, and others. In 2020, the carbohydrases segment dominated the global market. Carbohydrases are capable of breaking down starches, sugars, and other carbohydrates. This product is used in applications such as liquefaction of gelatinized starch, animal feed, and baked goods. They are also utilized in food supplements & nutraceuticals, brewing and potable alcohol production, maltodextrin production, and pet food pelleting, among others.
Insight by Application
Based on application, the market is segmented into textile, bioethanol, food processing, detergents and cleaning agents, wastewater treatment, pulp & paper, animal feed, personal care and cosmetics, and others. The market demand from the food processing sector is expected to be high during the forecast period.
Industrial enzymes are used in the processing of products such a dairy, meat, and baked goods. These products are also utilized to process grains, fruits, vegetables, cheese, and oil, among others. Increasing disposable income, improving living standards, and growing demand for convenience food supports the market growth. Growing demand from emerging economies and the growth of e-commerce platforms are factors expected to provide growth opportunities in the coming years.
Geographic Overview
North America dominated the global industrial enzymes market in 2020 owing to increasing population, growth in the food & beverages and personal care sectors, and changing consumer preferences. There have been significant investments by producers in environmental protection and energy optimization programs, coupled with the introduction of initiatives to reduce waste in this region. Greater demand for bioethanol and increasing application in pharmaceutical and personal care sectors would further support the growth in North America.
Competitive Landscape
The leading players in the industrial enzymes market include Novus International, Inc., Novozymes A/S, Advanced Enzyme Technologies, DuPont Danisco Cellulosic Ethanol LLC, Kerry Group, Amano Enzymes, BASF SE, Creative Enzymes, Metgen Oy, Enzymatic Deinking Technologies, Dyadic International, Koninklijke DSM N.V., Aumgene Biosciences, Lesaffre, and Chr. Hansen Holding A/S. These companies are introducing new innovative products in the market to cater to the growing consumer demands. Partnerships and Acquisitions further enable these companies to enhance their offerings and expand their geographic presence.
Industrial Enzymes Market Report Scope
| | |
| --- | --- |
| Report Attributes | Details |
| Market size value in 2020 | USD 5.88 billion |
| Revenue forecast in 2028 | USD 8.50 billion |
| CAGR | 6.3% from 2021 - 2028 |
| Base year | 2020 |
| Historical data | 2016 - 2019 |
| Forecast period | 2021 - 2028 |
| Quantitative units | Revenue in USD million/billion and CAGR from 2021 to 2028 |
| Segments covered | By Source, By Type, By Application, By Region |
| Regional scope | North America, Europe, Asia Pacific, Latin America, Middle East & Africa |
| Key companies | AB Enzymes, Advanced Enzyme Technologies, Amano Enzymes, Associated British Foods plc, Aumgene Biosciences, BASF SE, Biocatalysts, Chr. Hansen Holding A/S., Creative Enzymes, Denykem, DuPont Danisco, Dyadic International, Enzymatic Deinking Technologies, Enzyme Solutions, Enzyme Supplies, Kerry Group, Koninklijke DSM N.V., Lesaffre, Megazyme, Metgen Oy, Novozymes A/S, Novus International, Inc., Sunson Industry Group, and Tex Biosciences. |